What not to wear on a cruise? You can't just wear anything on a cruise, whenever you want. Certain things are inappropriate to wear, and there are times when you should dress up a bit. Here are some dos and don'ts for what to wear on a cruise.
We've all probably witnessed someone wearing something on a cruise that made us turn our heads and wonder, "what are they thinking?" or "wow, that's so inappropriate!" Then some think they're above the cruise line dress codes to enter the main dining room and other certain establishments on a cruise ship. Whatever the case, there are certain things you should and shouldn't wear on a cruise.
For example, many cruises have "formal nights," "evening chic," "Captain's night," or "elegant night" with a formal dress code where you're supposed to dress up more. This usually means no jeans, shorts, or t-shirts. Many people will get all dressed up in their finest for dinner on these nights. If you don't want to participate, that's fine, but don't be surprised if you feel out of place or if they deny you to eat in the dining room.
There are also places on a cruise ship with dress codes, like certain restaurants. Check the cruise line's dress code before embarkation day to know what to pack.
And finally, just because you're on vacation doesn't mean you can't dress respectfully. Please don't walk around in your bathing suit all day or wear next to nothing. It's tacky and disrespectful to the other passengers and crew.
So, what should you wear on a cruise? Here are some general guidelines. On most cruises, casual daytime attire is perfectly acceptable. For cruise clothes for women, this could mean a sundress, shorts, and a cute top. This could be khaki shorts, long pants, nice jeans, and a polo shirt for men.
It all depends on the cruise line because if you're sailing a cruise line like Norwegian, their freestyle concept – one of the many reasons to love NCL – means you can dress down and enjoy your cruise without worrying too much about what to wear.
If you're unsure what to wear, I think it's better to slightly be overdressed than under. But for most other lines, there are some basic rules of thumb.
Disclosure: This post may contain affiliate links. If you decide to make a purchase from one of those links, we may get a commission at no extra cost to you. We appreciate your support.
Cruises can be casual or formal, and the dress code varies depending on the ship and the type of cruise. Some people think they can just wear anything they want on a cruise – but that's not always the case. There is always a fine line between what's appropriate and what's not.
This article will cover what not to wear on a cruise, and the dos and don'ts, so you can pack appropriately and avoid any fashion faux pas.
What NOT to Wear on a Cruise
Skimpy Bathing Suits
Don'ts
Not here to judge anyone, but when you're on a cruise, you may be surrounded by families with children running around. This is not the time to wear a G-string bikini or something with your teats out.
And tiny speedos for men are not a good idea.
Don't walk around the ship in your bathing suit.
Dos
Save the skimpy bathing suits for the private beaches or if there is an adult-only section of the cruise ship. On a cruise, you can still wear a bikini or swimsuit.
It's perfectly fine to wear a bathing suit while you're by the pool or at the beach, but when you're walking around the ship, wear a cover-up.
Revealing Clothing
Don'ts
Speaking of skimpy bathing suits, this also goes for any other clothing that might be considered too revealing and inappropriate. That see-through body con dress might be perfect for a night out clubbing, but it's not appropriate for walking around the ship or to dinner.
This includes short-shorts, crop tops that barely cover your bosoms, and extreme mini skirts.
Lingerie is not cruise wear, at least not outside your stateroom.
Men, walking around without a shirt outside the pool area is not okay.
Dos
Again, it's all about balance. You don't have to wear a turtleneck and long pants, but make sure what you're wearing is not offending or not leaving much to the imagination.
Pack These Cruise Essentials
Before you set sail, pack these essentials that will help make your cruise even more enjoyable. These items include everything from sun protection essentials to must-have medications. So don't forget to add them to your cruise packing list.
Au Natural is Not Okay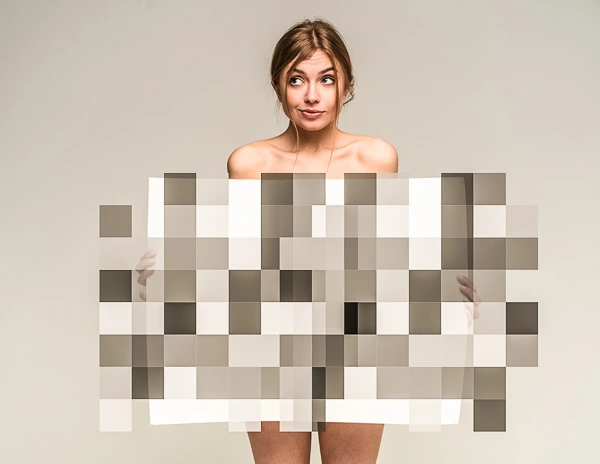 Don'ts
What not to wear on a cruise ship: wearing nothing on a cruise ship is not an option. Nudity is not okay.
If revealing clothing is frowned on, this also means that you can't walk around with everything hanging out.
Don't wear light-colored, see-through clothing, like a white t-shirt without bras or anything underneath.
Dos
Check to see if your cruise ship has a designated area that includes topless sunbathing on the ship. Virgin Voyages has topless sunbathing on the Scarlet Lady in a hidden area of the cruise ship; they are also an adult-only ship.
Some European lines may also have areas that allow topless sunbathing.
Wear Your Pajamas or Robe Outside of Your Cabin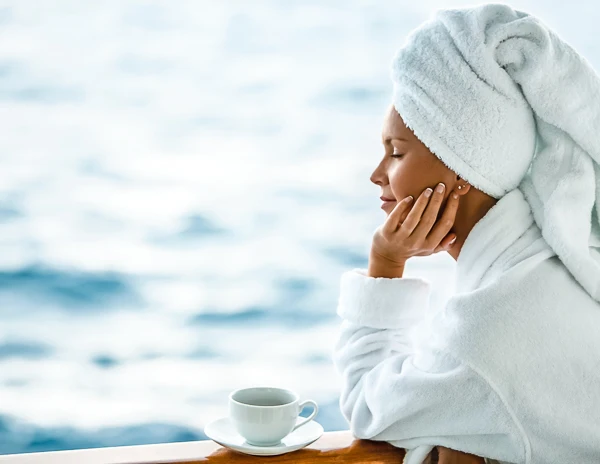 Don'ts
This is a major no-no. Just because you're on vacation doesn't mean walking around in your pajamas and robe is okay. It's not only tacky but also very disrespectful to the other passengers and crew.
This also means you can't go to the breakfast buffet in your pajamas or robe.
Dos
Save your pajamas and robe for when you're in your cabin. Many more appropriate options exist if you want to walk around the ship in comfortable clothing.
Order room service if you want to have breakfast and stay in your pajamas. Enjoy breakfast on your balcony.
If you visit the spa, a robe will be provided to wear in the common areas.
Clothing with Offensive Language or Graphics
Don'ts
This should be a no-brainer for what not to wear on a cruise, but don't wear clothing with offensive language or graphics. This includes profanity, graphic images, and things that could be considered racist, sexist, or homophobic.
Dos
Be respectful and considerate of the other passengers on board.
Wear Clothing That is Inappropriate for the Weather
Don't
You might be cruising to a tropical destination, but that doesn't mean you should pack all your shorts and tank tops.
If you're going on a cruise during the winter and going somewhere that is cold, summer clothes may not be ideal.
Dos
Check the weather forecast before you pack and pack accordingly.
For a tropical destination, sometimes rain showers are common; you may want to consider bringing an umbrella or rain jacket.
Do pack a sweater or jacket. The evenings can get chilly, even in tropical weather.
If you're going on a winter cruise or Alaska cruise, pack appropriate clothing such as sweaters, jackets, and long pants.
Formalwear
Don'ts
Not every night is a formal night on a cruise, but when it is, you should make sure you've dressed appropriately. This means no shorts, t-shirts, or jeans.
Dos
For women, wear a cocktail dress, long dress, or gown if you're going to the main dining room on a formal night.
This typically means a suit or blazer with dress pants and a dress shirt for men.
Don't Dress Uncomfortably
Don'ts
You'll be doing a lot of walking on a cruise and at the port, so make sure you're not wearing shoes that will kill your feet.
Leave the fuzzy house slippers at home.
This also goes for clothing that might be too tight, scratchy, hot, unbreathable, and uncomfortable.
Dos
Pack comfortable but nice footwear and clothing! Comfort is key.
Make sure you've broken in your shoes before the cruise.
Bring clothing that you know fabrics won't irritate your skin.
Loose, breathable clothing is always a good choice.
Pack layers so you can adjust to the temperature changes.
122 Quick & Helpful Cruise Tips
We've gathered 122 of our top cruise tips and cruise hacks to help make your planning process smoother and your cruising experience even more fabulous.
Cruise Fashion FAQs
Can you wear flip flops on a cruise?
Yes! They are one of the essential items to pack for a cruise, especially if you're on a Caribbean or warm weather itinerary. You may not be able to wear them to dinner, though, depending on the cruise line's guidelines. Some onboard cruise activities will require closed-toe shoes, so bring a pair of sneakers or tennis shoes if you plan to participate.
Is there a dress code on cruise ships?
Yes, cruise lines do have dress codes. The guidelines vary between cruise lines, so checking before sailing is important. For example, the main dining room typically has a "smart casual" dress code. During the day, it's a cruise casual dress code.
Can you wear jeans to formal night on a cruise?
No, jeans are not appropriate for a formal night. You will be denied entry to the main dining room and other specialty restaurants. You have the option to eat at the buffet in jeans.
What is smart casual on a cruise?
For women, a smart casual outfit might be a sundress, skirt, blouse, or slacks and a nice top. For men, it might be slacks and a collared shirt or nice jeans with a button-down shirt.
Cruise Line Dress Codes
Wondering what the dress code guidelines are per cruise line? Click and check out what the cruise line has to say:
Norwegian Cruise Line
Royal Caribbean
Celebrity Cruises
Carnival Cruise Line
MSC Cruise Line
Holland America
Princess Cruises
Disney Cruise Line
These are some major dos and don'ts for what not to wear on a cruise. Remember to pack comfortable clothing, dress respectfully, and consider the dress code and weather conditions when packing for your cruise.
What is on your list of what not to wear on a cruise? Comment below!
Don't forget to share the love on Pinterest: