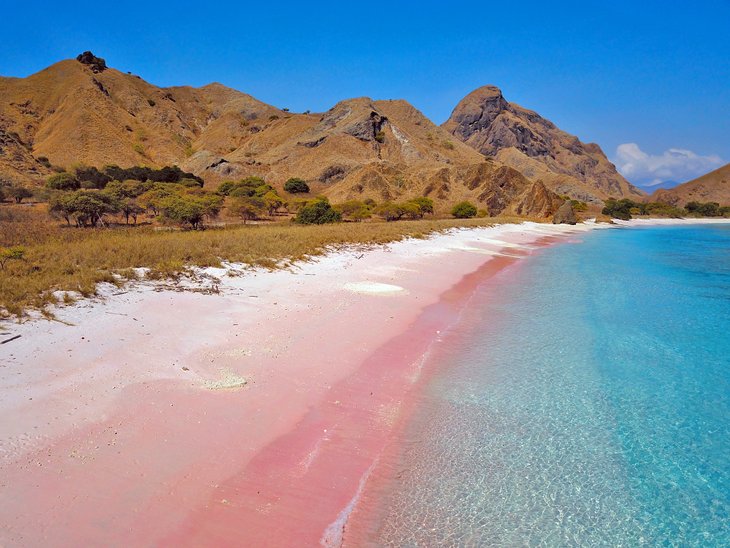 In addition to the vast ocean and coral cliffs, sand is one of the main attractions for beach tourism. You may have visited a white or black sand beach. But what if there is pink sand on the beach?
Although rare, there are several pink beaches in the world. Indonesia doesn't want to lose either. At least there are some pink beach Indonesia. If you are tired of the same coasts, this is an excellent place for vacation. Here's the full explanation.
5 Pink Sand Beaches in Indonesia
In general, the beach has white sand. If you say there is a pink beach, the average world traveler knows it is the Bahamas Beach.
Indonesia has pink beaches. Not only one, but Indonesia also has five beaches with beautiful pink sand. Pink beach or this pink sand phenomenon happens due to the pink color of the shell, or it may be due to the coral reef.
Not only in the world, but Indonesia also has many tourist destinations, known as Pink Beach. Here are five pink beaches in Indonesia.
Pink Beach, Komodo Island
As the name implies, this pink sandy beach is located in the Komodo Island National Park. Some call it Pink Flores Beach or Labuan Bajo Pink Beach. No one knows why the sand on this beach turns pink.
When you spend your vacation in Flores, you should not miss the beauty of this beach. Not only can you bask in the hot sun, but you can also enjoy snorkeling and diving on this beach.
Namong Beach
There is another pink beach in the Komodo National Park area, Namon Beach. If Pink Beach is on the east side, then this beach is on the south side.
Namong Beach is less strategic than Pink Beach, so it is rarely visited, even though nature is more beautiful. The pink color of the sand is getting brighter. This beach is suitable for picnics in a calm atmosphere.
Kaimana Pink Beach
This beautiful panorama of pink sand is one of the must-visit alternative tourist attractions after enjoying the beautiful natural scenery of Triton Bay. The pink sand on this beach is said to have come from coral flakes on the beach.
Red coral flakes mix with white sand to make it pink. Pink sand can be seen at high tide, and many red sand mountains are thrown onto the beach and scattered.
Tangsi Beach
Tangsi Beach in Lombok is probably the most popular pink sand beach in Indonesia. The pink color of this beach sand comes from white sand grains mixed with pink coral flakes.
Sunlight and seawater make the pink color clear. The beauty of Tangsi Beach is not just only that. Around this beach, there are also hills with green meadows and charming headlands with gazebos.
Lambu Beach
As the name implies, this beach is located in Lambu village in West Nusa Tenggara. This place is about 610 kilometers from Surabaya Indonesia. Enjoy the beauty of the soft pink sand that contrasts with the clear blue water.
If you like to play in the water, don't worry. The reason is the waves at Lambu Beach are so calm that it is very safe. You can also pursue the hobby of snorkeling at this beach.
Those are some of the beaches in Indonesia with unique pink sand. When do you want to go on vacation?