The Italian capital is known for its exceptional food, rich history, and incredible architecture, but did you know it is also home to some of the world's best spas?
There is no doubt traveling is amazing, but it can also be stressful. This is why heading to a relaxing spa on your vacation is such a great idea. So if you wish to let go of all of your worries, take a look at these wonderful spas in Rome. Your body and mind will thank you!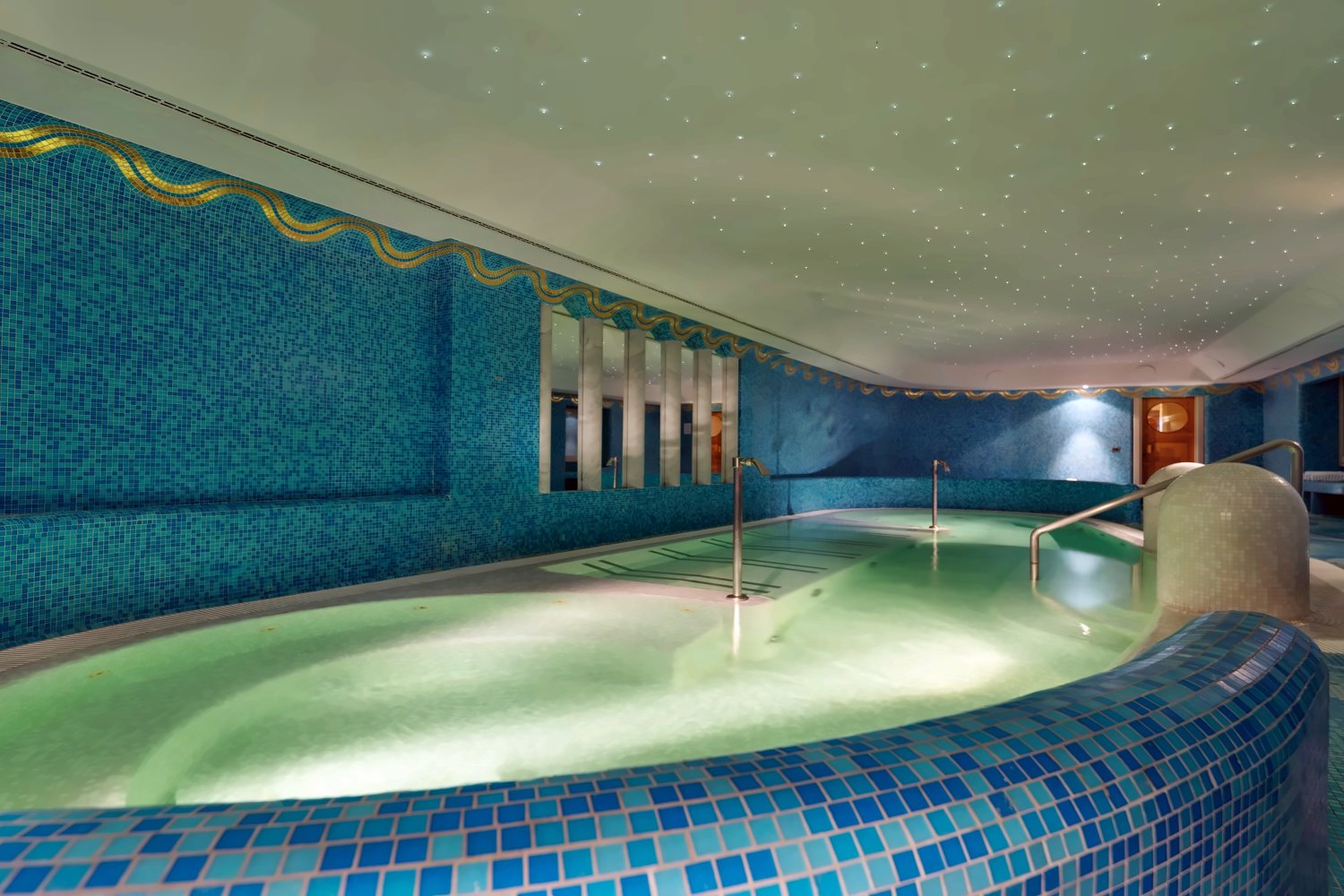 De Russie Spa at Hotel de Russie
To escape the stress of city life, head to De Russie Spa, located in the beautiful Hotel de Russie. Do an invigorating workout in the first-class gym, let your body relax at the Finnish sauna, and after – take a refreshing plunge into the saltwater hydro-pool.
The renowned spa offers many luxurious treatments. So whether you are looking for revitalizing massages, beauty remedies, or exceptional aromatherapy sessions, here is where you will find them.
In addition to the Finnish Sauna, De Russie Spa also includes chromotherapy steam rooms.
Another great feature of the De Russie Spa is its Serini Hair Corner. Not only can you get the perfect haircut or color treatment for your vacation, but you can also make use of world-class hair therapies to rejuvenate them.
When visiting the spectacular spa, make sure to try their Sea Salt Body Scrub and Forte facials – both of which are signature treatments.
If you wish to have an even more special experience, consider staying at Hotel de Russie, which is set within walking distance from the Spanish Steps and Piazza del Popo. Offering 120 luxury rooms and suites designed by the famous Olga Polizzi and Tomasso Ziffer, the hotel doesn't fail to impress.
By becoming a member of the PrivateUpgrades travel club, you will get access to many benefits at the hotel. Upgrade upon arrival, full daily breakfast, 85 EUR hotel credit, 170 EUR for all two nights and more suite bookings, 20% off spa services, and highest priority early check-in/late check out.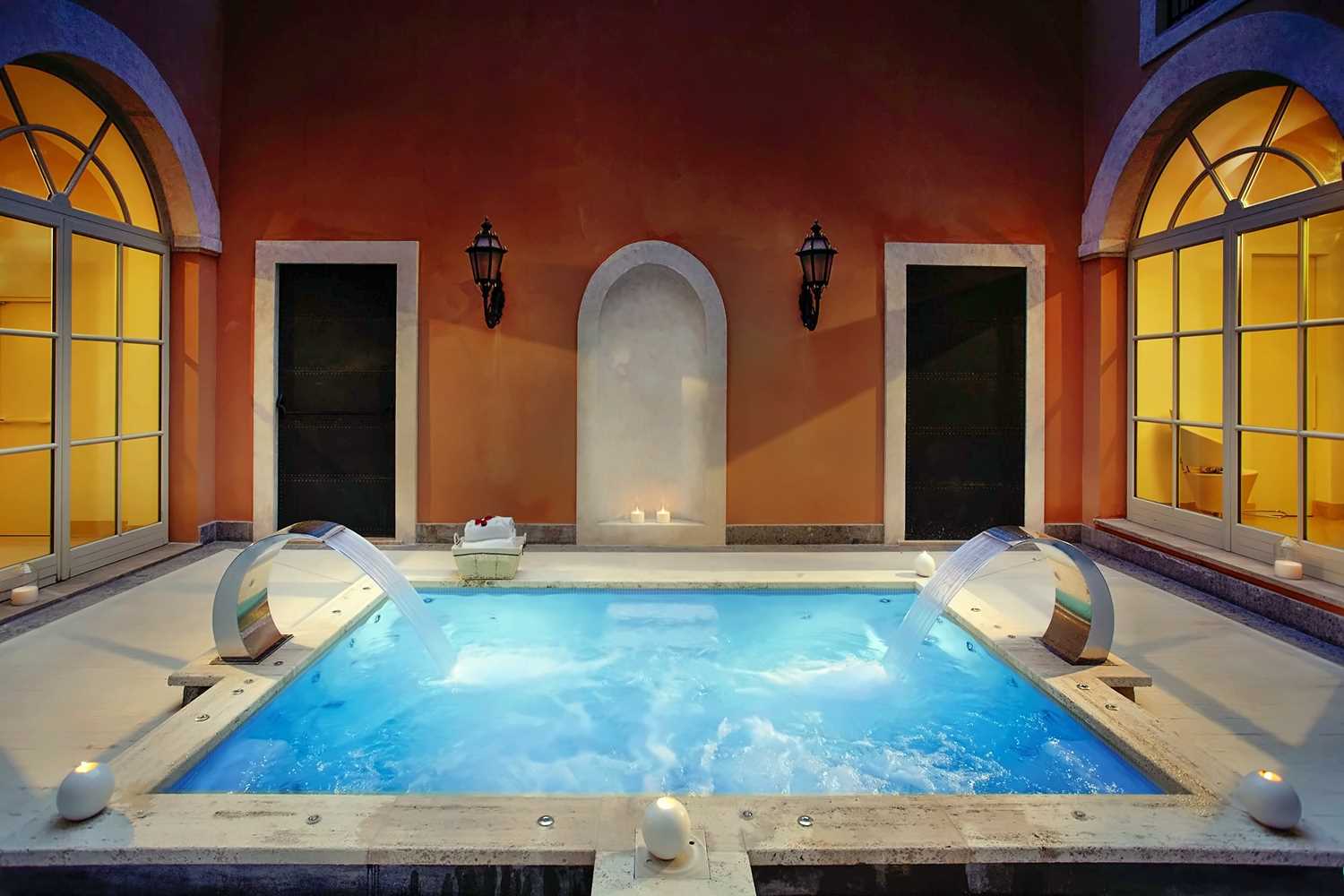 My Blend by Clarins Spa at Villa Agrippina Gran Melia
When visiting Rome, don't miss out on the opportunity to experience the magic of My Blend by Clarins Spa at Villa Agrippina Gran Melia. Pampering beauty treatments using anti-aging technology and a wide range of wellness services will make you feel like true royalty.
The goal of the spa is to create a positive balance between the mind, body, and spirit. Regardless of which treatment you choose, you won't be disappointed.
Once you enter, you will notice that the spa zone is separated into different areas to create a wellness circuit. On-site, you can enjoy a sauna, Turkish bath with chrome-aromatherapy, sensorial showers (Scottish, tropical, nebulizing), as well as an ice machine, and an external vitality pool.
After you have enjoyed one of the fantastic treatments, wind down in the relaxation area.
A must-try at My Blend by Clarins Spa is their personalized body scrub. The treatment includes high-performance body exfoliation. In the hands of experts, your skin will be detoxified, purified, and therefore much softer. Depending on your skin type, you can choose between different skincare products.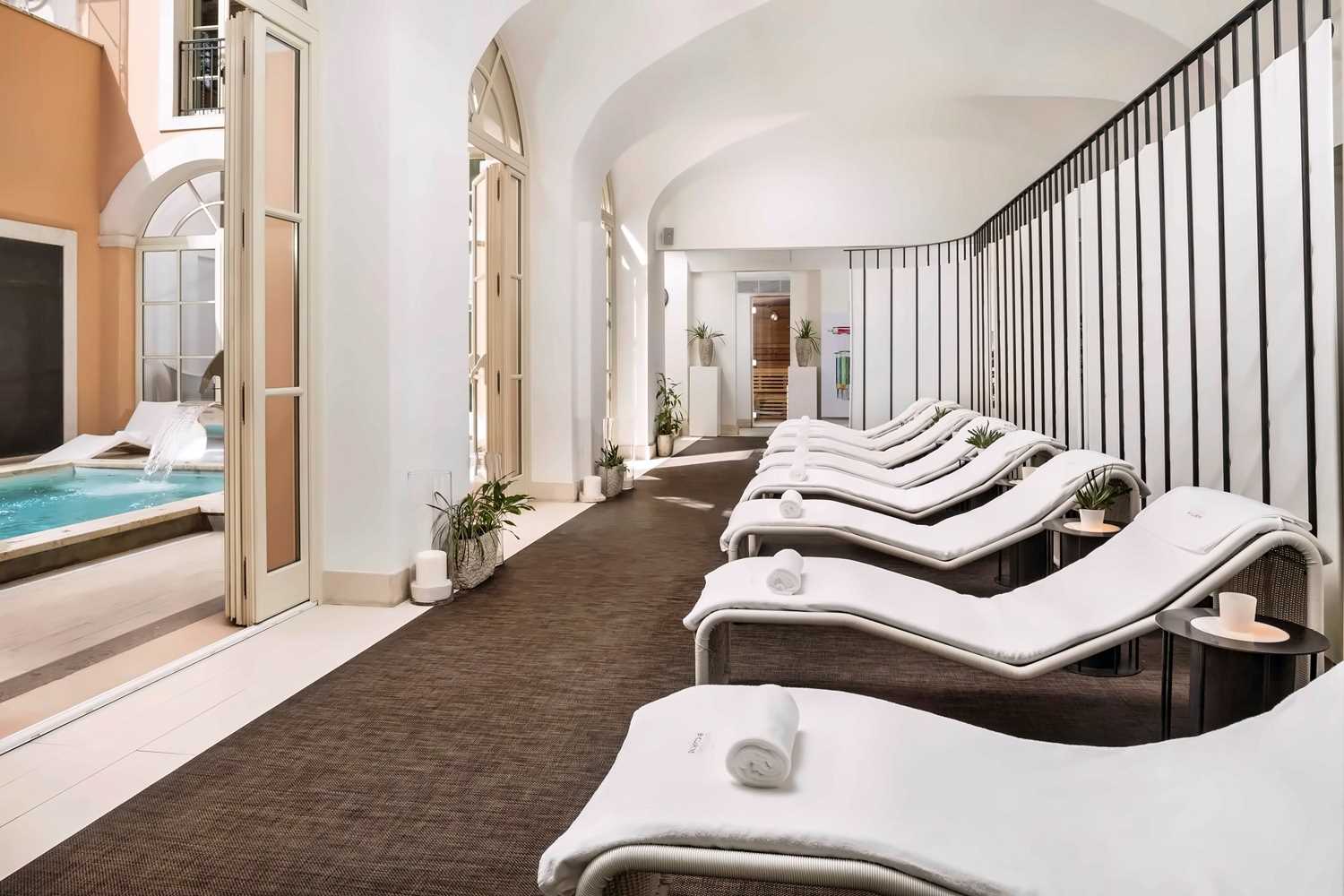 The amazing spa is set at Villa Agrippina Gran Melia, which is located between Janiculum Hill and the Vatican. The accommodation will be an excellent choice for history buffs, as it has so many stories to tell.
With a stunning flower garden, exceptional on-site restaurants, and a gorgeous sinuous outdoor pool, it is the best place to experience everything Rome has to offer.
To get access to exclusive promotions, book your stay through PrivateUpgrades. Our members get daily breakfast, upgrade on arrival, complimentary one-way private airport transfers, and an early check-in/late check-out. It sounds great, doesn't it?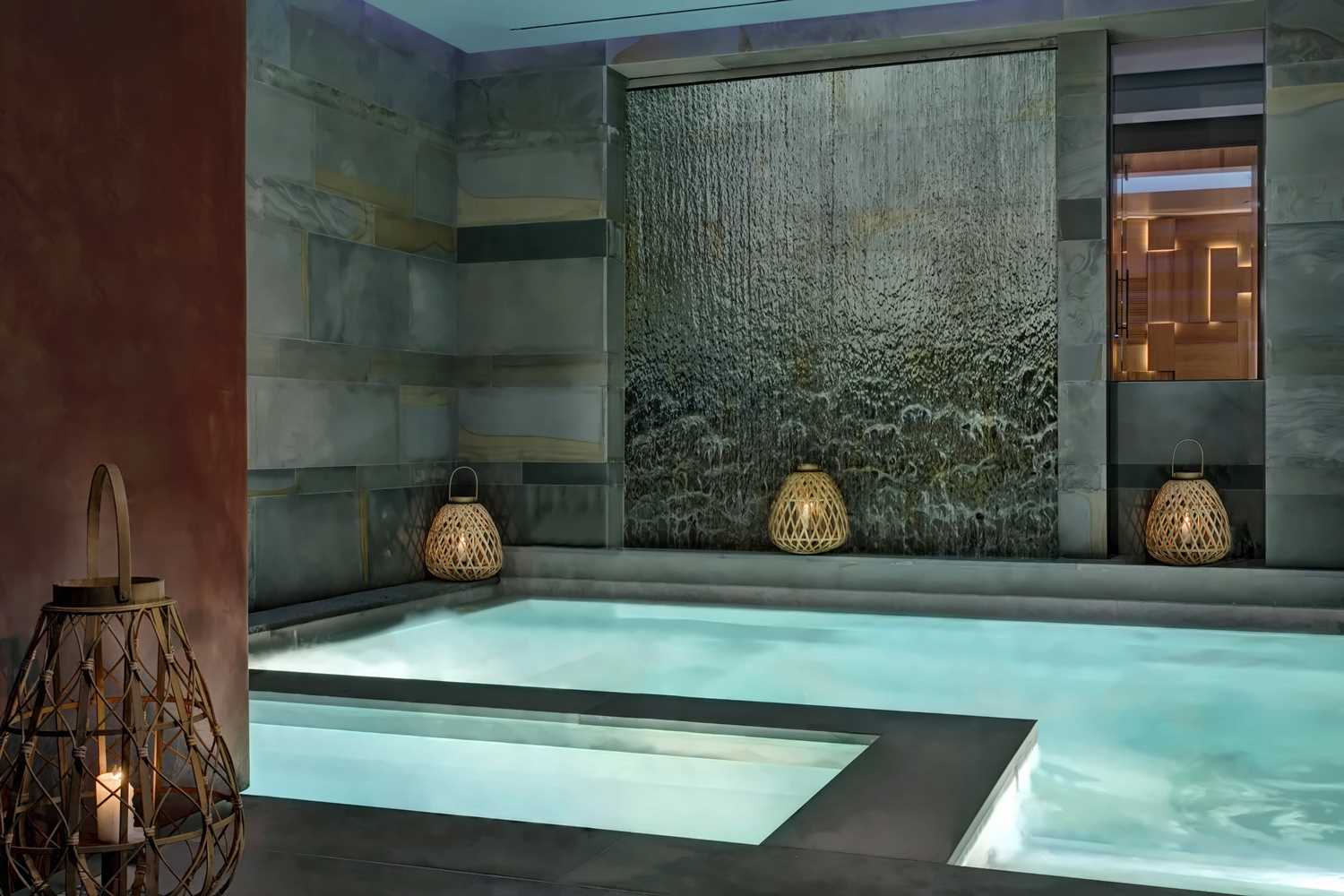 Irene Forte Spa at Hotel De La Ville
Another spectacular spa in Rome that deserves your attention is part of Hotel De La Ville. Spread out on two floors, it includes everything for your peace of mind.
On-site, guests can enjoy five SPA treatment rooms, Kneipp foot baths, an ice fountain, and a salt room. What is great, a Rasul mud farm alongside plunge pools, and hydrotherapy is available too.
It is not difficult to see why the spa at Hotel De La Ville has become among the most loved in all of Rome. As the floral scent of orange blossom fills the air, it is nearly impossible not to feel relaxed.
Offering a wide range of experiences that diffuse the essence of Mediterranean wellness, the Irene Forte Spa sets a new high for luxury spas.
Those who enjoy a good workout can join fitness classes organized by the hotel and professional trainers. However, if taking classes isn't your thing, you can simply hit the gym, which features all the latest equipment.
Once you've visited the incredible spa, perhaps it is worth to check out the glorious hotel too? The building, where Hotel De La Ville is nestled, was initially used as a residence for European Nobles.
Now, the converted 18th-century palazzo is one of the city's most lively accommodations. Guests can choose between 89 different rooms and 15 suites. Those who wish to treat themselves can opt for one of the two presidential suites which overlook Rome.
To experience both the hotel and the spa, book your stay through PrivateUpgrades! Then you will get exclusive access to upgrade upon arrival, complimentary aperitivo, daily buffet breakfast, 85 or 170 EUR hotel credit (depending on whether you choose a room or a suite), welcome amenities, 20% off spa services, and early check-in/late check out.
Still haven't found the perfect spa for you?
If you wish to have a magical spa getaway, you can also consider staying at one of these amazing accommodations, which boast spectacular wellness areas:
There is nothing like a vacation in Rome. After you've visited all the main attractions, winding down at one of the local spas will seem like an actual dream.
If you need assistance in planning your Rome holiday, contact our team! They will happily share advice and tips on making the most of your trip.