This post was written by Emily Becker, who is a Mexico-based freelance writer for BMTM.
Puerto Escondido captured my heart from the very first time I dipped my toes in the water at Playa Carrizalillo, my now-favorite beach in town. A far cry from the resort-speckled shores of Cancún and Puerto Vallarta, Puerto Escondido offers a much more chill atmosphere, with a better variety of beaches.
This up-and-coming destination is beloved by surfers, backpackers, and solo travelers like myself. It's touristy enough to have everything you could possibly need, but still quaint enough to give you a taste of authentic Mexico.
Stick around for my complete guide to Puerto Escondido; what to do, where to stay, how to get there, and more:
Things to Do in Puerto Escondido, Mexico
1. Chill in La Punta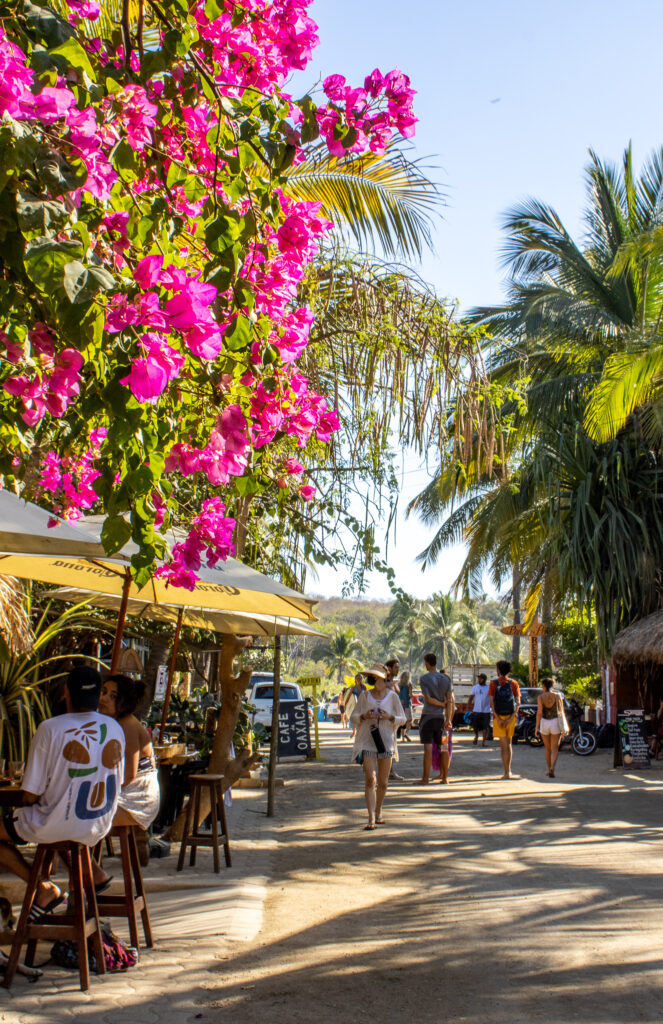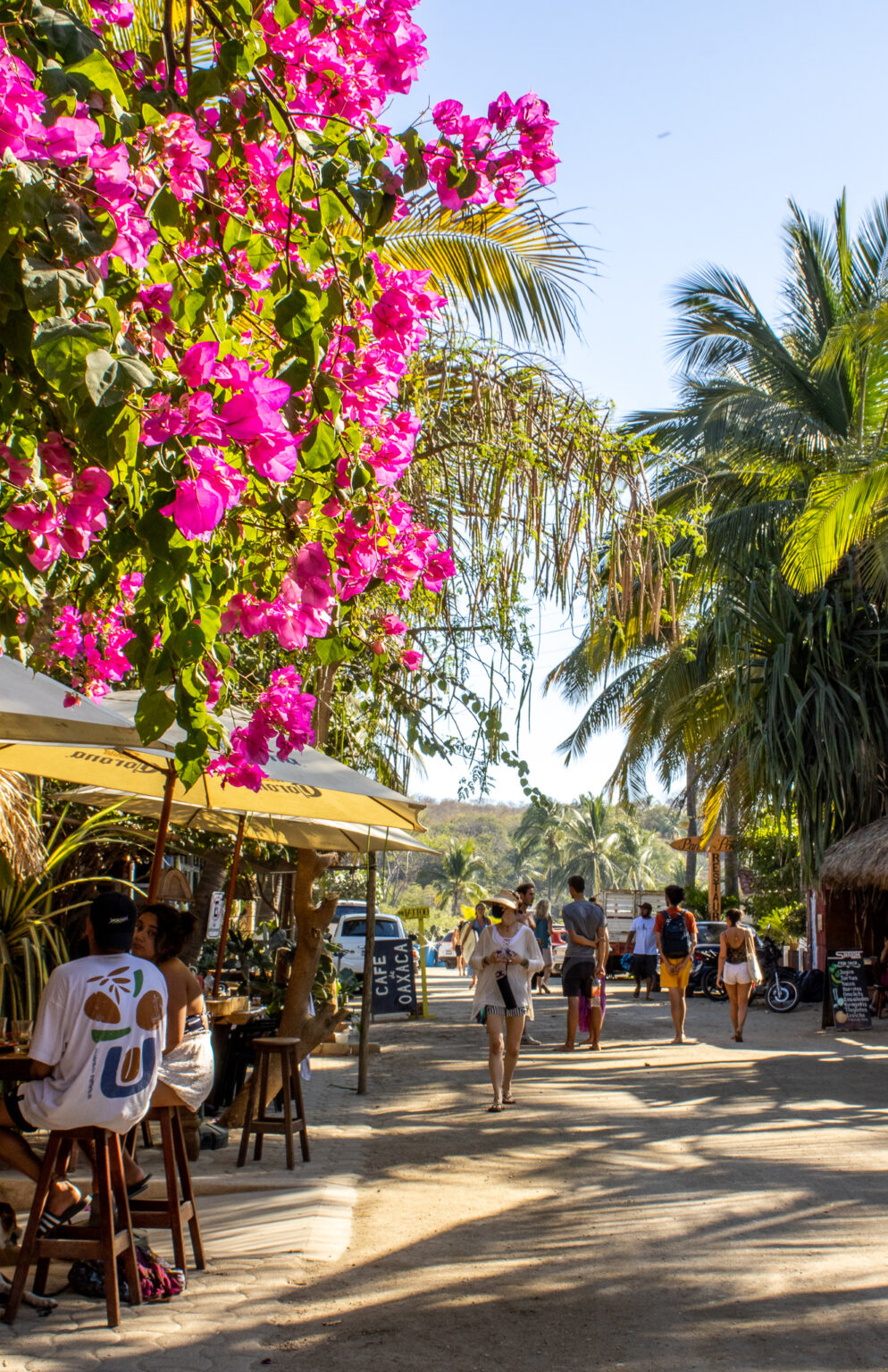 La Punta is the area on the eastern side of Puerto Escondido in which Playa Zicatela lies. It's easily the trendiest spot in town and full of young people who come for the nightlife, restaurants, and surfing. The first time I went to Puerto Escondido, I got big Tulum vibes from La Punta, but had a change of heart the second time around.
It's similar to Tulum's hotel zone because of its beautiful scenery and quintessential beach-chic decor, but I realized during this second visit that La Punta — and Puerto in general — is much more laid-back and authentic than Tulum. It's also more affordable and is more geared toward surfing and other sports.
In any case, La Punta is a great spot to window-shop, grab a bite, book a surf lesson, or sip a cocktail on the beach. It's also a cool area to stay in: there are tons of hostels, hotels, and Airbnbs that are pretty affordable. I stayed in this little bungalow for just $40/night right in the heart of La Punta.
2. Release turtles at Playa Bacocho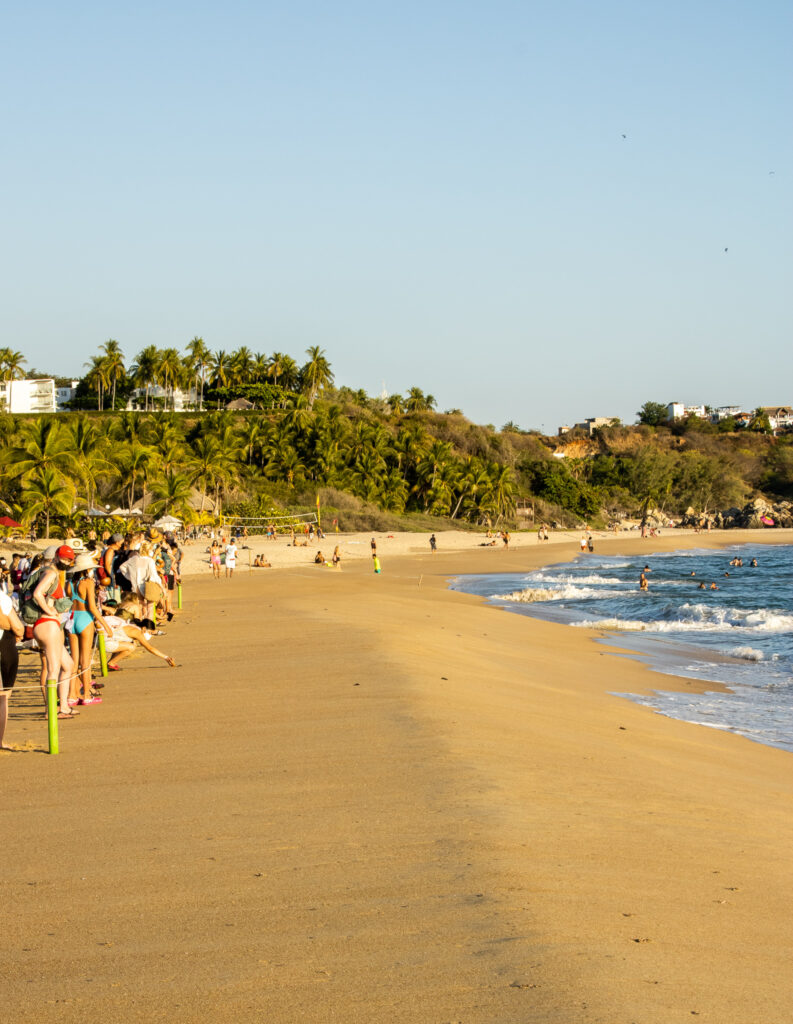 Before my trip I had seen tons of Instagram photos of people releasing turtles at Playa Bacocho, and I was quite skeptical of how ethical it would be to do so. To be honest, I'm still unsure about whether or not human intervention like this is 100% okay for the animals, because I've seen credible articles online for and against it.
I opted out of actually releasing a turtle myself because I was unsure, but I think it's one of those things that everybody is capable of making an informed decision about on their own.
On Playa Bacocho, there's a big structure where conservationists hatch the eggs of sea turtles in a safe and controlled environment. Every evening around 5pm, they offer visitors a chance to release a turtle using a hollowed-out coconut. Everybody can get their turtle, go to the designated area, and let the little creature make its harrowing journey to the sea.
It's a free activity, and even though I didn't release a turtle myself, I still enjoyed sitting close by and watching the little guys waddle to the ocean. Plus, the sunsets at Playa Bacocho are gorgeous, so it's worth going at that time regardless.
3. Dolphin and whale watching
A popular activity in Puerto Escondido is going out to see dolphins and whales off the Oaxacan coast. Humpback whales migrate to this part of the Pacific between December and March each year, so you'll have a good chance of seeing them if you visit during this season. Pods of dolphins are visible any time of year, so it's definitely worth taking a boat out to see them.
This sunrise dolphin- and whale-watching tour is a great option.
4. Take a surf lesson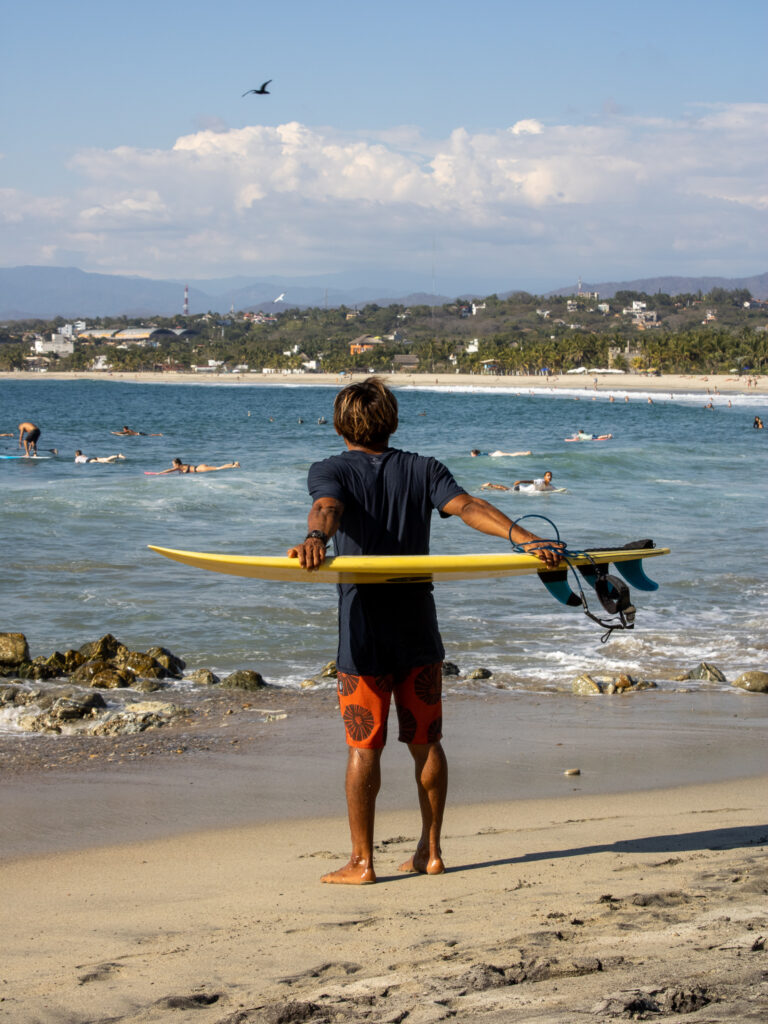 Playa Zicatela is the place to surf in Puerto Escondido, and you'll even see a huge statue of a surfer on the highway near the turnoff that leads to the beach. The entire town is known for being a surfer's paradise, so taking a lesson is the perfect way to really get into the spirit of Puerto Escondido.
There are plenty of places to do so, but the only one I've tried myself is the Pacific Surf Academy. Don't be deterred by its no-frills website. It's legit, and the instructors are professional, friendly, and bilingual in English and Spanish. I went out early in the morning for my lesson and had a blast paddling out, catching waves, and trying (and mostly failing) to stand up on my board. My instructor was encouraging, and facing my fear of the ocean waves was an empowering experience.
5. Check out Playa Carrizalillo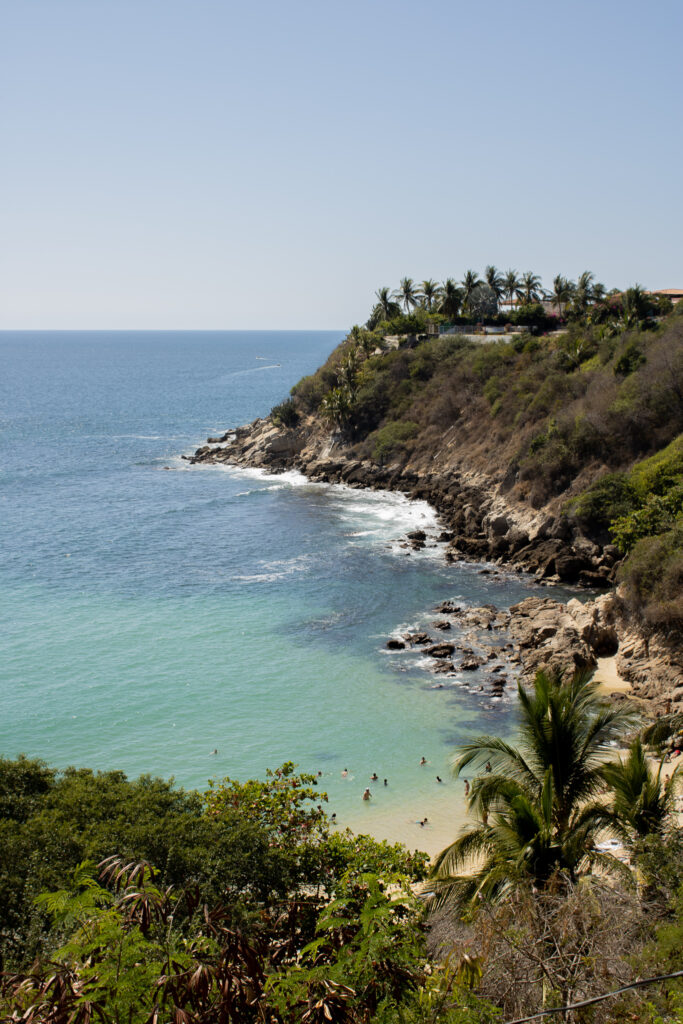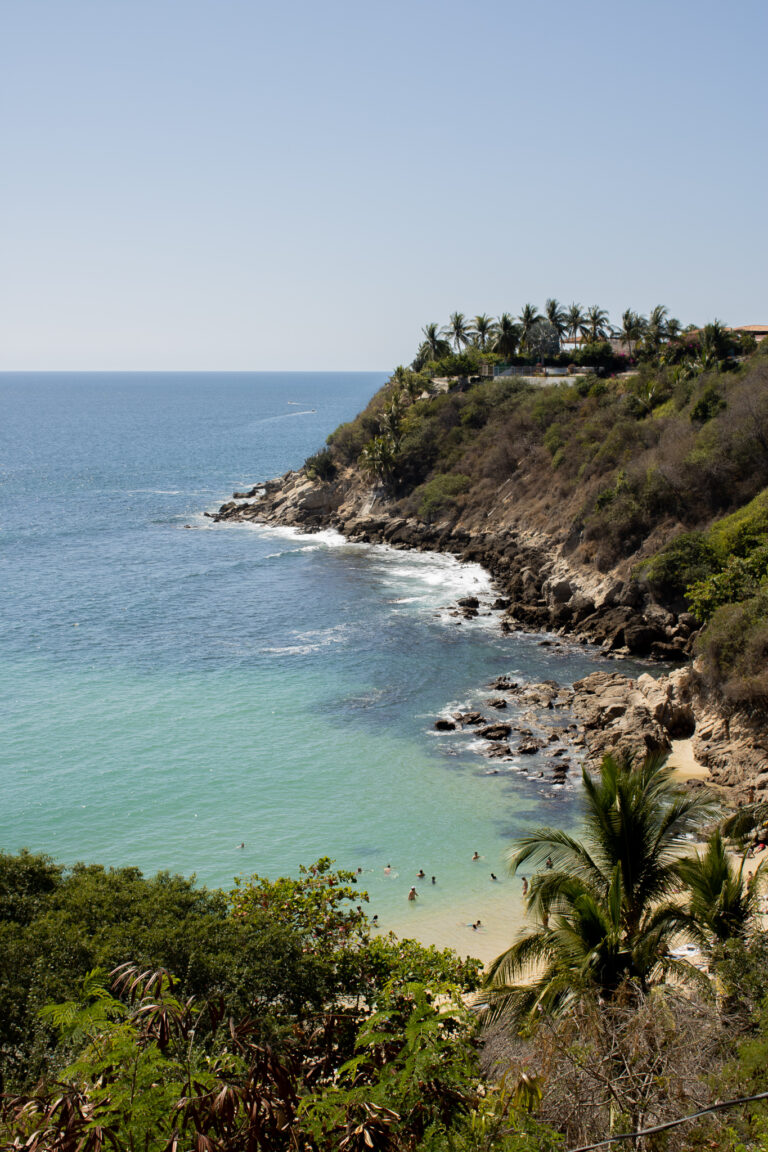 Playa Carrizalillo is my favorite beach in Puerto Escondido, hands down. I love how you have to descend a bunch of stairs to get to the beach, because you get a gorgeous view of the rocky shores from above on the way. It is also another popular surfing spot, but I was intimidated by how many big rocks there were in the water, so I decided to chill on the beach instead.
Playa Carrizalillo has more of a family vibe, and it tends to get quite crowded in the afternoons and on the weekends. If you want to have the beach mostly to yourself, get there early in the morning on a weekday.
6. Rent a scooter or ATV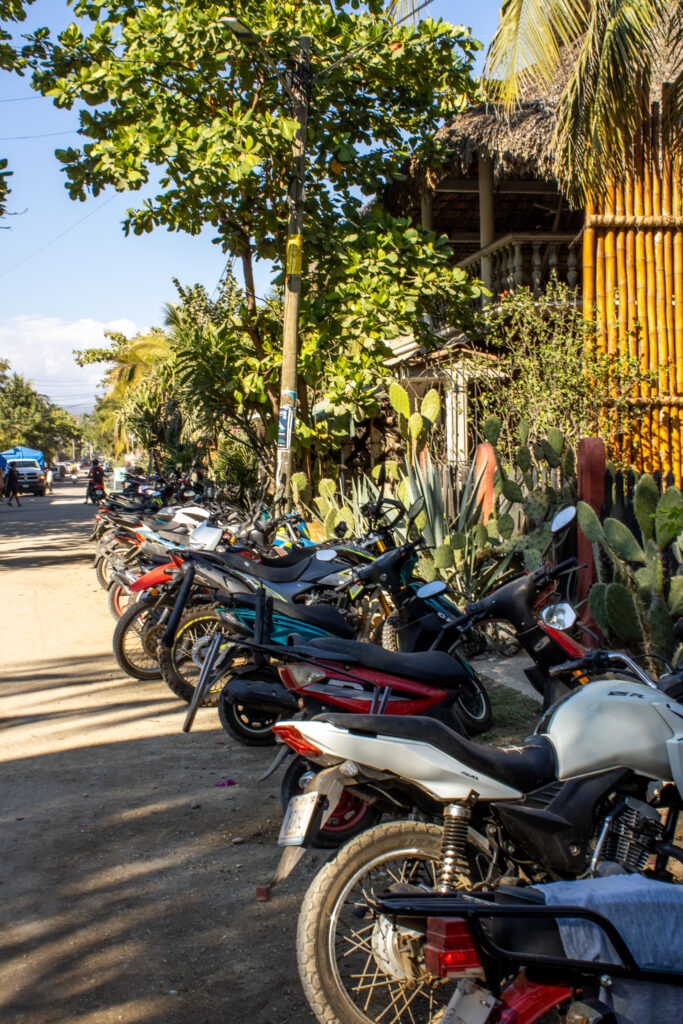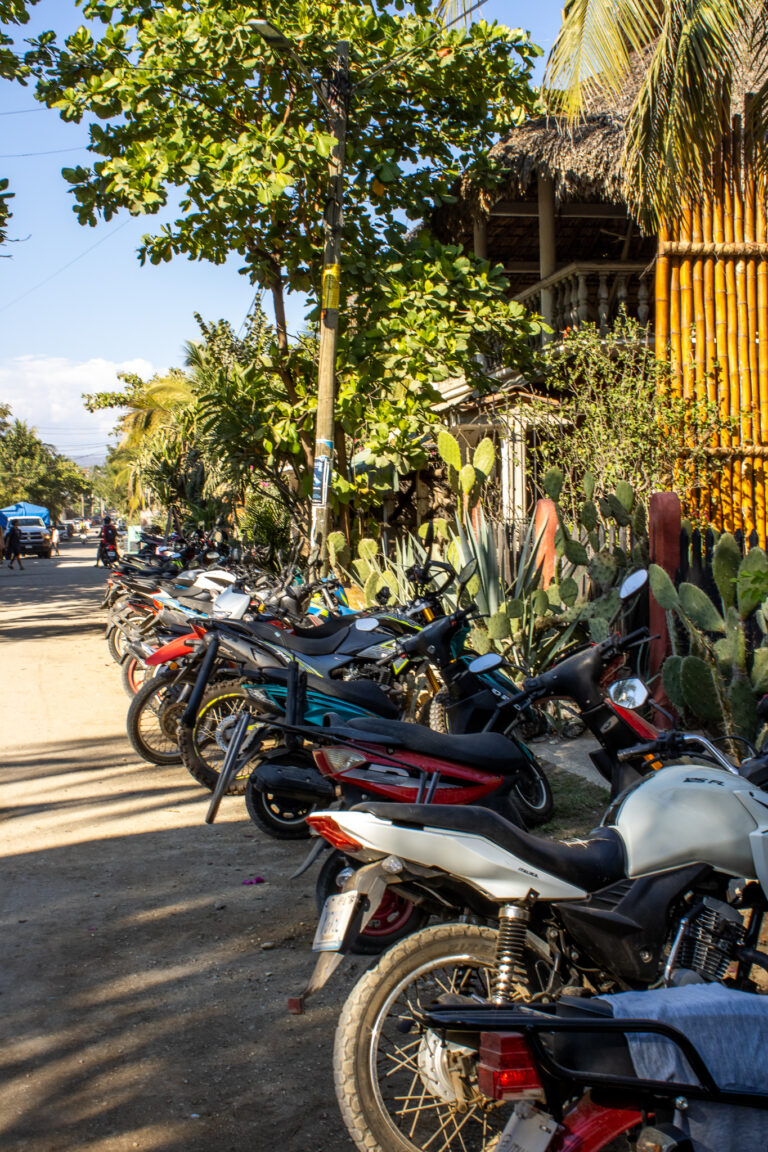 You'll notice right away in Puerto Escondido that most people get around on either a scooter, motorcycle, or ATV. A lot of the beaches in Puerto are spread out, so renting one of these to bop around in is a great way to see as much as possible without relying on taxis.
Rentals can vary in price depending on whether you choose a two-wheeler or a four-wheeler. Scooters and motorcycles are around $20/day with insurance, and ATVs are around $40/day. Robert's Eco Tours is a reliable place to rent a scooter on a weekly basis, offering a generous discount from the usual daily rates. Brand X Moto Tours also has a variety of vehicles to choose from at decent prices.
7. Catch an epic sunset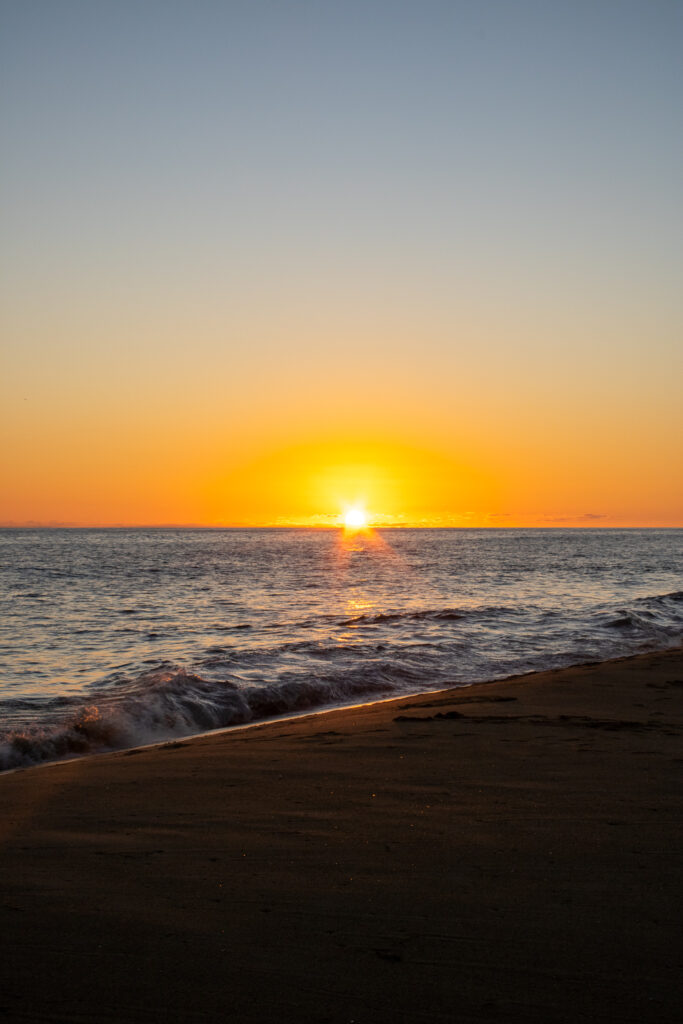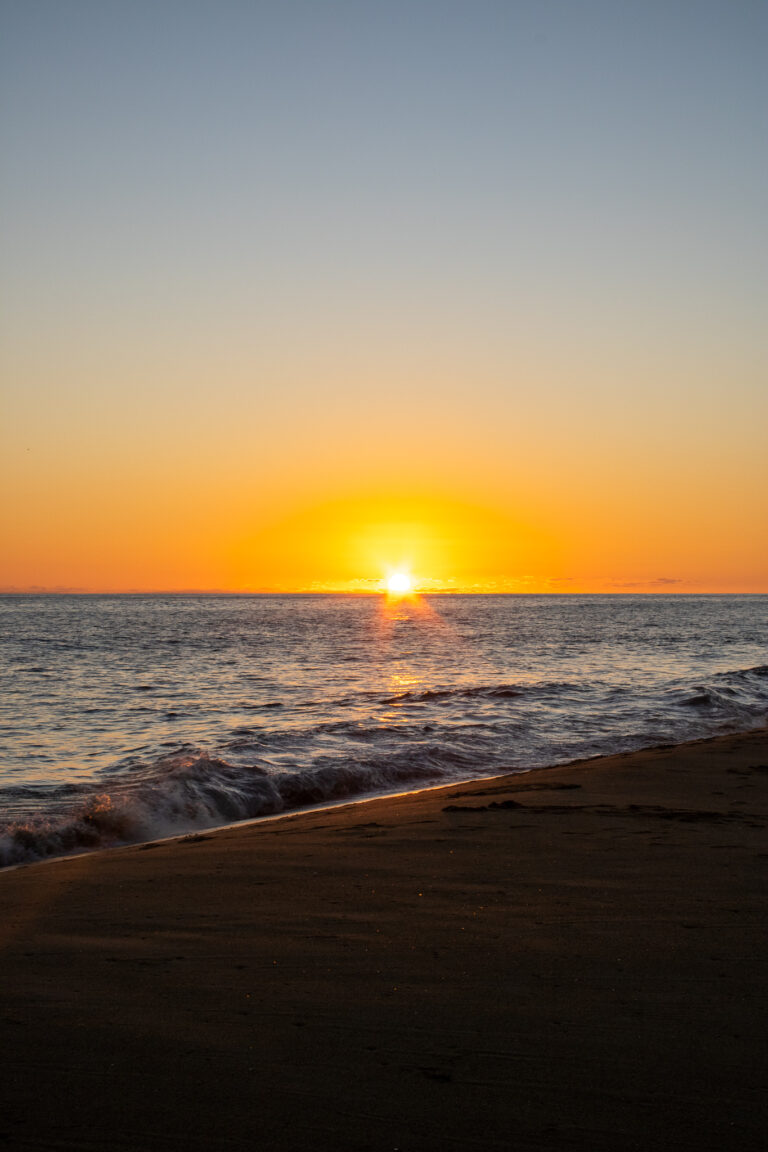 There are a lot of secret spots in Puerto Escondido to catch a beautiful sunset, some of which I'll allow you to discover on your own as to not upset any locals by spilling the beans. For a low-key sunset, though, head to Playa Bacocho, where you'll find volleyball players, sea turtle releases, and lots of picnics on the beach.
Another fantastic place to watch the sunset is at Camino al Faro, where you can follow some old stone steps to a spot right above where the waves crash. You'll find the entrance at Mirador Un Sueño Posible (see the map below). Get there around 5:30pm to claim a good spot. Bring some refreshments and snacks, but make sure not to leave anything behind.
8. Stand-up paddleboard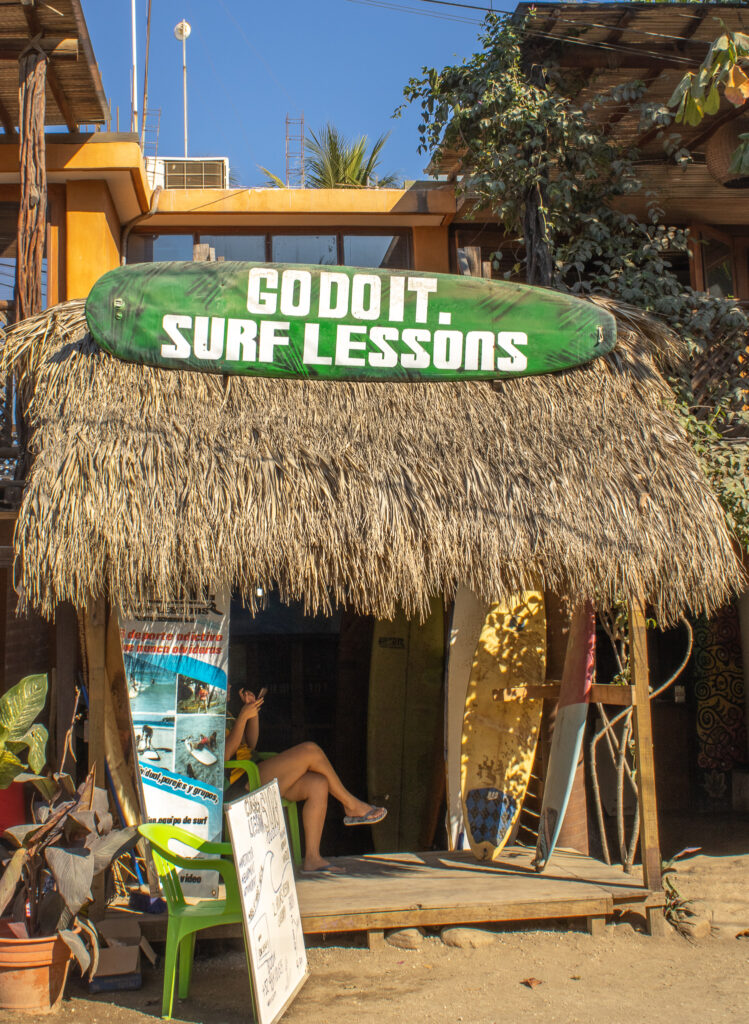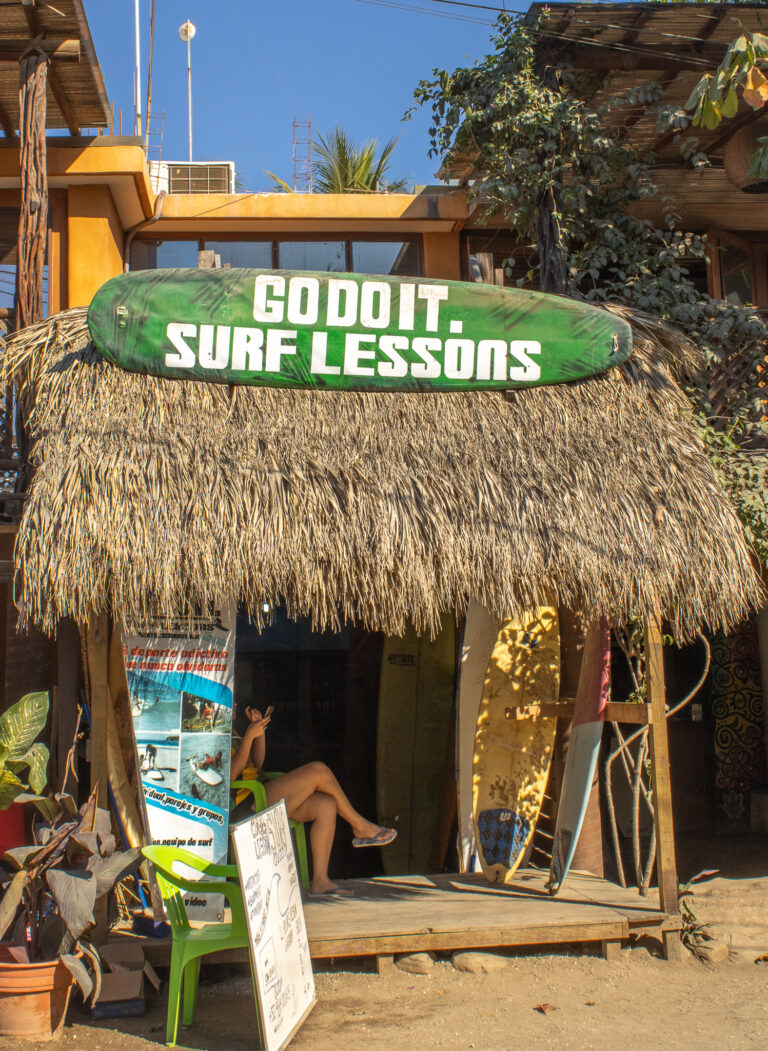 If surfing isn't your thing but you still want to get out on the water, try a stand-up paddleboard! SUP is a bit easier than surfing, and allows you to enjoy the waves more peacefully. Although Playa Zicatela is known for its thundering waves, midday offers calmer conditions that are great for paddleboarding.
Go Do It at Playa Zicatela offers SUP classes and also rents paddleboards. You'll also find paddleboards for rent at Playa Carrizalillo.
9. Dance on the beach at Playa Manzanillo
Playa Manzanillo is a small beach in an inlet near Playa Carrizalillo. Almost half of the shore is rocky, with the other half boasting soft sand and gentle waves perfect for swimming. The main attraction here, however, isn't the water itself. It's La Isla Beach Club, which is a chill restaurant and bar that pumps out live music almost every afternoon.
La Isla is worth a stop if you want to get your groove on without staying out late or immersing yourself in Puerto's nighttime party scene, because the live music usually starts around 1pm each day. I hung out here for a couple hours when they had a reggae band playing and had a blast.
10. Day trip to Zipolite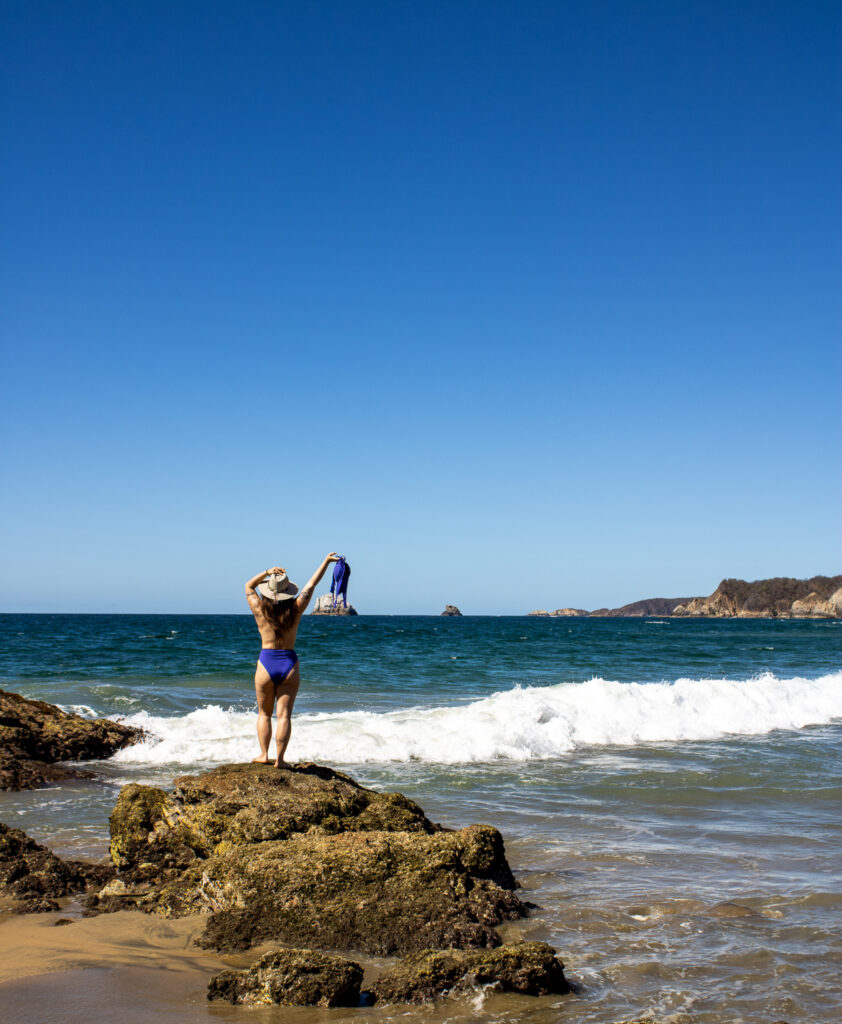 If you're up for an adventure just about an hour away from Puerto Escondido, head to Mexico's only legally nude beach, Playa Zipolite. This is one of my favorite beach towns in Oaxaca because of its carefree atmosphere and '70s vibe. Chill out on the beach, immersing yourself Zipolite's laid-back culture. This little town is also full of street art, so it's worth taking a stroll to see the murals.
Check out my guide to Zipolite to start planning your visit.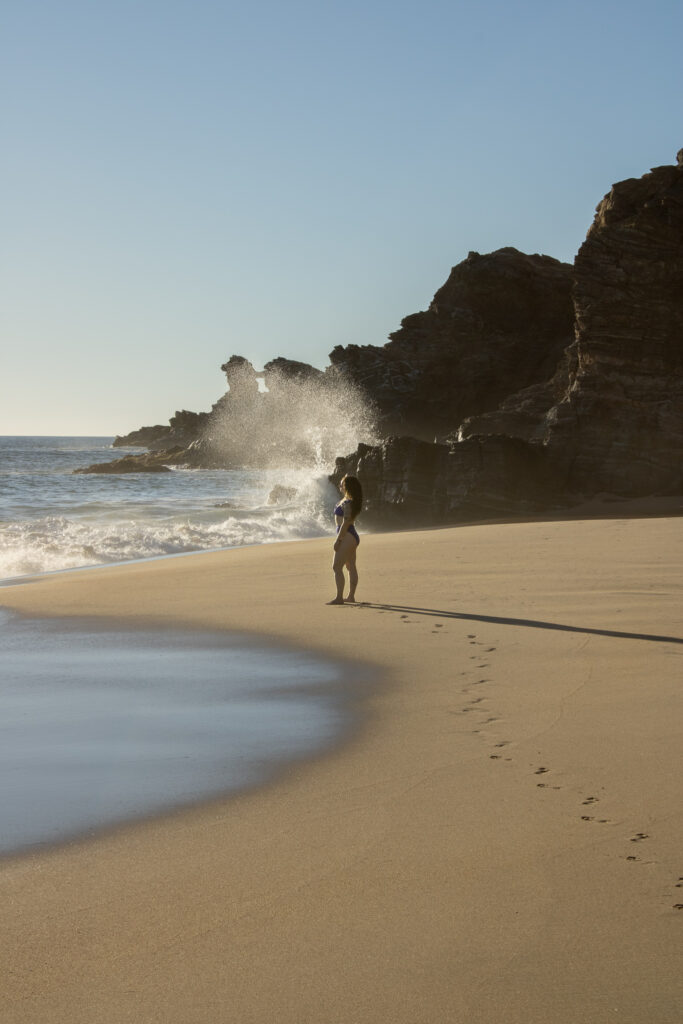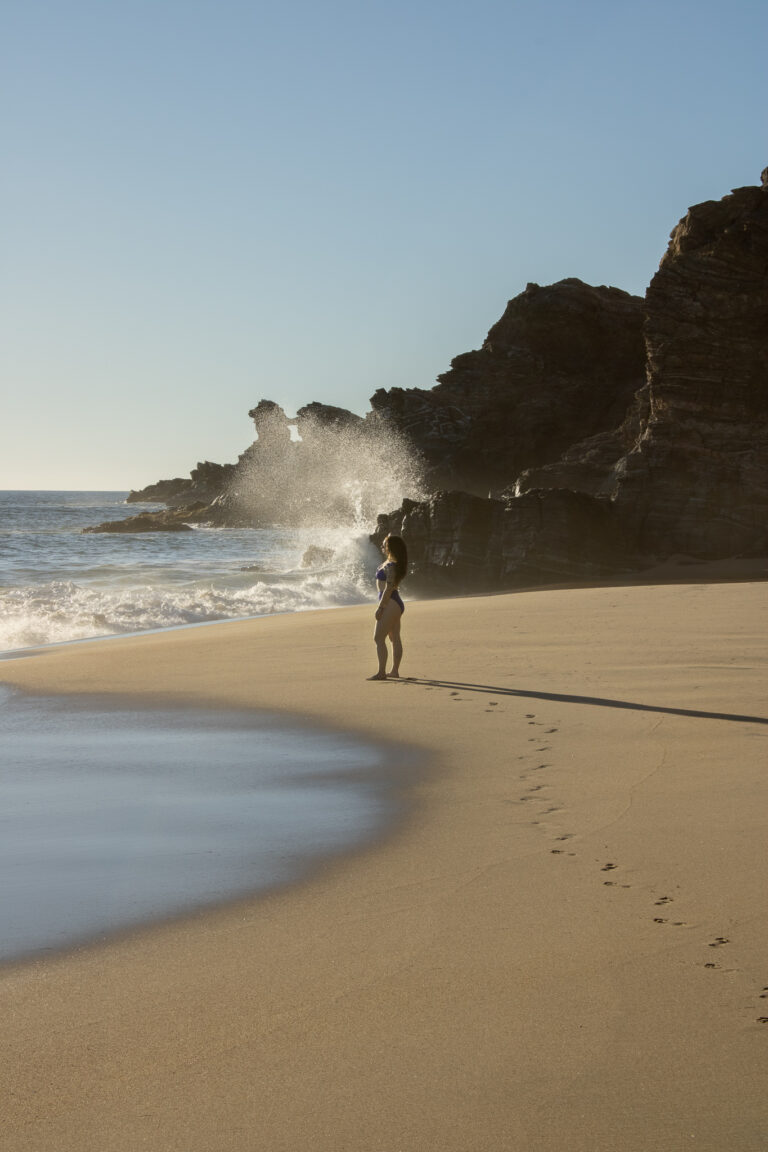 Just 10 minutes from Zipolite by car is Mazunte, another hippie beach town on Oaxaca's coast. Just like Zipolite, I recommend checking out Mazunte while you visit Puerto Escondido.
If you make it there, don't miss out on a stop to Playa Mermejita, a long beach with very little infrastructure and zero hotels. You can get there by driving to the parking lot for Punta Cometa (a popular sunset spot in Mazunte) and turning right at the fork, where you'll see a sign pointing to a parking lot for Playa Mermejita.
The soft sand coupled with the crashing waves on the big rocks makes this place dreamy and idyllic. I loved that there were very few people there before the sunset, with some trickling in for what looked like a big beach bash later in the evening.
My friend and I loved setting up shop in the sand to watch the sunset, having ventured all the way to the westernmost part of the beach, where there was a peaceful rocky cove.
12. Try the best fish tacos in town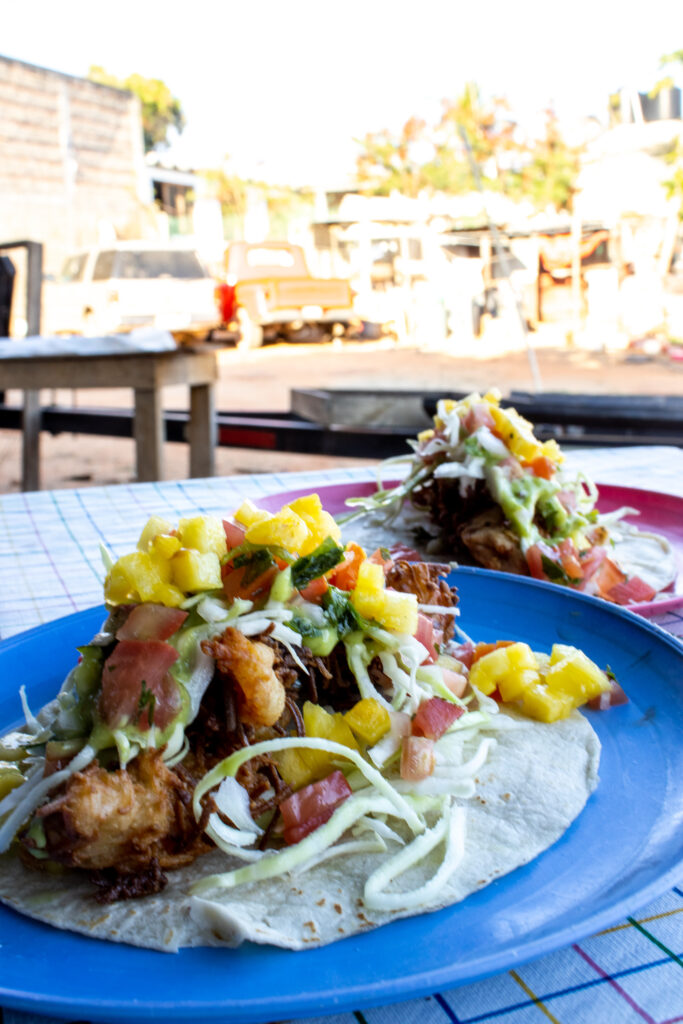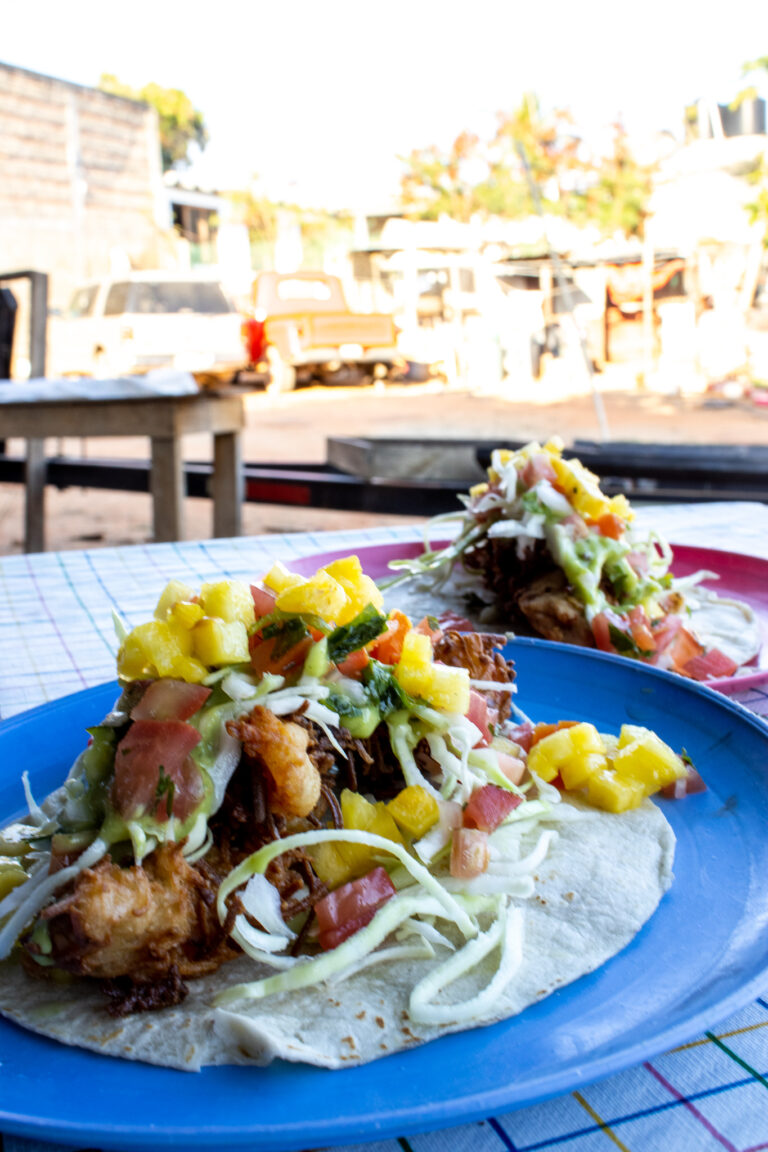 Does your heart flutter when you reminisce about a delightful meal, or is it just me? I first tried Pepe's fish tacos when I visited Puerto in 2021. Pepe, the uber-friendly owner, used to have his restaurant in La Punta. Nowadays this rugged roadside taco joint is a bit further away from the beach but still just as delicious as ever.
Pepe's is down to earth and about as no-frills as it gets. You'll find chickens running around the property, sneaking up underneath the table to catch any fallen taco crumbs, and Pepe's rescued street dogs will be eager to greet you.
The tacos are either fish or shrimp, coming beer battered and coconut crusted. They're served with a mouth-watering pineapple pico de gallo and homemade salsa on the side. So flavorful, filling, and as fresh as it gets!
Where to Stay in Puerto Escondido, Mexico
Even though it has become more popular over the years, Puerto Escondido remains one of the cheapest beach destinations in Mexico. After all, it's a backpacker's paradise! Even if you're looking for something a little more private and upscale than a hostel, you won't have to break the bank on accommodation in Puerto and you'll get a lot of bang for your buck.
Budget: Puerto Dreams, $15/night (dorm)
If you're going to do Puerto Escondido, Mexico on a backpacker's budget, Puerto Dreams is my top pick for you. I stayed here last year and had a stellar time. Not only was my four-person dorm bed very comfortable, but the staff at Puerto Dreams were extremely friendly and accommodating. It was social, but quiet at night and didn't have a heavy party scene inside the hostel.
There were free organized activities, and the common spaces were clean and airy. Puerto Dreams is also a great spot if you're a digital nomad, as the hostel has places where you can set up your computer and work with fast Wi-Fi and very little noise.
Book your stay at Puerto Dreams here.
Mid-range: Bikini Beach House, $40/night
Bikini Beach House is a boutique hotel that has four suites, just steps from Playa Zicatela in the heart of La Punta. This breezy spot is ideal if you want La Punta to be your base and don't mind a little noise. At just $40 a night (plus Airbnb's fees), it's a total steal and includes a king-sized bed and stunning beach views.
Book your stay at Bikini Beach House here.
Luxury: Villas Carrizalillo, $185-216
Overlooking gorgeous Playa Carrizalillo is this knockout boutique hotel that features a pool, a private dining area in every room, and a restaurant on-site. Many rooms even have a terrace that opens to a gorgeous ocean view.
Here you'll enjoy peace and quiet with absolutely no street or party noise, just the crashing of the waves below. I'd choose this hotel if I was visiting with a group of friends, as there are suites with multiple bedrooms.
Book your stay at Villas Carrizalillo here.
Map of Puerto Escondido
How to Get to Puerto Escondido, Mexico
Getting to Puerto Escondido, Mexico has become progressively easier as it has increased in popularity, particularly among foreigners. A new highway connecting it to Mexico City is underway and will further increase traffic here upon its completion.
For now, the easiest way to get to Puerto Escondido is to fly there from Mexico City. It's a quick one-hour flight, and tickets are cheap, usually around $100 USD. You can also visit Oaxaca City and rent a car for a daring road trip through the sierras that separate the city from the coast. I did this and it was an awesome adventure that I would definitely do again.
Pin me for later: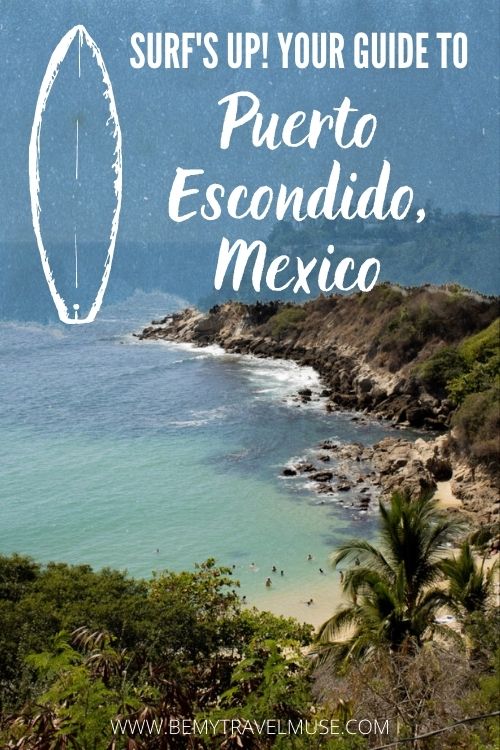 I've been charmed by Puerto Escondido and will always be looking for an excuse to venture there. I'm keeping my fingers crossed that it doesn't become overtouristed like so many other beach destinations in Mexico, because I still see Puerto as a salty surf town with a big personality.
If you're heading to Oaxaca's coast soon, what other places are you excited to visit?
Click to read more posts about