Are you thinking about learning a new language? Maybe you're hoping to make your next travels more immersive, or just looking for some self improvement, or even considering moving internationally.
If you're like me, you've tried learning another language (Spanish in my case) through multiple apps and language programs over the years.
To be honest, most of them are pretty good. They've gotten me from speaking absolutely zero Spanish, to being able to order in a restaurant, navigate public transit, and ask for a beer in Playa del Carmen. They've even helped me navigate our way to the beautiful Cenote dos Oyos. That's quite a feat, considering that I'd say I'm definitely not gifted with languages.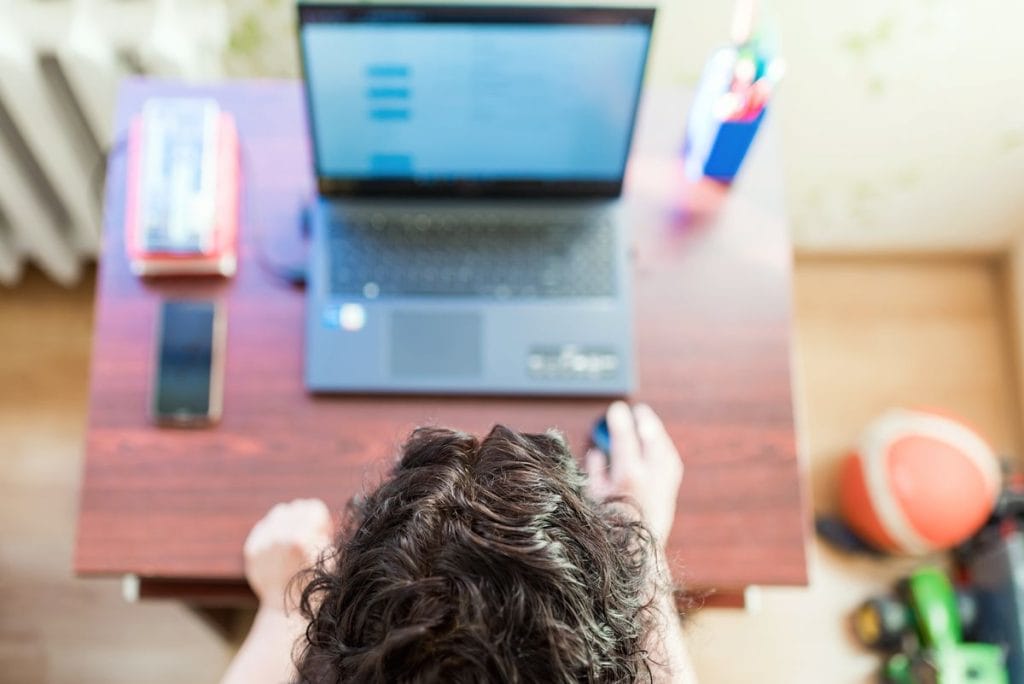 In fact, learning Spanish has been a lot harder than I thought it would be.
I found myself stuck after a bit. I could speak a little Spanish, but I really couldn't hold a conversation. The minute someone asks more than if I like leche and azúcar in my coffee, I'm sunk.
That's when it came to me: to learn the language, I was going to have to actually speak the language with native Spanish speakers. I asked my friends who were fluent in other languages, and that's what they said as well: they only became fluent in their second language when they started having conversations with other people in that language.
That's where a program like Lingoda comes in.
How does Lingoda work?
Lingoda is a language school that offers live online Zoom-classes. Classes are either group, or one-on-one, 60-minute long lessons.
See Lingoda Spanish classes here.
You can take English, Business English, German, French or Spanish with Lingoda.
My Lingoda review – Spanish classes
I have to admit that I was a little nervous to begin speaking Spanish live, with a real human being! It's been at least a couple of years since I practiced my Spanish, and it was pretty shaky even then.
When you start Lingoda, you choose your language level. If you aren't sure where your language skills are at, luckily, they offer a free Lingoda placement test.
What do the A.1 or B.1 levels mean in Lingoda?
The levels are A1, A2, B1, B2, and C1:
A1: Absolute Beginner
A2: Beginner
B1: Intermediate
B2: Intermediate
C1: Advanced
Taking the Lingoda placement test
I wasn't sure of my level, so I took the free, online, placement test. It's a multiple choice test, with 10 questions. It took me about five minutes to do.
You'll need to enter your email address to get your test results.
I took the Spanish placement test. You can also do a placement test for English, German, or French. Once I confirmed my email address, my results were emailed to me.
I scored a 5/10, placing me at an A2 (Beginner) level. Because it was a multiple choice test, I think that I lucked out with a couple of my answers, so I think that's a bit generous. I'm realistically probably at an A1 Beginner level.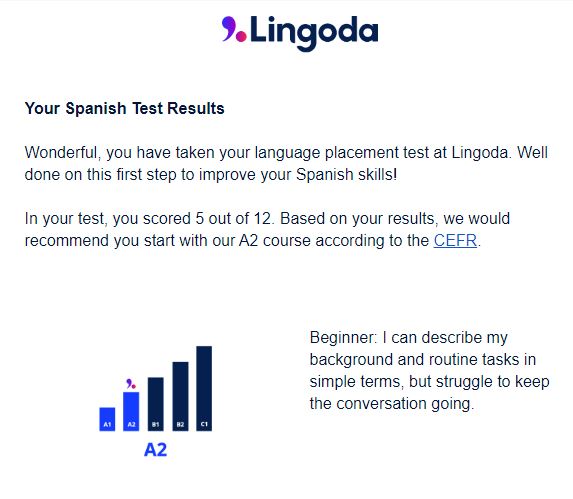 Lingoda gave me one group class, and a 1-on-1 class free for this review, but you can get try classes for free as well using the Lingoda free trial.
Is there a free Lingoda trial?
Lingoda offers a free seven day trail. During the trial period, you can choose either three group classes OR a one 1-on-1 private class free of charge.
You'll need to enter your credit card or PayPal details to access the free trial.
During your trial week you'll have the option to adjust or cancel your subscription.
You must cancel the subscription before the 7 day trial is over, or your paid subscription will start, and you'll be charged the full amount of your chosen subscription.
*There's more on the cost of Lingoda plans below.
Deciding between group or private lessons
Next, I had to decide if I should take group or private lessons. I decided to take one of each to see which I'd prefer.
How big are group classes?
Group classes are between three to five students.
Choosing my Lingoda group class
Because Lingoda hires teachers from all over the globe, there are classes available 24 hours a day, 7 days a week. Just make sure you set your time Zone correctly.
I chose Orientation Spanish A1.1 as my first class. It's an optional course, but it explains the Lingoda method, and how to progress, which I thought would be helpful.
There were at least four class options available every day of the week, so it was easy to find one that fit my schedule.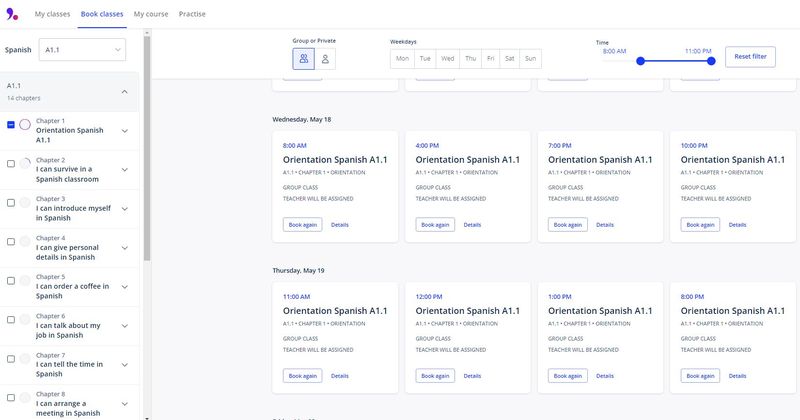 I found the time filter at the top of the screen especially helpful to weed out classes that weren't a good time for me.
What was my Lingoda group class like?
I absolutely loved my group class, Orientation Spanish A1.1, which was taught by Valentin.
It started off with some easy hellos, and , as expected an overview of the Lingoda method and progression.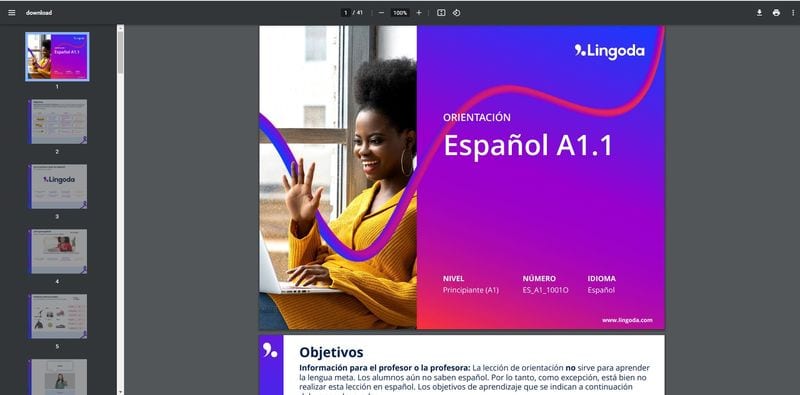 Along the way, Valentin got each of us to introduce ourselves in Spanish, and practice speaking Spanish to each other.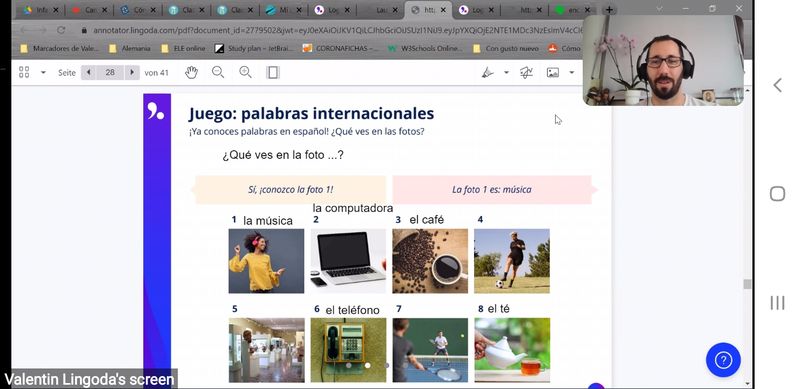 It was a helpful and stress-free introduction to Lingoda.
After the lesson, Lingoda gives you the option to give feedback for the instructor and class materials.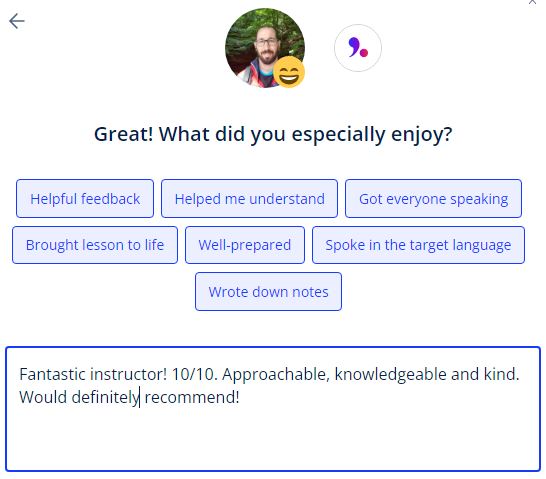 There's a class report sent after the class, with any special notes from the instructor, and an overview of what you learned.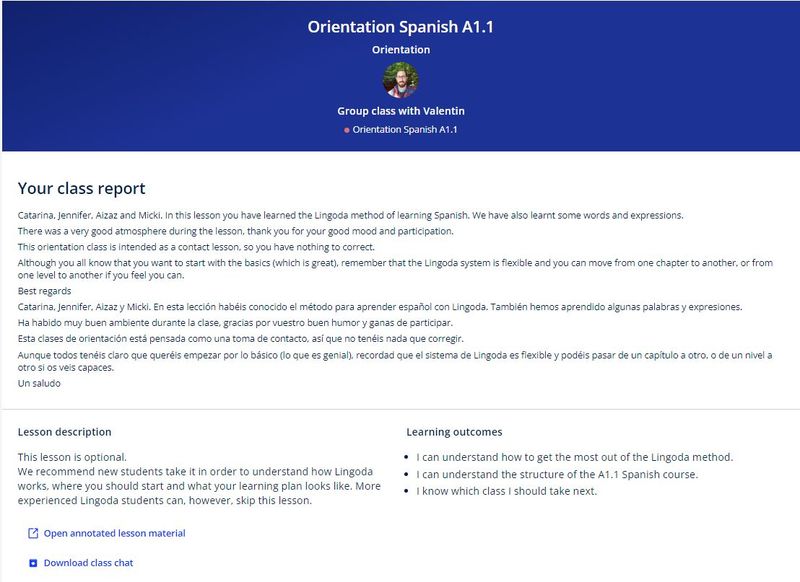 Next up, my first 1-on-1 class with Lingoda.
What are 1-on-1 classes with Lingoda like?
After such a great experience with my group class, I was ready to try something harder.
So, I chose a private class on vocabulary – A1, Chapter 2 – Hello, Introducing yourself in Spanish.
Before the class, I'd taken a few minutes to look at the class materials. I started with the class overview, and then moved onto the lesson material. The lesson material was essential a slide deck, with the visuals my teacher would use to teach the class over Zoom.
I found it really helpful to look over the lesson in advance, especially since I'd hardly spoken Spanish at all for a couple of years.
Tip: You can download the class materials for free and use them at any time. For English and A1 German students, downloadable exercises are available as well.
Like Valentin, my teacher Sandro was right on time.
He was easy to talk to, supportive, and non-judgmental about my admittedly terrible pronunciation.
By the end of the class, I felt like I'd learned so much more than I would have studying on my own. Sandro was able to give instant, gentle feedback where I was making mistakes, and support when I was answering questions correctly.
Sandro even took some time to show me some external websites where I could improve my Spanish vocabulary.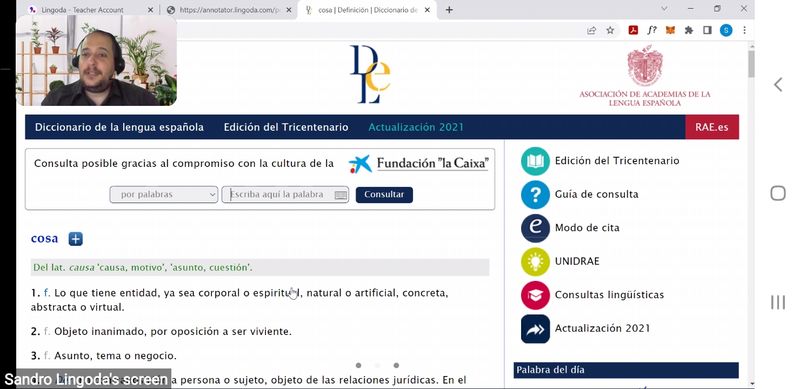 Over all, it was a fantastic experience. I definitely feel that it pushed the limits of my knowledge of the language. I think that's a good thing, even if it's challenging at the time.
After class, there's a quiz to help refresh and practice new skills.
Is Lingoda worth the money? My personal experience.
Will I be continuing my lessons with Lingoda?
Absolutely.
I feel that I'm getting so much more out of practicing my Spanish with a native Spanish speaker than I ever got out of an app. It's also absolutely more challenging than studying with only an app or an automated system.
For me, I think Lingoda is what I need to take my Spanish to the next level. Once I'm finished with a few other commitments that are taking quite a bit of time, I plan to start Lingoda lessons in the fall or winter this year.
That said, Lingoda might not be for you if you have absolutely no basic vocabulary of the language you're studying, or you're not willing to study ahead of time to learn basic vocabulary. For someone that has already been introduced to the language, it's a great way to take it to the next level.
How much does Lingoda cost?
Generally, group classes are more affordable than private classes.
Buying a group classes in bulk (called marathons) costs you more up front than a monthly subscription, but the per class cost is cheaper than a monthly subscription.
You can pay either in USD or EUR.
I'll give the costs in the breakdown of each type of plan, below.
Lingoda monthly plans
You can get group classes or 1-on-1 classes in monthly bundles.
For both group and 1-on-1 classes, you can choose different levels of intensity for your monthly plan: 4 classes a month, 12 classes a month or 20 classes a month. As with most things, the more classes you sign up for the more affordable they get.
For group classes, the cost is:
4 classes a month, $59 (or $15/class)
12 classes a month, $149 (or $13/class)
20 classes a month, $219 (or $11/class)
For 1-on-1 classes, the cost is:
4 classes a month, $139 (or $35/class)
12 classes a month, $349 (or $29/class)
20 classes a month, $489 (or $25/class)
You can choose to pay for three, six, or twelve months of classes up front to save money.
Compare costs for monthly vs up-front payments.
What's a Lingoda Sprint or Super Sprint?
A Lingoda Sprint is a one or two month period of intense language learning.
You can take English, Business English, French, German or Spanish with a Lingoda Sprint or Super Sprint.
A Sprint has 15 classes per month, while a Super Sprint has 30 classes per month. Both Sprints are two months long.
All Sprints start on a specific day of the month, with new Sprints starting every two months for new students. You must take classes after the Sprint start date for them to qualify for the Sprint.
You can get cash back for Sprints. If you attend every class (no exceptions!) you can earn 50% cashback with the Sprint and 100% cashback with the Super Sprint.
Heads up! You must register for the Sprint and follow specific (and detailed!) rules to get the cashback.
See Sprint registration dates and cashback rules here.
How much does a Sprint cost?
A Sprint costs $440 USD in total ($59 due immediately, $161 due the first month, and $220, due the second month).
A Super Sprint costs $740 USD in total ($59 due immediately, $311 due the first month, and $370, due the second month).
What's a Lingoda Marathon plan?
You can do a marathon plan for either group or private lessons.
A Marathon plan is a one-time payment that gives you a specific number of classes that you need to finish in a certain amount of time. For all marathon plans:
you get a CEFR Certificate for every level completed
classes expire after the time is up
For both private and group classes, you can choose a three month, six month or twelve month marathon.
What's the difference between a Lingoda Marathon and Lingoda Sprint?
A marathon goes for a longer period of time than a Sprint. Sprints go for two months, while marathons go for three, six, nine, or twelve months.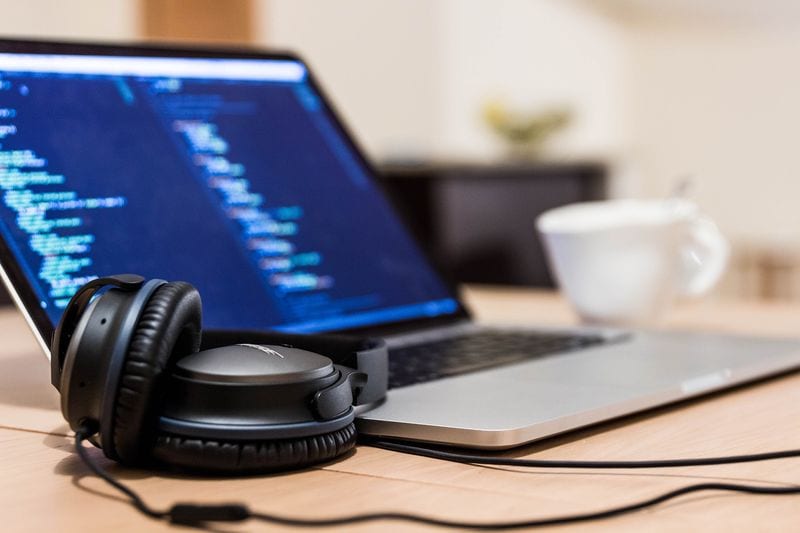 Should you choose a monthly subscription, a Marathon or a Sprint?
Honestly, that depends on your needs, wants and commitments.
If you're just trying out the Lingoda system, a monthly subscription might be the way to go. You can pause, cancel, or end a monthly subscription at any time.
I'm going to continue on the monthly subscription because I'm still getting a feel for how many classes I can handle in a week. I don't want to over commit myself and pay for classes that I don't use.
However, if you're looking to learn as quickly as possible, and you're sure you like the Lingoda system, you can save money by choosing marathon classes. For example, a four group class per month subscription costs $14.75 per class, while a full marathon (200 classes in 12 months) costs only $9 per group class.
Can you pause or cancel your Lingoda subscription?
You can pause your subscription at any time for all monthly subscription plans, whether they're private or group.
For monthly plans, you can cancel at any time. Just be sure to cancel your monthly subscription before you're charged your next month's subscription fee.
You cannot pause a Sprint or Marathon plan.
With a Sprint plan, you can cancel within the first 14 days of signing up.
You can only cancel a Marathon plan during your 7-day free trial. If you haven't used any of your free credits during those seven days, just contact customer support.
Can you change your plan?
You can change a monthly subscription plan any time you want. However, you can't change or cancel a Marathon or Sprint plan.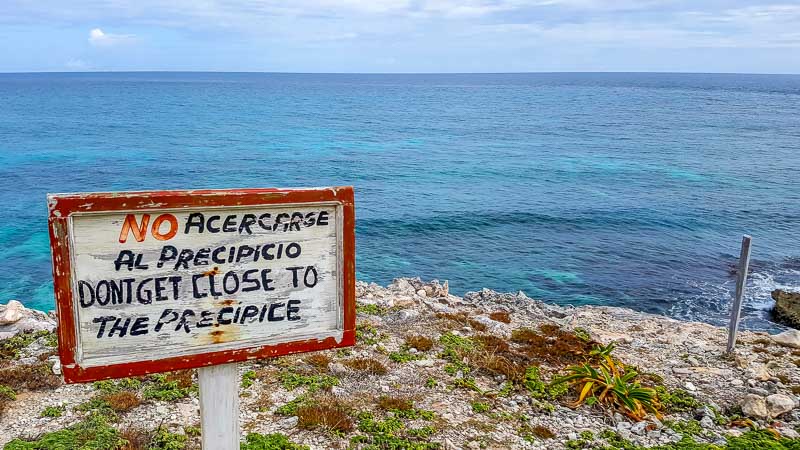 What languages can you learn with Lingoda?
You can learn Spanish, German, French or English.
Does Lingoda Offer Business English?
Yes, you can study business English with Lingoda.
See Lingoda business English classes here.
What times of day are Lingoda classes offered?
Classes are available 24 hours a day, 7 days a week.
Is Lingoda for kids?
Lingoda is designed for adult learners.
Students need to be 18 years of age, or older to study with Lingoda.
Will I get a certificate?
You'll get a certificate for each level you finish with Lingoda, so you'll get a new certificate for finishing the A1 level, the A2 level, the B1 level, and so on.
Lingoda certificates are issued in accordance with the CEFR and accepted by many institutions worldwide. To get a certificate, you'll have to complete 90% of your classes in a module for a CEFR language (this does not include Business English).
What is a CEFR Certificate?
CEFR (or the Common European Framework of Reference for Languages), is an international standard for defining your ability within a language. It applies to both teachers and learners and can be necessary for certain jobs around the world.
Where's the Lingoda app?
Lingoda isn't a language learning app. Instead, it's a language school that operates online, with live classes with native-speaking teachers from all over the world connecting over Zoom video calls.
Have you tried Lingoda? What was your experience like? Tell us in the comments below. We'd love to hear about it!