On the rugged north Devon coast sits the village of Lynton nestled on top of the cliff, while its sister village Lynmouth offers traditional seaside fun at the river mouth just below. Perched on the hillside above Lynton, Highcliffe House is a luxurious boutique guest house, offering adult only stays, with sea views and a personal touch. Once you've sunk into your comfy antique bed, admired the owners' eclectic art collection and enjoyed the top quality local produce of their cooked breakfasts, you'll see why Highcliffe House was voted one of the best luxury B & B's in Devon.
With just six rooms Highcliffe House has all the individual charm you'd look for in a boutique hotel and will appeal to those who normally stay in a small luxury hotel. It's technically a bed and breakfast or guest house since it doesn't have a restaurant, although the Devon cream teas and gin bar are most welcome! Read on to discover all we enjoyed when we stayed at Highcliffe House in this review.
This article may contain affiliate links that provide commission on purchases you make at no extra cost to you. As an Amazon Associate I earn from qualifying purchases.
About Highcliffe House
Harking back to the 1880s, Highcliffe House was built as the summer residence of Bob Jones, the Victorian engineer who constructed the famous water powered Cliff Railway that you can still use today to get from Lynton down to Lynmouth. The house became a holiday centre for Christian workers in the 1900s, before becoming a guest house and later being transformed around 2016 into the luxurious B & B of today.
Owners Robert and Richard took over Highcliffe House in 2021, and have added their own personal touch, refreshing some areas, adding the bar and displaying their own colourful collection of artwork from their travels.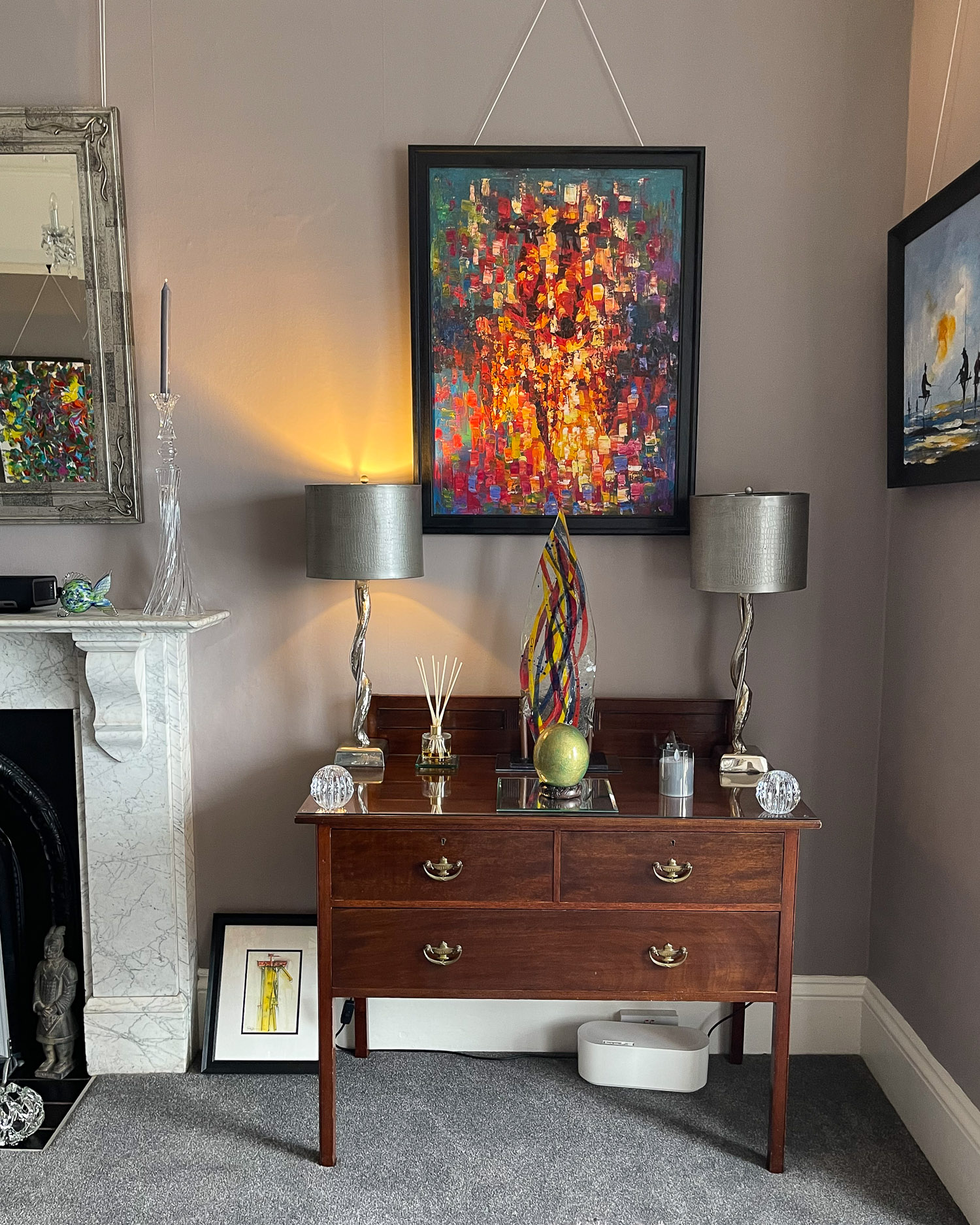 Their aim is to provide a luxurious and personalised experience through the main season from April to October, while offering the whole house for luxury self-catering under the care of a dedicated manager during the winter months. With many years of experience between them in media and hospitality management, Robert and Richard seem to have thought of every little detail to make the guest experience 5 star and are friendly hosts on hand to help you make the most of your visit.
Our bedroom at Highcliffe House
We spent two nights in a lovely 2nd floor room "The Cleaves" named after the local term for the deep wooded valleys, of which Exmoor has many, including the well known beauty spot at Watersmeet. Our room under the eves was beautifully decorated with a delicate Ralph Lauren wallpaper and imposing Jacobean style carved bed. Antique Victorian furniture completed the stylish but traditional look, with Japanese prints on the wall from the owners' travels.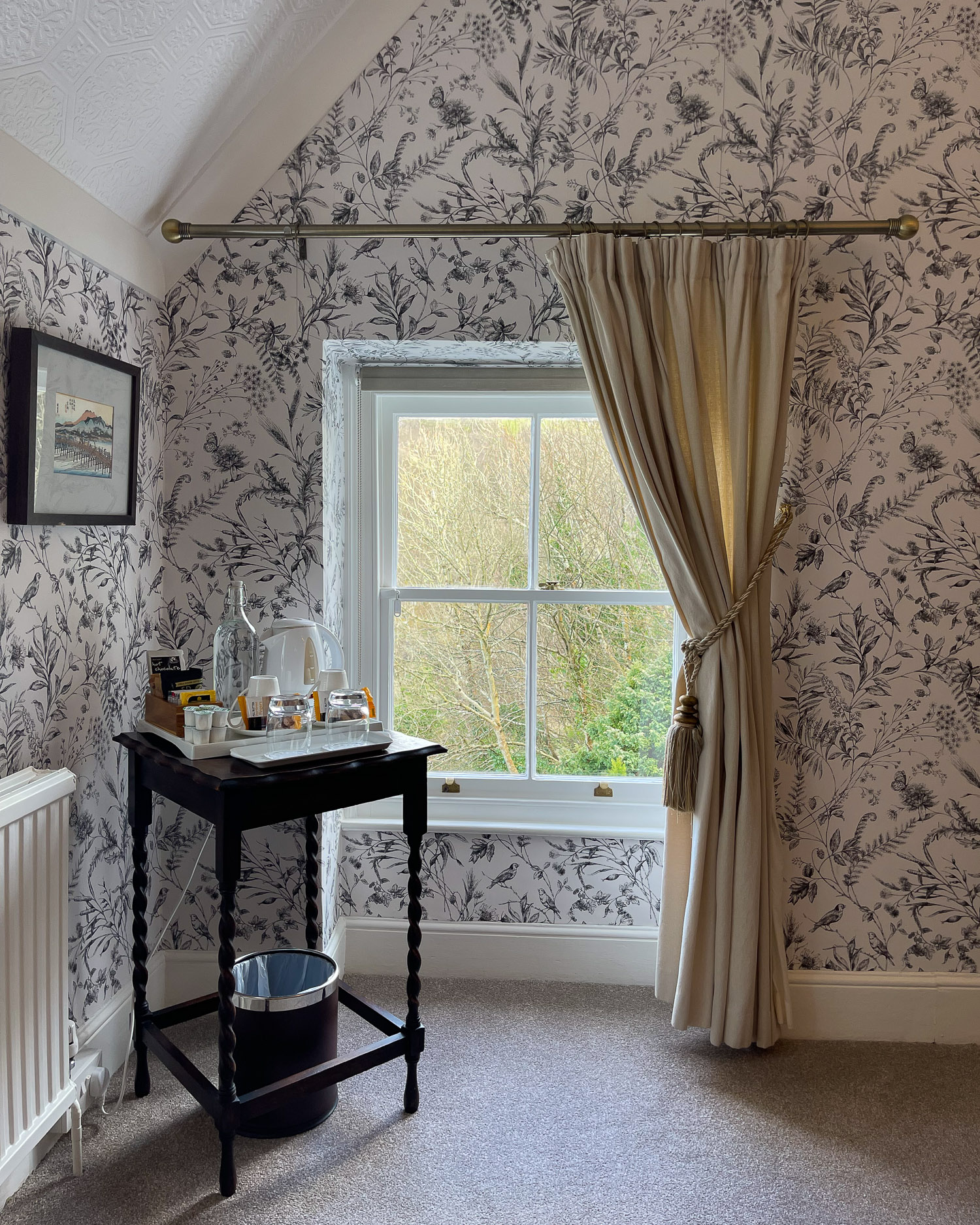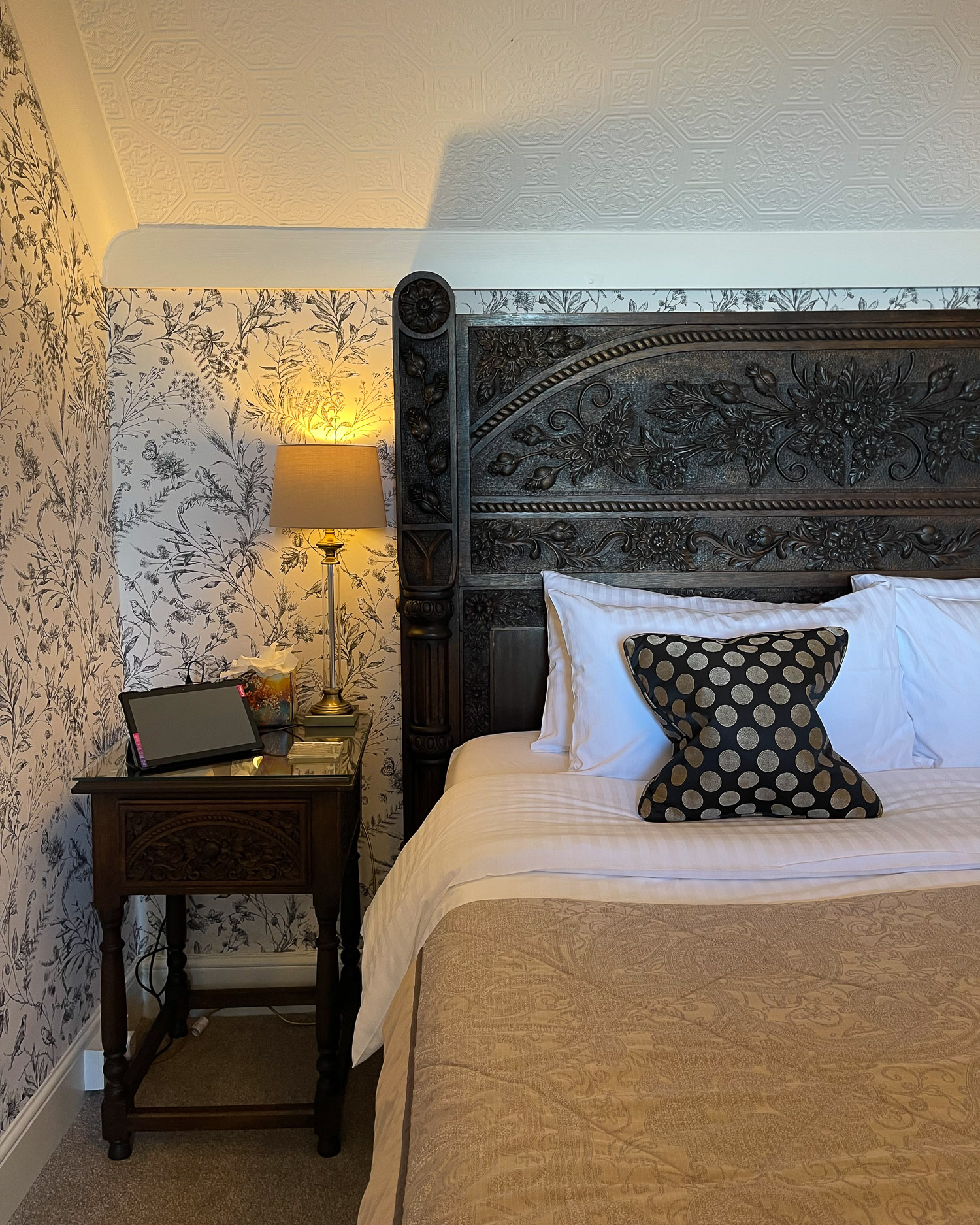 The bedrooms at Highcliffe House have numerous little extras that add up to a very luxurious experience, from the comfortable super king mattress and well stocked hospitality tray, to the USB charging point, Alexa smart device and in-room tablet with The Times Newspaper. Two easy leather armchairs with velvet cushions offered a place to sit and enjoy the sea views from the window, overlooking the town of Lynton and sea beyond.
You may also enjoy reading about a weekend in Cornwall at St Michael's Mount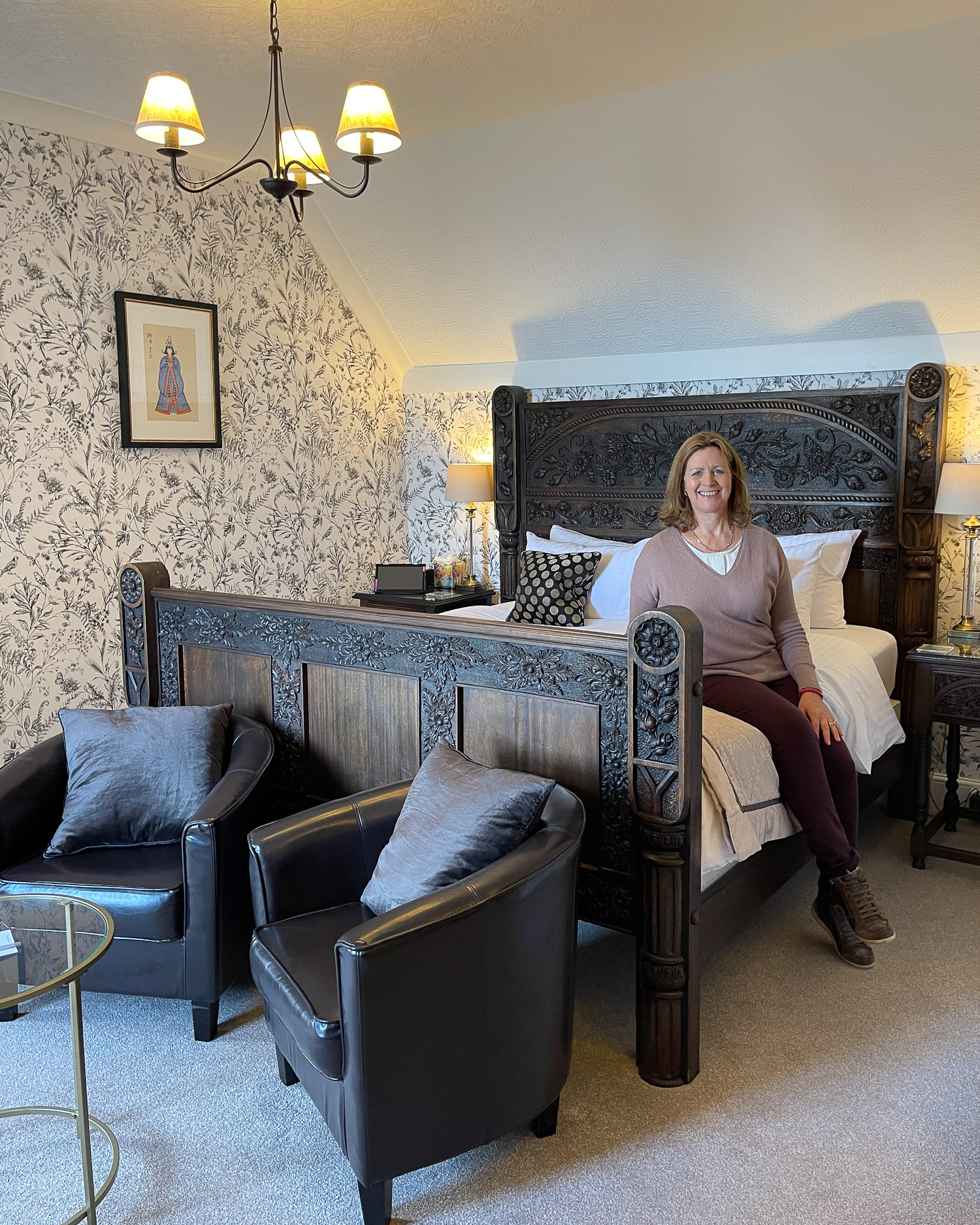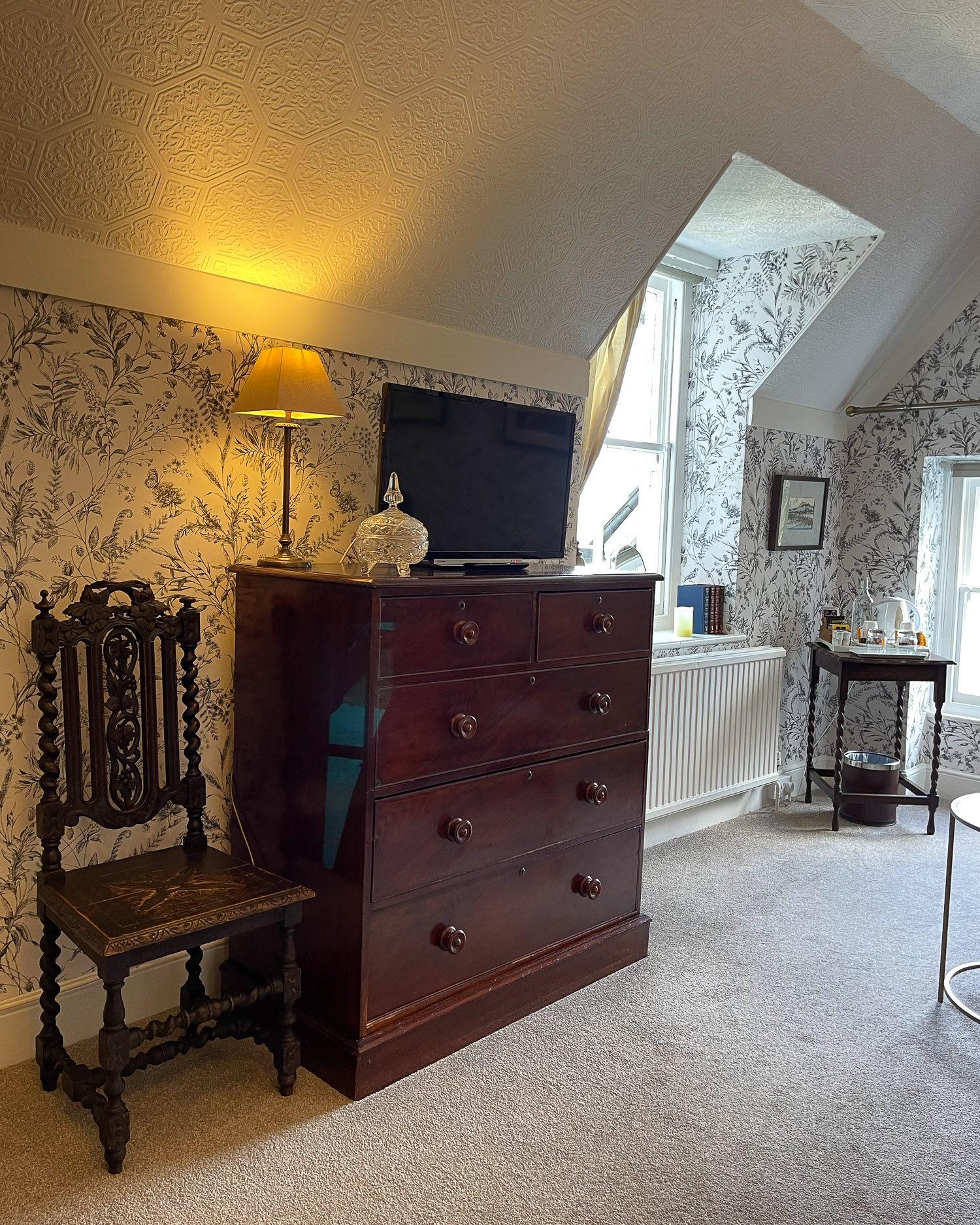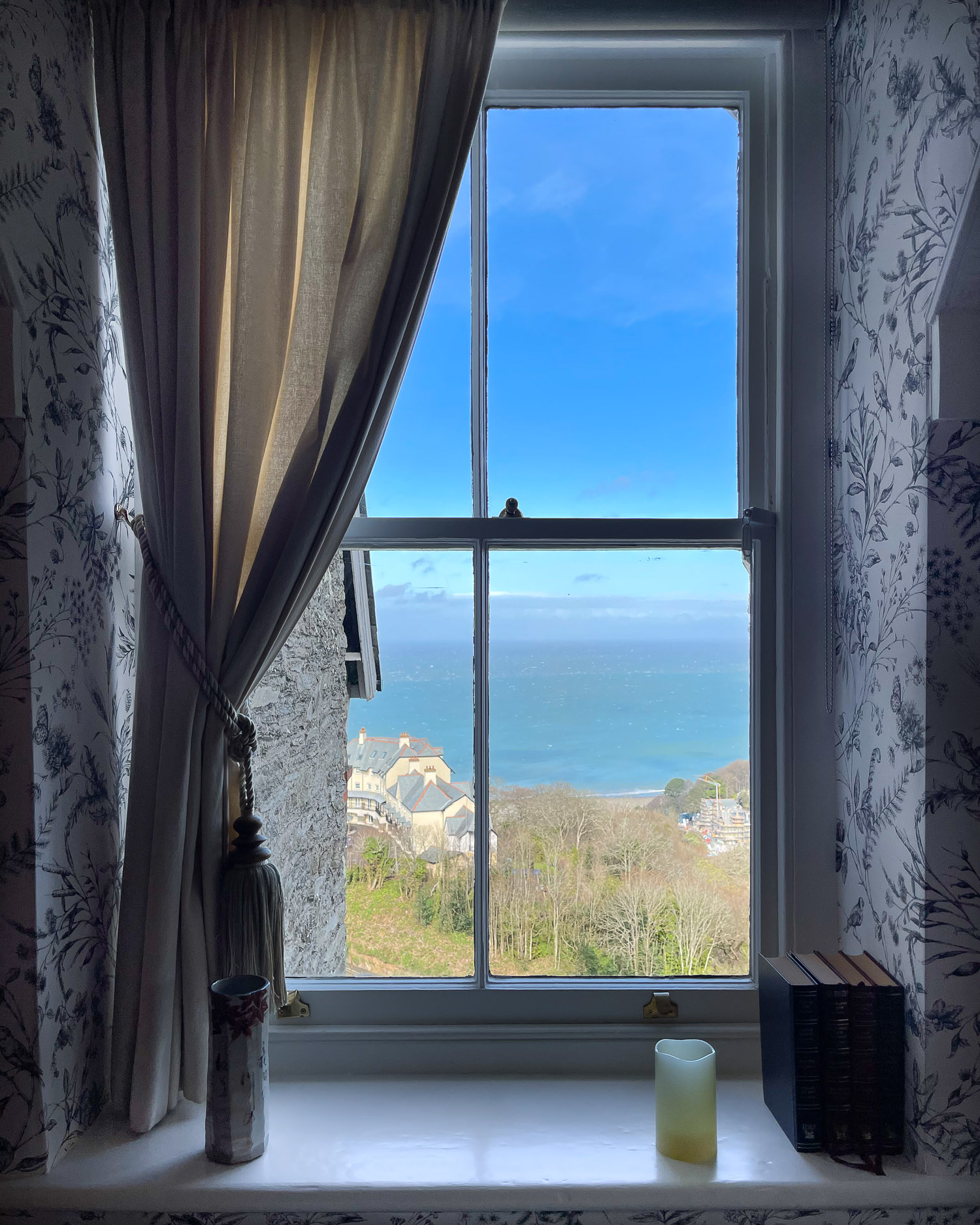 Stay at Highcliffe House luxury B&B in Lynton, Devon
Our bathroom at Highcliffe House
Our bijou en suite bathroom was fully tiled in Victorian style with a spacious shower and all was spotlessly clean. We enjoyed the large fluffy towels, together with towelling bathrobes and slippers available in the wardrobe.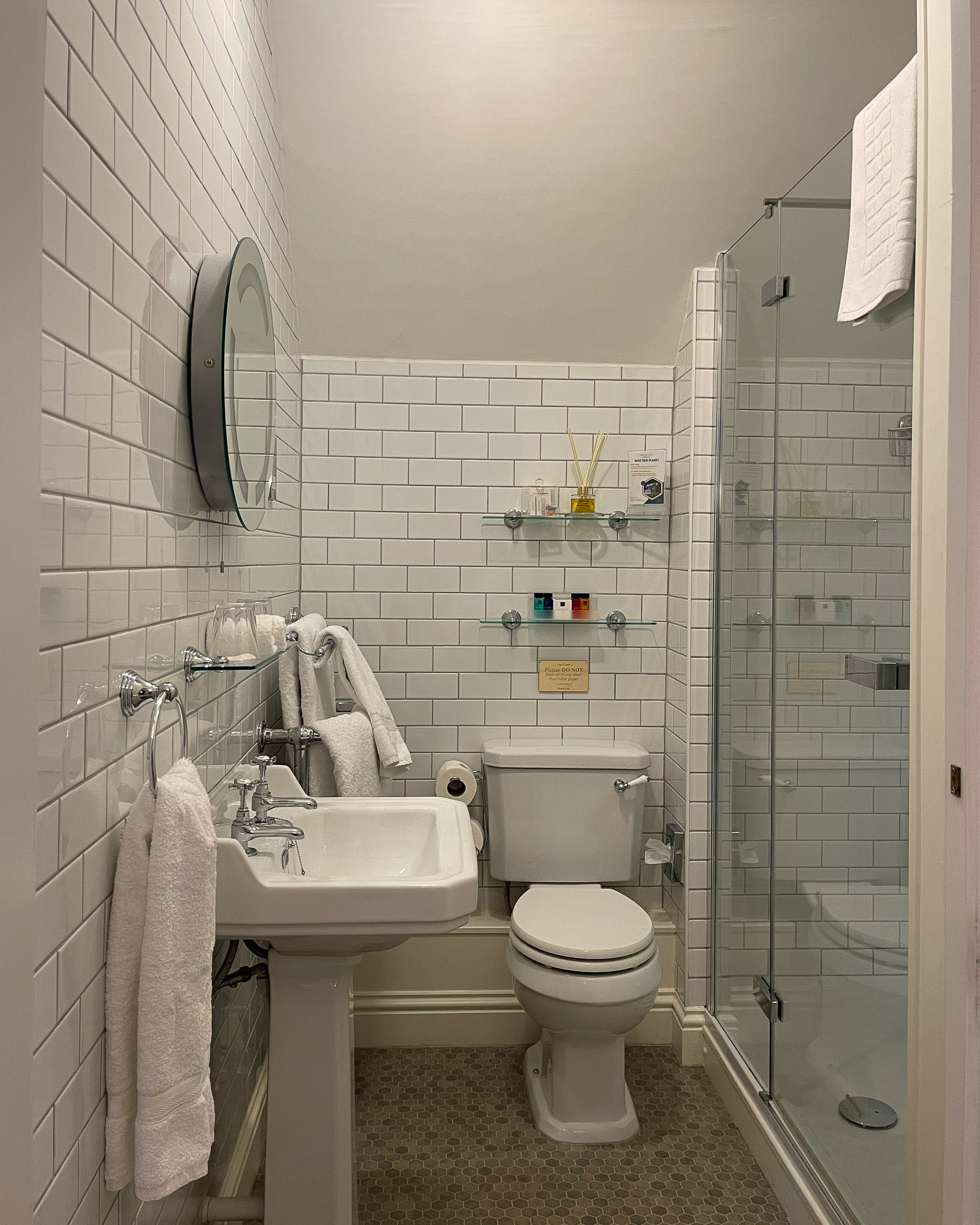 A range of toiletries from the Rituals Discovery range included Ritual of Karma shampoo, Ritual of Hammam conditioner, Happy Buddha shower gel and Ritual of Ayurveda body lotion. If you prefer not to use individual plastic bottles, they can be exchanged for Friendly soaps, hair and body bars scented with lavender and geranium.
Sea Views at Highcliffe House
I love being beside the sea in England, especially in spring and autumn when the ever changing seascape seems to lift the spirits. Set on the hillside above the town of Lynton, Highcliffe House certainly makes the most of its sea views from every bedroom, from the conservatory breakfast room and from the elegant sitting room.
Off to the right is Countisbury Hill with its steep descent down into Lynmouth and to the left is the town of Lynton, perched in the clifftop with the glacial Valley of the Rocks beyond. We were lucky to enjoy beautiful spring sunshine during our visit, but there's something restful about the sea in any weather.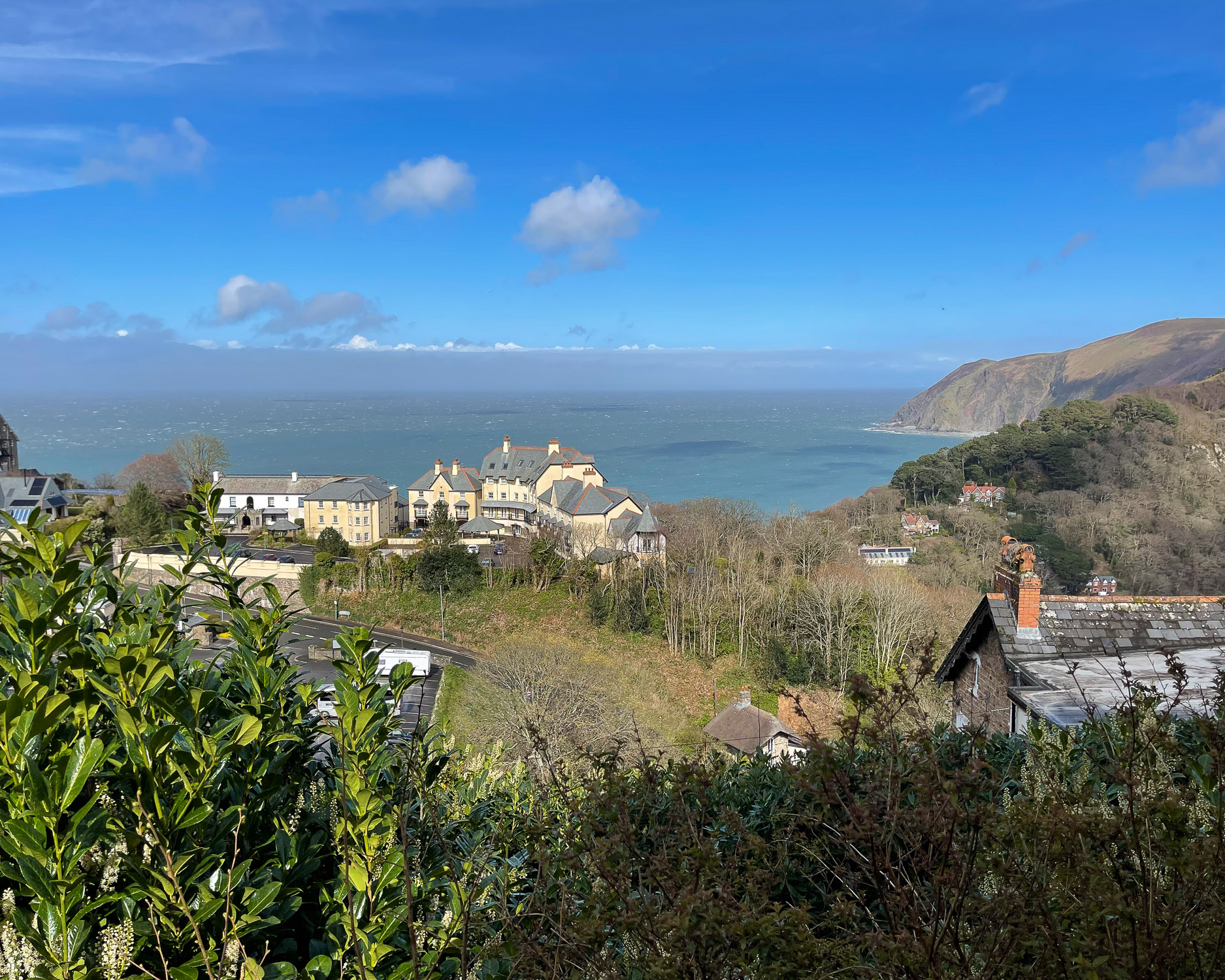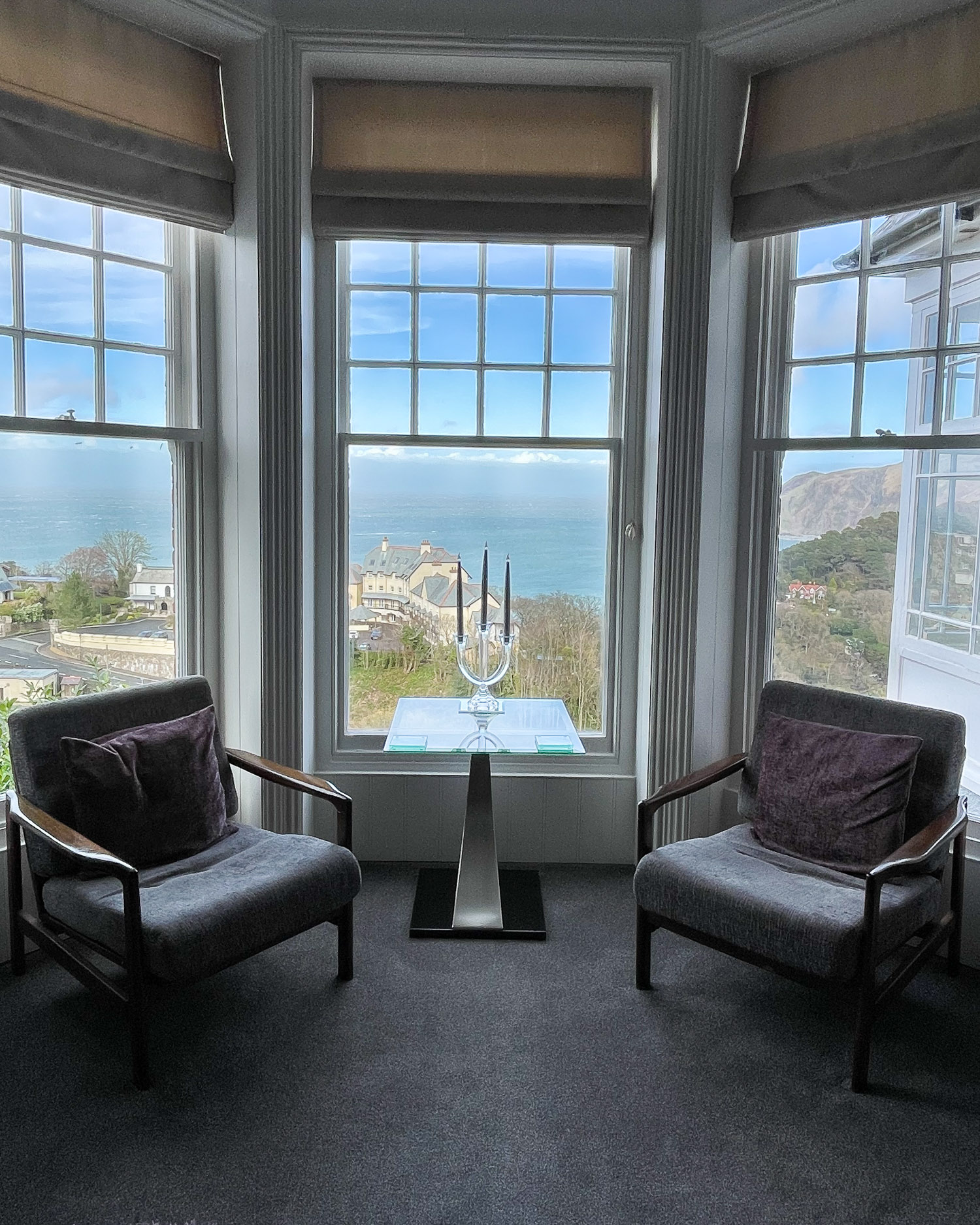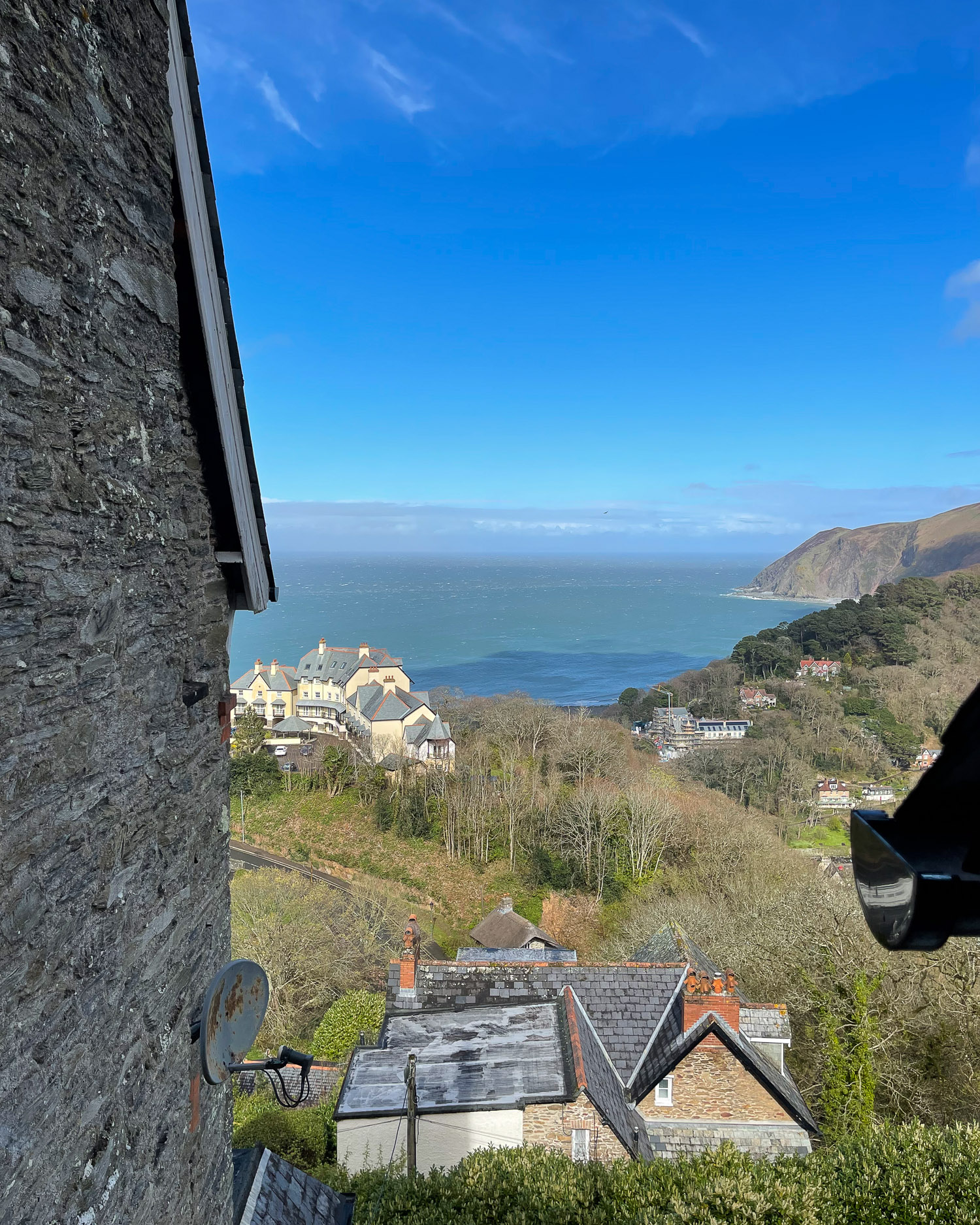 Breakfast at Highcliffe House
Breakfast at Highcliffe House is served in the light and bright conservatory at the front of the house. The sea views from your table really put you in a good mood to make the most of your day. Unlike the typical hotel buffet, this is a breakfast where everything is prepared to order and served at your table, leaving you feeling very pampered indeed!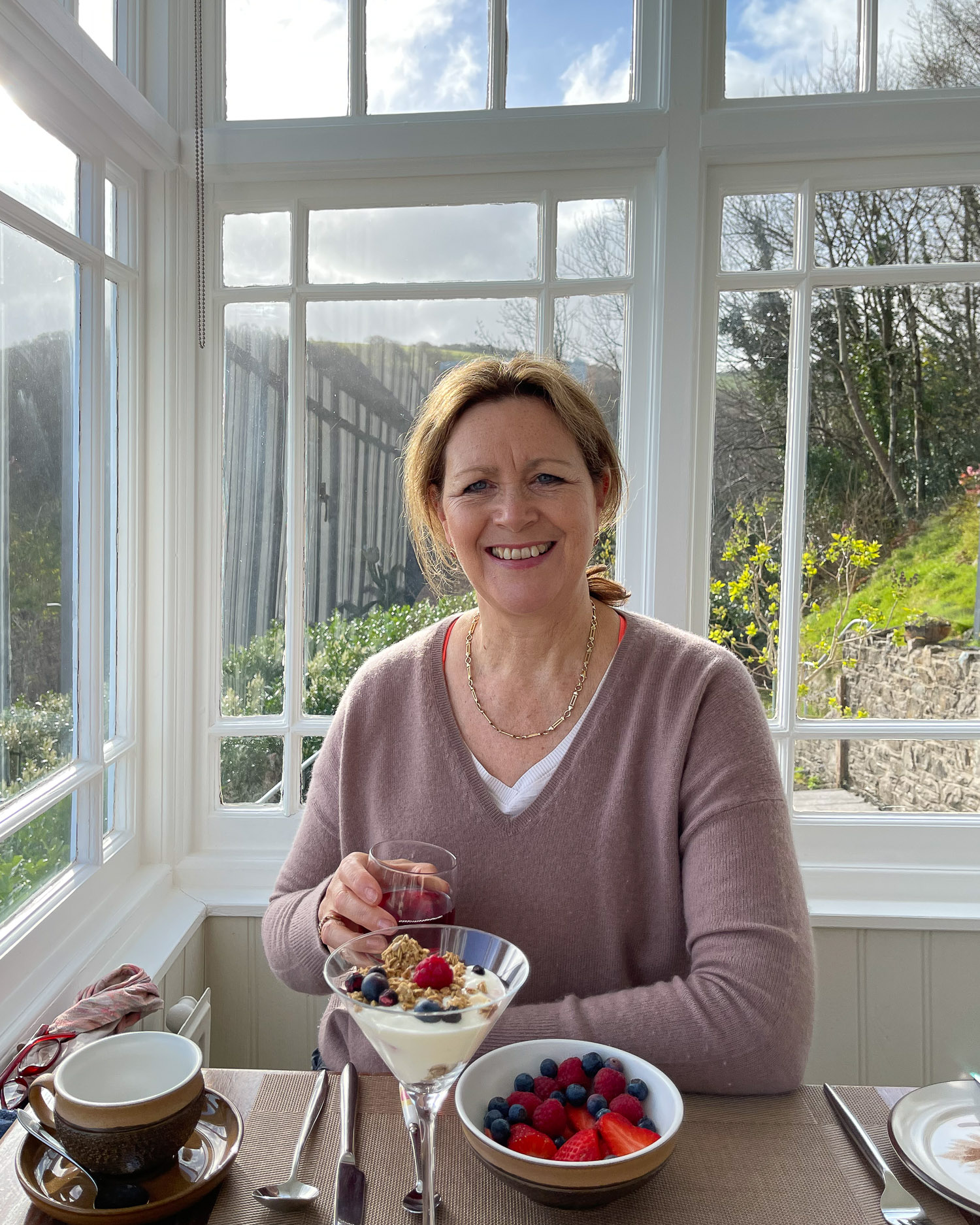 There's quite a selection of options to choose from, and you leave your breakfast order in the hall the night before, so that the breakfast service runs very smoothly and there's minimal waste. A cooked breakfast is always a treat in an English guest house, and at Highcliffe great care has been taken to choose the best local suppliers for the eggs, bacon and sausages or the Scottish smoked salmon that I had with poached eggs and hollandaise. Vegan and veggie options are also available if you are not a meat eater.
I also enjoyed the selection of fresh berries and the yoghurt parfait with fruit and muesli to start, washed down with excellent hot coffee – you can also choose from a menu of different types of tea and coffee. As Richard collects fine china, each morning you'll probably be served by a different range of matching china, plates and coffee cups, from vintage to colourful modern pieces.
Read my review of Warner Leisure Hotels Cricket St Thomas – leisure breaks for the 50+ traveller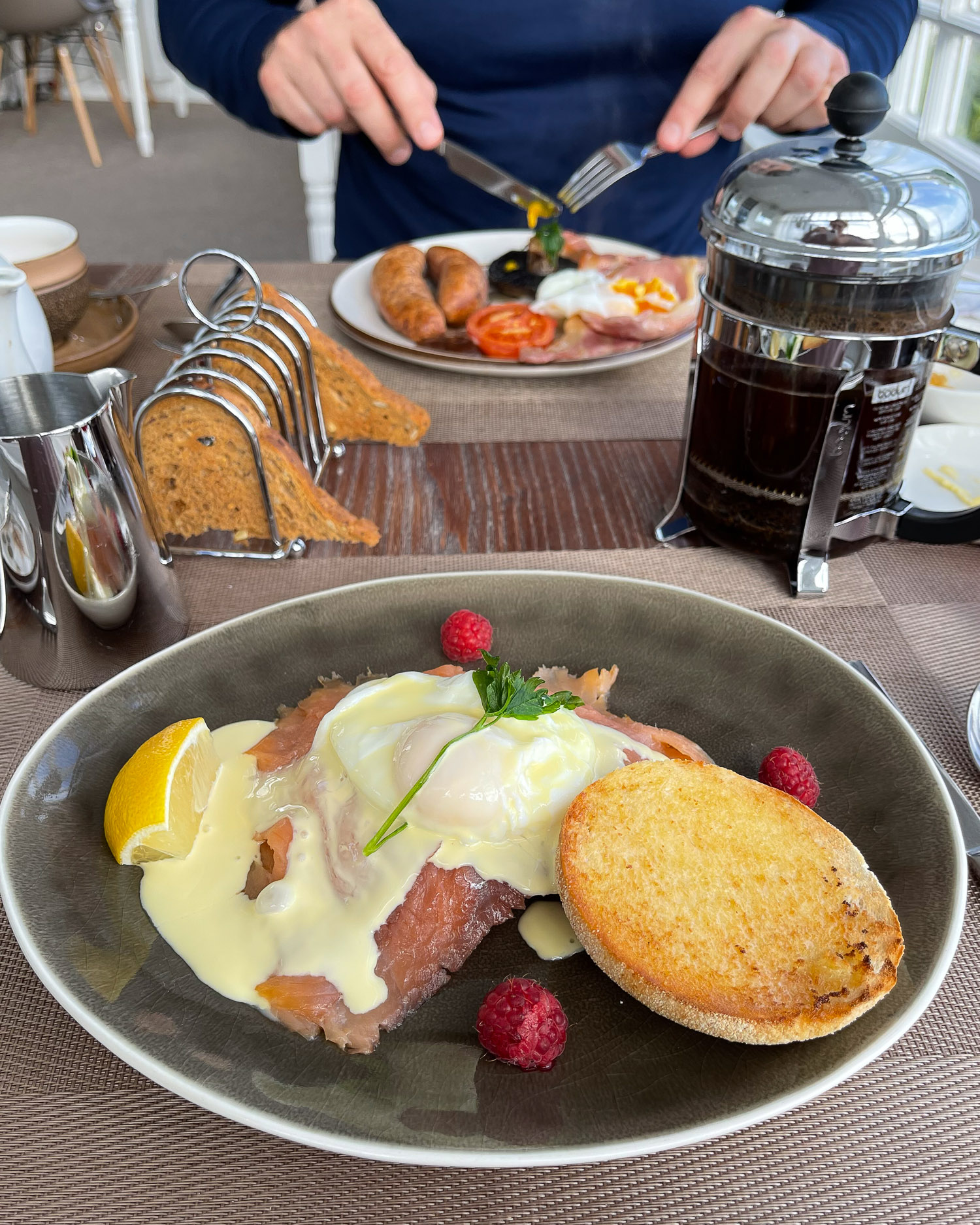 Other bedrooms at Highcliffe House
There are only six bedrooms at Highcliffe House, so the guest house never feels busy or crowded. All are individually decorated in luxurious boutique style, and antique beds are also a feature, chosen by a former owner who was an antique collector.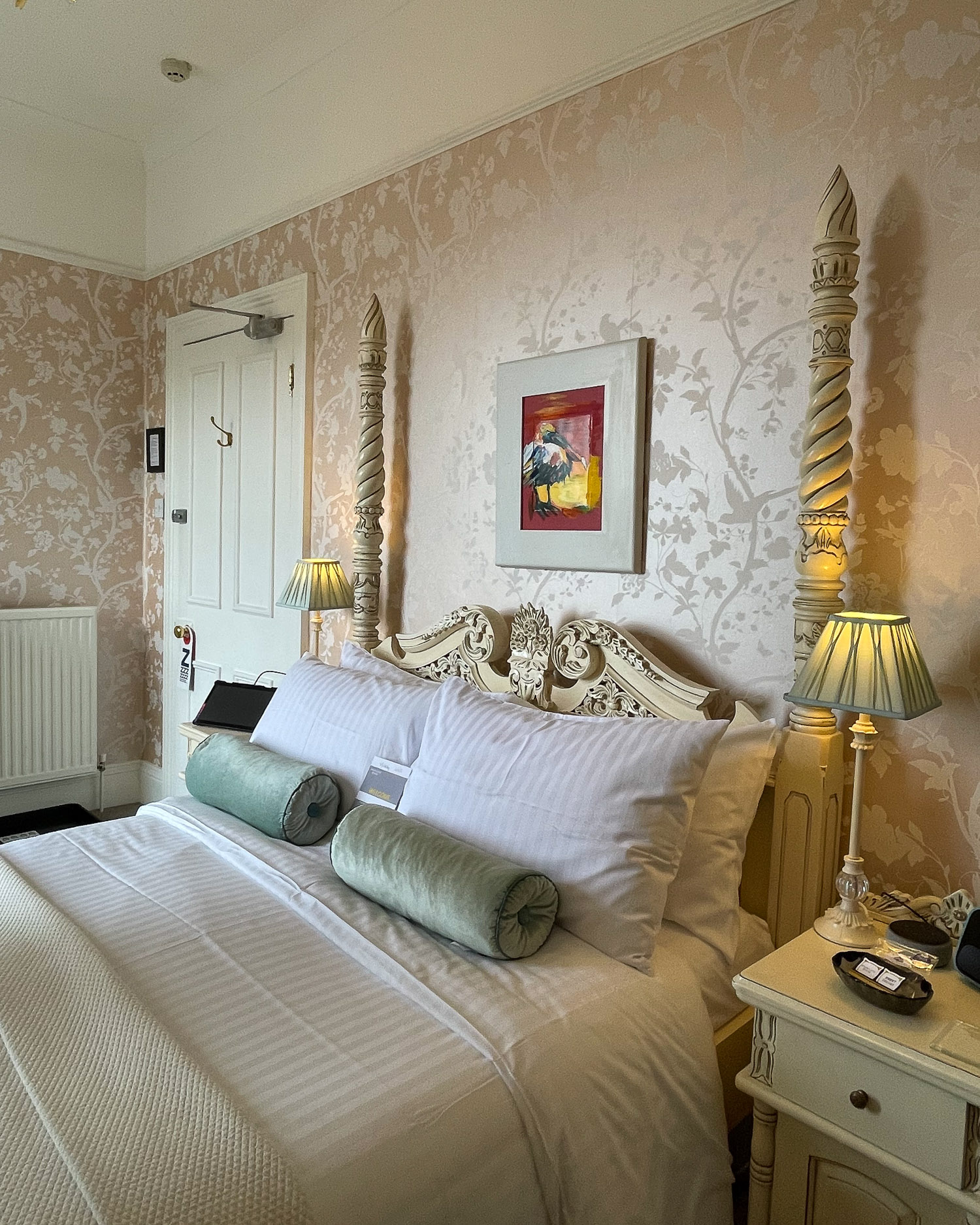 We weren't able to see all the other rooms since there were guests staying, but I took a look at Hollerday which has a romantic four poster bed and faces the sea, as well as Countisbury with dove grey Laura Ashley wallpaper and antique wardrobe. Other rooms are also beautifully furnished using designer wallpapers, antique pieces and the owners' thoughtfully chosen artwork collections, with sea views from every room.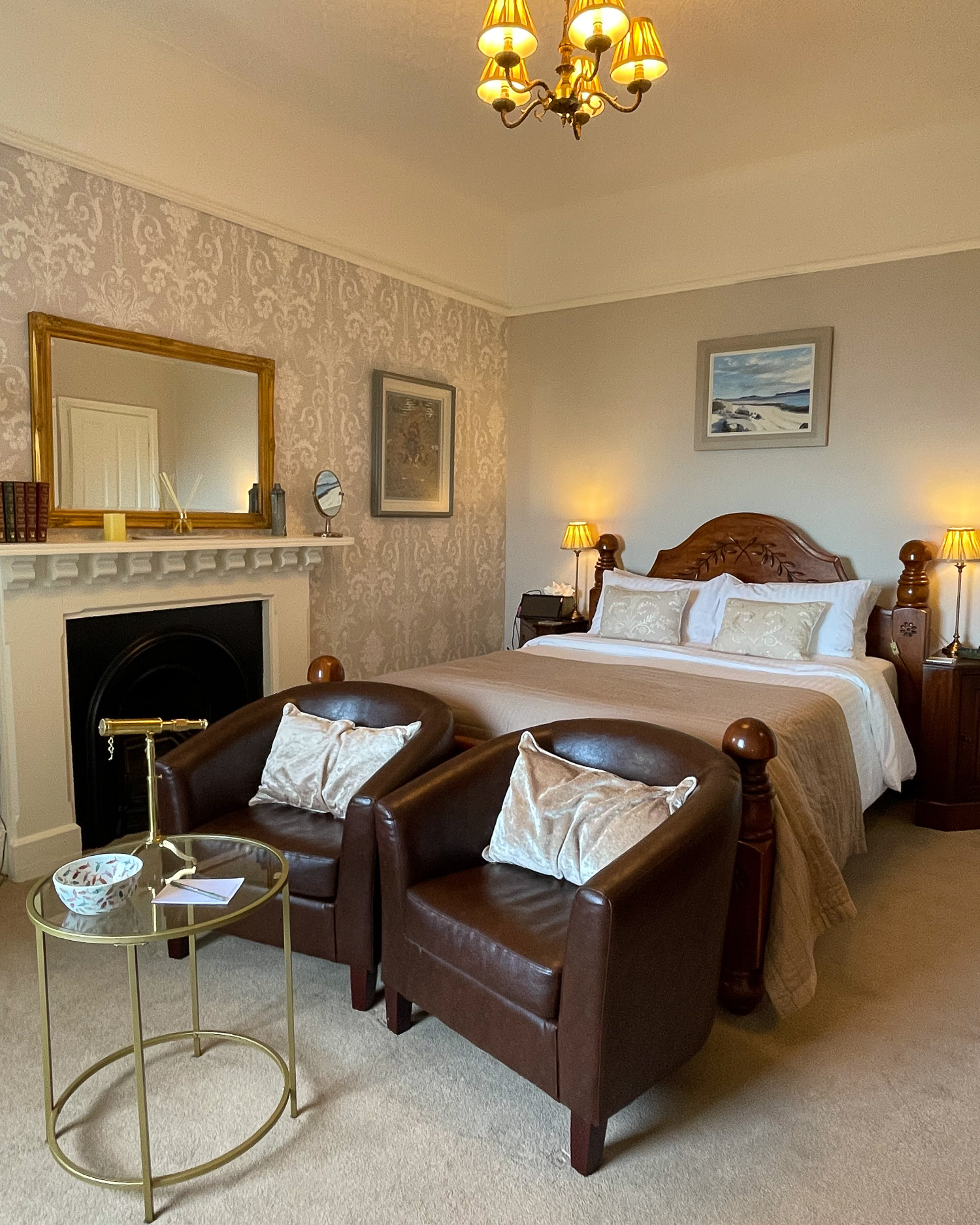 Cream tea at Highcliffe House
On arrival it was great to be welcomed with a Devon cream tea in the drawing room, with a choice of teas and fresh scones topped with clotted cream and strawberry jam. What a treat this would be after a long walk on Exmoor, and of course when in Devon be sure to remember it's cream first, jam second!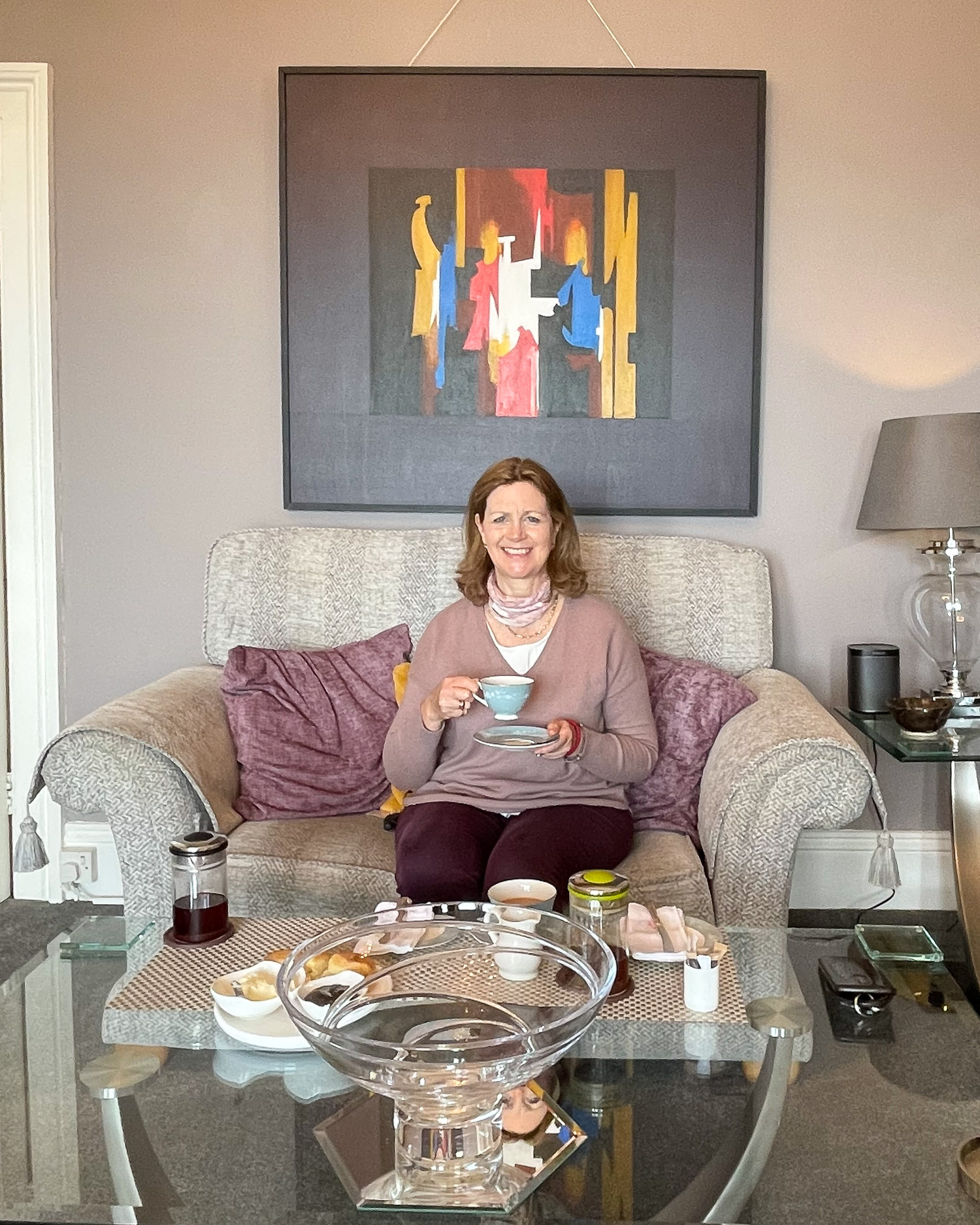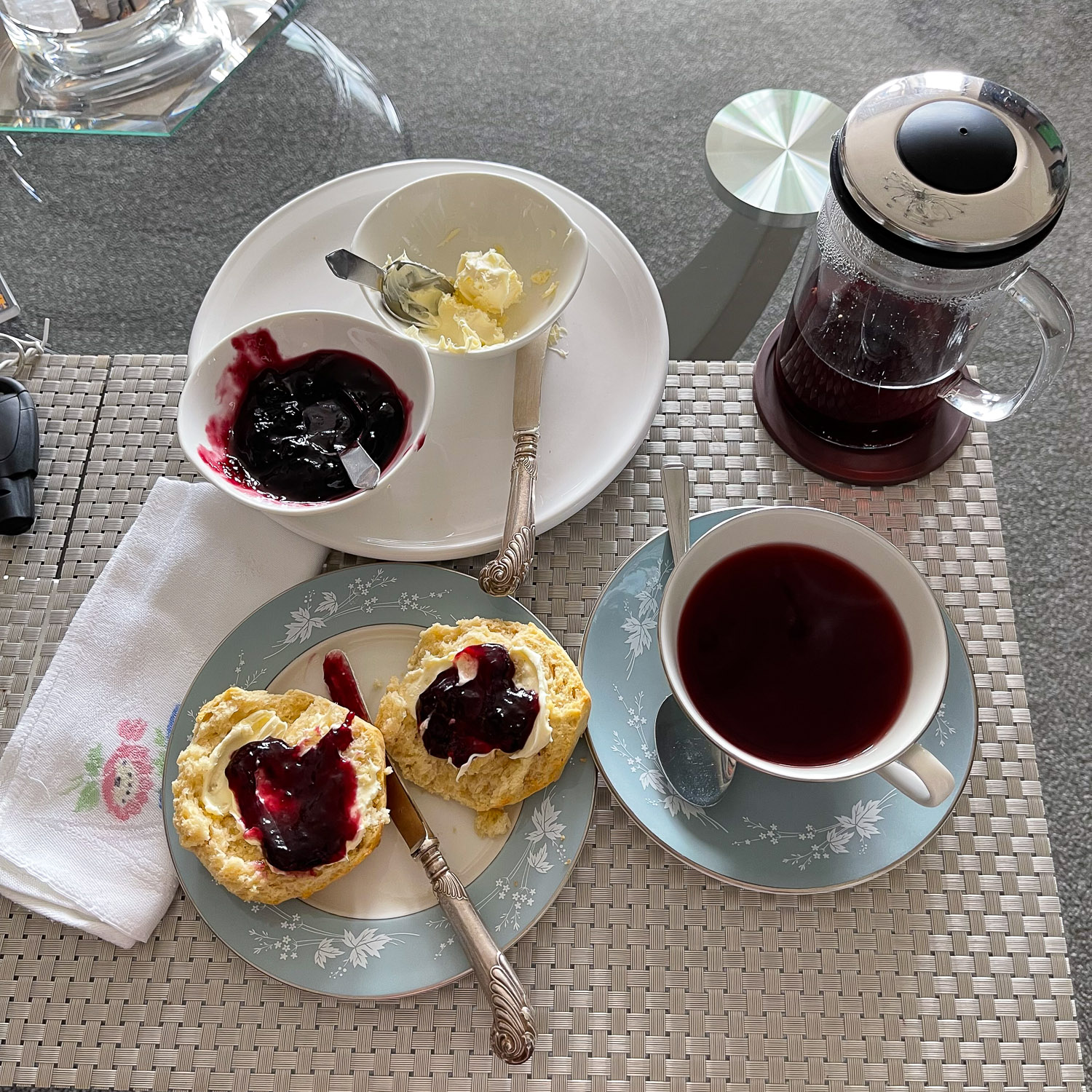 The bar at Highcliffe House
The cosy and atmospheric bar has just room for two armchairs to sit and enjoy your favourite tipple, which can also be served in the drawing room or sitting room. Formerly the office, Robert and Richard decided it would be fun to make this room into a bar for guests and decorate the walls in English Heritage "Hicks Blue", with vibrant artworks collected from around the world.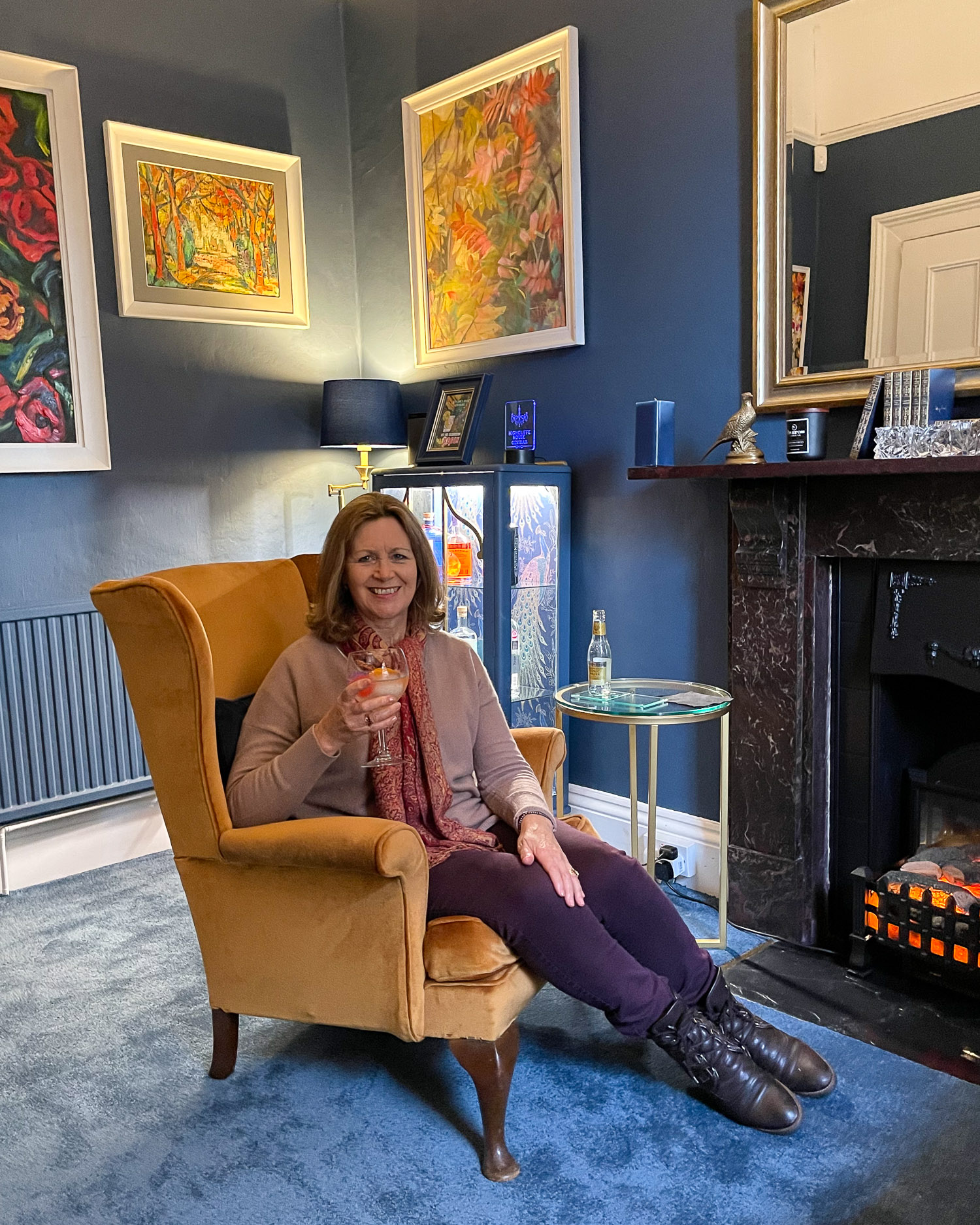 There's a sideboard full of cut glass decanters and a newly introduced gin bar in the matching blue vintage cabinet. Going local I tried the local Wicked Wolf gin from North Devon while Guy ordered the Jawbox Northern Ireland gin from the Ards Peninsula, made by a friend of the owners.
While Highcliffe House does not serve meals, it's fun to have a pre-dinner drink from the in house bar, served by owner Robert, before wandering down the hill to Lynton for dinner. Not only is there a wide range of spirits but wine, champagne, prosecco and beer can also be ordered.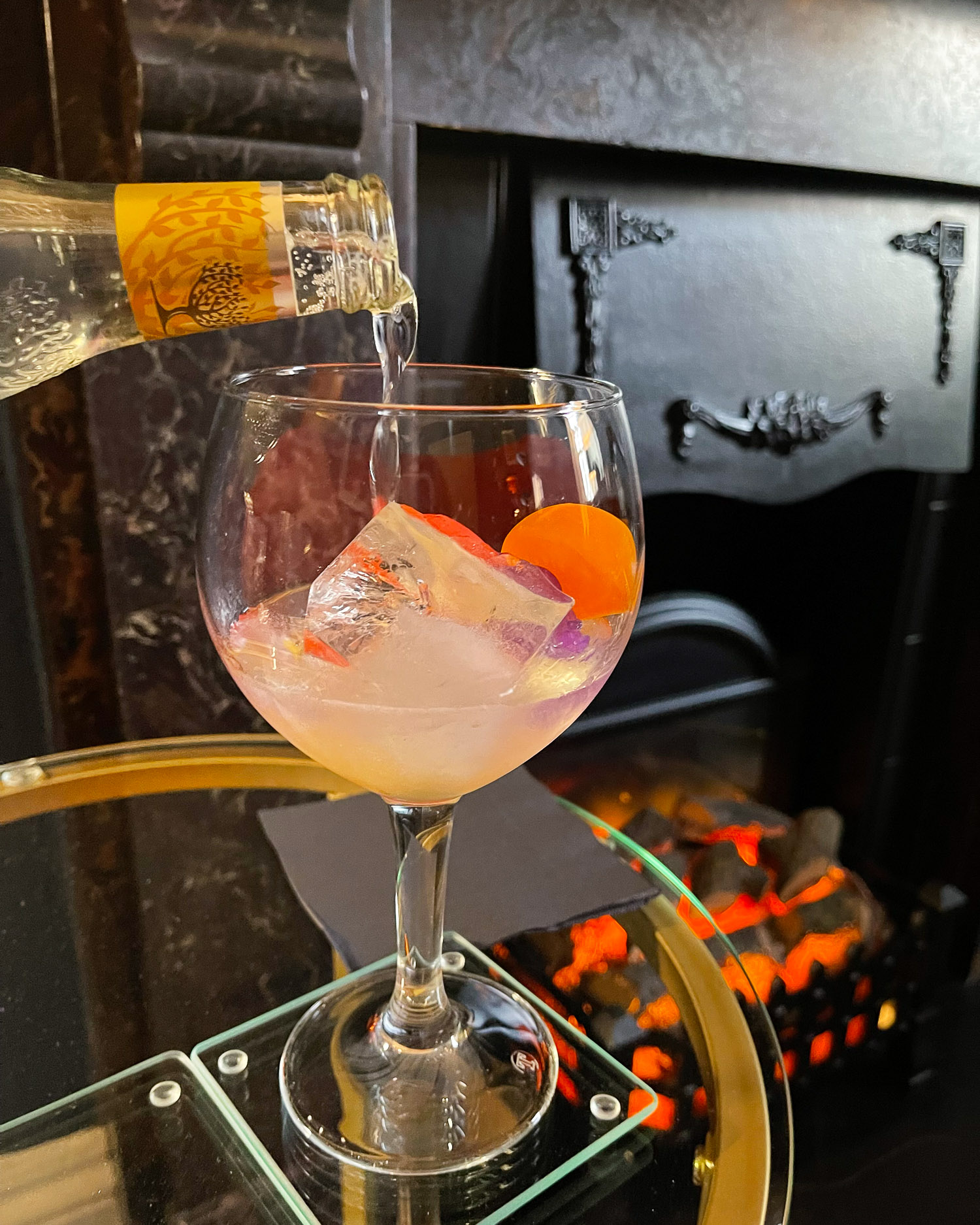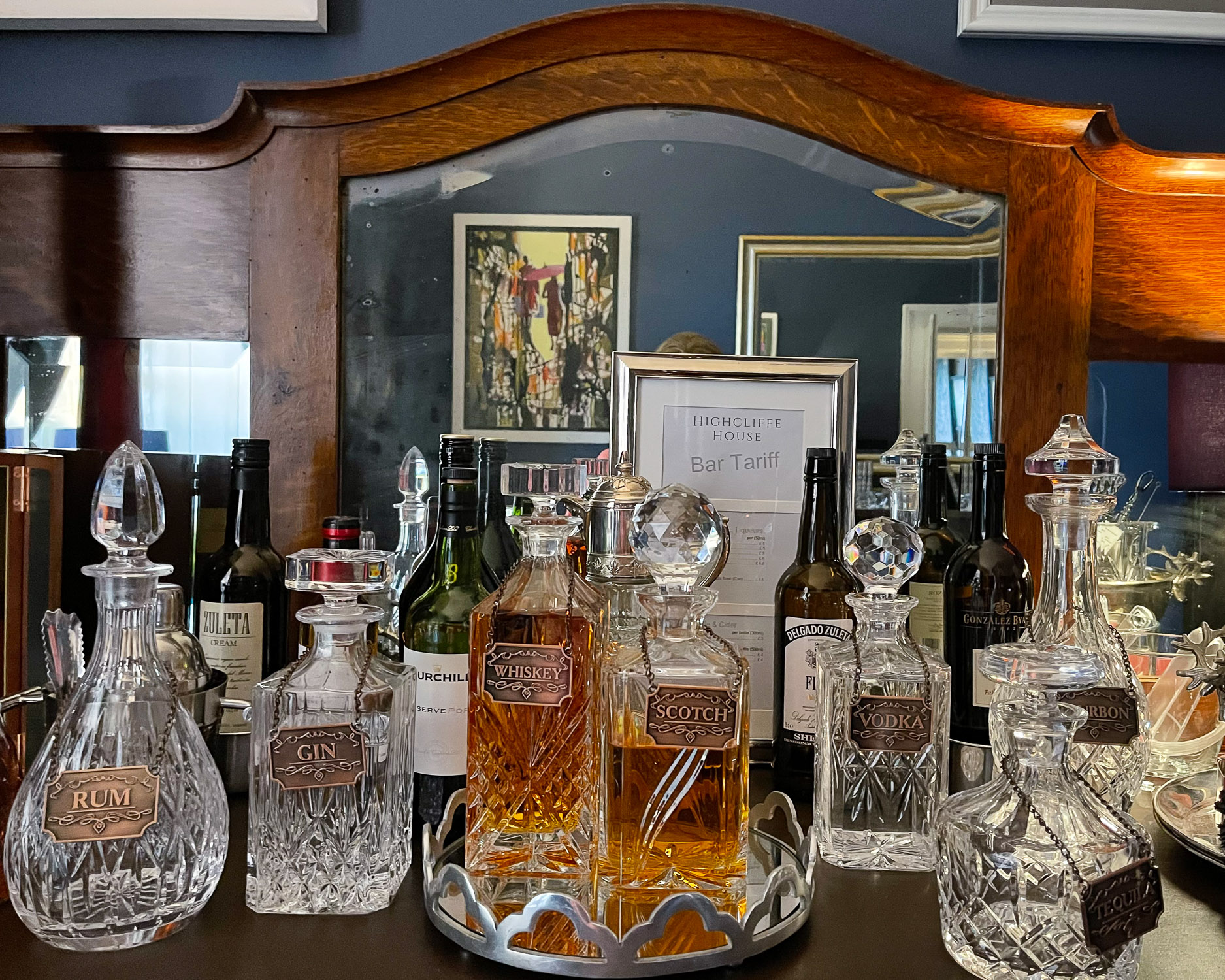 Around Highcliffe House
With only six bedrooms, there's plenty of space for guests to relax at Highcliffe House. The elegant and comfortable drawing room is the perfect place to unwind with a view of the sea, to read the papers or get stuck into a good book. Furnishings mix antiques with a little glamour in the mirrors and glass and show off the collection of ceramics and art glass. Colourful artworks around the wall tell a story of the worldwide travels that Robert and Richard enjoy each winter, from Asia, the Pacific and South America – it's fun to hear the stories behind them.
The sitting room has more of a traditional feel that wouldn't be out of place in an Exmoor country inn, with the squashy leather sofas, Victorian marble fireplace and silver antler chandelier. This is where guests can sit while waiting to be seated for breakfast, or relax at any time of the day. Adjoining the sitting room is the bright and light conservatory where breakfast is served at individual tables that have fabulous views over the town and ever changing seascape.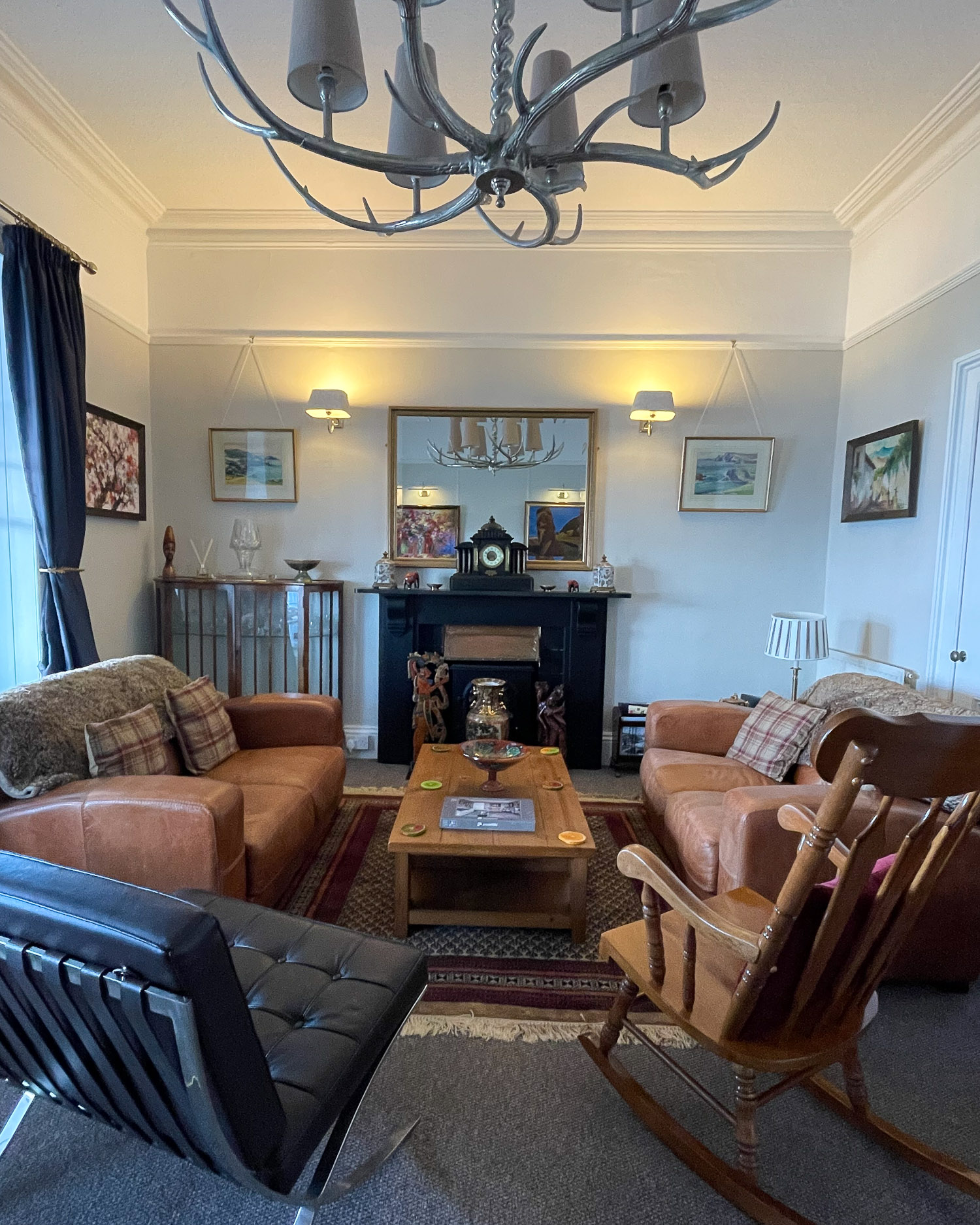 Stay at Highcliffe House luxury B&B in Lynton, Devon
Where to eat near Highcliffe House
There are plenty of recommendations on the Highcliffe House website for restaurants in Lynton that are just a short walk, as well as some suggestions further afield.
Old Bank Lynton – We wandered down the hill to find the Old Bank, located in a cosy restaurant on the lower floor of the old building that had once been a bank. The restaurant specialises in cuts of beef from the Exmoor National Park, but if steak is not your thing, there are some good fish options such as the Dover Sole I tried which was the fish of the day. It came with a dish of creamy leeks and peas with bacon and I ordered a side of truffle oil mashed potato, both of which were very tasty. Guy really enjoyed his steak too (so many choices for meat lovers!) and all the sides we ordered such as garlic mushrooms, salad and chips were top notch.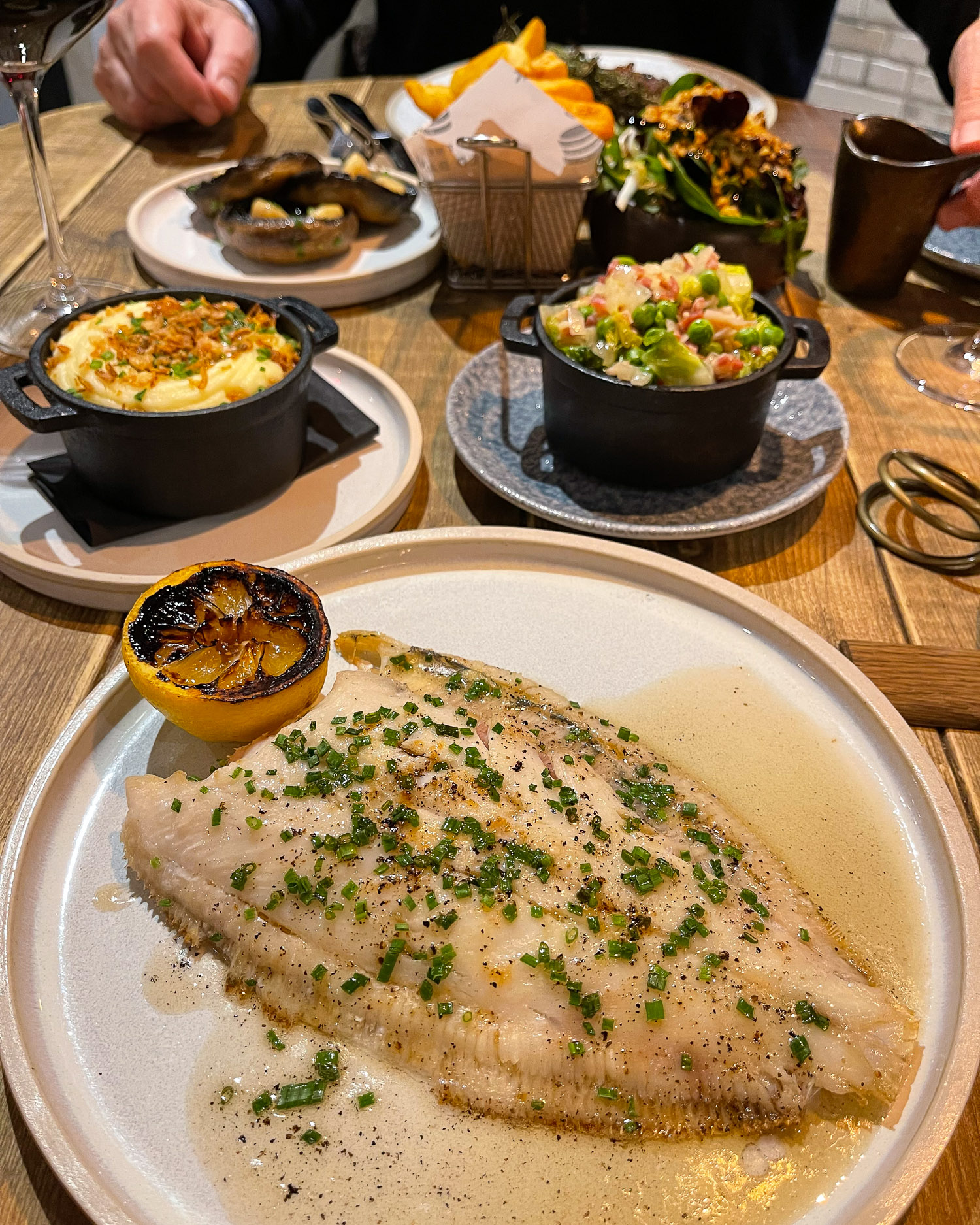 Oak Room – Located on the main street in Lynton they specialise in Spanish style tapas, with lots of fish and meat dishes to share.
Nartnapa Thai Kitchen at The Cottage Inn – Below the guest house runs a narrow lane, Lyn Way which will take you in a pleasant 15 minute walk to Cottage Inn at Lynbridge. We didn't eat here but heard good things about the pub with a Thai restaurant that's run by the chef / co-owner who is from Thailand.
Bath Hotel and Ancient Mariner bar – Set on the waterfront in Lynmouth the Ancient Mariner pub is full of nautical memorabilia and has a lively atmosphere. You can eat in the bar but tables are not bookable, so it's first come first served. We had booked our table in the adjoining Bath Hotel restaurant, although it was rather quiet and lacking in atmosphere when we visited. The same pub style menu covers both the bar and restaurant, so we'd recommend eating in the Ancient Mariner bar if you can get a table as it seemed much more jolly.
There are many other coffee shops in both Lynton and Lynmouth that tend to open in the daytime for brunch and lunch, but are closed in the evening. Take a look at Charlie Friday's Coffee Shop or North Coast Cafe although there are plenty more in Lynton and Lynmouth.
Top things to do in Lynton and Lynmouth
Many visitors come to Lynton and Lynmouth for the proximity to great walking on Exmoor and along the South West Coast Path, combined with the charming seaside town that has more than a few stories to tell. I'll be writing about all the things to do here in a separate article but in the meantime here's an overview of some of the things we enjoyed.
Things to do in Lynton, Devon
Wander around the pretty town with independent shops and cafes and look in at the beautiful church of St Mary the Virgin.
Stop at the Arts and Crafts Centre in an old church hall, full of locally made gifts, with the Lynton cinema to one side.
Walk down the road to reach the Valley of the Rocks, a glacial valley with steep sides topped with boulders perched on the cliff overlooking the sea – look out for the wild goats that inhabit these rocks.
Take the Victorian water powered Lynton and Lynmouth cliff railway from Lynton down to Lynmouth or walk the zig zag path that was the only way in the past that pack horses could bring supplies up the cliff.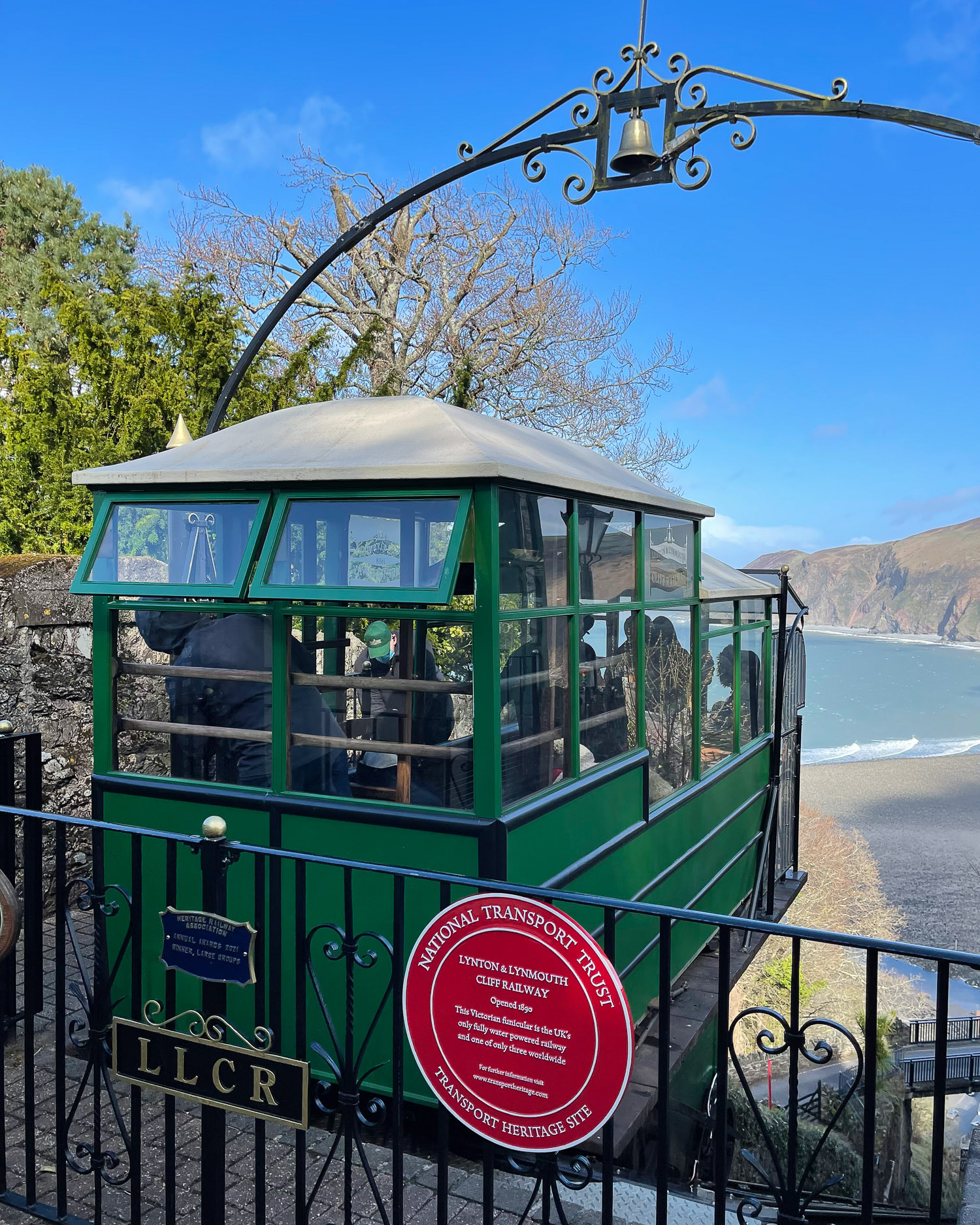 Things to do in Lynmouth, Devon
This pretty seaside town has bags of charm as you wander along the main street full of shops selling fudge, sheepskin and local gifts.
The two beaches on each side of the harbour are mostly rocky although you can walk through the Manor Gardens to Sillery Beach, which is a little more suitable for swimming in summer although you need to take care of the tides.
Stop at the Flood Memorial Hall, with an exhibition upstairs about the 1952 Flood disaster that destroyed much of the town and information about the Lynmouth lifeboats on the street level.
Pop into the Exmoor National Park centre for information about things to do in the National Park, taking a look at the nearby Rhenish tower and the metal sculpture of The Walker marking the several long distance walking paths that converge at Lynmouth.
The Glen Lyn Gorge attraction has an interesting exhibition about the Power of Water based on the hydroelectric energy generated by the river, and you can walk further up stream to see cascades and waterfalls.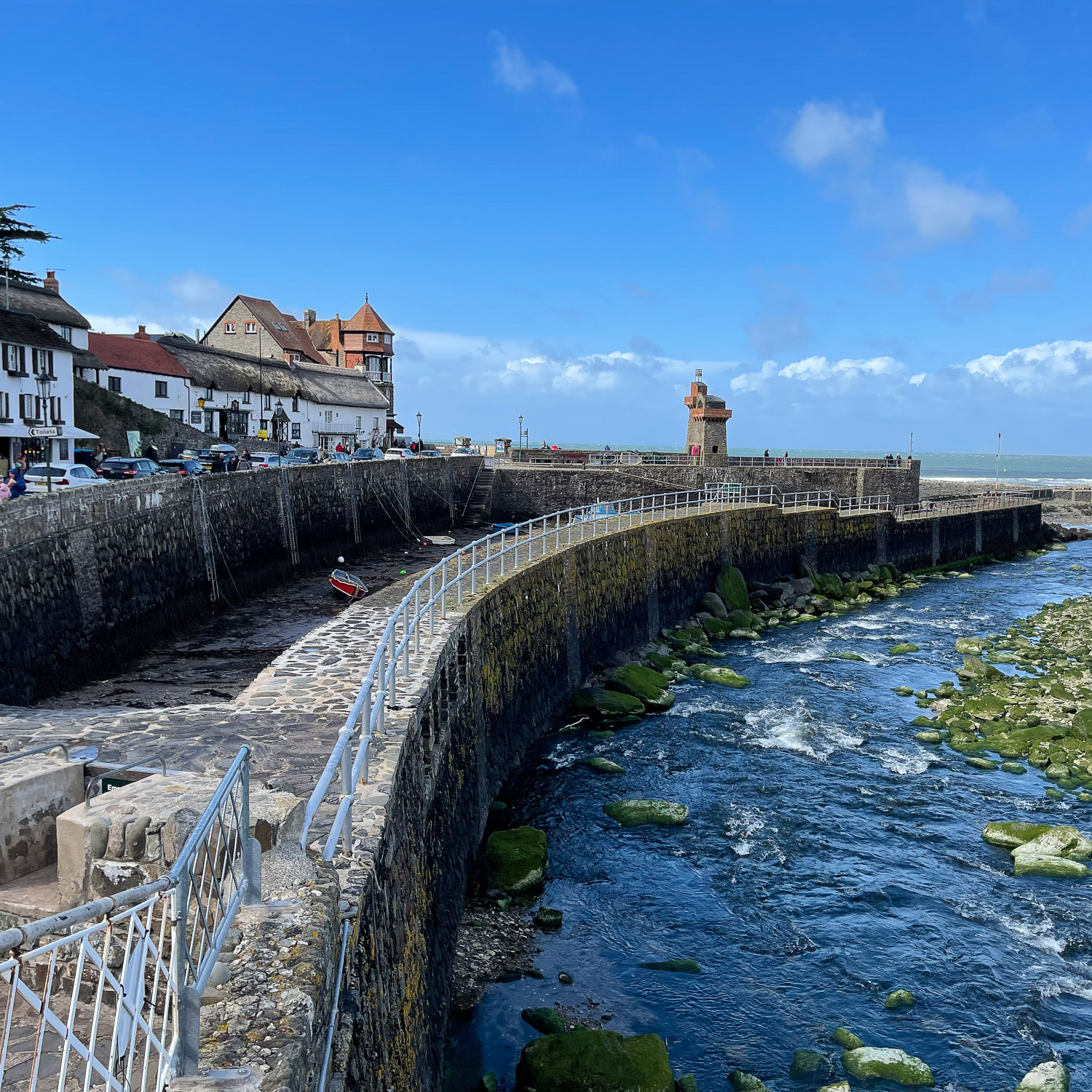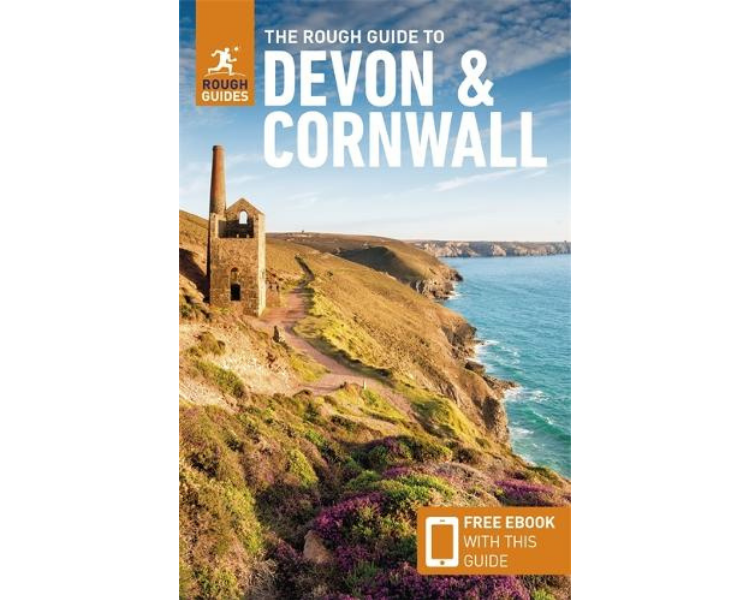 Walking around Lynton and Lynmouth
The South West Coastal path runs through Lynmouth with stunning views over the sea, and we followed it through the Valley of the Rocks to Woody Bay stopping for lunch at The Hunter's Inn, where there are more walking trails through the Heddon Valley.
Walk from Lynmouth to Watersmeet, a famous beauty spot in a mossy Exmoor valley where two rivers join to flow down to Lynmouth and there's a National Trust tea room.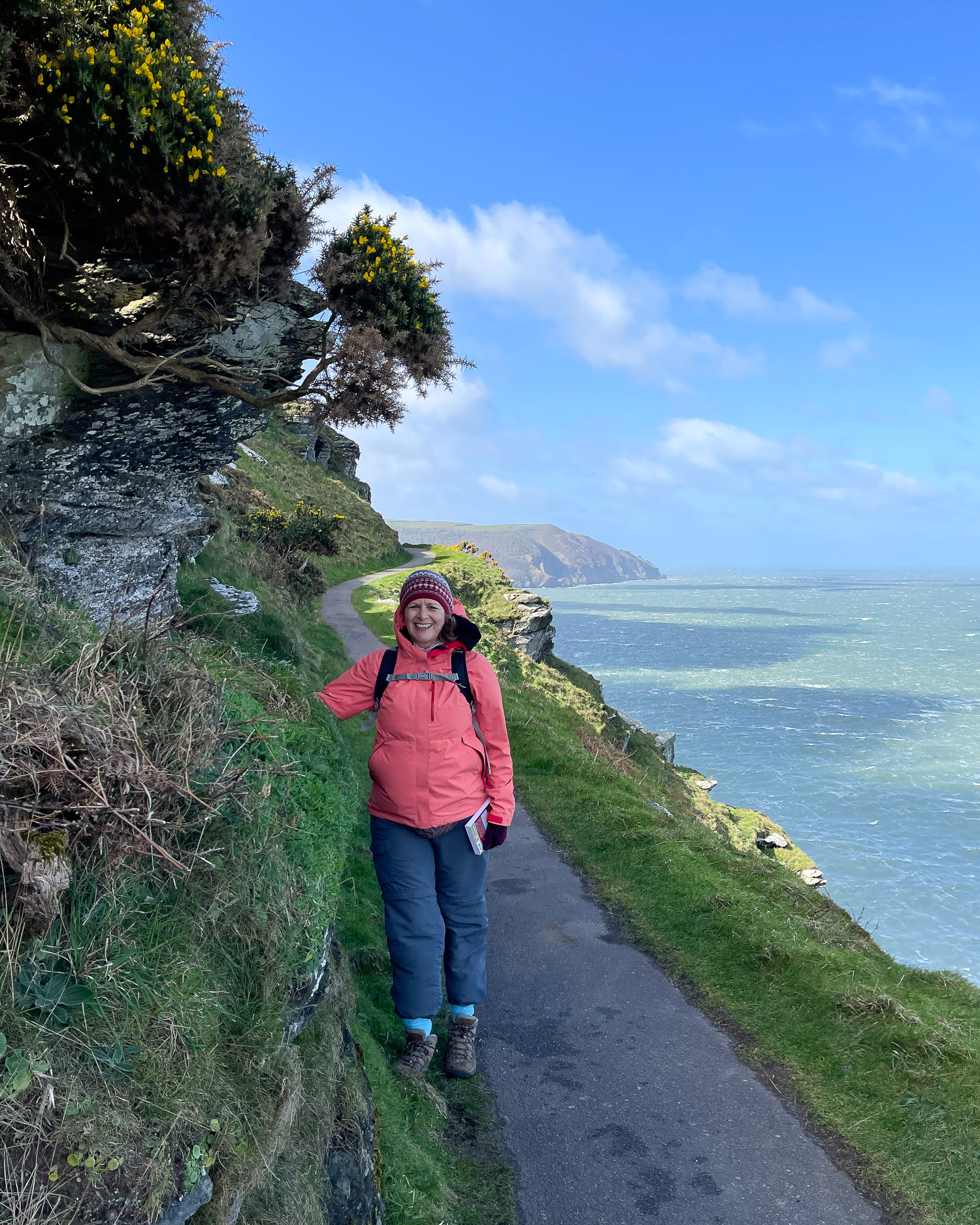 Highcliffe House location
Lynton and Lynmouth are located on the north Devon coast around 2 hours drive from Bristol, 1.5 hours from Exeter and 4 hours from London. This beautiful location is where the wild landscape of Exmoor meets the rocky sea shore at Lynmouth, giving you the best of both with coastal paths and moorland walks. Arriving by train the closest stations are Taunton and Tiverton Parkway, with fast rail links from London (around 2 hours) and Bristol (1.5 hours), then a taxi transfer can be arranged (around 1 hour) with buses also running from Barnstable.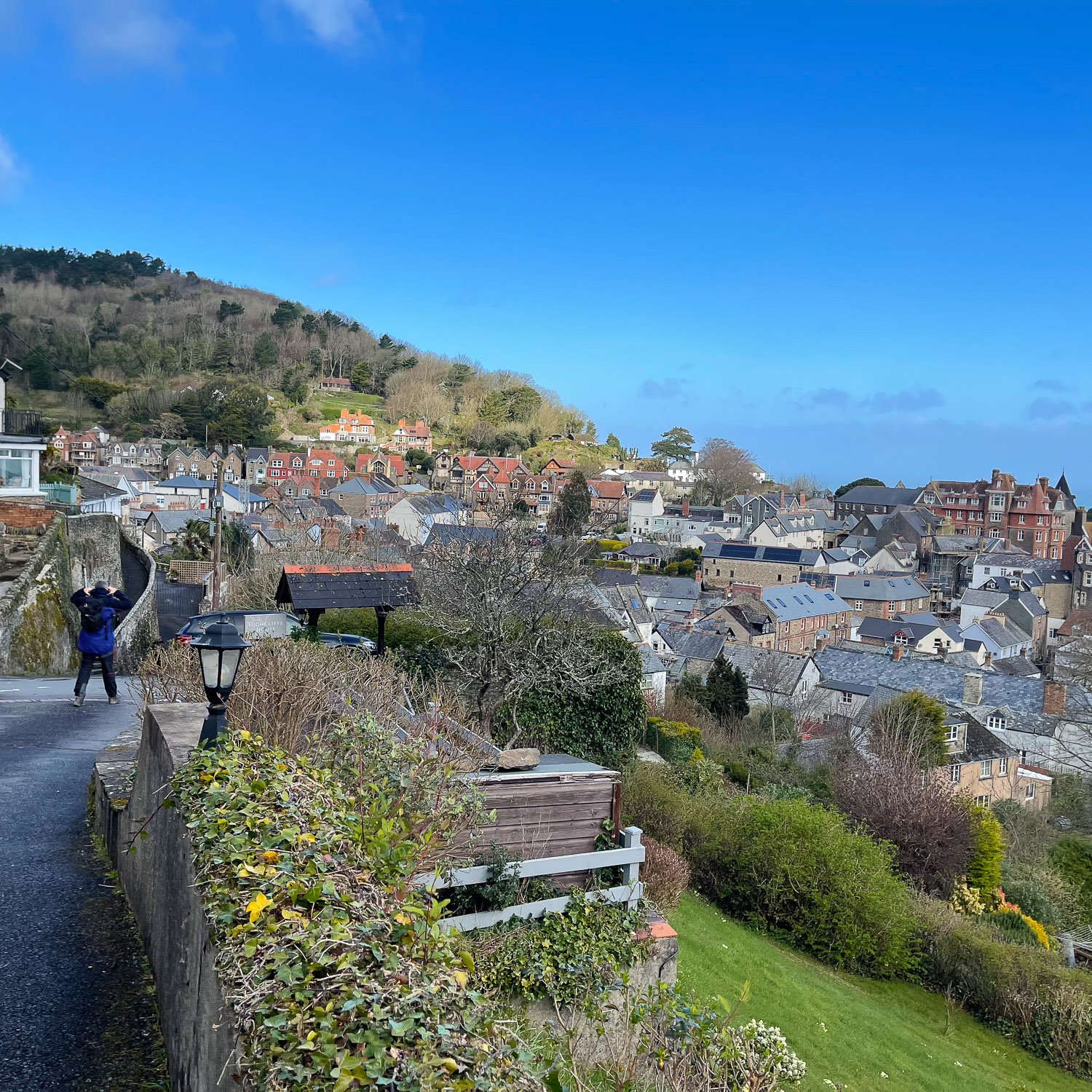 Once you arrive in Lynton, Highcliffe House has an enviable location set on the hillside above this small town, but just a 5 minute walk will bring you to a whole range of restaurants, pubs, shops and convenience stores, as well as the Cliff Railway to take you down to Lynmouth. If driving, be sure to follow the detailed driving directions sent to guests in advance, as Highcliffe House is accessed by a short but steep and narrow lane before you arrive at their guest parking area, and the sat nav may lead you astray.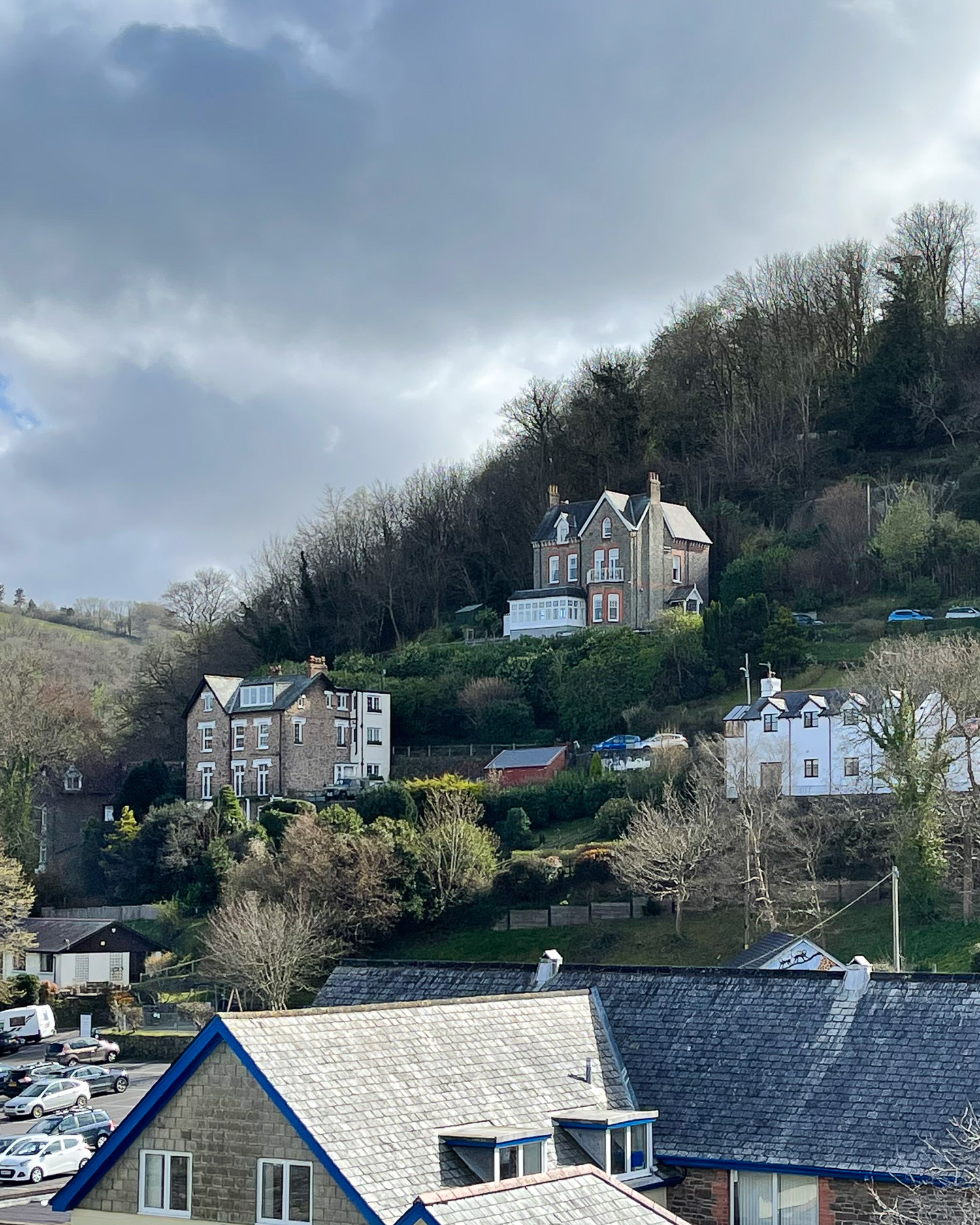 Who will enjoy staying at Highcliffe House?
We think that Highcliffe House in Lynton will be a great choice for the following travellers;
When we visited most of the other guests taking a short break were aged 50+ and the guest house is ideally suited for couples looking for a quiet place to stay.
If you normally stay in a boutique hotel, then Highcliffe House's luxurious and individually designed rooms, furnished with antiques, collectables and artworks will suit you well.
Lynton and Lynmouth are ideally suited for a short break and most people stay at Highcliffe House for 2-4 nights.
The area will suit those who love walking and outdoor activities combined with other interesting things to see in Lynton and Lynmouth as well as access to some excellent pubs and restaurants.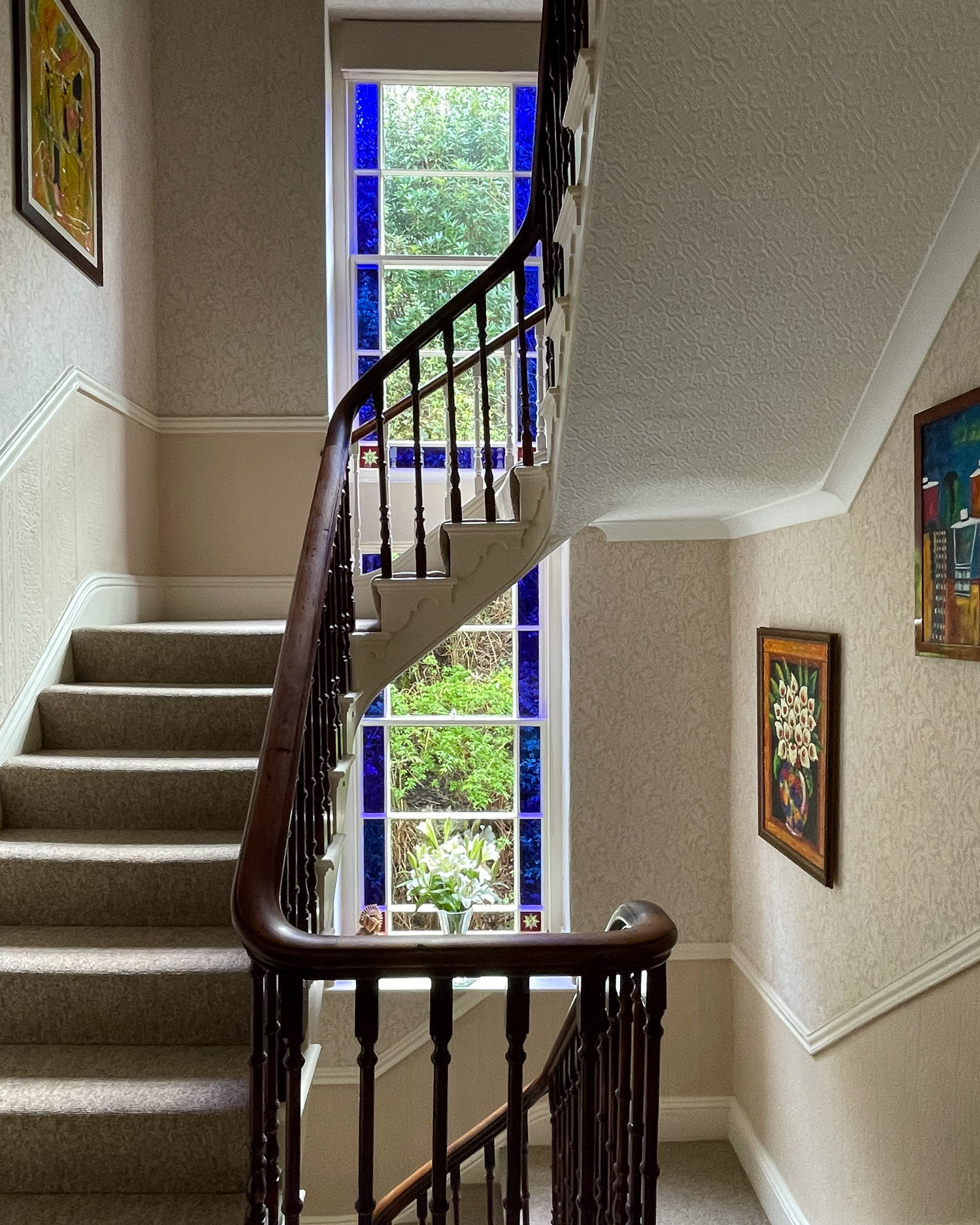 Good to know
Highcliffe House is adults only so if you have young'uns this is the place to come for a relaxing break without them.
Highcliffe House does not take dogs or other pets.
Highcliffe House does not offer evening meals so you'll get a chance to try out one of the many local pubs and restaurants.
As a Victorian property that was formerly a large family home, Highcliffe House has stairs to all the rooms, so will not suit wheelchair users.
The guest house is located on the side of a hill, and you'll need to drive up a steep, narrow lane to reach it. Be sure to follow the driving instructions that are sent to guests prior to arrival, rather than using a sat nav that may lead you astray.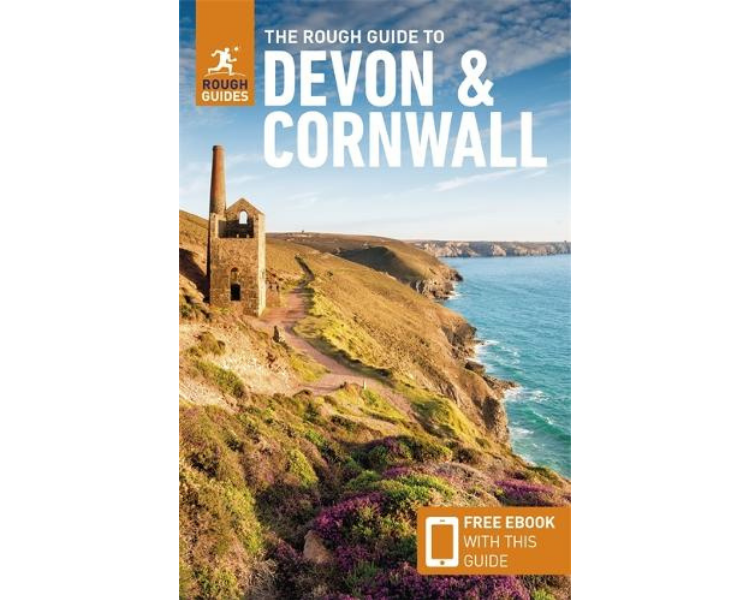 Plan your stay at Highcliffe House in Lynton Devon
Highcliffe House website | Check availability and book directly on the website or call +44 (0)1598 752235 to discuss your requirements
More information to plan what to do locally is on the Visit Lynton and Lynmouth website and the Visit North Devon website
Stay at Highcliffe House luxury B&B in Lynton, Devon

Pin it
Read Next
Explore all the things to do nearby in this article – Lynton and Lynmouth – English Villages on a Mountain Railway
Our 2 night stay was hosted* by Highcliffe House 
* More info on my policies page
This article is originally published at Heatheronhertravels.com