Athens tends to get overlooked by travellers rushing on to the Greek islands, but the quality of the food in Athens is one of the top reasons to spend a few days there. Not only is there a vibrant street food scene (souvlaki and more!) and an enjoyable coffee culture (Greek coffee and loukmades!) but a new generation of talented Greek chefs are giving a modern twist to traditional Greek dishes and produce. Read on to discover the typical Greek dishes to look out for when you visit Athens and the food experiences you won't want to miss!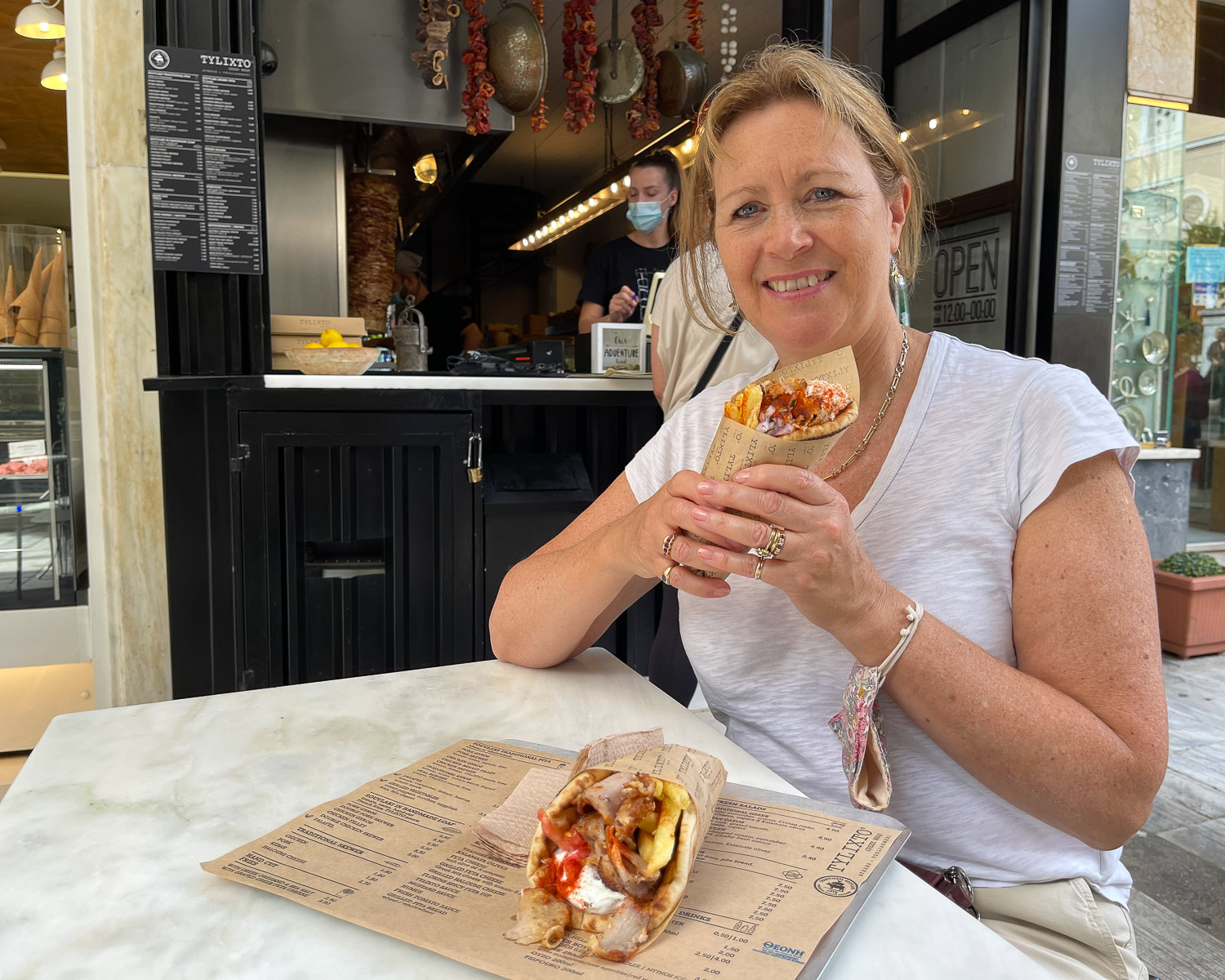 This article may contain affiliate links that provide commission on purchases you make at no extra cost to you. As an Amazon Associate I earn from qualifying purchases.
Top 5 Food experiences in Athens
When you visit Athens, here are the top foodie experiences I recommend you try;
Eat Souvlaki and other street food in the historic centre of Athens – try the cafes around Platia Agias Irinis (St Irene's Square)
2. Take a food tour in Athens to understand Greek food culture – we recommend this tour which we tried from Athenian Tours
3. Order Greek coffee from a pavement cafe and watch the world go by – Agion Irion in Psiri is a great location.
4. Wander around the Central Municipal Market for fresh produce and a buzzing atmosphere – it's best to visit in the morning since things wind down after lunch.
5. Drink a cocktail at sunset in a rooftop bar with a view of the Acropolis – we loved Foundry Suites roof garden
Looking for a food tour in Athens? We tried and can recommend this one with Athenian Tours
Street food in Athens
There's a huge street food scene in Athens, fuelled by large numbers of students and the fact that the Greek economy has been going through tough times, so eating out is generally cheaper than other European capitals. Among the best places to eat in Athens, you'll always find souvlaki and grill places that do takeaway, but there's a wider range of inexpensive street food than you might imagine.
1. Souvlaki in Athens
Souvlaki is the king of the street food scene in Athens as everywhere in Greece. Take a soft round pitta bread and wrap it around some marinaded grilled meat, add a bit of salad or fresh tomato and onion, throw in some chips and dress with a dollop of yoghurt and some spicy red sauce. A souvlaki to take away is normally €2-3 and the price is kept affordable due to government regulation.
Read about the best Athens restaurants – our favourites by neighbourhood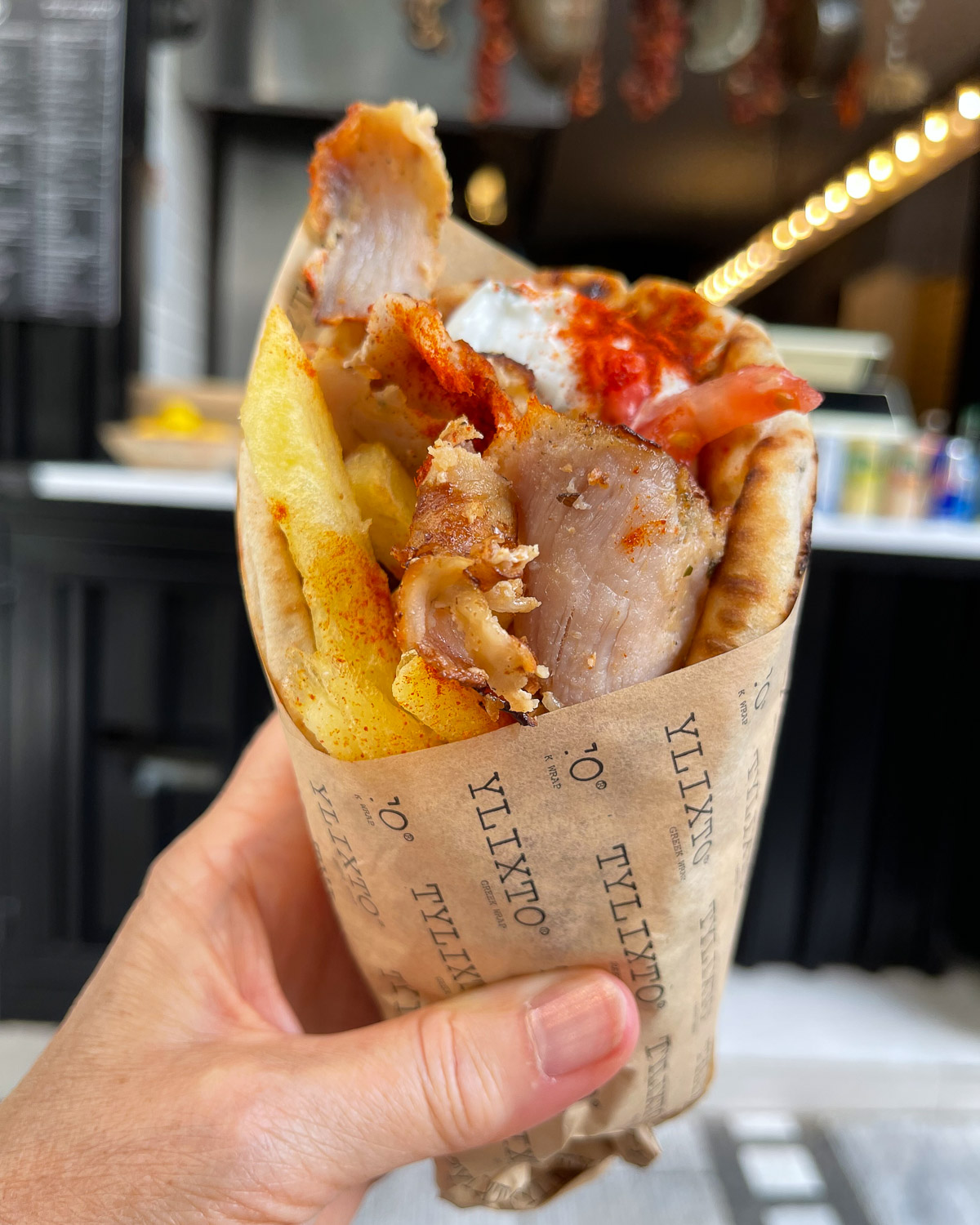 There are some variations, in that a Gyros is used to describe the take away version, where meat is sliced from a rotisserie. Souvlaki often refers to a sit down meal at a grill restaurant with the meat on a skewer and the salad, chips and pitta served on the side. Different Souvlaki restaurants may build a reputation on the way they marinade and prepare the meat, or the special sauce that they make themselves.
You can find Souvlaki everywhere in Athens but if you want a sit down meal, try one of the many grill restaurants on Mitropoleos leading off Monastiraki Square. For takeaway head to Platia Agias Irinis (St Irene's Square)and take your pick from Kosta Souvlaki takeaway (Pl. Agias Irinis 2), which always has a queue, or the more modern Tylixto Greek Wrap (Aiolou 19) or Hoocut (Pl. Agias Irinis 9) which was featured in the TV programme Gordon, Gino and Fred's Road Trip.
2. Feta and Spinach pie in Athens – Tyropita and
Spanakopita
If Souvlaki is the king of the street food scene, pies or pita (not to be confused with pitta bread) are the queen. Many coffee shops or small bakeries will have a selection to buy as an alternative to a sandwich at lunchtime. However, if you want the freshest and best, look out for artisan bakeries or pie shops that specialise just in pies.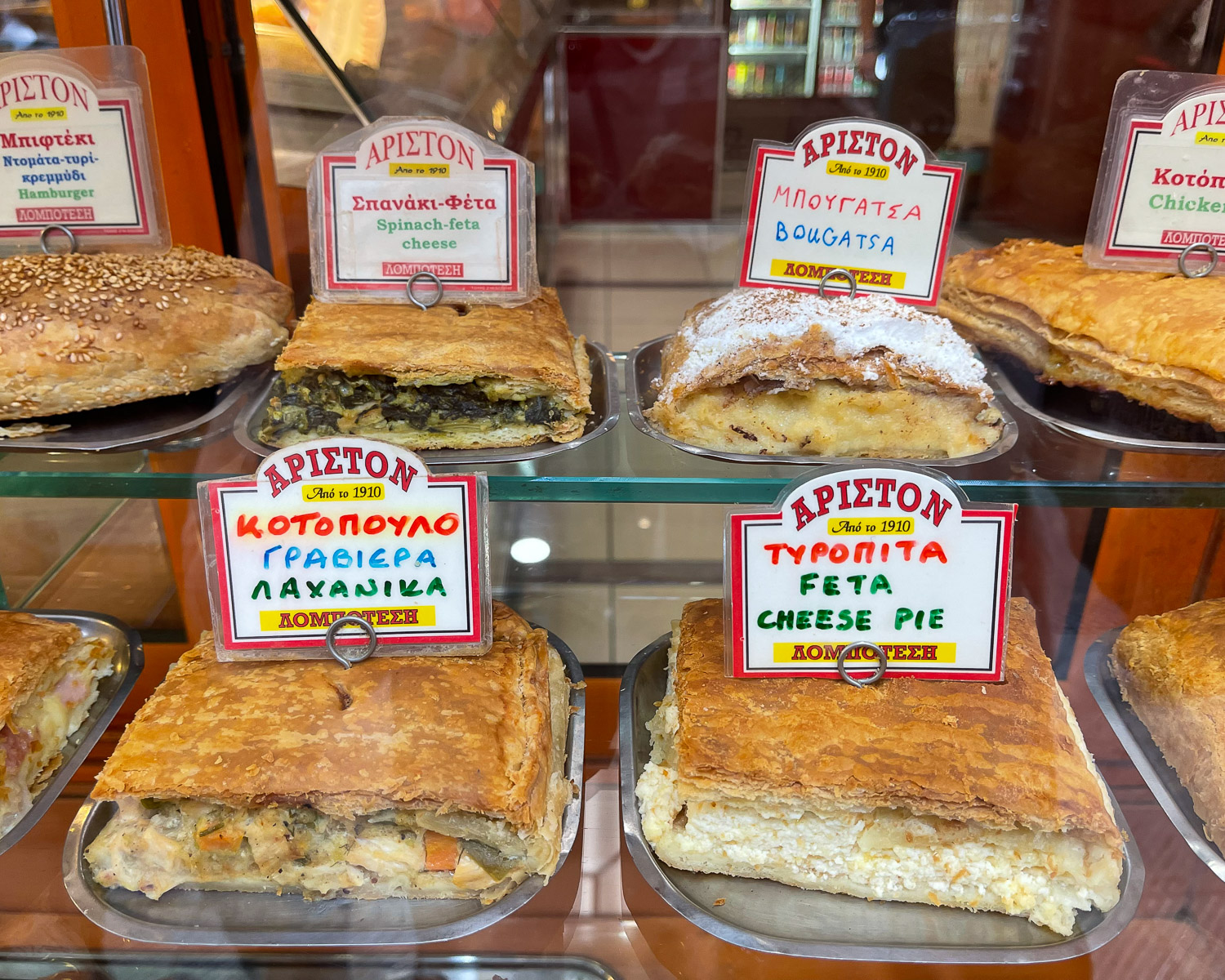 Close to Syntagma Square, you'll find Ariston (Voulis 10) which we visited on our food tour with Athenian Tours. They only sell pies and have a fantastic selection, including their specialty of kourou, a half moon pastie with a buttery filo case and filling of feta cheese.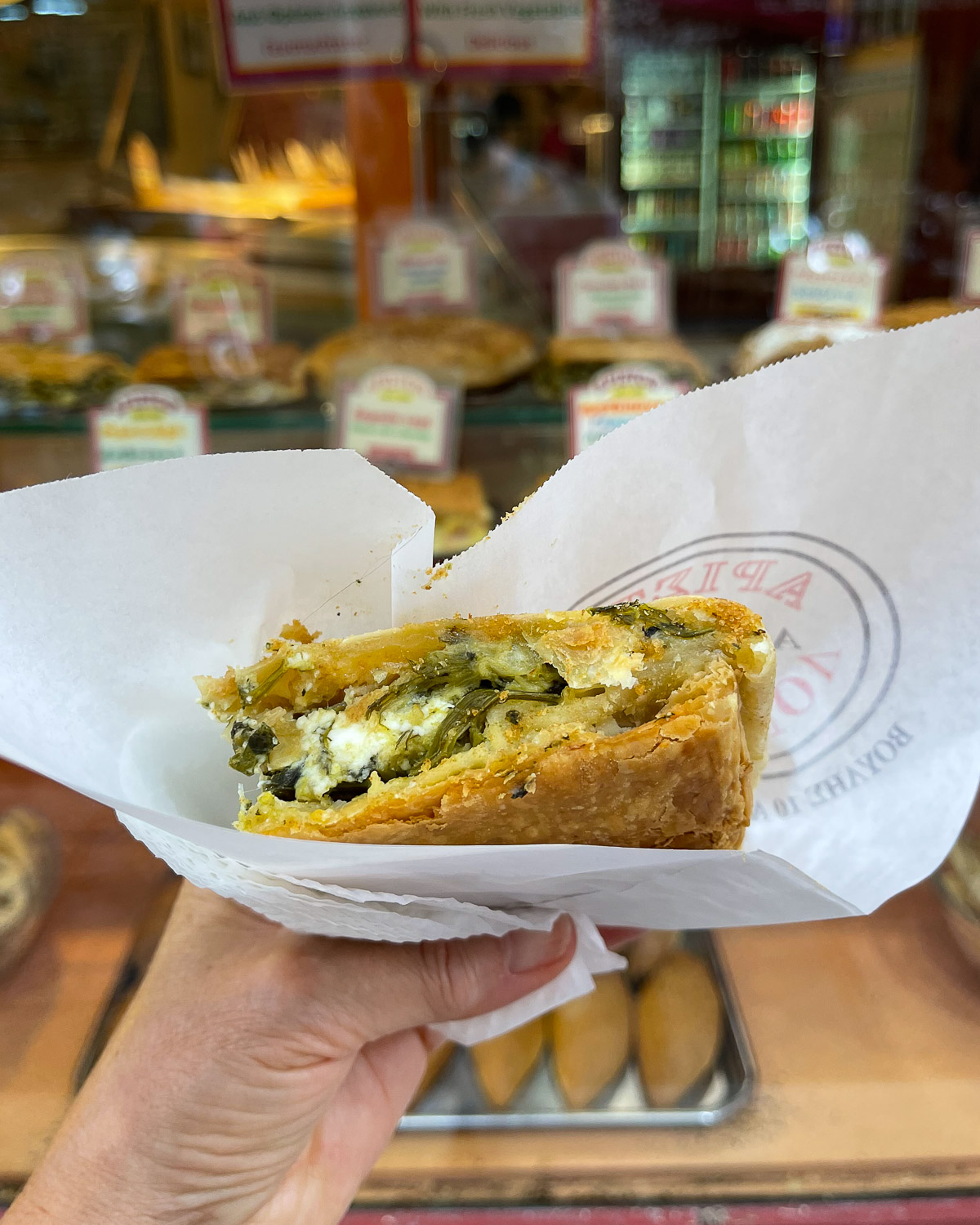 3. Levantine street food at Feyrouz Athens
If you like the quick and easy souvlaki formula but want something a bit different, head to Feyrouz (Karori 23 / Aiolou), which is a short walk from Monastiraki, in the neighbourhood known as Athens historic triangle. This modern version of a takeaway with just a few tables serves Levantine inspired Lahmatzun wraps, Peinirli filled pastries and home made soups.
They have opened a second bakery with sweet cakes and coffees just across the street. It's fresh, cheap and delicious with some excellent veggie options. The name Feyrouz is inspired by a famous Lebanese singer who is the favourite of the owner's mother.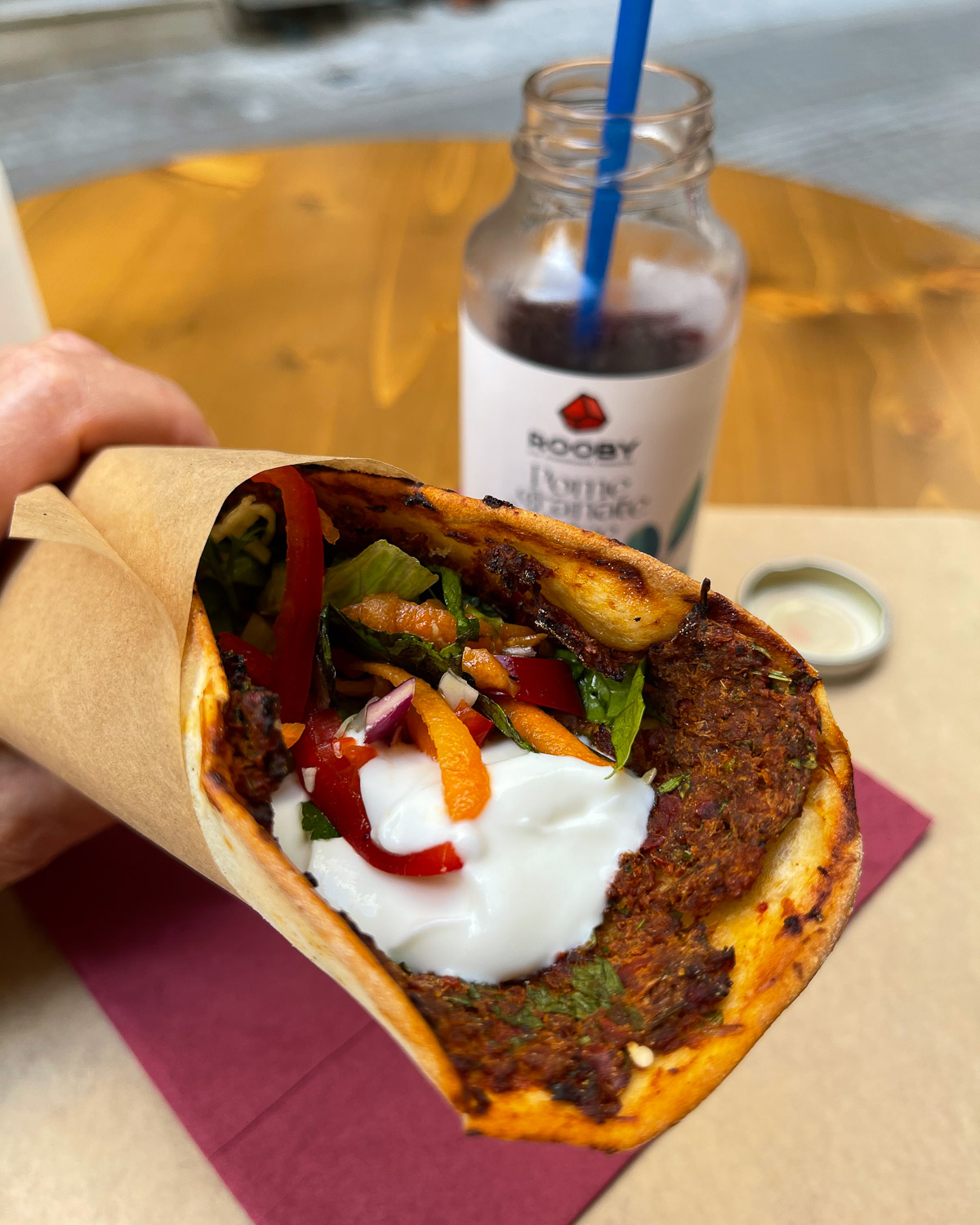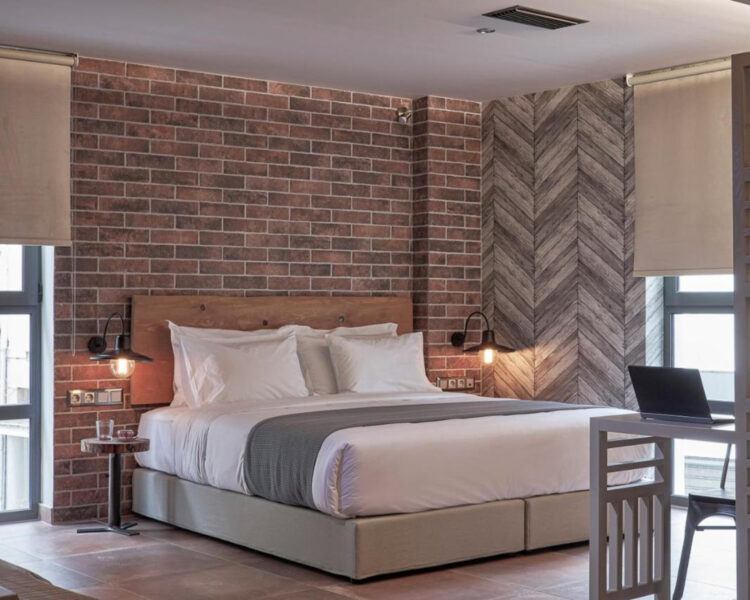 Stay at 18 Micon Street in the heart of Psiri – a boutique hotel in a converted warehouse.
4. Koulouri – Sesame bread rings
One of the cheapest and best snacks to pick up on the go are the sesame seed covered bread rings known as Koulouri, which you often see on sale in a kiosk or stand outside railway stations. They are best eaten freshly baked and soft as soon as you buy them, as they will go hard after about a day. Koulouri are popular for Greeks to eat in the morning as a breakfast snack on their way to work, or for children to take to school.
Most bakeries sell them and there are sometimes variations on the original plain version, with the addition of dried fruit or seeds. If you happen to be in the Psyri neighbourhood, look out for the To Koulouri tou Psyrri bakery (Karaiskaki 23), which specialises in koulouri and supplies many of the stands around the city.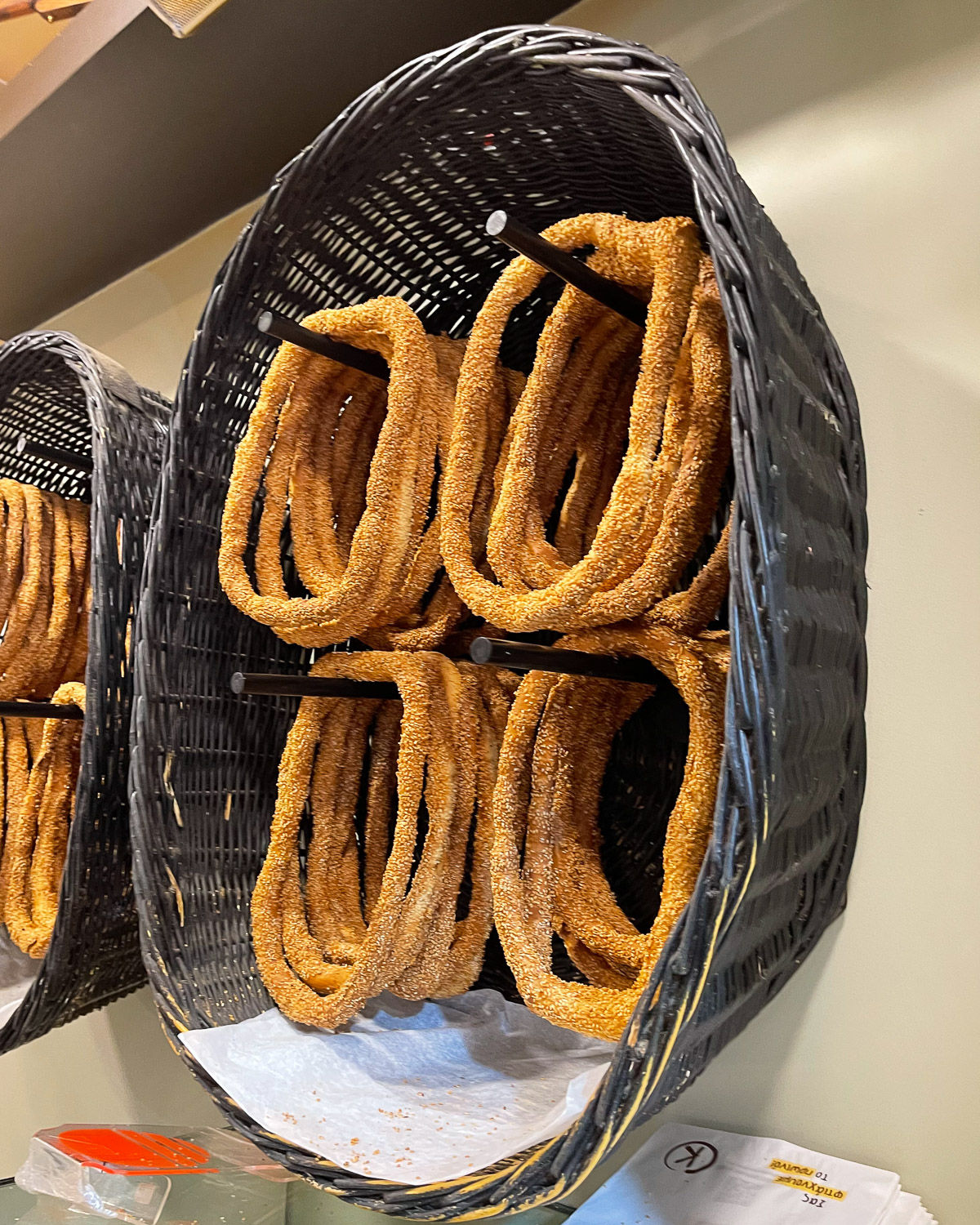 5. Take a food tour in Athens
While I've tried quite a few different dishes and restaurants on past visits to Athens, my understanding of the Athenian food scene was really given a boost by the food tour with Athenian Tours. Together with our excellent guide, Thassos, we visited around 10 different places to eat around the city, finishing 3 hours later feeling very full and in no need of lunch, let alone dinner!
I highly recommend taking a food tour when you visit any city, especially in Athens where there is so much great food on offer. Here's why!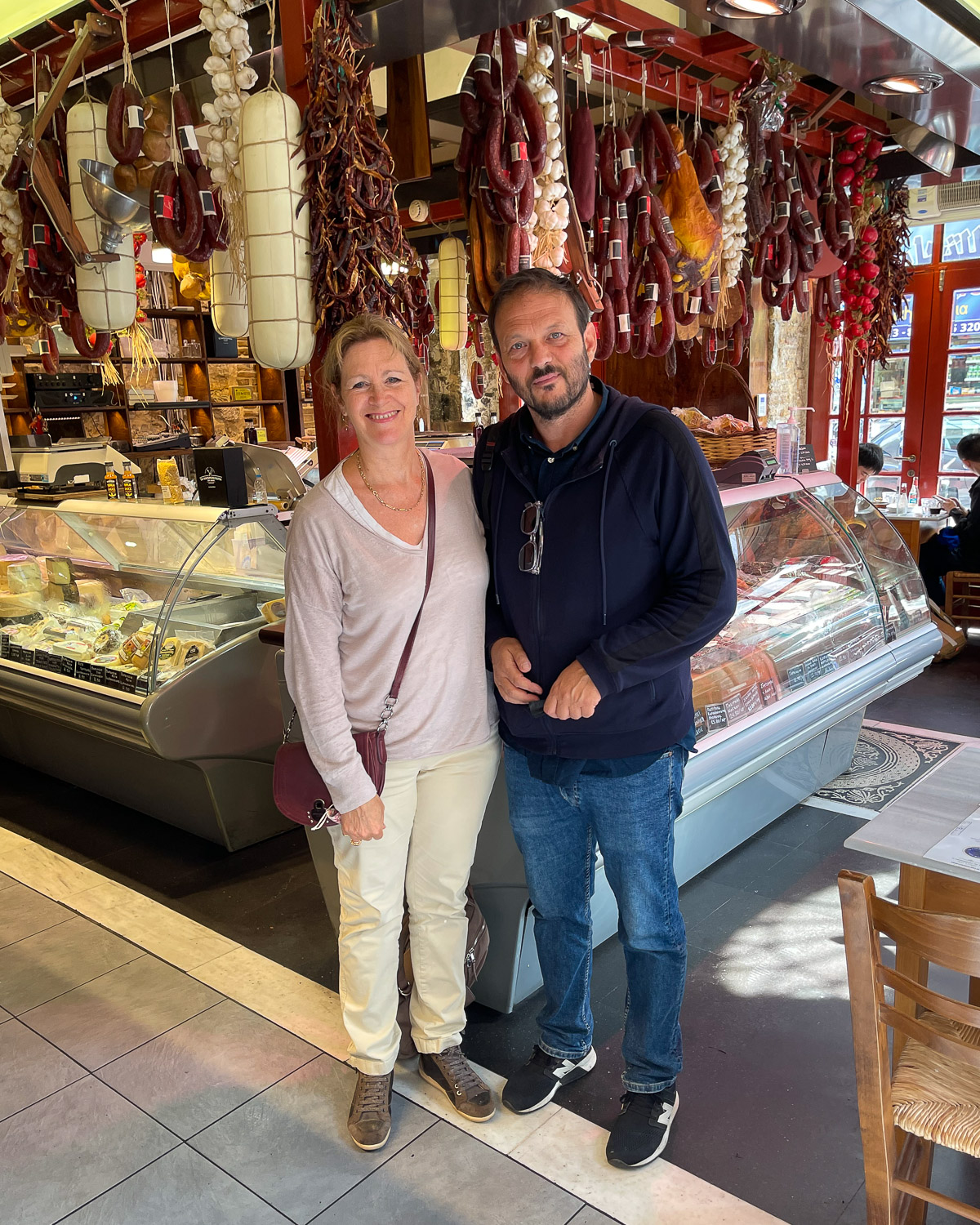 – Food tours are a super fun way to spend a convivial few hours, are great for solo travellers who want some company and a good way to connect with other travellers who share a common interest in food.
– Food tours are usually great value, considering that they include the cost of the food you eat and you probably won't need to eat much else that day!
– Food tours in Athens are not just about the food! You generally get plenty of insights into Athenian and Greek culture as you pass by some of the main tourist attractions as well as lesser known sights.
– Taking a food tour at the start of your trip means that you can order with confidence in Athens restaurants, knowing the different dishes and what to look out for on the menu.
– Your tour guide is also a great source of tips and restaurant recommendations, especially if you have particular tastes or requirements like veggie, vegan or gluten free.
Without our guide Thassos from Athenian Tours I wouldn't have heard about the flower market formerly held at St Irene's Square, how Greek coffee was brewed by Egyptians on hot desert sand or why his father asked if he had got Koulouri in the test at school (it means zero). All these fun stories brought to life the food we were trying in Athens and made us feel a part of the city.
You can book a food tour with Athenian Tours here.
Looking for a food tour in Athens? We tried and can recommend this one with Athenian Tours
Sweet pastries and snacks in Athens
Most Greek bakeries sell a range of different things including loaves of bread, rings of sesame covered koulouri or raisin bread, and pies or pastries like the custard filled bougatsa or the spinach and feta spanakopita. Other bakeries specialise in one thing like Koulouri such as To Kolouri tou Psyrri or the "pie shops" specialising in pita such as tyropita (cheese pie) or spanakopita (spinach pie).
If you have a sweet tooth, look out for a Serbetia which is the Greek version of a patisserie. Serbet literally means syrup, but in Greece this is used to describe sweet cakes and deserts that may be soaked in syrup and are found in specialist cake shops and cafes where you can also get a coffee or drink. You may see a cake shop translated as "sweet shop" but actually it's selling cakes, not candies.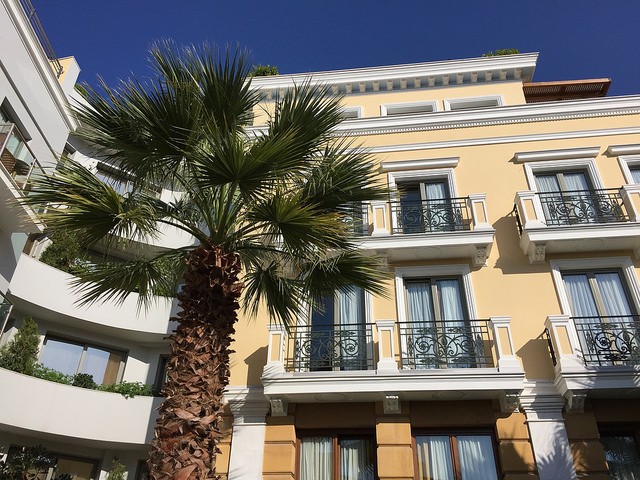 Stay at the Electra Palace Hotel – an elegant, classic 5 star hotel, close to the Acropolis in Plaka – read my review
6. Loukoumades in Athens – Greek doughnuts
Loukoumades are small doughnuts that are often served in traditional coffee shops that sell Greek coffee. You'll want to buy them as freshly made as possible, while they are crisp and hot from the frier, so look out for a place that makes them on the premises.
Traditionally you would be brought a small plate with 4 or 5 loukoumades, that have been drizzled with Greek honey, and sometimes sprinkled with cinnamon or nuts to eat with your coffee. One of the best known places to eat fresh loukoumades in Athens is the Krinos coffee shop (87 Aiolou), where you can watch them being made at the back and see how they achieve the ring shape.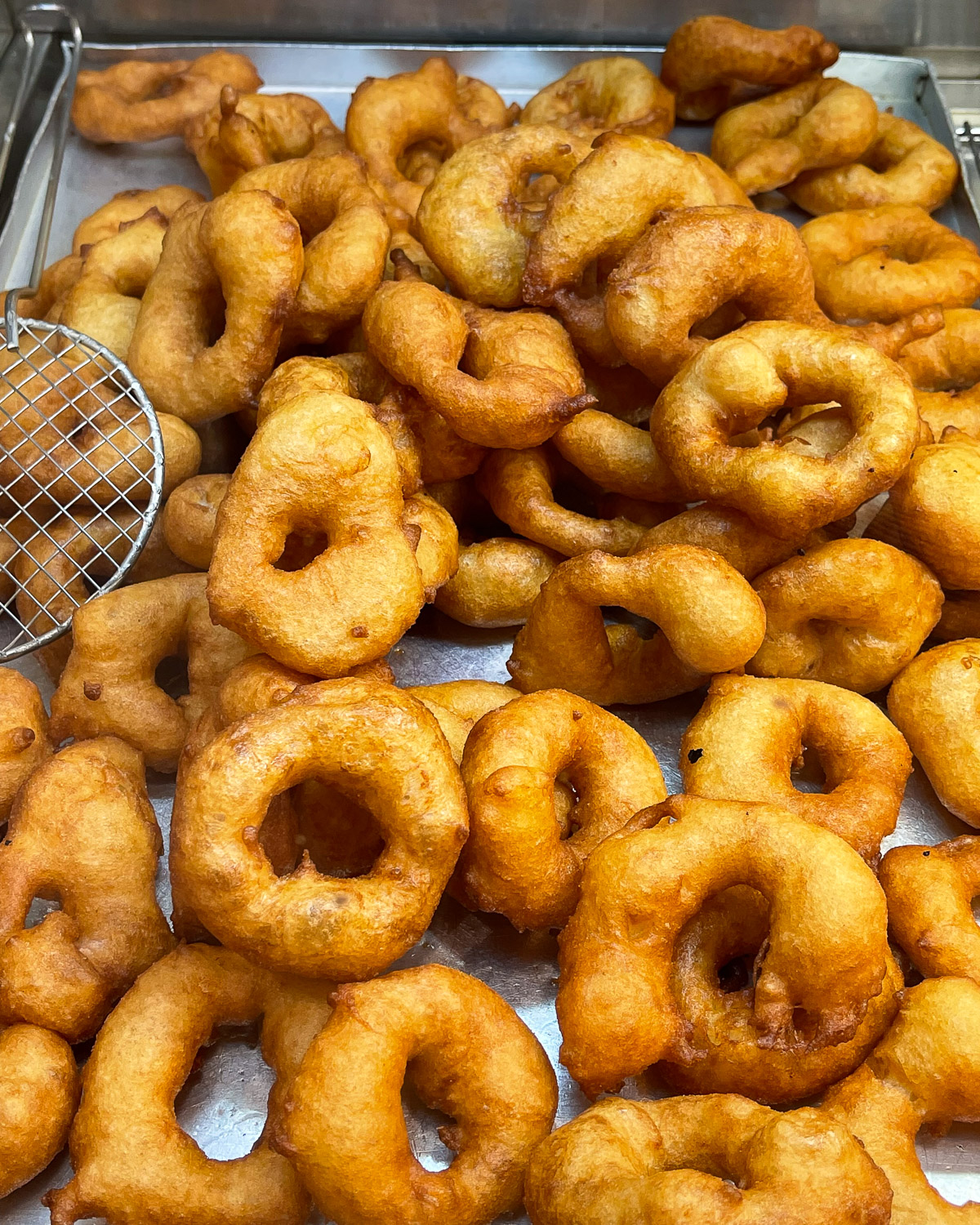 7. Bougatsa – custard pastries for breakfast in Athens
While in Athens I must admit to becoming addicted to Bougatsa, a version of the typical filo pie that's made with a sweet custard filling. Bougatsa is typically eaten as a breakfast or morning snack, so you might well see it on your hotel's breakfast buffet. This pastry is said to have originated in the city of Thessaloniki, although if you ever go to Thessaloniki its worth knowing that the word Bougatsa is used there as a generic term for all pies, whereas in Athens it's only used for the sweet custard version.
If you find a bakery that specialises in Bougatsa, like Bougatsadiko Thessaloniki in Psyri, you may see them swinging around the filo pastry in the morning, to make the pies for the day. Bougatsa is normally made in a large metal tray and you'll be cut a rectangular slice and asked if you want it dusted with icing sugar and cinnamon (of course you do!).
Read my neighbourhood guide to Psyri Athens for more places to eat in this area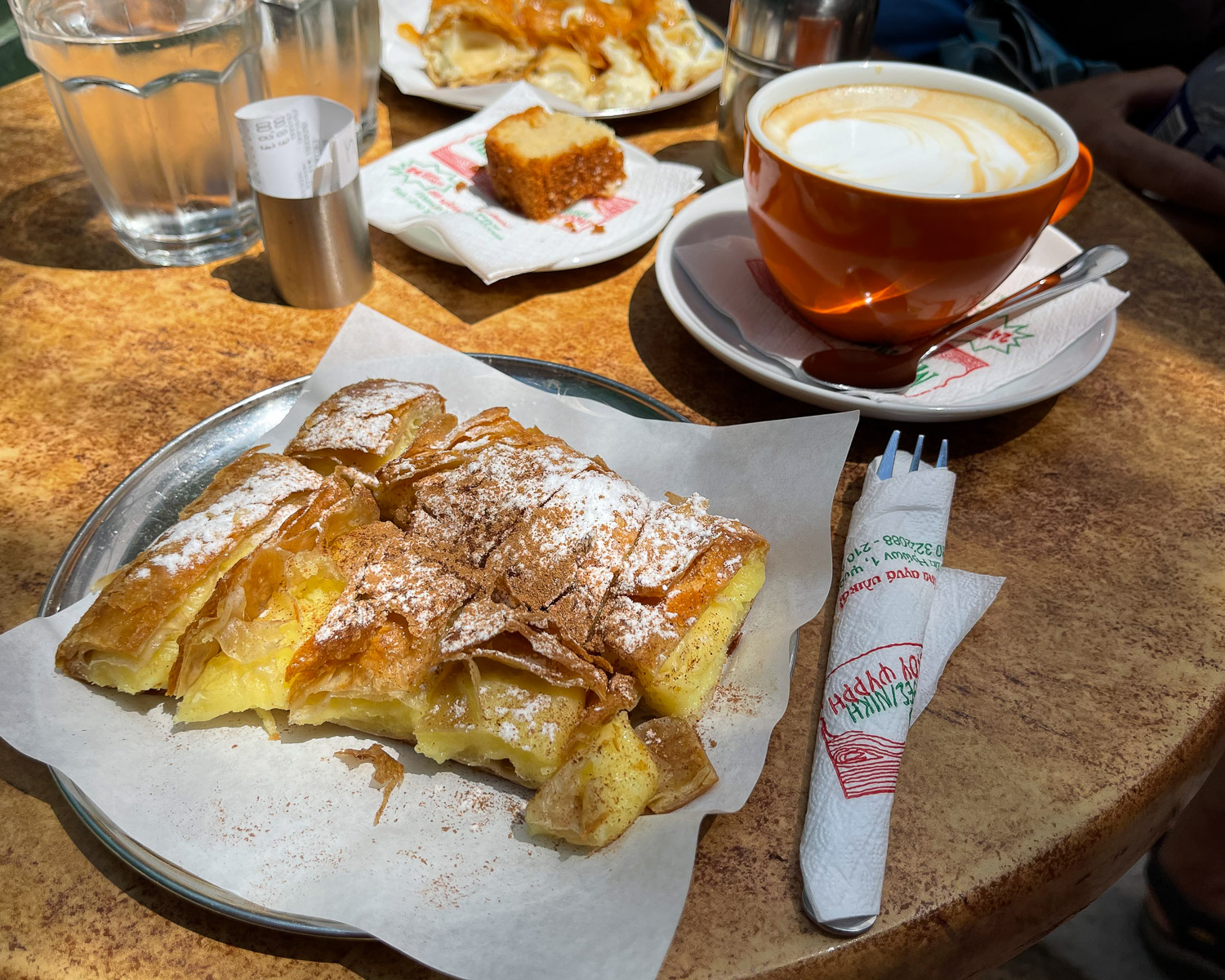 8. Yoghurt and dairy
Greeks often have yoghurt and honey for breakfast and you can find many delis that sell fresh, natural yoghurt from big tubs, especially in the area of the Central Market. To try some of the yoghurt and other dairy produce in a cafe atmosphere, head to Stani (M. Kotopouli 10 ), a family run dairy cafe just off Omonia Square. You'll see the creamy Greek yoghurt tubs piled in the chiller cabinet, with jars of honey were stacked on the shelves of cream painted kitchen cabinets.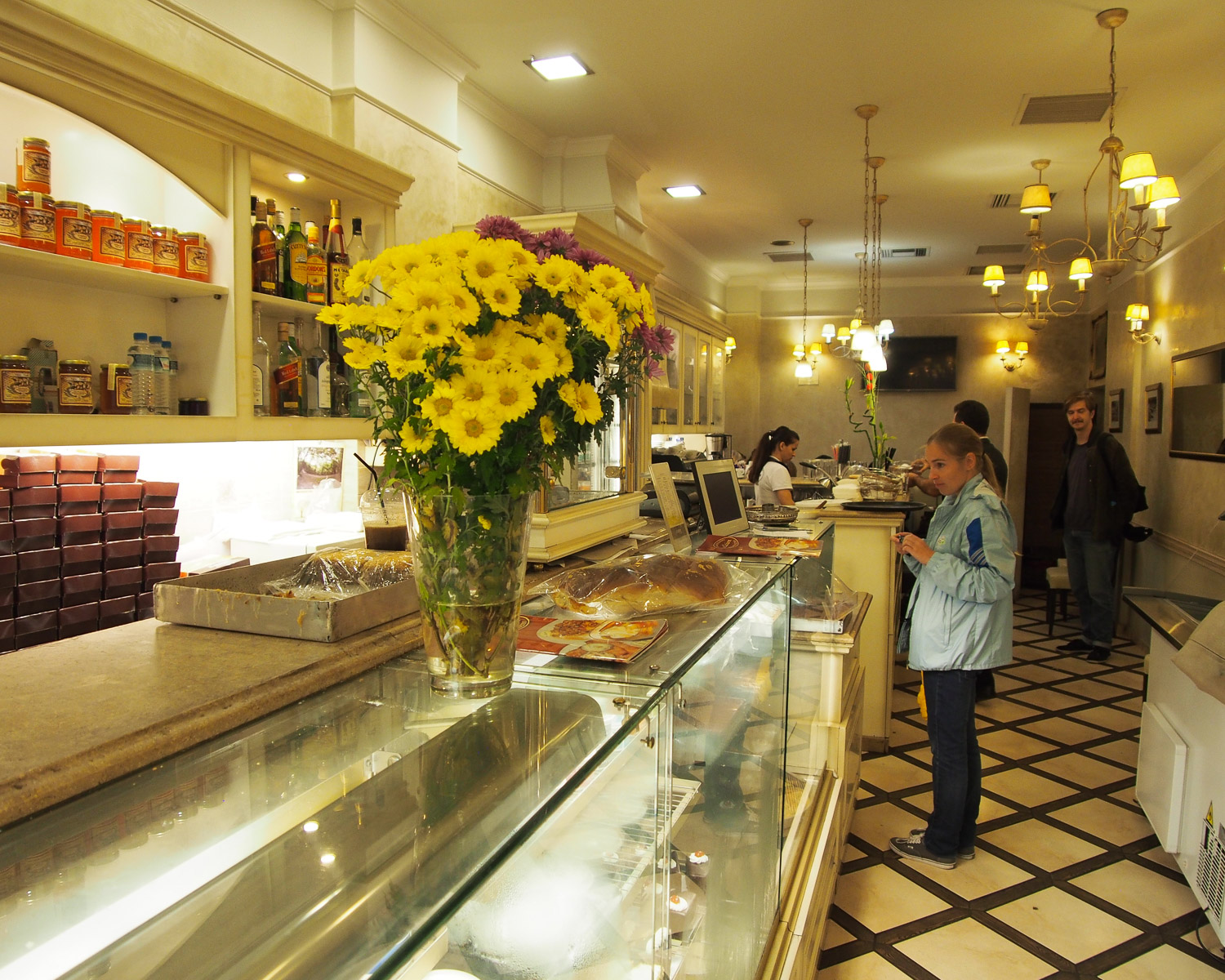 Order a plate of sheep's milk yoghurt on a plate, bathed in honey and scattered with walnuts, or perhaps the Galaktobureko custard tart enclosed in syrupy filo pasty. There are plenty of other options for cakes and deserts to give yourself a traditionally Greek sweet treat.
9. Cakes and Sweet pastries in Athens
Cake shops or cafes that mainly sell cakes are known as Serbetia , often serving cakes and drinks so that you can sit down and have a cake with coffee. For Greeks it would be common to visit serbetia after a meal to have a separate "sweet" course, or to buy cakes to take home and offer to friends when they come visiting. It would also be well received to bring a gift of cakes or biscuits when visiting a friend for coffee at their home, especially someone of an older generation. Typical cakes to look out for include;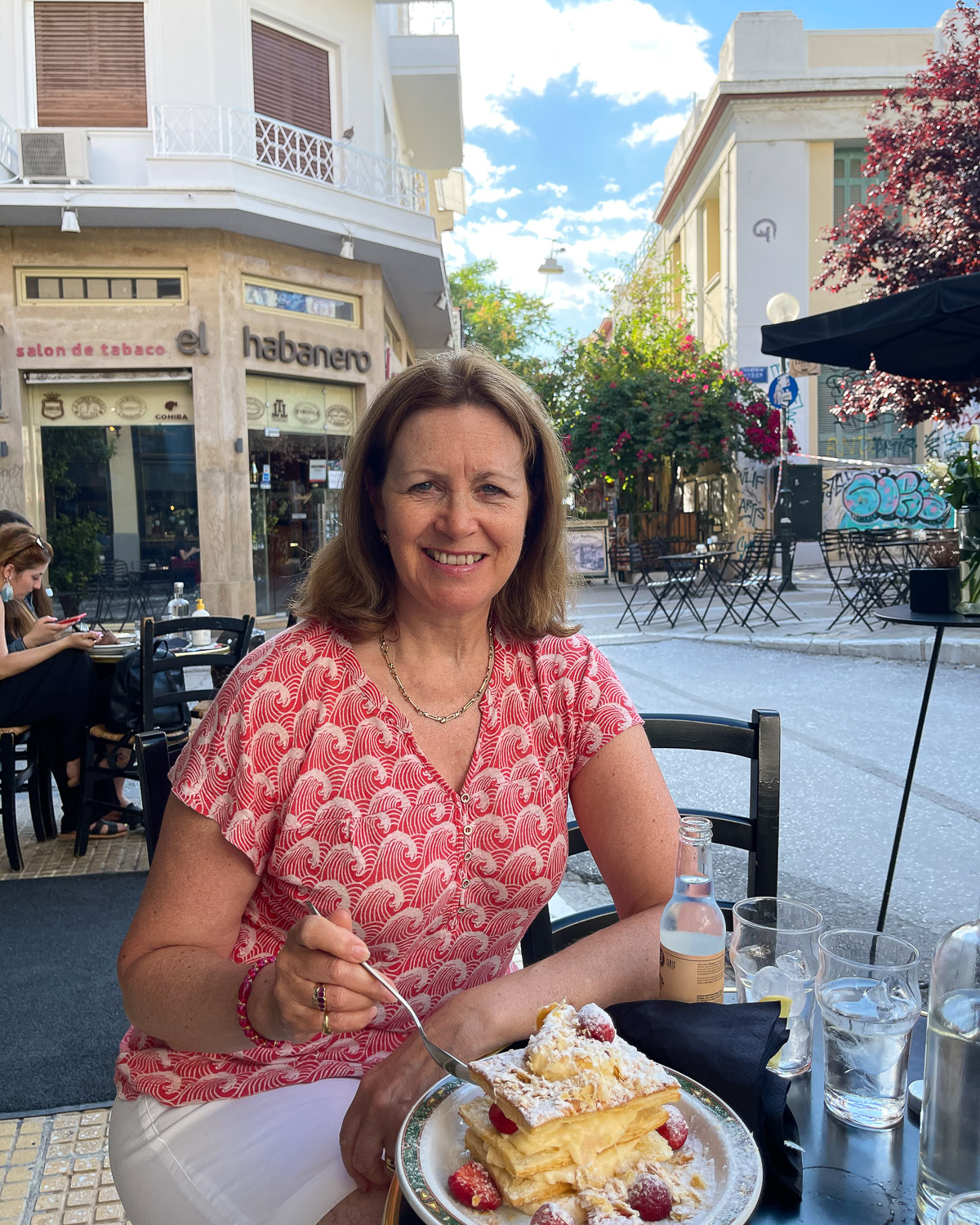 – Baklava, with layers of filo pastry and nuts, soaked in a honey syrup. Bakeries often have lots of different variations of this kind of honey soaked pastry which is known as syropiasta. Kataifi is a version that's made with syrup soaked shredded filo threads while Galaktoboureko is a custard pie that's topped with syrup soaked filo.
– Millefeuille style cakes layered with cream and fruit are found in cafes that serve a lot of cakes and pastries like Nancy's Sweet Home in Psiri.
– Cakes with layers of sponge and creamy mousse are popular and come in chocolate or fruit flavours – this is the typical cake that would be served for a birthday party.
– Bakeries often sometimes sell individual deserts that are designed to be taken home to eat, such as creamy mousse style deserts in a plastic cup or miniature ice creams that are sold by weight although you can also buy them individually.
– The Greek version of an energy bar is known as pasteli and you will also see these sold at bakeries, a stick or bar that's made of sesame seeds, nuts or dried fruit, sweetened with honey and baked hard.
If you're visiting Psyri, be sure to check out the street art – read my article about Street art in Athens
10. Greek coffee in Athens
Of course, when in Greece, you need to try the Greek coffee at least once. This style of coffee originated from Turkey and the Levant, where nomadic traders would heat their coffee grounds in a metal pot on hot sand in the desert. However you can never tell a Greek that their coffee originated from Turkey! Greek coffee is brewed with fine grounds in the cup when it's served, so you need to let it settle before drinking, and never drink the last few sips or you'll get a mouth full of coffee grounds.
Feel free to add sugar but don't add milk to a Greek coffee, it's basically a strong hit of caffeine which will give you a pick-me-up. If you prefer a normal barista style coffee, of course you'll find these in cafes all over Athens and in summer when it's boiling hot, you might prefer to order a "freddo" (chilled) coffee, either a latte or cappuccino style. When visiting the Central Market, you can stop for a coffee at Mokka Coffee (Athinas 44) where they roast their own coffee and you can see it being heated over sand, in homage to those desert nomads.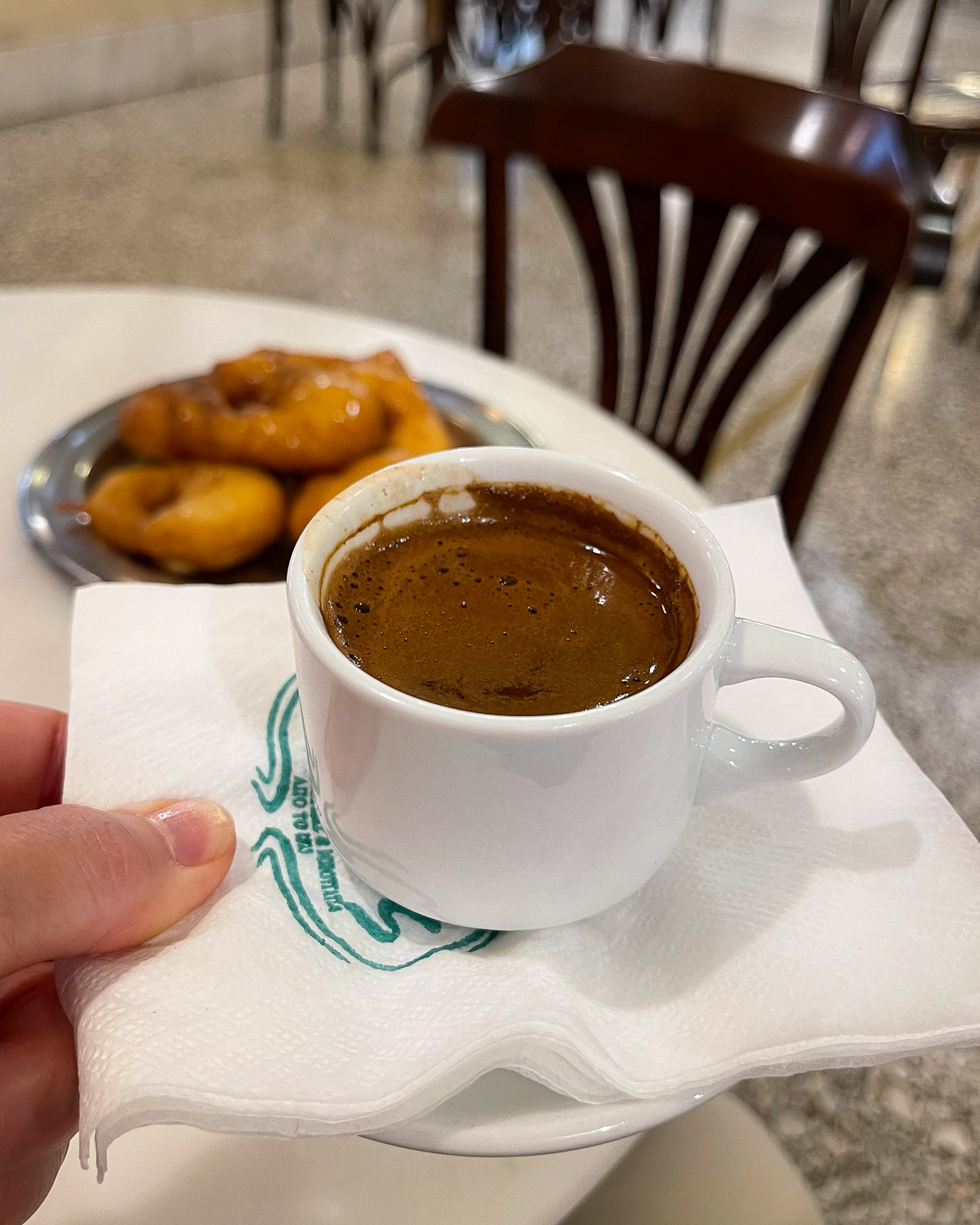 11. Ice Cream in Athens
Considering the hot climate in Athens I was surprised that I did not find more artisan ice cream places. Or perhaps I was suspicious of the ones in Plaka and other touristy areas that have piles of technicolour ice cream, served in huge portions piled high with toppings designed more for instagram than taste.
One that will definitely satisfy the gourmet in you is Kokkion (Protogenous 2), on the edge of Psiri and a short walk from Monastiraki Square. It's a tiny, unassuming place but the flavours are fresh and inventive, with lots of seasonal and local variations including vegan sorbets. I also heard good things about Le Greche (Mitropoleus 16) which is close to Syntagma and Cremino (50A Nikis)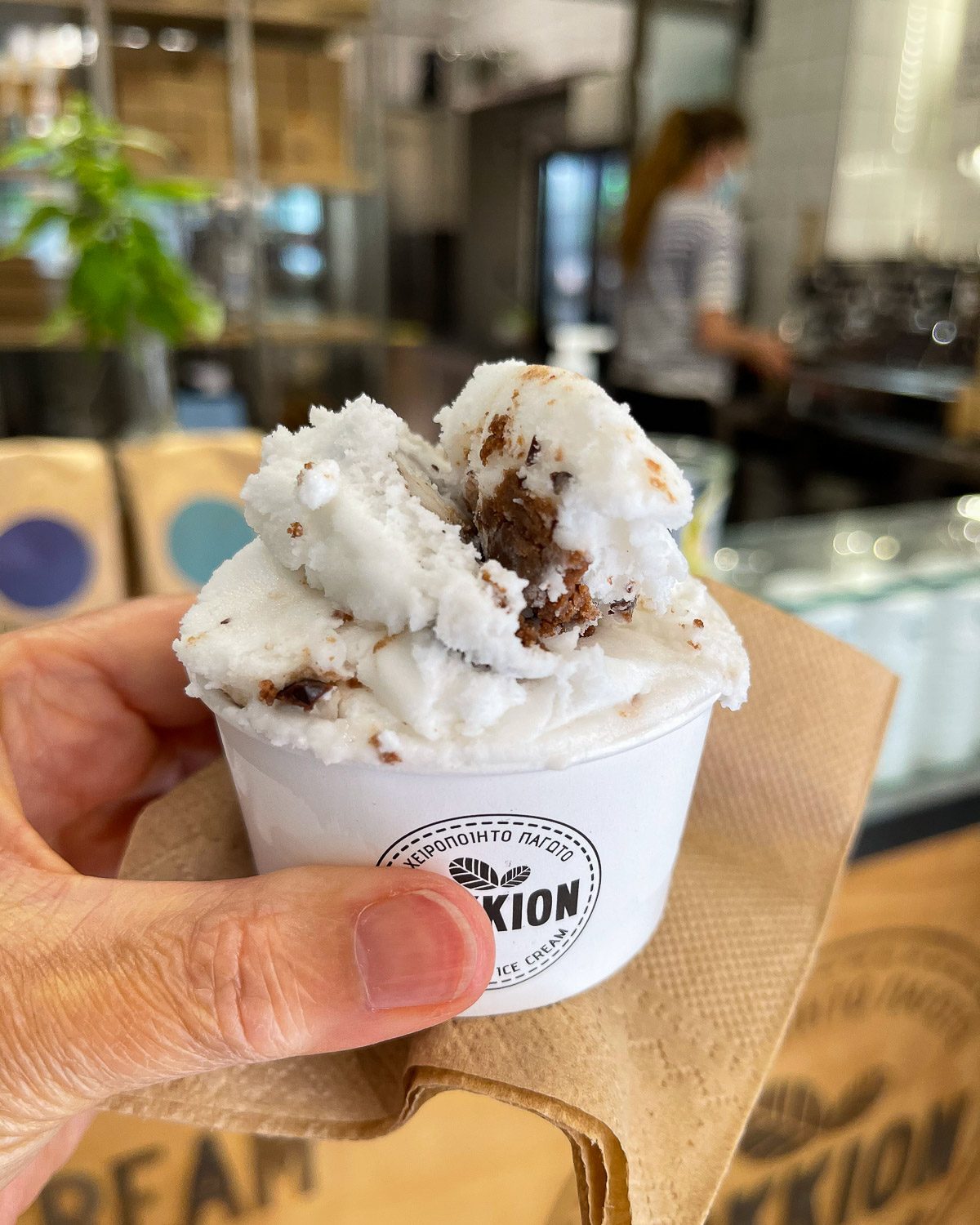 What to eat in a Taverna in Athens
If you are looking for traditional Greek dishes, there's a taverna in most neighbourhoods of Athens that will fit the bill. The menu will cover all the favourites, like moussaka, gemista (stuffed vegetables), stifado (slow cooked beef stew) and starters like saganaki (grilled cheese), kolokithokeftedes (courgette balls) or the ubiquitous Greek salad.
While there's something comforting to know that the menu choices will be pretty much the same as Mama's made for generations, you can also find restaurants such as Tzitzikas & Mermigas ( Mitropoleos 12-14) that provide a modern update on the traditional flavours. Look out for tavernas that provide live bouzouki music in the evenings, which always adds to the atmosphere.
If you are planning to visit the Acropolis be sure to read my article – Visit the Acropolis in Athens, here's what you need to know.
Looking for a food tour in Athens? We tried and can recommend this one with Athenian Tours
12. Gemista – Stuffed vegetables
Gemista or yemista literally means "filled" and this is one of my favourite lunchtime dishes. The most common vegetables used are large tomatoes or peppers, which are stuffed with rice flavoured with garlic, mint and oregano, or sometimes with minced beef, then cooked slowly in the oven. The long, slow cooking with lashings of olive oil makes the vegetables soft and full of flavour. Potatoes may be slow cooked doused in oil in the same pan, then served alongside.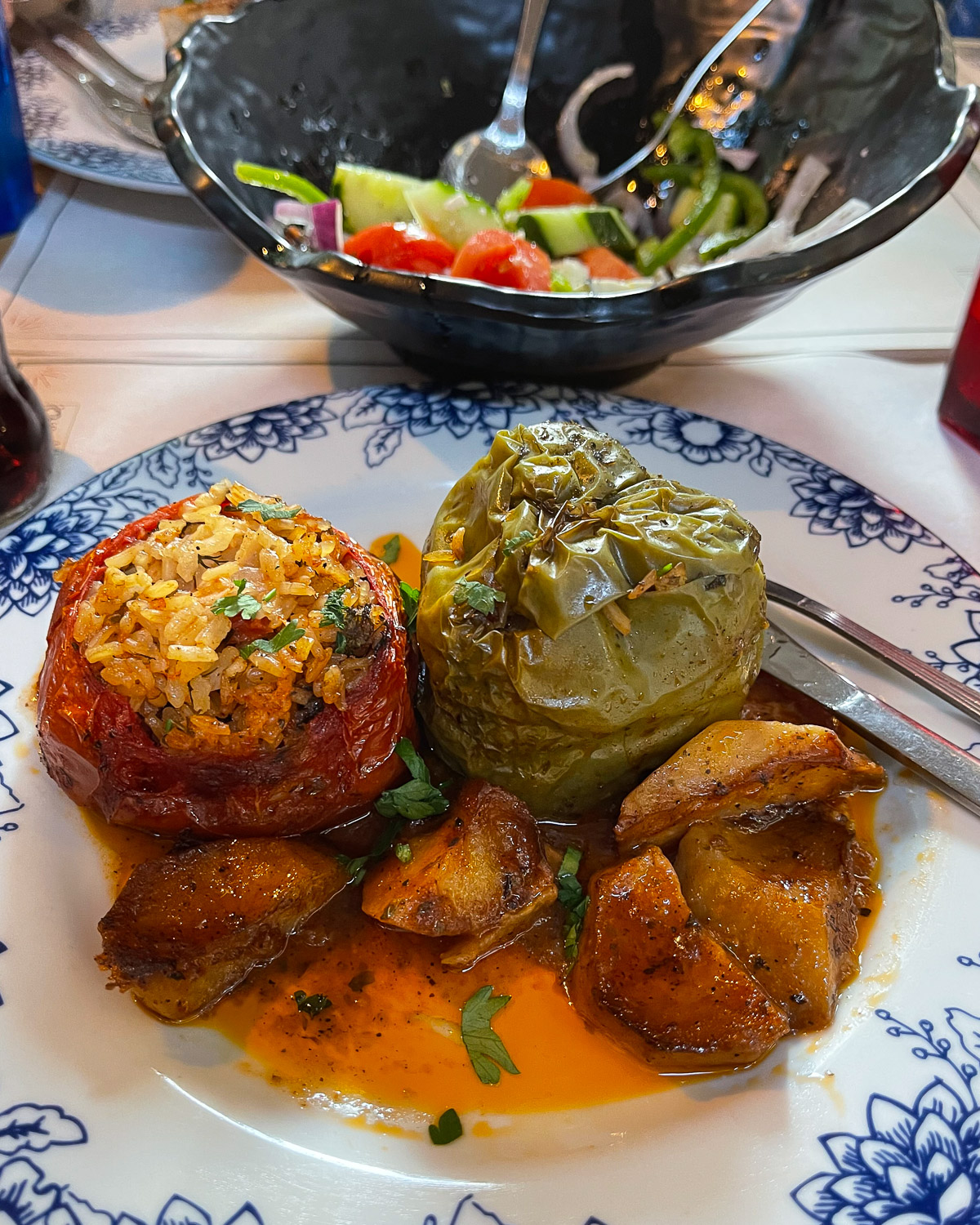 13. Moussaka
Moussaka is another homely taverna favourite, normally cooked in a large metal pan, then cut into rectangular portions. The main ingredients are aubergine (eggplant), minced lamb cooked in a tomato sauce and potatoes, which are layered together. The dish is topped with a thick bechamel sauce or savoury custard and sometimes a sprinkling of cheese, then cooked in the oven. Moussaka owes its distinctive Greek flavour to the the addition of cinnamon to the meat, a nod to the influence of the 400 years of Ottoman rule on Greek food.
14. Saganaki – grilled cheese
A favourite starter or side dish that works well with vegetables and salads is Saganaki. The name refers to the heavy metal pan that is used to sear or oven bake the slab of cheese, giving it an appetising crust with a melted cheese interior.
Hard local cheeses such as graviera are typically used to make Saganaki and it may also be sprinkled with sesame seeds and drizzled with melted honey. While a slab of fried cheese is possibly not the healthiest of foods, this is an undeniably tasty dish that's made to be shared and goes well with a tomato salad to cut through the richness of the cheese.
Read more about my favourite food experiences in Athens – uncovering the delicious food of Athens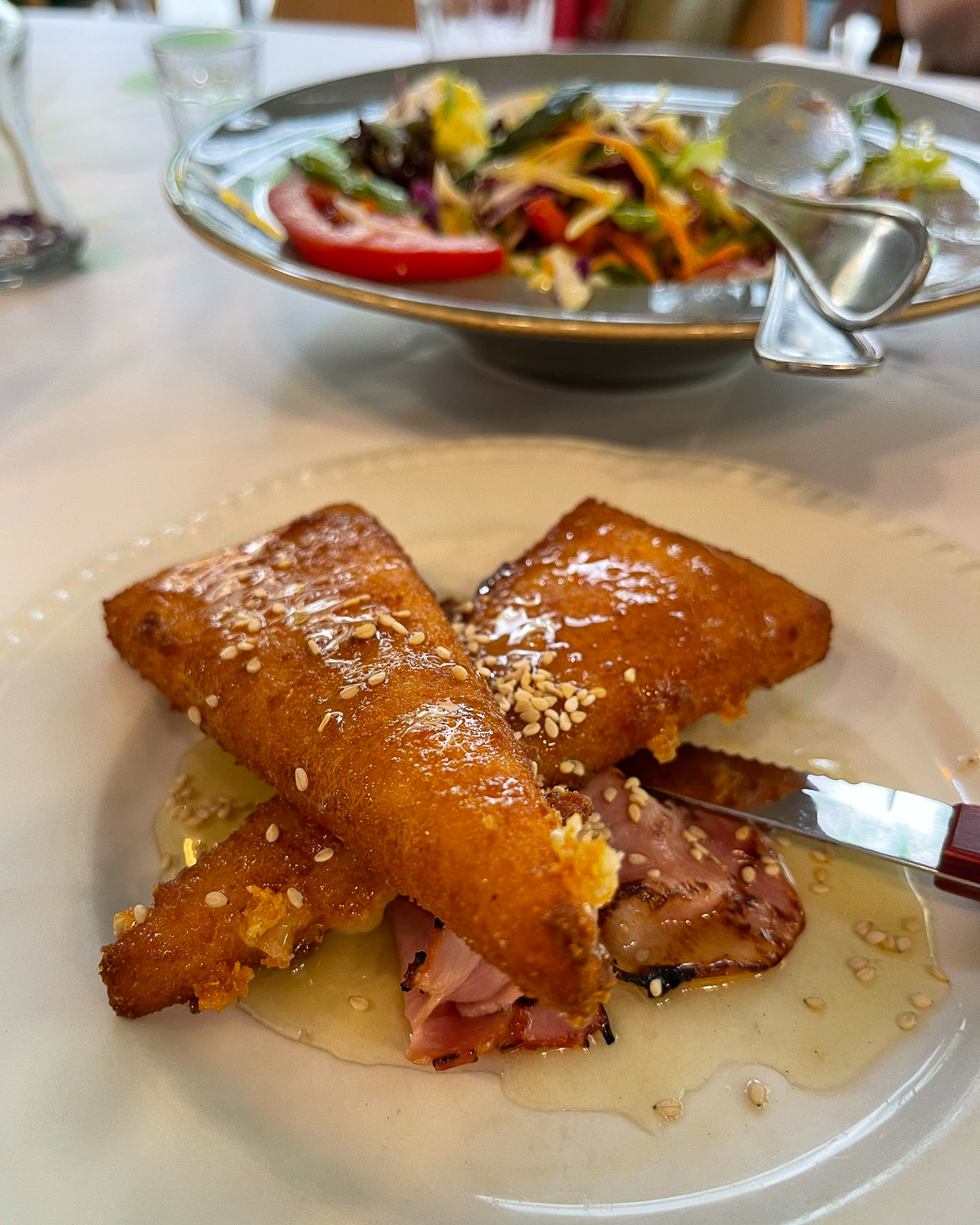 15. Boiled Wild Greens – Horta
If you are craving something green and healthy, order a side dish of horta or wild greens, the Greek equivalent of spinach. At home, these greens would be gathered from land near the house, although I imagine that they are farmed for restaurants to use. The leaves are boiled in a pan of water, drained and then dressed with olive oil and lemon which of course as a Greek you'd have in plentiful supply from your own land.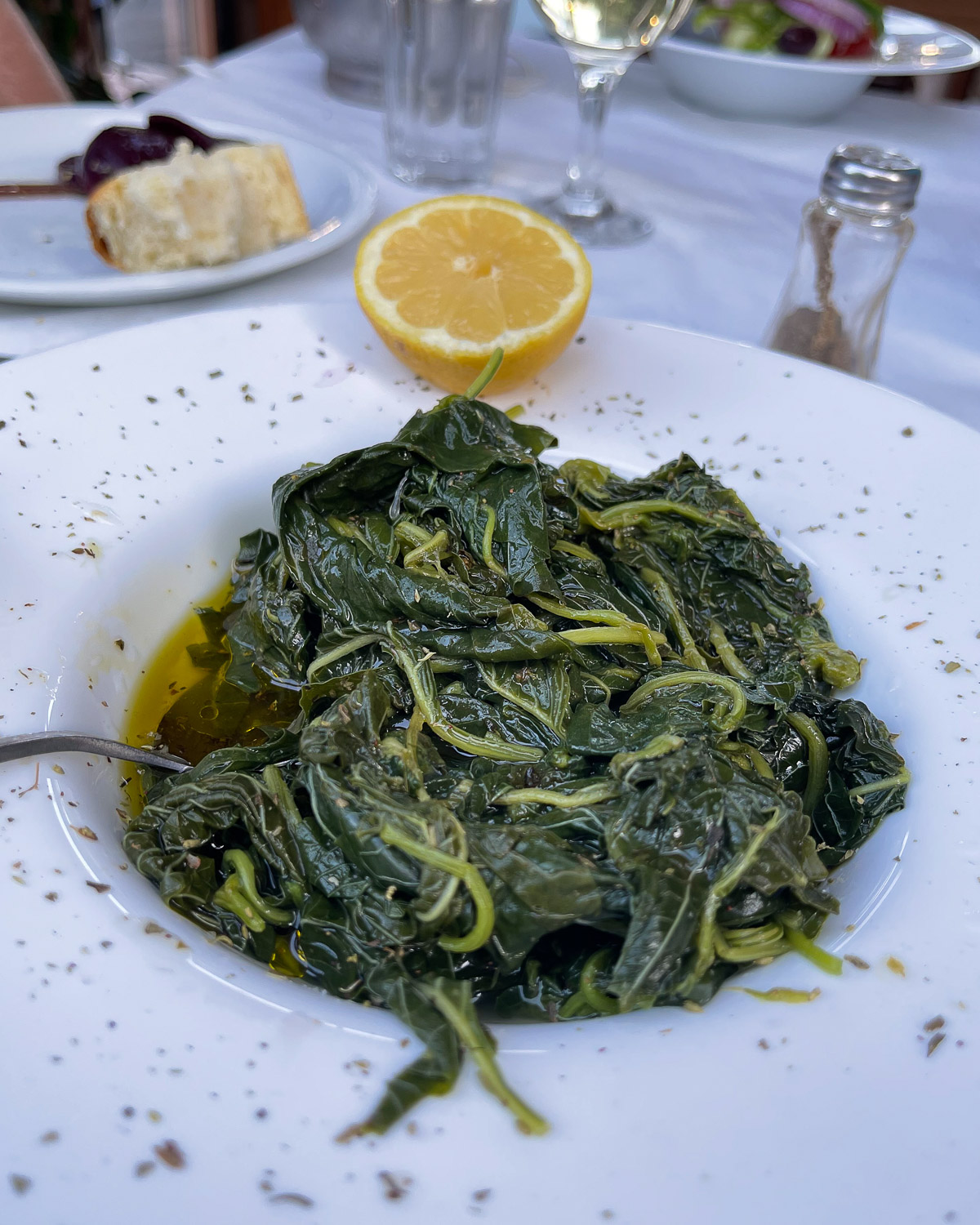 The markets in Athens
In every part of Greece and every residential neighbourhood of Athens there are food markets held on different days of the week, that locals use to source top quality fresh vegetables and produce. If you're visiting Athens, the best place to get the full on market experience is at the Varvakios Agora or Central Municipal Market on Athina street just north of Monastiraki.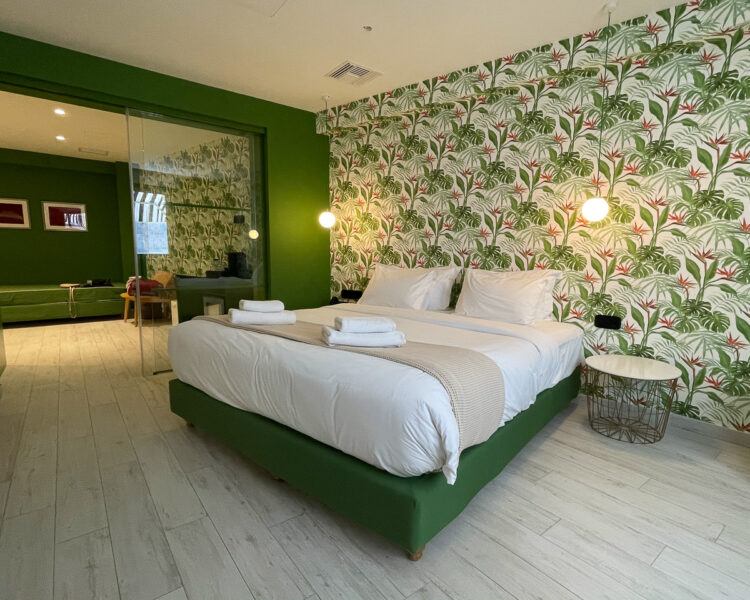 Stay at the colourful Boutique Hotel Athens4 close to the Central Market – read my review
16. The Central Municipal Athens Market – Varvakios Agora
The market is named after Ioannis Varvakios, gentleman sailor and fisherman and one of the heroes of the Greek Revolution against the Turks. The main market halls are split between fresh fish and meat, supplying restaurants around Athens and individual locals alike, as well as a favourite with tourists walking through to soak up the atmosphere.
The market is busiest in the morning and things tend to wind down after lunch when some of the stalls start to close. A walk through the market is free street theatre, with butchers expertly wielding cleavers within inches of their fingers and fishmongers calling to passers by to admire their fresh fish.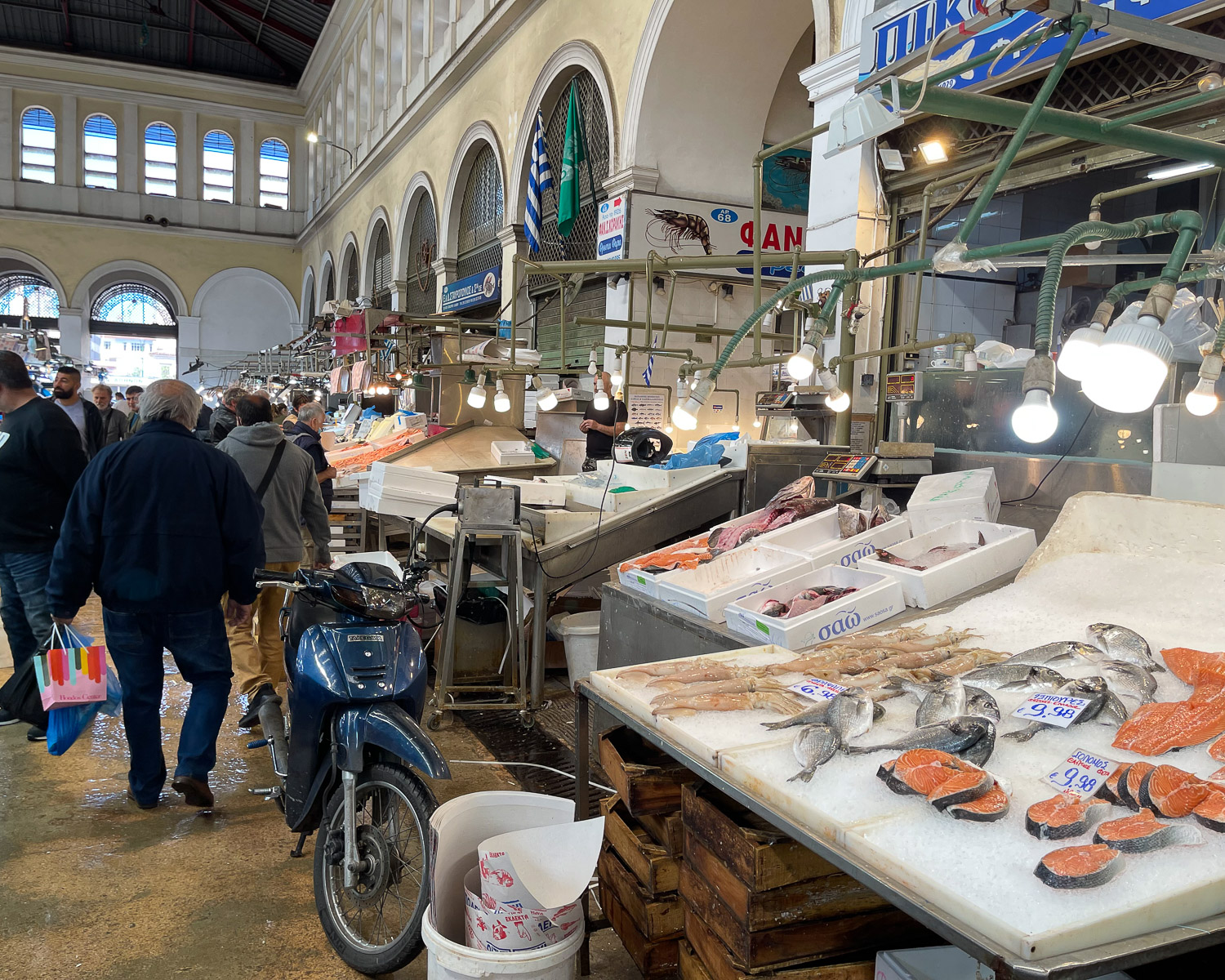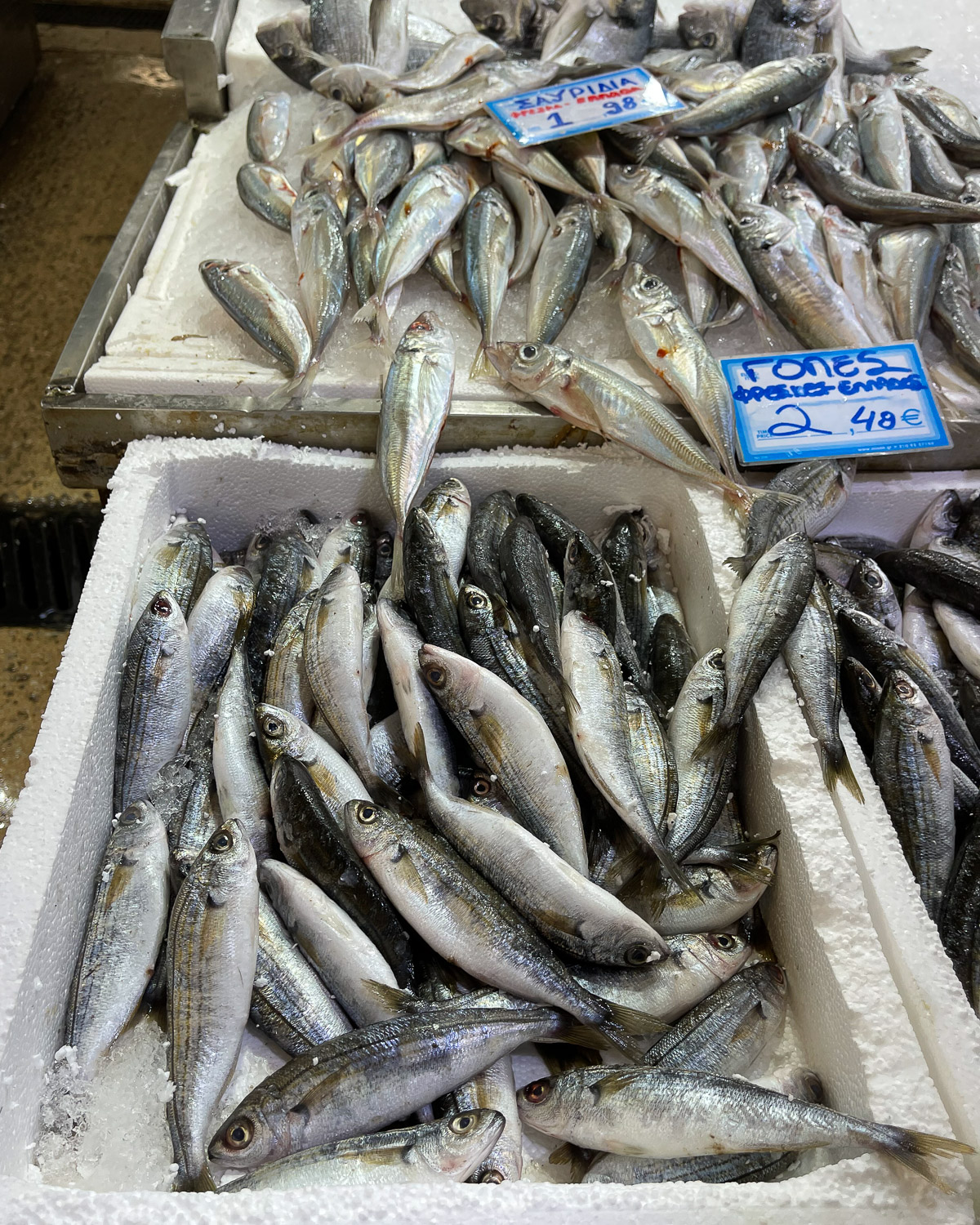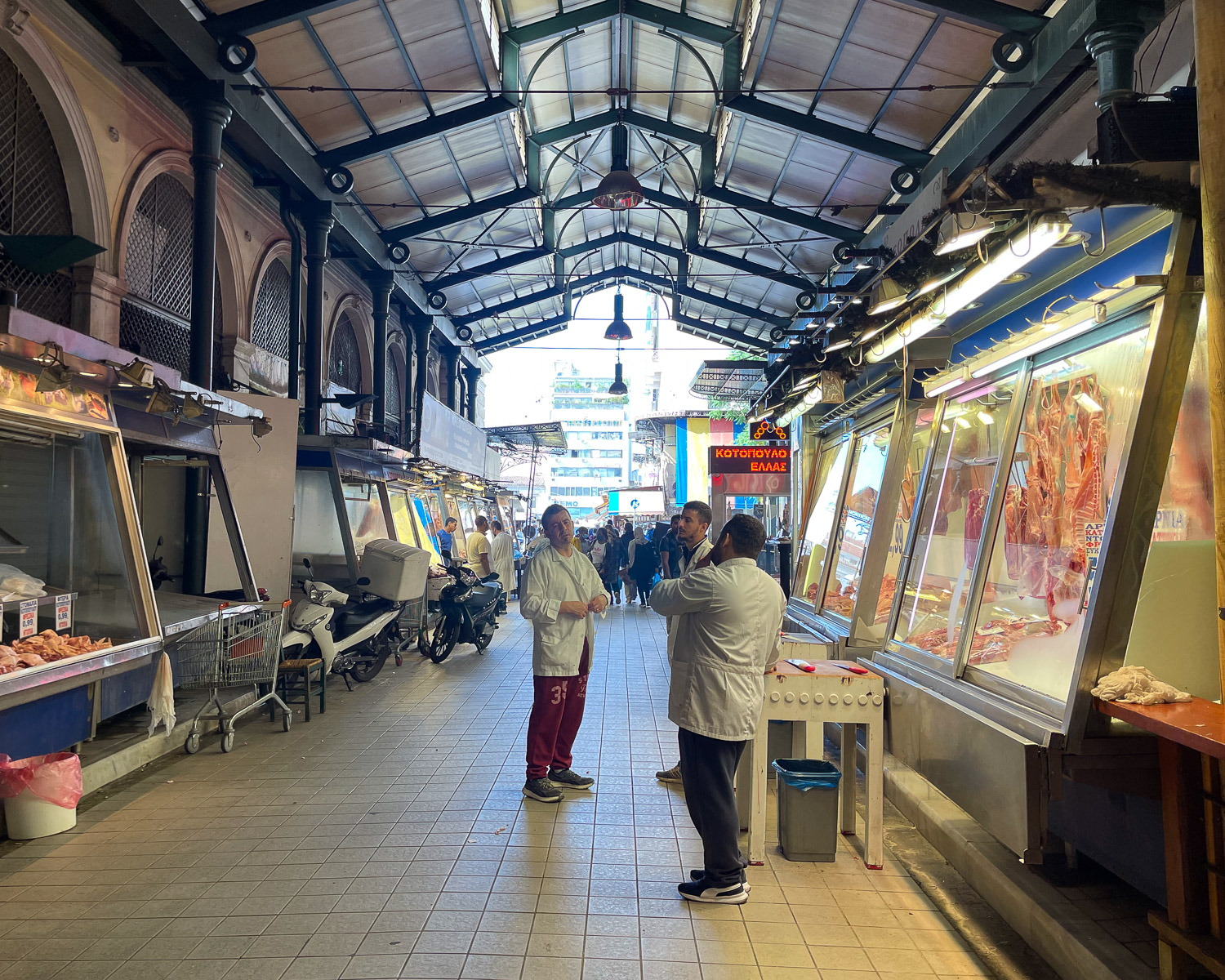 Across the Athinas road is the semi open air fruit and veg market, with some covered shops selling deli produce too. This is a colourful sight with every individual fruit and veg polished to perfection and with such a high footfall you can guarantee that everything is at the peak of freshness.
Prices are incredibly reasonable too, so while the stallholders are friendly, don't be surprised if you get a somewhat annoyed look if you ask for just one or two fruits, when a whole kilo will probably only cost you a Euro!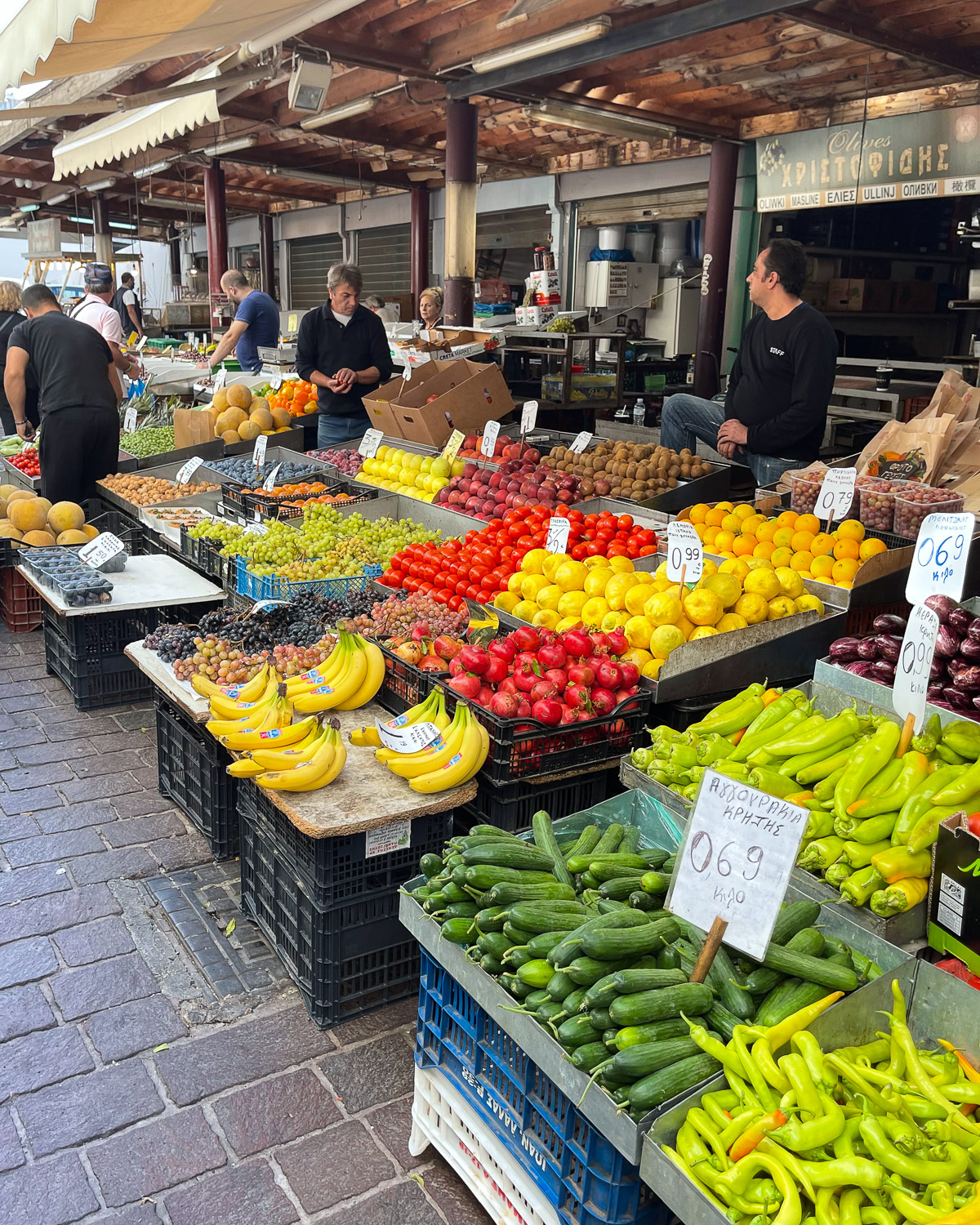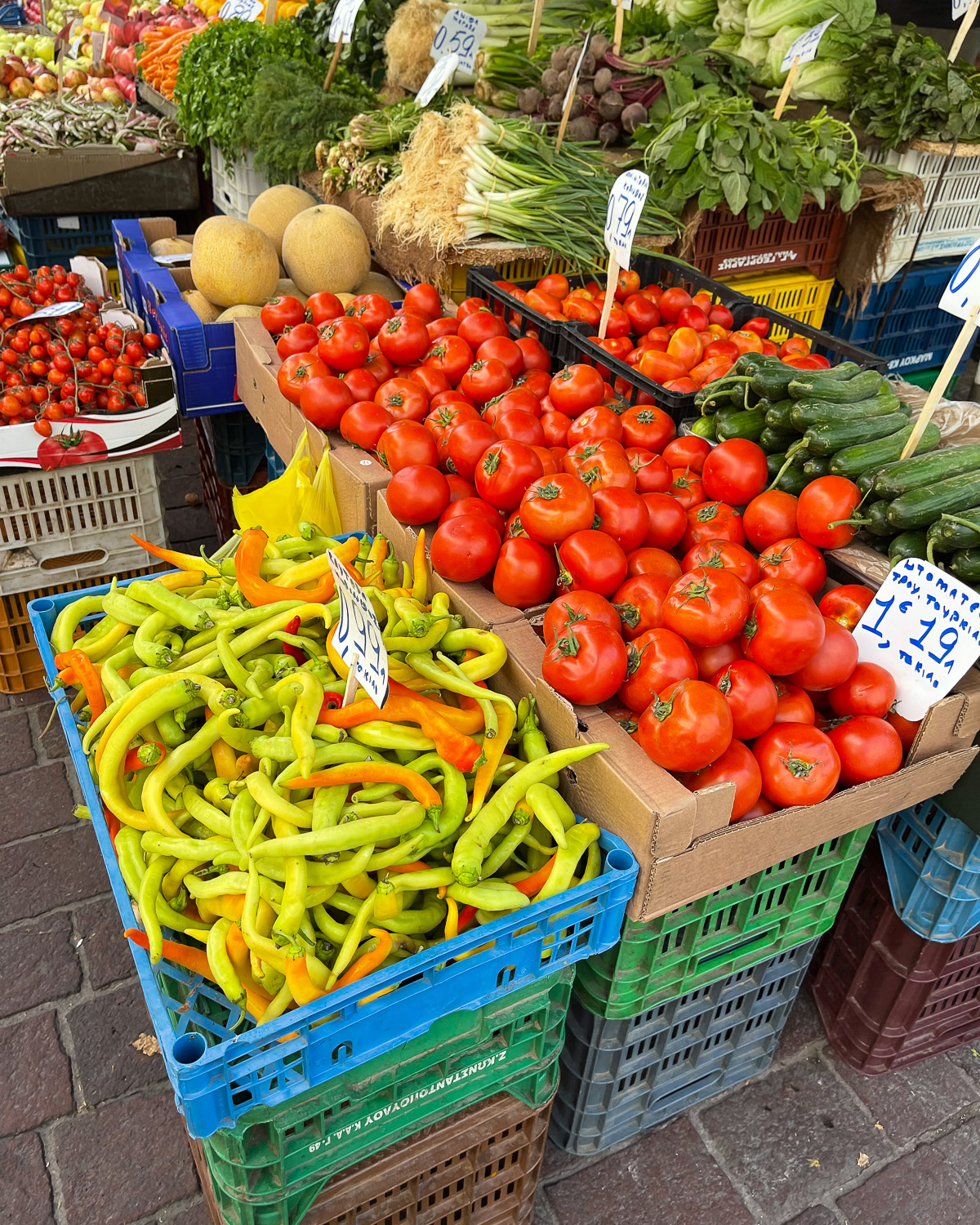 17. Olives in Athens
You probably won't be long in Athens before learning about the importance of the olive to the city, since it was by offering an olive tree that the Goddess Athena became the patron of the city. Considered the most sacred of all trees, the olive is seen as both useful and beautiful, since it can supply wood as well as fruit and oil for food, and olive pulp for fertiliser.
There are numerous delis around Athens that sell a wide range of olives, the colour and size depending on the region they come from and at what stage they are picked. Green olives are harvested earlier while young and often cured in brine, while black olives are picked at a later stage when more mature. When you buy olives in a deli they will be marked by the name of the region they come from, such as Kalamata, which is famous for its black olives, Amfissa or Halkidiki.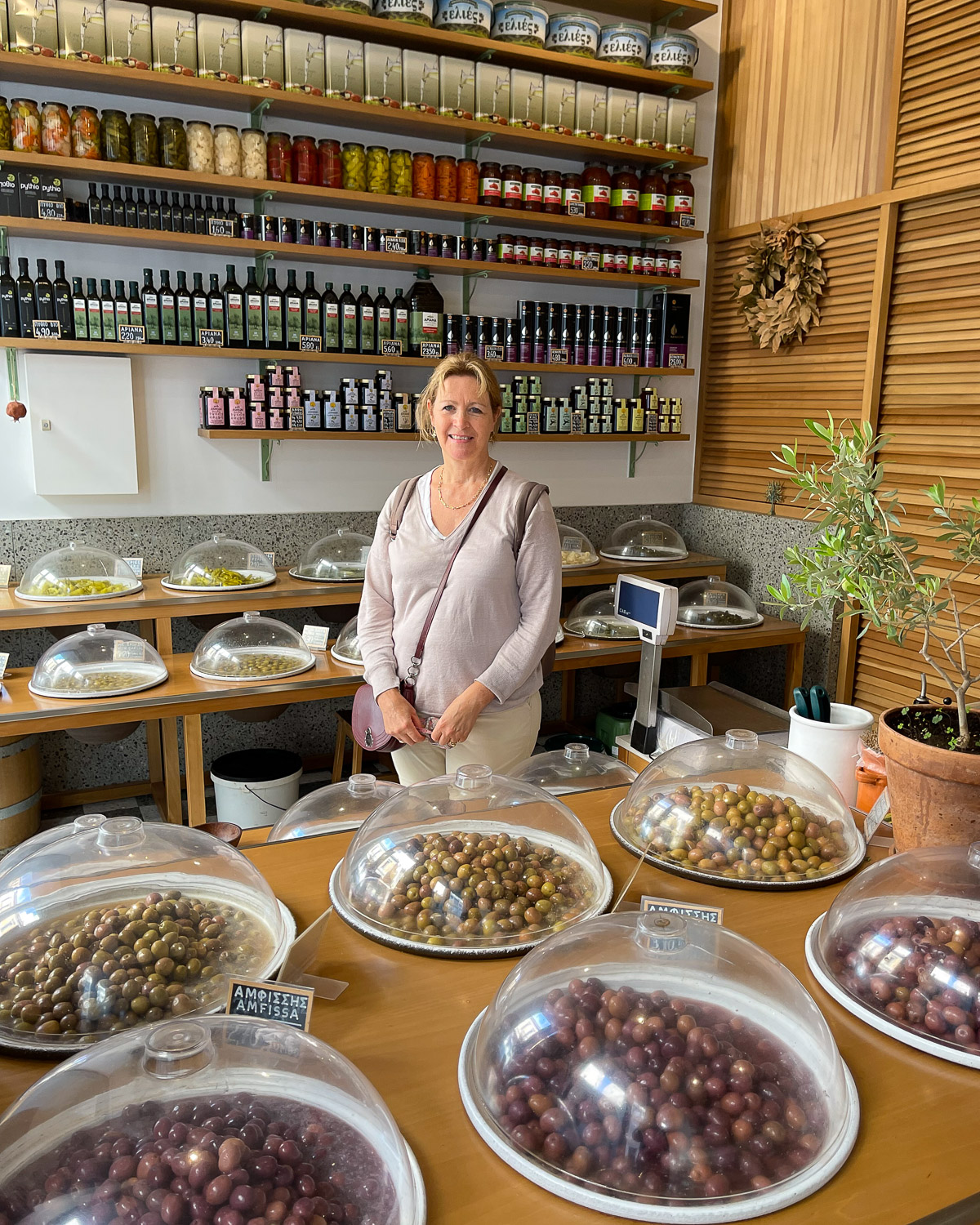 We found a fantastic array of olives at one of the stalls in the fruit and veg part of the Central market, where they were only too happy to have a chat and to offer us one or two to try, before we bought a small carton to have as a picnic. Another of the top places to see all the different types of olives is Ariana (Theatro 3) who have their own olive groves and a shop which is close to the Central Market. They were happy to make up a selection of olives for us to try sitting at the small table outside their shop.
Planning to visit the cultural sights of Athens? – read my article on Athens for culture lovers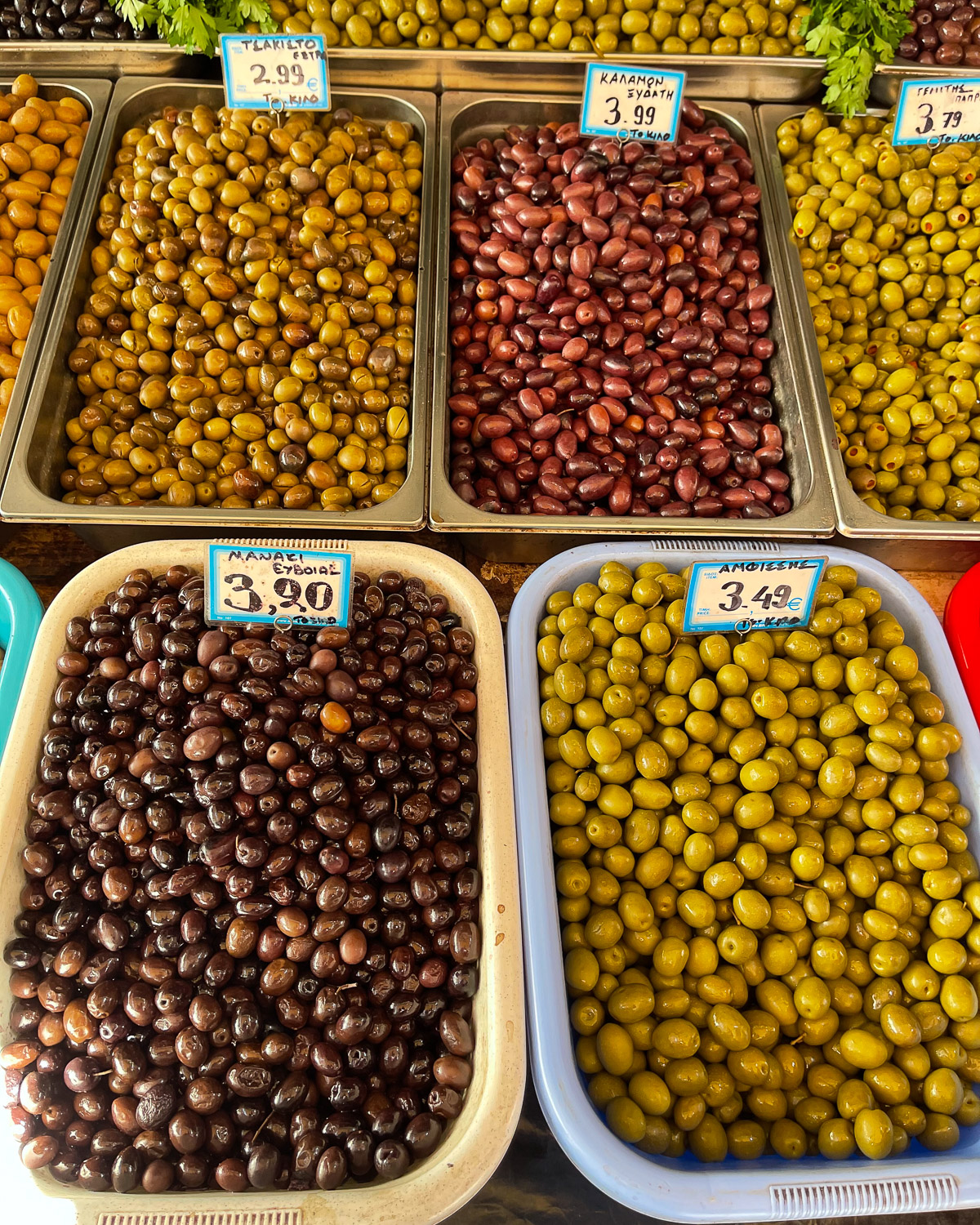 18. Evripidou – the spice street of Athens
Leading from the Central Market, be sure to wander along Evripidou, known as the Spice Street of Athens. This is where you'll find the widest selection of shops selling herbs and spices, decorated with garlands of dried oranges, peppers and cinnamon sticks. Inside the shops, jars of spices from around the world, used for both culinary and medicinal purposes, will lure you in. This is also the place to buy bunches of dried lavender and rosebuds, to perfume the house or authentic sponges and honey from Greece.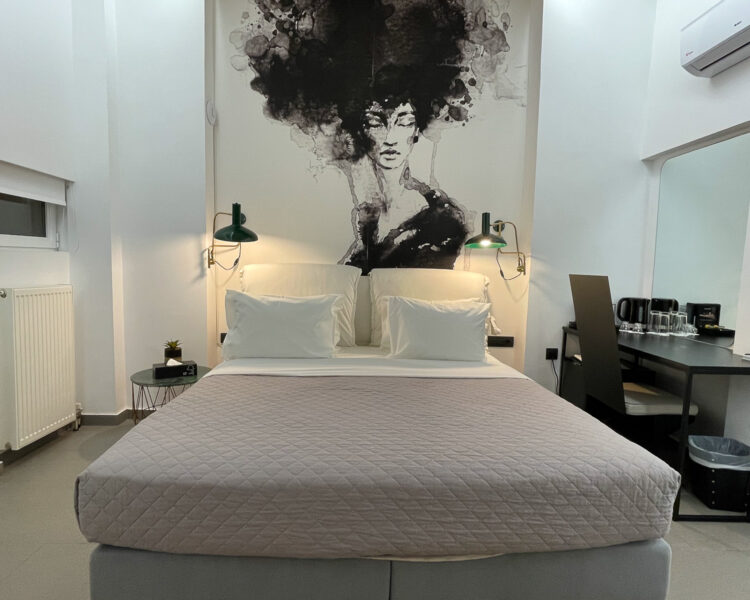 Stay at Sir Athens in Kolonaki – stylish suites in the upscale neighbourhood of Athens – read my review
19. Cheese in Athens
While you are in the area of the Central Market, be sure to stock up on cheese for a picnic or snack. There are a number of places specialising in deli goods and Greek cheese around the perimeter of the market, rather than in the main market halls which are devoted to meat and fish. We wandered into one and received a friendly welcome, with offers to try any of the cheeses.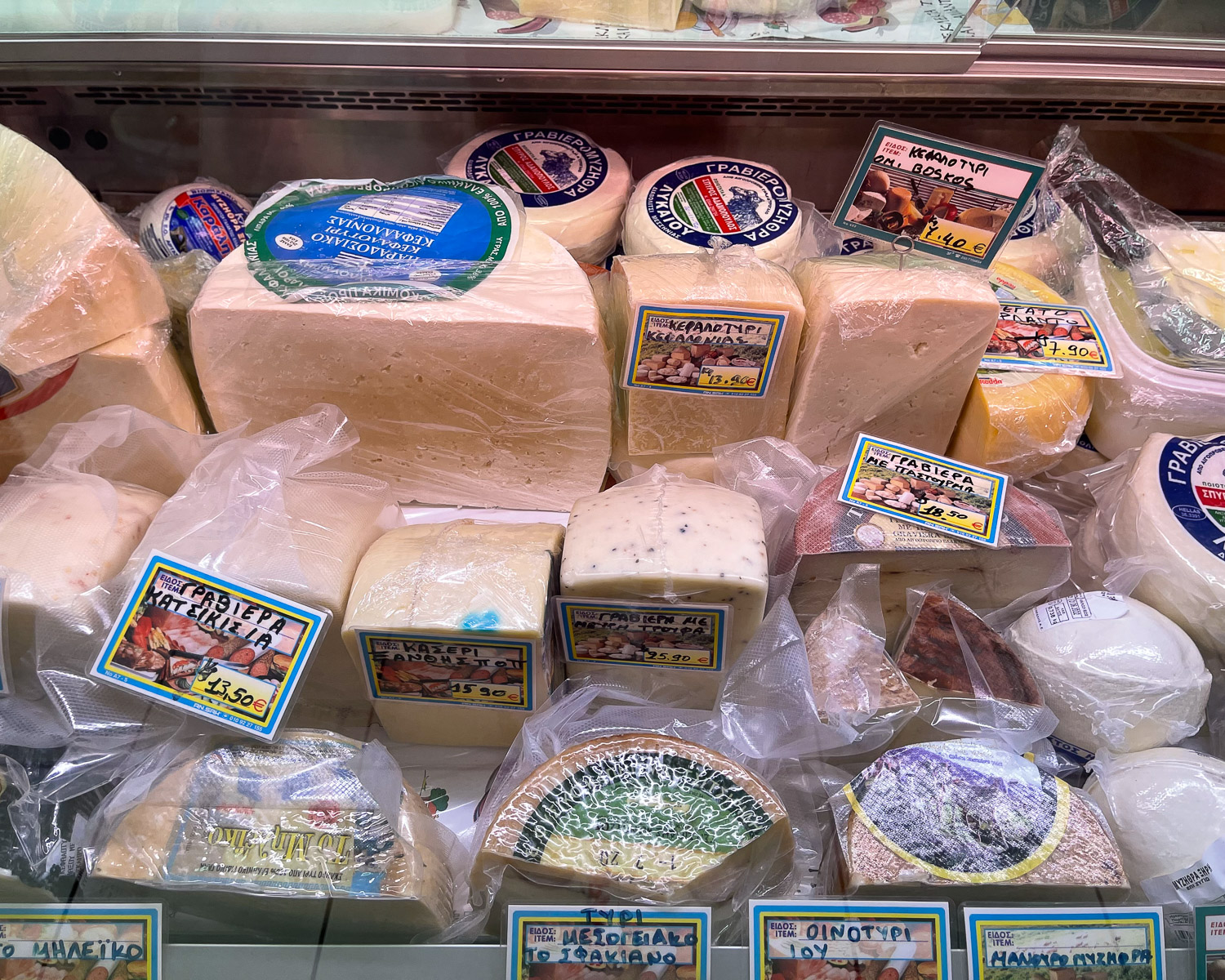 If the shop is not too busy, feel free to have a chat and find out where all the cheeses come from. In the one we visited many of them came from the owner's family village in northern Greece, and it's very typical for Greeks to have a strong connection with the produce from their family's area, even in Athens.
Due to the hot climate, many of the cheeses in Greece are made from goat or sheep milk, with Feta and Graviera being the most popular for salads and cooking. In the old days, Greeks would make their own cheese from the family goats and store it in big jars of olive oil, letting it mature and develop in flavour. Small pieces of hard cheese are often served as an appetiser with wine before dinner, sometimes paired with fresh figs or fig jam.
20. Charcuterie in Athens
Where there's cheese, there's often charcuterie on sale too and one of the best places to sample some is on Evripidou street or other streets around the Central Market. You'll easily spot the delis that specialise in charcuterie by the hams and sausages they have hanging from the ceiling, although these are often imitations just for decoration.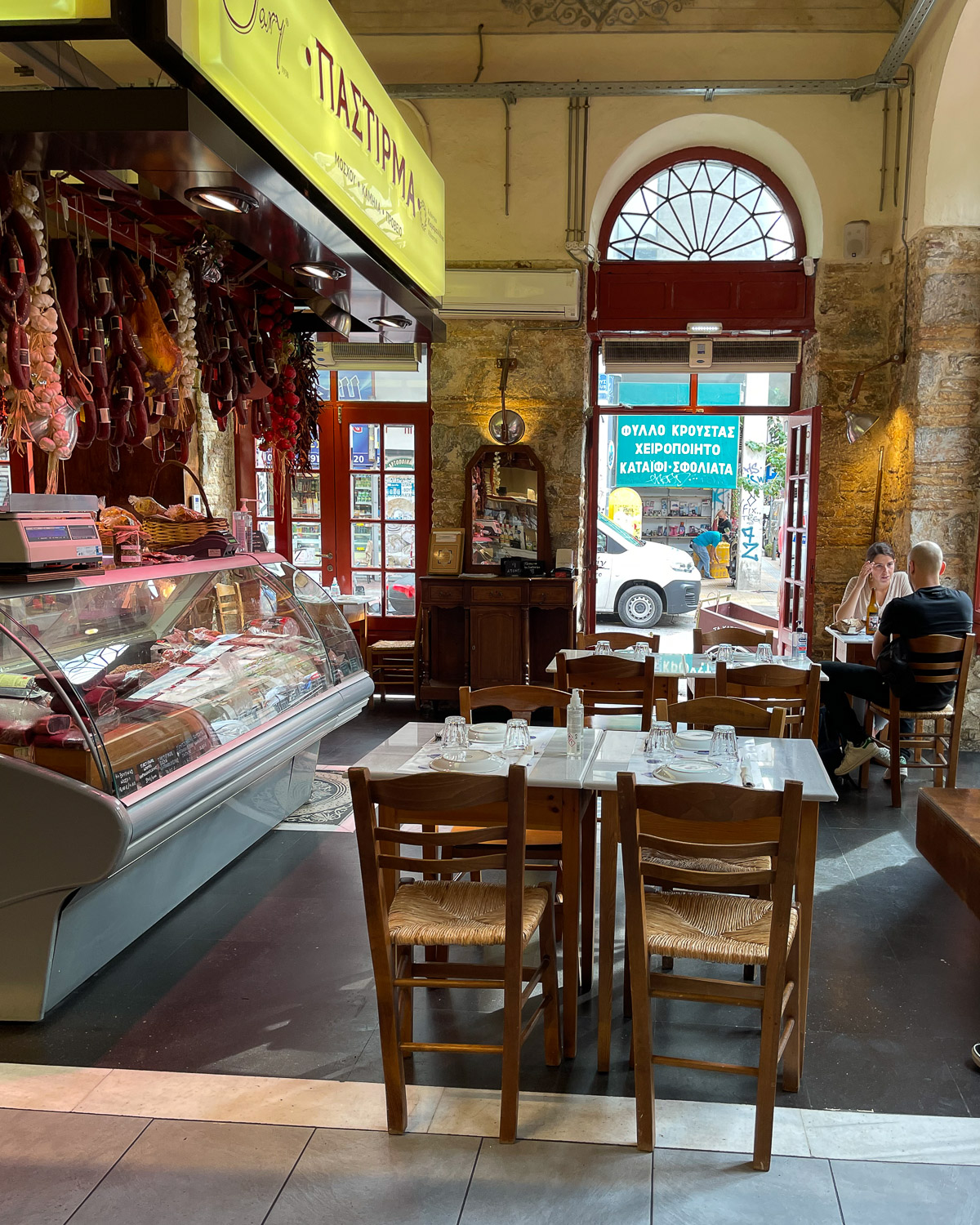 Look The best known shops for charcuterie are Miran (45 Evripidou) or Karamanlidika (41 Evripidou) and while Miran only sells to take away, Karamanlidika also has a meze restaurant. This is a favourite stop if you take any Athens Food Tour like the one that we tried with Athenian Tours. We enjoyed a platter of meats and cheese in the quieter room to one side of the main deli area, a great option for lunch if you're in the area.
21. Seafood in Athens
Greeks love to eat fish and seafood, but being particular about the freshness and quality of their food, you'll normally find seafood restaurants right by the sea. There's something particularly Greek about eating fresh fish in a small harbour gazing at the fishing boats bobbing on the turquoise water, with strings of octopus drying in the sun, but the scene is hard to replicate in the centre of Athens!
Your mouth will be watering at the thought of grilled sardines and octopus with a squeeze of lemon, or freshly fried kalamari in batter. A couple of places we tried that do manage to recreate something of the Greek island fish taverna atmosphere were;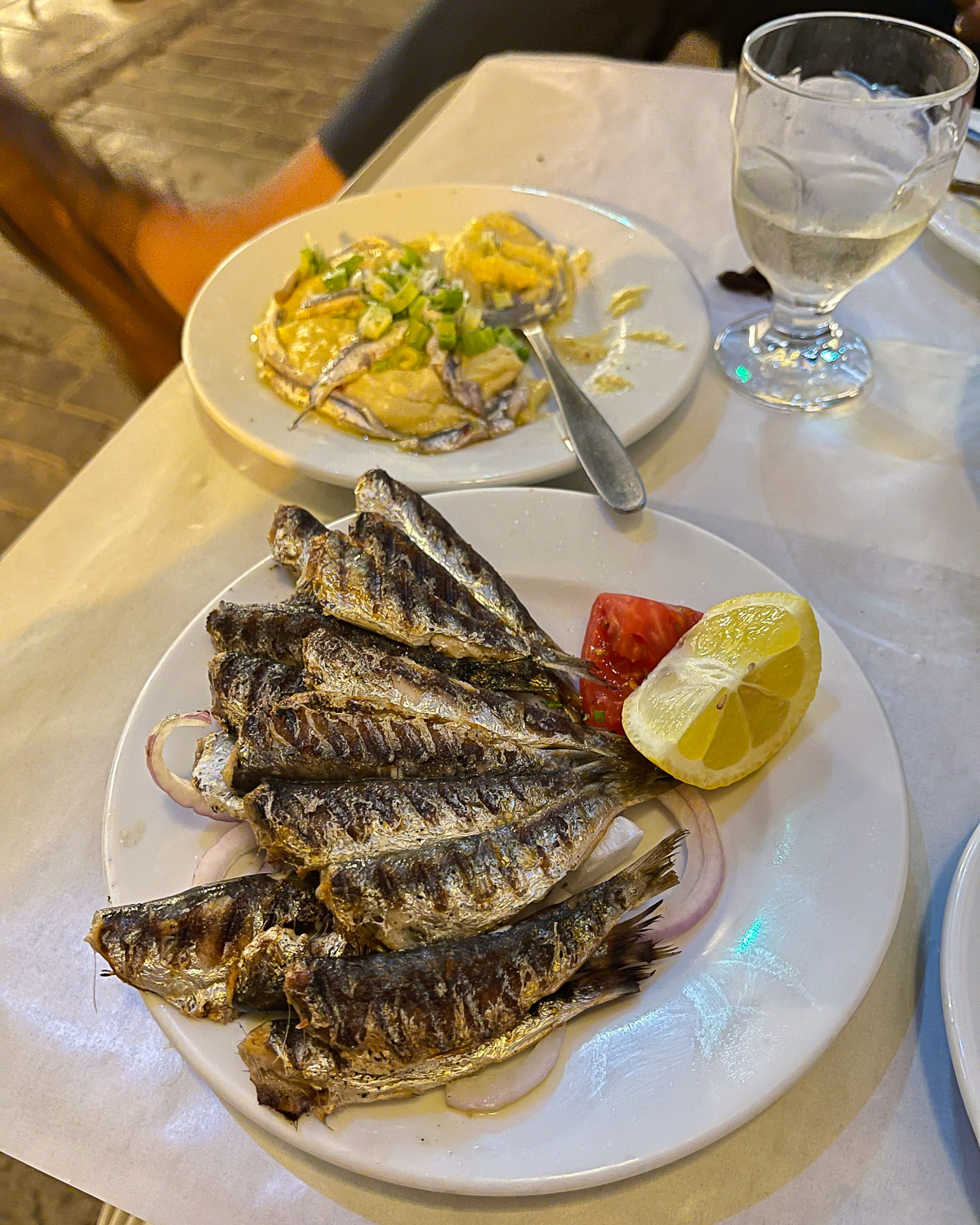 Atlantikos ( 7 Avliton)- Tucked away down a narrow alleyway in Psiri, close to Monastiraki Square, this is the Greek equivalent of a fish and ship shop, selling all the favourite fish and seafood dishes. Takeaway is served from the ground floor with tables on the first floor and outside in the alley during the summer. The fish here is super-fresh, well priced, simply presented and the service was swift and friendly.
Skoumbri (Drakou 16)- In the local's neighbourhood of Koukaki, this restaurant manages to channel the Greek Island vibe with its white painted tables and rope decoration. It's all about the fresh fish, with typical seafood dishes on the menu and you can sit outside in the pedestrianised square where there are many other restaurant options. The same family owns Kalamaki Bar across the street, which offers a modern take on Greek traditional taverna dishes.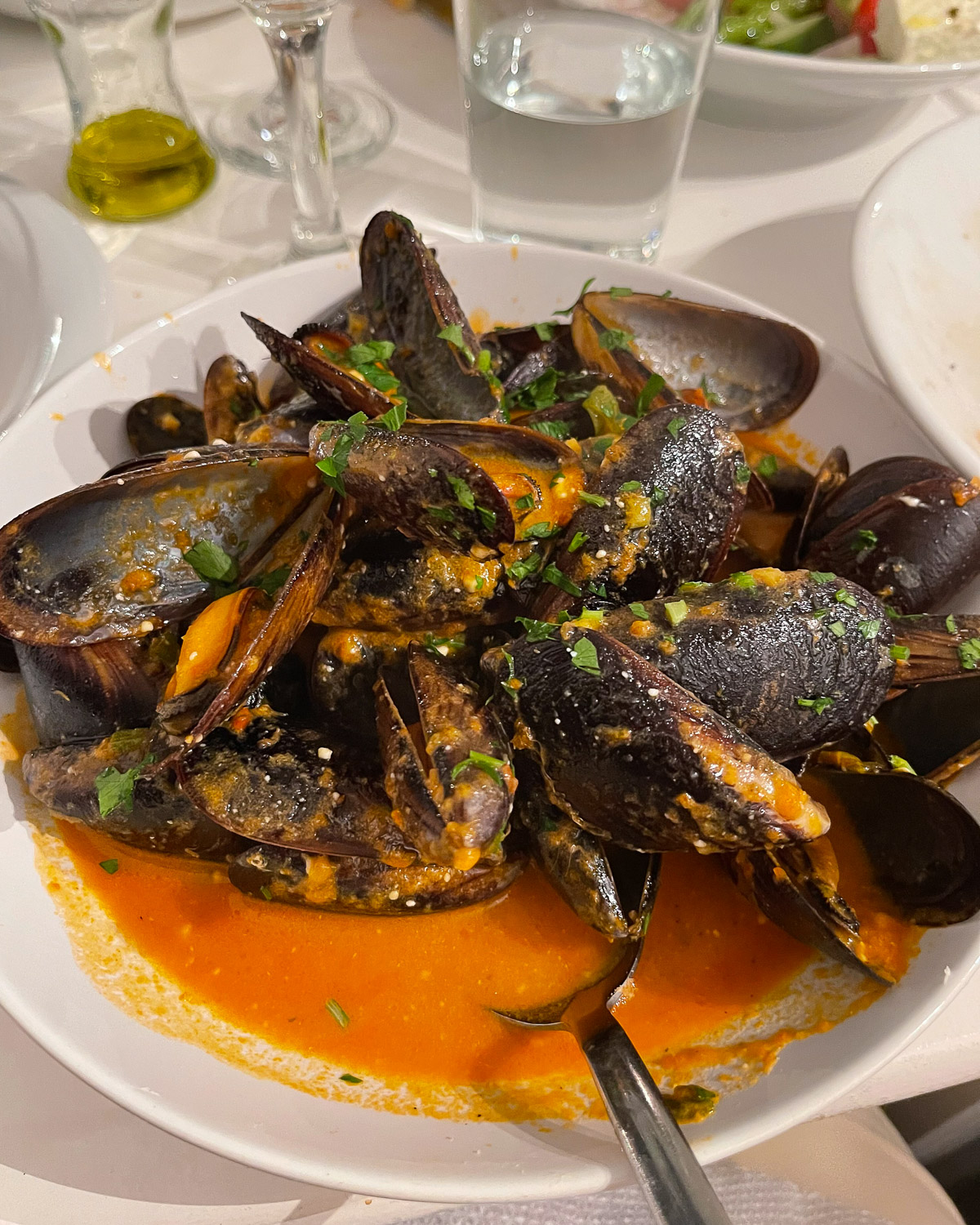 Stay at Asomaton near Thisio Metro – this luxury boutique hotel retains the original stonework of the old carriage repair shop.
22. Juices and veggie in Athens
If you are 100% veggie or vegan, or have specific requirements like gluten-free, it's best to do your research before you visit Athens. While traditional tavernas and restaurants will offer salads and vegetable based dishes, their chefs many not have the same concept of strictly vegetarian or plant based as you do, so you need to check what's in each dish.
Modern restaurants are more likely to fully understand and cater for veggie / vegan diets, so I'd favour the trendy looking restaurant option over the traditional one. Areas like upscale Kolonaki have more than their fair share of restaurants with excellent veggie options (try It at Skoufa 29, Kolonaki) and the more local neighbourhoods like Koukaki, Gazi or Exarcheia where a lot of students eat out are also a good bet. While I'm not 100% veggie / vegan, I prefer to eat salads and lighter dishes and a couple of places that I can personally recommend are;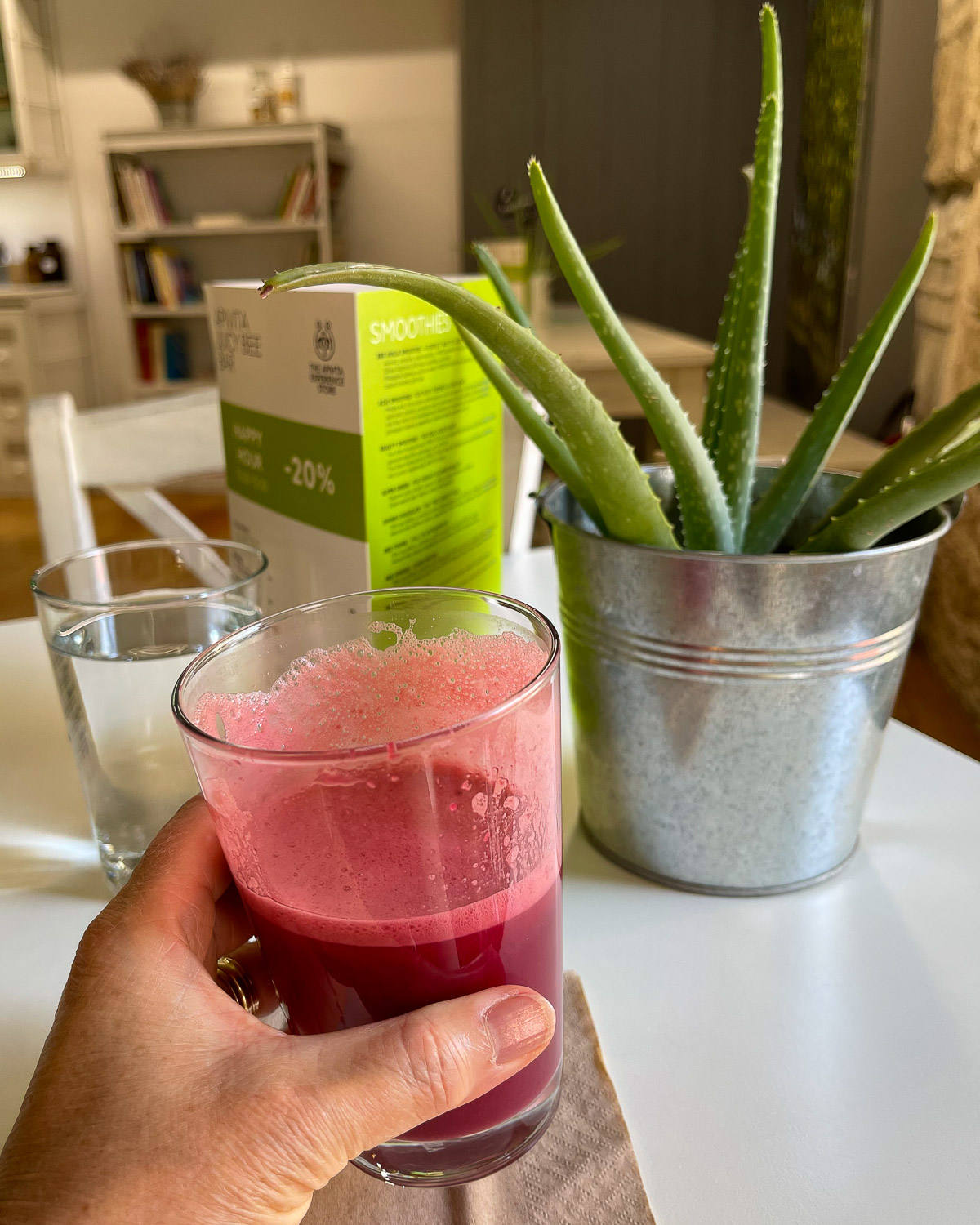 Apivita Experience Store in Kolonaki (Solonos 6)- for fresh pressed juices. The concept store of the well known Greek natural cosmetics brand Apivita is located in a pretty neo-classical building in Kolonaki. On the ground floor is a shop with all their products, while the Juicy Bee bar on the 1st floor mezzanine, is where you can try cold pressed juices, smoothies, shots and teas. I find these fresh pressed juices totally energising and always order them instead of a coffee when I come across a place that does them!
Nudie Foodie Psiri (Eschiliou 42, Psiri)- for gluten free and veggie/ vegan brunch dishes. They specialise in gluten free so even if you're coeliac you should feel comfortable eating here. There are plenty of gluten free brunch dishes, gluten free cakes, healthy juices and smoothies, all prettily presented and very tasty.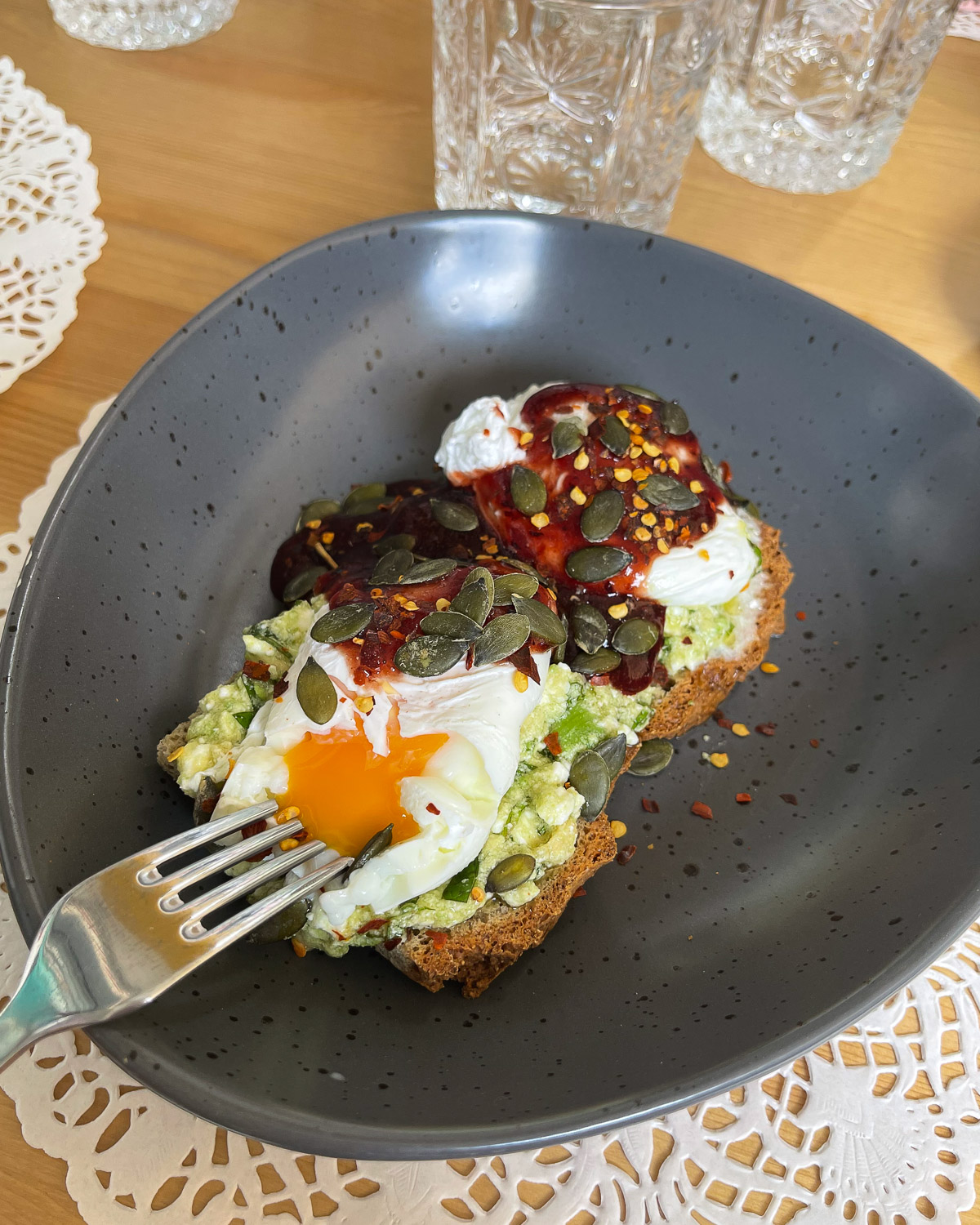 Looking for a food tour in Athens? We tried and can recommend this one with Athenian Tours
23. Cocktails with an Acropolis view in Athens
If you are visiting Athens when the weather is warm, one of the unmissable experiences to the end the day is a sunset cocktail on a rooftop bar with views of the Acropolis. Since numerous hotels in the centre of Athens have made their rooftop into a bar or restaurant, there's plenty of choice.
Of course the neighbourhoods of Plaka and Monastiraki that are closest to the Acropolis have the best view, so you might want to find a bar in those areas, even though they are the most touristy.
In particular the area of Plaka steps has numerous cute restaurants that offer a roof terrace geared to capitalise on their view of the Acropolis, which is lit up at night. Another well known option in Monastiraki is the bar and restaurant of A for Athens hotel, but we enjoyed a quieter experience albeit a little further away on the pretty roof garden on Foundry Suites hotel in Psyri.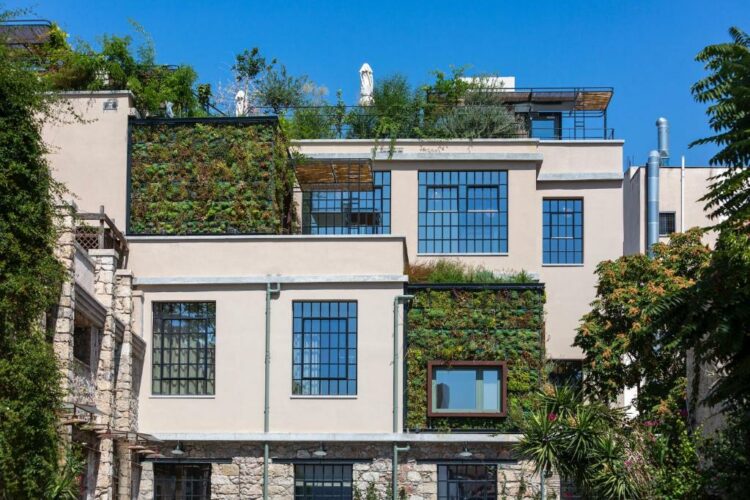 Stay at The Foundry Suites in Psiri – this luxury boutique hotel has a pretty rooftop garden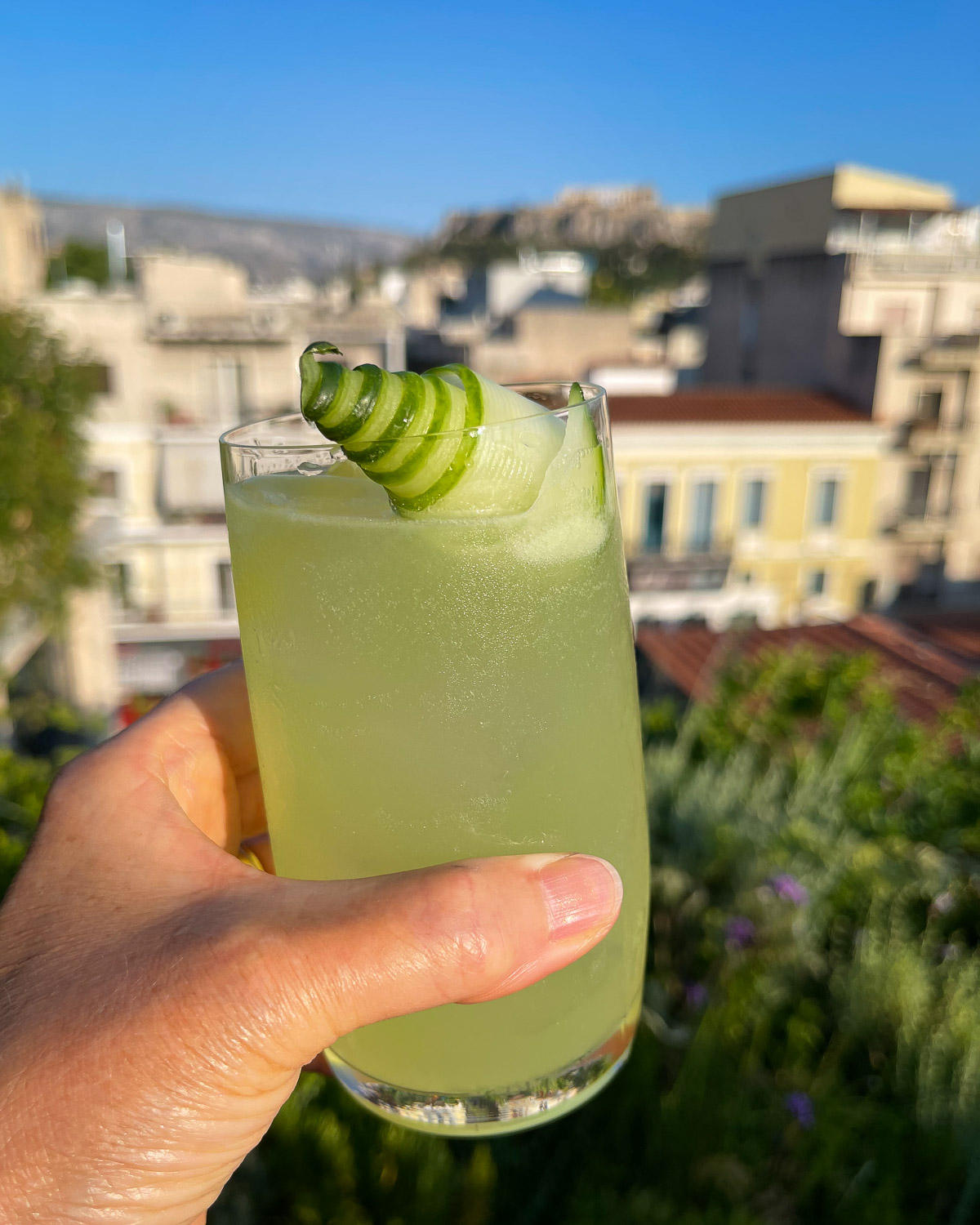 Read Next
Explore the street art and nightlife in Psiri, Athens with my neighborhood guide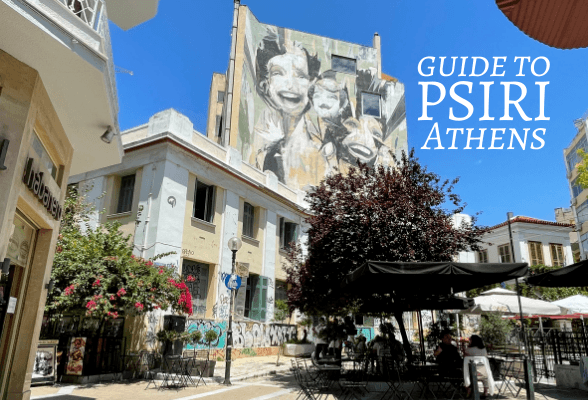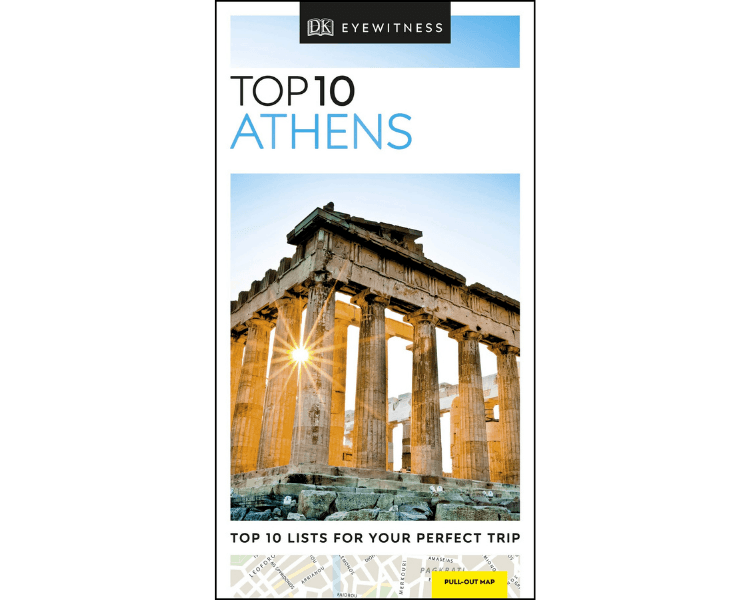 Explore the food of Alabama – 20 dishes you'll want to try!

Pin it