The name Zanzibar evokes images of a tropical paradise, with picturesque islands, white sand beaches, shimmering turquoise waters, beautiful sunsets, and palm trees swaying in the ocean breeze. Indeed the island is all that, but it's also more. Zanzibar is a mix of cultures. The 'Spice Island' has lured travelers for centuries; from the Sumerians, Assyrians and Egyptians, to the Chinese, Indians and Persians, and later the Arabs, Portuguese and British… Zanzibar has seen them all. During the Omani rule the island was the main slave market in East Africa. Once slavery was abolished, in the late 1800s, the spice trade became the centerpiece of Zanzibar's international trade. This has culminated in an island that's a heady mix of sights, sounds and smells.
When it comes to where to stay in Zanzibar, there's something for everyone. If you like castaway cool with driftwood vibes, then you've come to the right place, but if you'd prefer something more luxurious and special then you will also find that here.
Stone Town
Stone Town, a World Heritage Site, is Zanzibar's historical capital and no visit to Zanzibar would be complete without exploring its jumble of narrow, cobbled streets, its people, the mosques, churches, bazars, architecture and food. Around every corner lies something different; a crumbling ruin, an ornate palace, a Persian bathhouse, a spice market or an elaborately carved wooden door and it's changed little since the 19th century.
This is a place I am more than happy to get lost in. Take a guided tour, or simply wander at your own pace, and when the evening draws near, head to one of the rooftop vantage points to gaze out over the Indian Ocean as the sun goes down.
Double Tree by Hilton Hotel Zanzibar Stone Town
The Double Tree By Hilton is housed in the old court house, that had fallen into disrepair, before being renovated and brought back to life to become the hotel. It's perfectly situated in the heart of Stone Town, amongst the winding alleyways and the historic buildings. The hotel is a block from Baharia Hindi Beach, and close to the Forodhani night food market and the Old Fort. You feel immersed in the old town as you wake to the muezzin's call to prayer as the day dawns.
Breakfast is served on the rooftop terrace and it is delicious (particularly the delicate slices of smoked tuna!). From the breakfast table we looked out over the rooftops of Stone Town at the vibrant blue ocean, just a few streets away, watching as a small, white sailed, traditional dhow navigated its way amongst the large passenger ferry and giant cargo ships. The old and the new side by side.
The Hilton is in my favourite part of Stone Town; there is still the winding maze of streets here, but they occasionally open up into tree filled courtyards, and it doesn't feel quite so frenetic and busy as other parts of town. As an added bonus, the hotel has a beautiful indoor swimming pool, perfect for cooling down after a day wandering through the town.
Zanzibar Palace Hotel
The Zanzibar Palace Hotel is a boutique hotel located right in the heart of Stone Town. Built between 1885 and 1890 by an Indian merchant, and later inherited by his sons, who lived in the upper floors, running commercial ventures downstairs. Following the revolution in 1964 the building was abandoned for many years. In 1978 it was restored, becoming a hotel in 2005.
This is a small and personal hotel, with only three rooms on each of its three floors. Each room is decorated in Zanzibari style, and the hotel is full of original features, from the heavy wooden staircase that runs like a spine through the center of the house, to the incredibly thick walls, tiny wooden balconies opening off the rooms, and even the old hooks and pulleys still imbedded in the plasterwork from its trading days.
We stayed in the Dunia Suite on the top floor, with its huge Zanzibar bed, so high off the ground that we had to climb into it by stepping on an old wooden trunk, positioned by the bedside for that very purpose! Our bathroom was on an upstairs terrace, with views looking over the rooftops of Stone Town and down to the port.
Emerson on Hurumzi
In the heart of Stone Town is the beautifully restored Emerson on Hurumzi hotel. The building was once the home of Tharia Topan, one of the richest men in the Swahili Empire and financial advisor to Sultan Bargash.
One of the highlights of the hotel is dinner in the Tea House Restaurant on the hotel's rooftop, with 360° views of Stone Town and across to the ocean. Arrive for cocktails at sunset and dinner starts promptly at 7pm. You can choose whether to remove your shoes and sit on the floor cushions to dine, or you can take your place at a table if you prefer. Dinner is a three course set menu celebrating Zanzibari cuisine; combining the flavours of Swahili, Persian and Omani influences. Dinner is accompanied by traditional music and singing by musicians from the Dhow Countries Music Academy.
If you have time before dinner, call in at the Princess Salme museum beside the main entrance to the hotel. Here you can learn about one of the most famous of Zanzibar's women, Sayyida Salama bint Said (also called Salme), a Princess of Zanzibar and Oman. Born in 1844, she was the youngest of the 36 children of Said bin Sultan, Sultan of the Omani Empire. Salme grew up to cause such scandal with her love affair, pregnancy, and ultimately marriage with German merchant, Rudolph Heinrich Ruete, that she had to flee Zanzibar and settle in Germany. She is the author of Memoirs of an Arabian Princess from Zanzibar published in 1886.
Staying at the beach
Leaving Stone Town behind we worked our way around the island clockwise, staying is a variety of special properties…
Chuini Zanzibar Beach Lodge
Our first stop was the west coast. There are fewer lodges on Zanzibar's west coast and it feels a little more remote. The west coast is of course home to Stone Town, so we didn't have far to travel for our first night out of town.
In 1873 the Chuini Palace was built for Sayyid Barghash bin Said al-Busaidi, the second Sultan of Zanzibar (brother to Princess Salme mentioned above). Built to have running water in a time before electricity, the palace was an impressive construction that occupied both sides of the bay. Sadly most of the buildings in the complex burnt down in 1914. Chuini Beach Lodge is built amongst the ruins of the palace and its mosque, giving it a rather unique feel. Morning yoga under an arch of the now ruined mosque, looking out over the ocean, was the perfect start to the day.
Chuini is located on the very edge of the island, perched on the rocks, with beautiful sunset views. There's a small, private beach, down a few steps, beside a tiny working bay where local fishermen moor and repair their boats.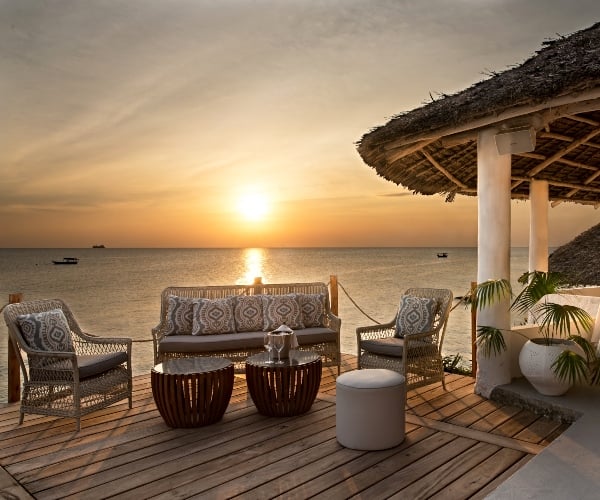 Nungwi Dreams
Heading north, an hour's drive, we reached Nungwi. As a general rule, the north and north east coasts tend to be the island's prime locations, and most of Zanzibar's top-end accommodation is found here. The diving is also excellent here, as there's not much tidal variation and the archipelago's best reefs (around Mnemba Island) lie about a kilometre offshore.
Nungwi Dreams exceeded my expectations. Our room was modern, sleek, bright, and positioned just metres from the beach and the turquoise water. With two swimming pools to choose from and the beautiful warm ocean just a few steps from our room, we were spoilt for choice. At low tide, when the water was a little too far away for a quick swim, I walked along the white sand and had it pretty much to myself, except for some local ladies, who'd come to forage for shellfish, and a couple of friendly fishermen who were striding along the beach, chatting as they went. My husband spent a day scuba diving at nearby Mnemba Island and I relaxed at the spa and got an amazing sports massage and general pummeling from the deceptively petite and surprisingly strong masseuse.
---
IMPORTANT NOTICE:
If you are reading this article anywhere other than on A Luxury Travel Blog, then the chances are that this content has been stolen without permission.
Please make a note of the web address above and contact A Luxury Travel Blog to advise them of this issue.
Thank you for your help in combatting content theft.
---
The first night we ate at the buffet and dinner was accompanied by local musicians, the next night we went up to the roof top 'sky bar' and enjoyed colourful cocktails as the sun went down, and decided to stay on the roof for dinner. It was a full moon and a silvery trail of moonlight streaked across the surface of the ocean.
With 56 room and 1 villa, although it is definitely a resort style place, with all the comforts you'd expect from a luxury resort, under the expert and friendly management of GM Richard von Lauenstein, it's still small enough to feel friendly and personal.
Elewana Kilindi Zanzibar
A short drive away, and nestled in a tropical garden along a secluded beachfront on the north-west coast of Zanzibar, we arrived at Kilindi. An oasis of luxury, with 15 white-domed pavilion guest rooms, set in 50 acres of natural bush and tropical gardens, a rare piece of protected vegetation and a haven of tranquility in what has become a rather too busy northern part of the island.
Originally designed for Benny Andersson, of 1970's pop group ABBA fame, the architecture is dramatic, with white wooden shutters and wide arched glassless windows looking out over ocean. We really felt a part of the landscape here, with birdsong all around, and colourful geckos, bushytailed squirrels, and the rare Sykes' monkeys, all taking turns to visit the villa. A wide-eyed bush baby joined us at dinner, scampering along the nearby balustrade, and we even saw a guinea pig sized, black and rufous elephant shrew (endemic to Zanzibar and neighbouring Mafia Island), rustling in the undergrowth as we walked between our villa and the dining area.
With our own private plunge pool, rooftop verandah overlooking the ocean, and private butler, we rarely needed to leave the villa, and the rainfall shower room really gave us the feeling of being part of the surrounding nature. This really is a special place.
Matali Boutique Hotel
Next stop was Matlai Boutique Hotel on the north east coast. There are two villas at Matlai, the four bedroomed Asili House and the two bedroomed Villa Kidosho. It's hard to decide which of the villas is the best, both have beautiful views out over the azure ocean, each has its own stunning and private pool, well positioned hammocks and sun loungers, and there's a spa and private open air cinema; all this just a few steps from the beach.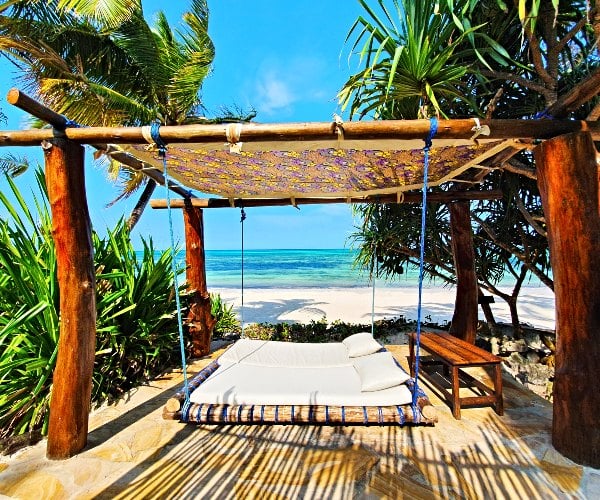 The minute we arrived we were drawn to the ocean, and simply dropped our bags, donned swimming costumes and grabbed masks and snorkels. Wading out, it didn't take long till we found a gorgeous patch of coral that we had all to ourselves. Tiny seahorses bobbed up and down, colourful fish darted in and out amongst the waving tentacles of anemones, a giant red starfish lay on the gleaming shite sandy bottom, and a clam shell, hidden amongst the coral, slammed closed as I swam past. We were quite literally in shoulder deep water, just off the beach from the villa, and we couldn't believe our luck that such a tiny little treasure was just there waiting for us.
Back in the villa we spent the afternoon relaxing on our verandah as the palm trees waved in the ocean breeze. To finish of the relaxation process, a bath in claw foot tub with locally made clove and neroli scented bath salts, was the perfect thing. Dinner by the beach, with sand underfoot and delicious morsels on our plates was the end to a perfect day.
Le Mersennne
Only a couple of kilometers further south on the Michamvi Peninsula is Le Mersenne, a much larger resort, with a variety of different sized and styled rooms to choose from. Ours was a spacious, airy, modern room. Up on the rocky cliff overlooking the water, Le Mersenne has stunning views out over the seemingly endless ocean; with the water aquamarine near the beach and turning turquoise and then malachite as it got deeper. Being on the east coast the views of the sunrise was pretty spectacular, and definitely something worth waking up for, though fortunately we could see it from our bed and didn't actually have to get up.
The hotel has a long pier stretching out over the water, currently there's a bar and activity centre here, but some innovative villas are currently under construction, and they will be somewhere pretty unique to stay. We borrowed masks and snorkels from the activity centre and clambered down the steps and directly into the water. The tide was changing and the current was strong but, swimming a few hundred metres from the pier, we found ourselves amongst colourful clumps of coral. Thousands of purple shiny sea urchins bristled on the ocean floor, and we made sure to keep well away from their dangerous looking spines.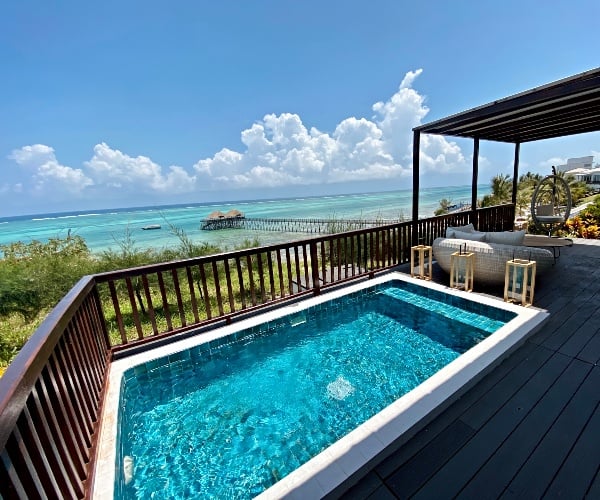 A 10km beach walk had my husband threatening to mutiny and starting to complain of hunger, so we turned and headed for a late, but delicious, lunch at Baladin Restaurant. Luckily the restaurant specialises in Italian craft beer and so the meltdown was averted!
Xanadu Luxury Villas
5km south from Le Mersenne, right at the very spot where I'd dragged my husband to on our beach walk a few days earlier, is the ultra-refined and very special Xanadu. With only nine villas, each built from local stone and recycled Dhow (boat) wood, and each with their own plunge pool and dedicated butler, Xanadu gives you the feeling of privacy, of having a piece of paradise all to yourself. The beach is just a few steps away, and this stretch of sand has somehow escaped the crowds. Xanadu is an incredible experience; tranquility, luxury and pampering, all on a beautiful stretch of white sandy beach.
With fresh seafood, caught by local fishermen, organically grown fruit, vegetables and spices, and a team of chefs to cater to your every whim, meals were a highlight of our stay. At every meal we were given the choice of eating in our villa's private dining area, by our private plunge pool, or by the gorgeous pool in the impressive main dining area, we were spoilt for choice.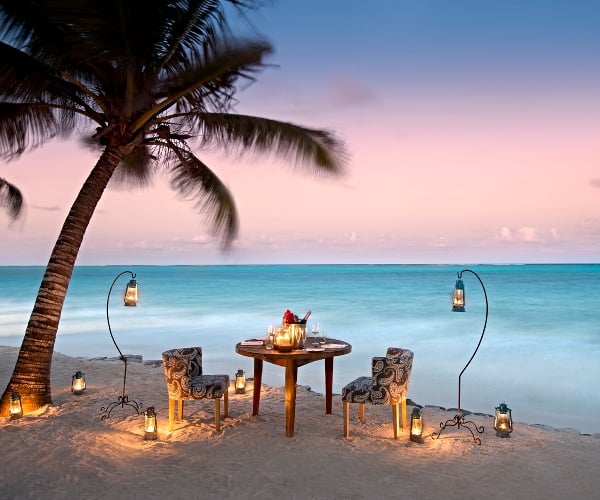 The days we spent at Xanadu were some of the most restful days I have ever had on a holiday. Up early to watch the sunrise, I walked for hours on the beach, collecting shells, watching wading seabirds, peering into little rock pools at interesting creatures, but mostly just relaxing and enjoying the peace and calm of the early morning. Swimming, reading and relaxing, with the occasional sea kayak or 'break' for a delicious meal, was how we spent our days here, and we loved every minute of our stay.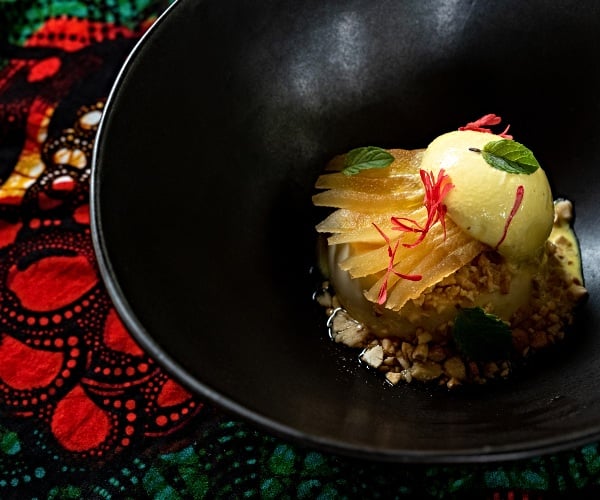 Zanzibar can be enjoyed in so many way, perhaps as an add-on after a safari, or to recover after a challenging climb up Kilimanjaro, or just as a stand-alone destination in its own right. This is a beautiful island, with fabulous people, fantastic food, terrific sites to see and things to do, and if you choose the right place to stay you can enjoy the barefoot luxury of this terrific destination.