Do you want to know where the best campsites in Alberta are located? Over the last 10 years I have been hiking and backpacking in the Canadian Rockies with an eye to noting the location of the most beautiful and best laid out campsites. They are surprisingly rare considering the landscapes one enjoys in the mountains. Too often, campsites are stuck off in the woods, away from any views whatsoever. Even worse, are the times when you're practically sleeping on your neighbour – and can literally hear every snore they make all night long. Or when the campsite is situated in a mud hole, the minute it rains. Fortunately, there are some memorable ones out there too.
Some of the best campsites in Alberta are easy to access – while others really make you work for them. The campsites described aren't in drive-up campgrounds save for one exception. Some of the things I look for in a great campsite are views, well-positioned tent pads, well-designed eating areas, a semblance of privacy, and the ability on cold nights to have a campfire.
The campsites I've described are no more than a one-day hike away from a trailhead. I have not included any campsites that are more than two days in on a multi-day hike, such as those you find on the Skyline Trail or the Brazeau Loop.
This post includes some affiliate links. If you make a qualifying purchase through one of these links, I will receive a small percentage of the sale at no extra cost to you. Thank you for your support.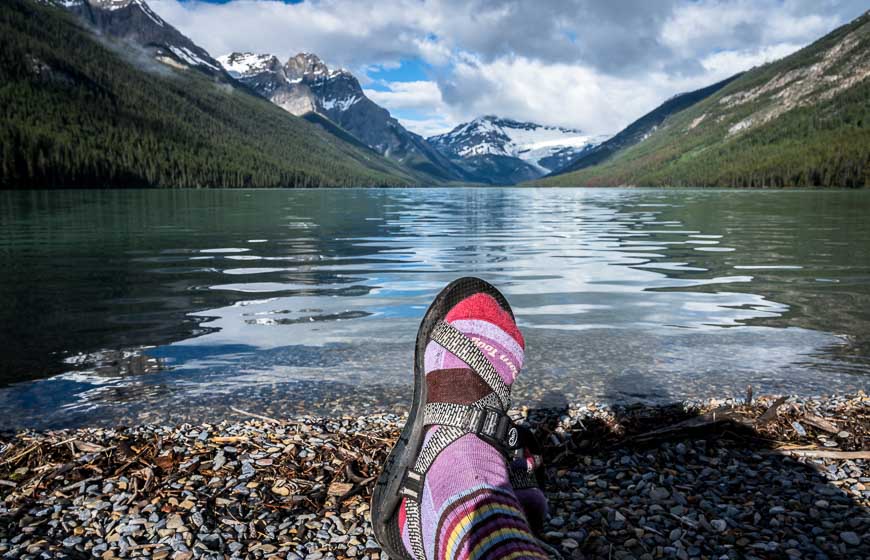 Best campsites in Alberta
Lake Minnewanka lakeside campsites
If you want an early or late season camping experience, choose one of the campgrounds along Lake Minnewanka. Aylmer Pass Junction, Aylmer Canyon, Mount Costigan and Mount Inglismaldie would all be good choices, though two of them are longer hikes. If you hike in from the Devil's Gap in the Ghost River Wilderness Area then you can enjoy a sunny beachfront experience at the far end of Lake Minnewanka at Ghost Lakes campsite. It offers well-spaced tent pads and incomparable views from the cooking area.
Campfires are allowed at all campsites along Lake Minnewanka, barring fire restrictions.
Now for the bad news. All the campsites, save for Ghost Lakes, have a strict "hike in a tight group of four and no dog policy" between July 10 and September 15th, to minimize issues with bears. You can hike solo or as a group of two with dogs at other times.
If you're keen to spend a few days at one of the campsites then you could either hike further down Lake Minnewanka or do the hike up to Aylmer Lookout to enjoy superlative views of the lake.
Book backcountry reservations online here.
Map needed: Gem Trek Banff & Mt. Assiniboine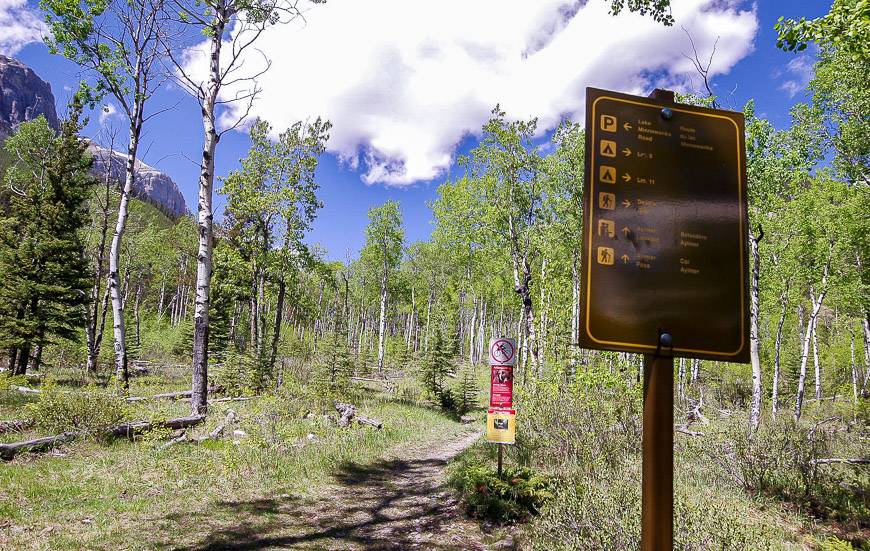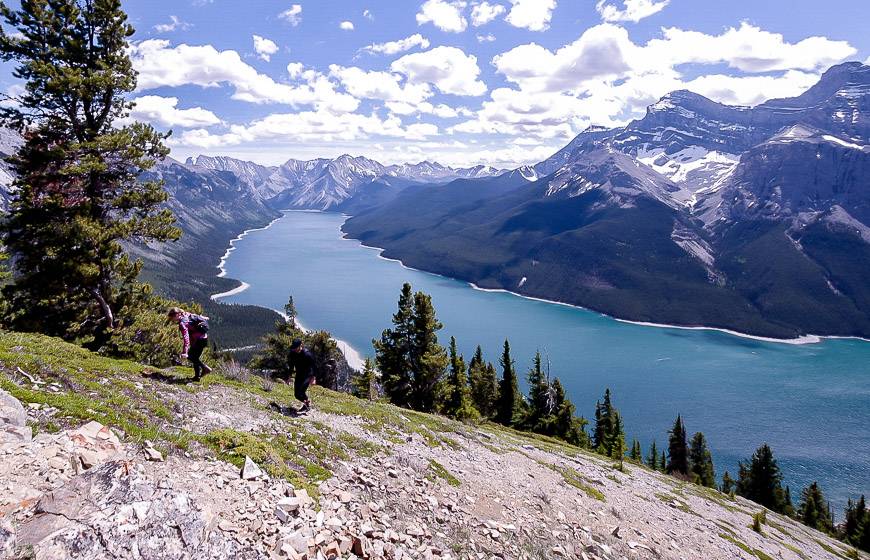 Point Campsite, Peter Lougheed Provincial Park
The Point Campground is open year-round. Most people access it via an easy 3.4 km hike from the Upper Kananaskis Lake trailhead. We accessed it one summer by kayak – but be warned that Upper Kananaskis Lake can get very windy.
It's a beautiful campground, with some campsites offering lovely views. All are private. There are two eating areas with bear lockers and a couple of outhouses. The only downside is that fires are no longer permitted.
Book a backcountry reservation through the Alberta Parks website.
Map for the area: Gem Trek Kananaskis Lakes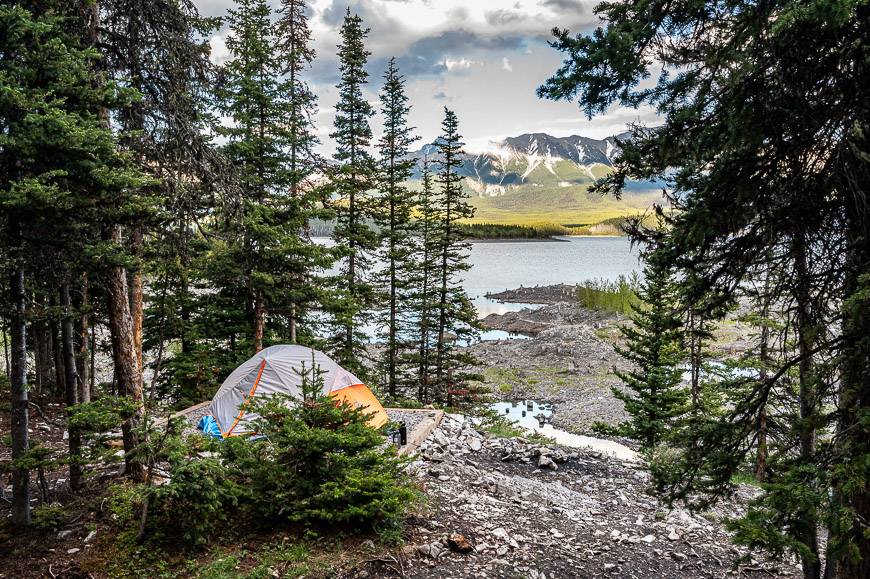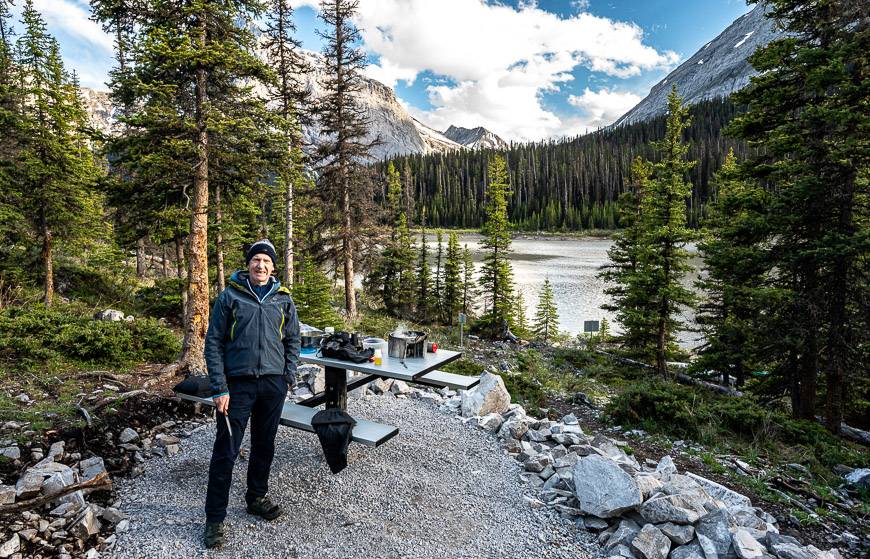 Tombstone Backcountry Campsite
One of the best campsites in Alberta is the Tombstone Backcountry Campground. The closest access point is the parking lot for Elbow Lake on Highway 40. It's 7.3 km one way with just 125 metres of elevation gain. People hike and bike into the campground. It can also be accessed from Big Elbow Trail via Little Elbow Trailhead parking off Highway 66. That route is much longer – 20.4 km one way with a 400-metre elevation gain.
Tent pads are quite well spaced at the campground, so you don't feel like you're on top of your neighbour. Although none of the campsites have views per se, it was just a 30-second walk for us to be able to enjoy the view you see below. 
The cooking area is large and there is plenty of bear-proof storage. However, on hot days the bear proof storage gets the full brunt of the sun so your food can go bad quickly. It was very hot (+30°C) when we visited and even items like apples were hot to eat. There is a fire pit and a nice sitting area with a view for the colder nights.
This campsite makes a great base for hiking to the Tombstone Lakes and to Rae Lake. It is open from June 14 – November 30th. Book online here, 90 days out. 
Map for the area: Gem Trek Kananaskis Lakes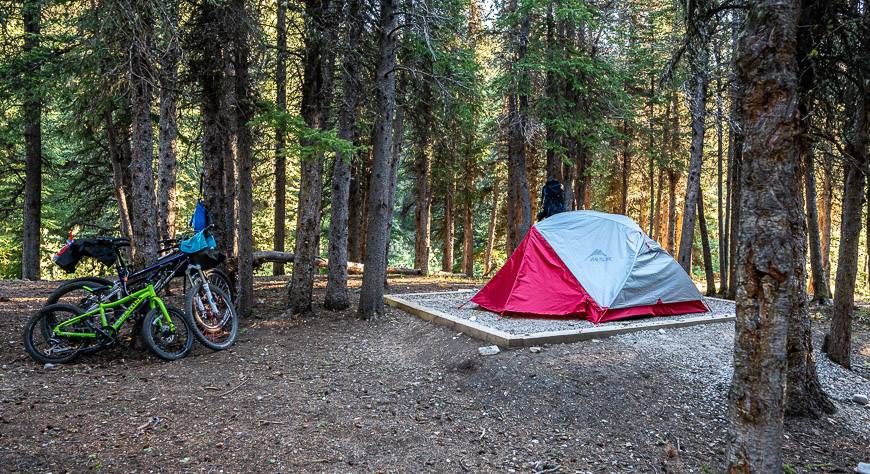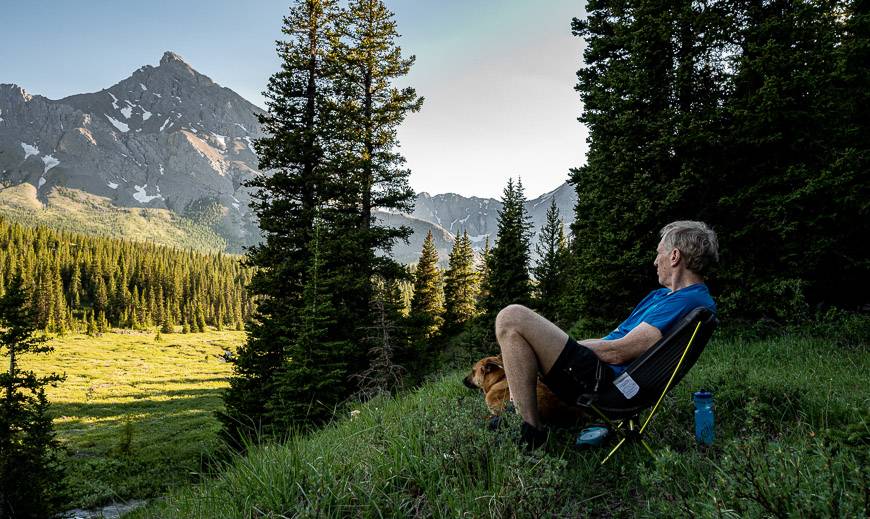 Three Isle Lake Campground, Peter Lougheed Provincial Park
It's a stiff hike to get to Three Isle Lake Campground but it can be done in a day. Although there are only a few campsites with lake views, all are a short distance from Three Isle Lake – so there are times you really feel like you have the lake to yourself. There is lots of privacy at this campground and lovely views down by the lake. However, I understand that the lake looks more like a bathtub later in the summer as water levels drop.
There are two areas with campsites, half a kilometre apart, which we didn't realize until we hiked past the furthest one on the way to South Kananaskis Pass on the morning we were there. Campsites come with bear lockers and picnic tables. Campfires are not permitted.
The campground is open from June 23 – November 30. Note that the Forks Campground – a common stopping ground on the way in – is closed for refurbishment in summer 2022. Book online here.
Map needed: Gem Trek Kananaskis Lakes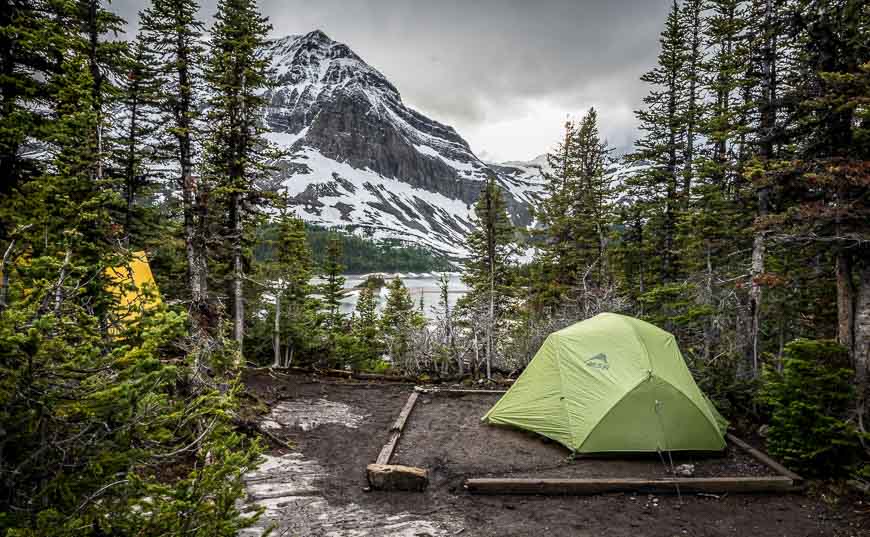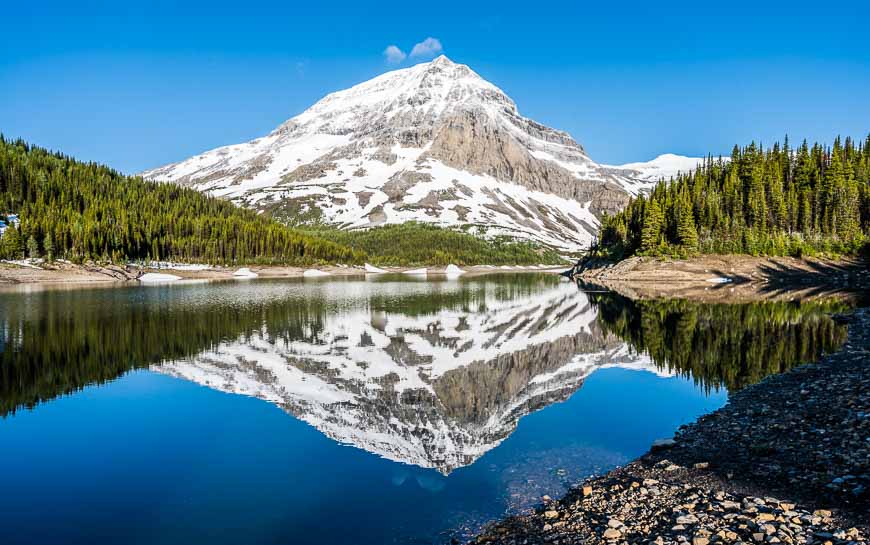 Elbow Lake Campground, Peter Lougheed Provincial Park
The hike into the Elbow Lake campsite is short – as little as 25 minutes or up to an hour if you're hiking in with very young children. It's an ideal first-time camping destination for families with young kids. As a bonus, there are a couple of campsites with lake views. Others are all close by. This is a pretty area to explore and would make a great base for a couple of nights. Hike up to what's left of Rae Glacier. Check out Edworthy Falls. Or do the fantastic hike to Piper Pass.
The campsite is being refurbished in 2022 and will reopen in summer 2023.
Map needed: Gem Trek Kananaskis Lakes
Taylor Lake Campground in Banff National Park
It's a 6.5 km one way hike up to Taylor Lake with 595 metres of elevation gain. There is the option to do the hike to O'Brien Lake, a very worthwhile side-trip in fall. 
At Taylor Lake, there is a small campground with only five tent pads. It's set back in the woods but still enjoys an open feel. However, the cooking area enjoys unobstructed views. If you can ever snag a reservation starting around mid-September, then you'll be front and centre of some of the best larch viewing in the Rockies. Unfortunately, there are no fire pits, so you'll have to dress warmly!
You can reserve online here. 
Map needed: Gem Trek Banff and Mt. Assiniboine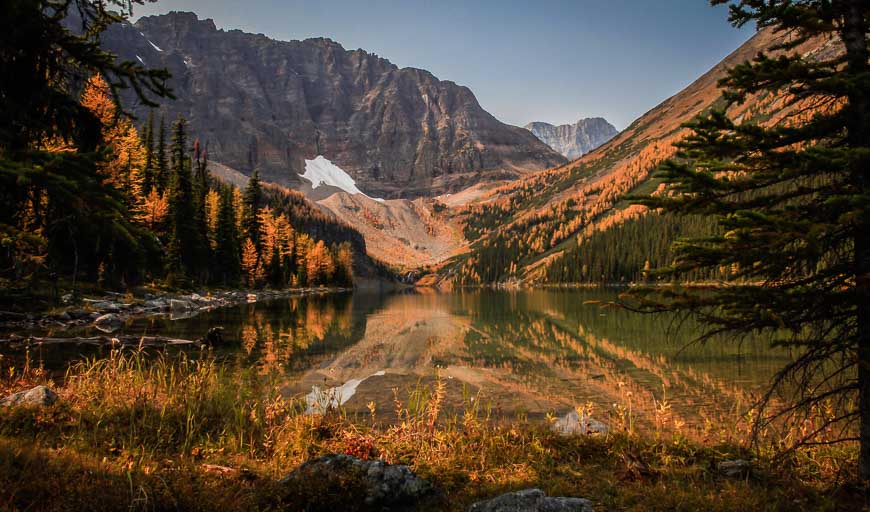 Paradise Valley Campsite, Banff National Park
The campsite at Paradise Valley is off in the trees but the cooking area enjoys a pretty backdrop – and it's within about 75 metres of Paradise Creek, a perfect place to sit and enjoy a glass of wine or a morning coffee. However, this is a campsite that is in a wetter area of the park so I would highly recommend a visit later in the season when the bugs have died down. The area is also known for its fantastic larch displays so consider a chilly but beautiful camping experience here in mid-September.
The campsites are well-spaced. You'll find bear lockers and picnic tables too. The other benefit of a night here is an evening walk over to the Giant Steps, a short distance away.
This is one of the few campsites that you can only book 24 hours in advance by calling 403-522-1264 in Lake Louise or 403-762-1556 in Banff. You can also pick up permits at Parks Canada Visitor Centre's in both Banff and Lake Louise too.
Map needed: Gem Trek Lake Louise and Yoho
Glacier Lake Campground, Banff National Park – one of the best campsites in Alberta
The Glacier Lake hike is a great early-season one as its snow free earlier than many and its not too difficult as it's just 9 km one way with an elevation gain of 475 metres.
There are five campsites – a couple with superior lake views, in a mature forest. There's also a communal fire pit and a rocky beach where we enjoyed our morning coffee. Views are everywhere – and they are good ones. I quite loved this place and think this is one of the best campsites in Alberta.
Map needed: Gem Trek Bow Lake & Saskatchewan Crossing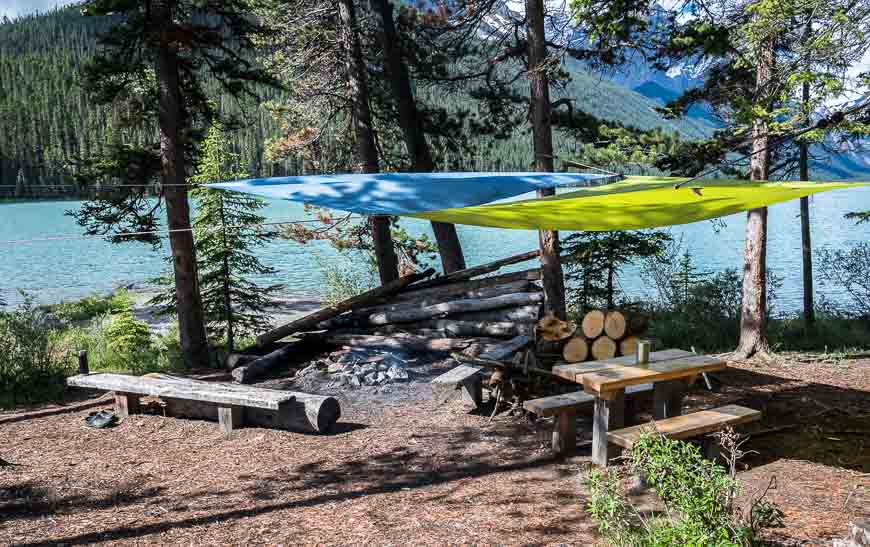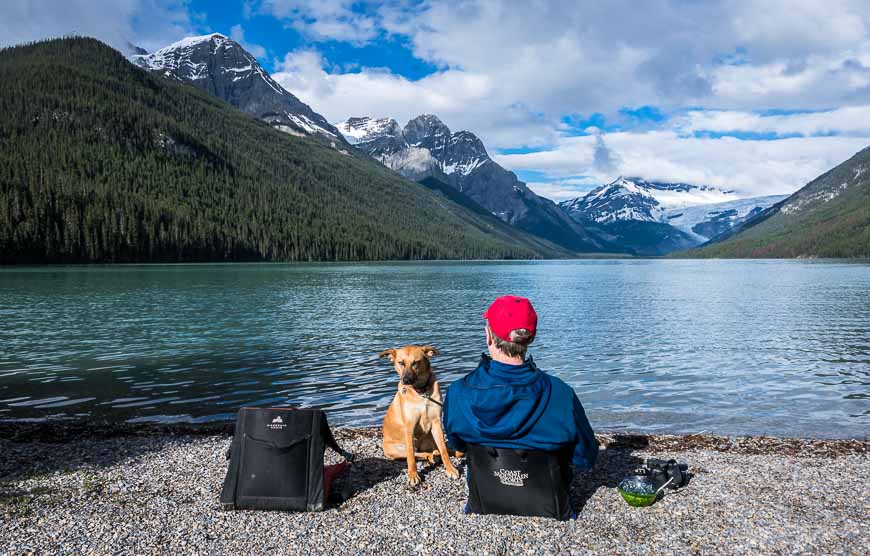 Norman Lake Campground, Banff National Park
The Norman Lake campground is in open mixed forest – and all campsites have privacy. The eating area and fire pit offer good views of the nearby mountains and willow flats. I think this is one of the best campsites in Alberta because you don't see many people and there are options to do a couple of great hikes.
Be sure to make the hike through sometimes – shoulder-high willows to reach Sunset Pass. You could even continue to Pinto Lake. On the hike out, allow time to hike to Sunset Lookout so you can enjoy grand views up and down the Icefields Parkway.
Map needed: Gem Trek Bow Lake & Saskatchewan Crossing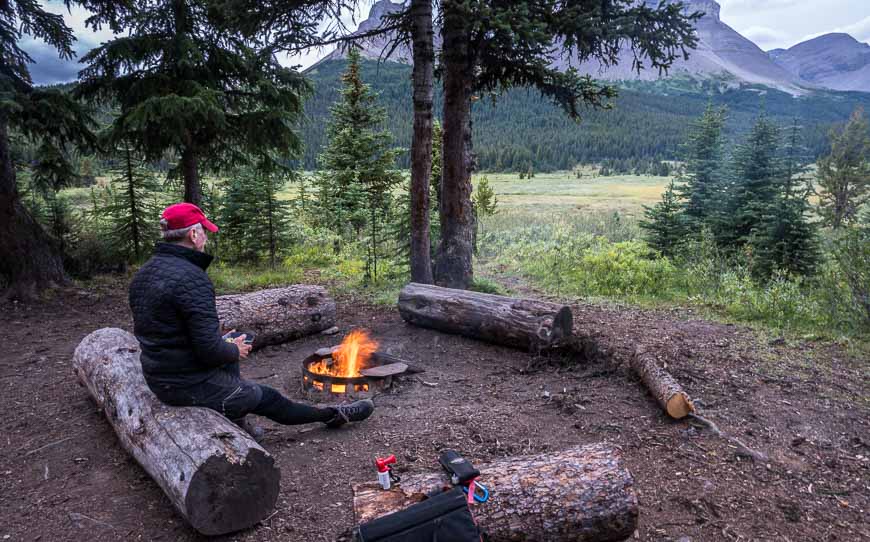 Bow Valley Provincial Park campground
Bow Valley Provincial Park is just an hour's drive from Calgary. I've included it the best campsites in Alberta list because of its accessibility and some truly lovely campsites on the Bow River. There is also some excellent easy hiking and biking in the park so its a great place for young families. It's budget friendly too.
There is one downside however, and that is both highway and train noise. Depending on your campsite location, you maybe able to mitigate highway noise – but good luck with the train. Don't forget the earplugs.
Book 90 days out on the Alberta Parks website. Sites come with picnic tables and fire pits. Some are waterfront, though most are not. And some sites offer full services for RV's. The park is open for camping from April 15th – October 30th.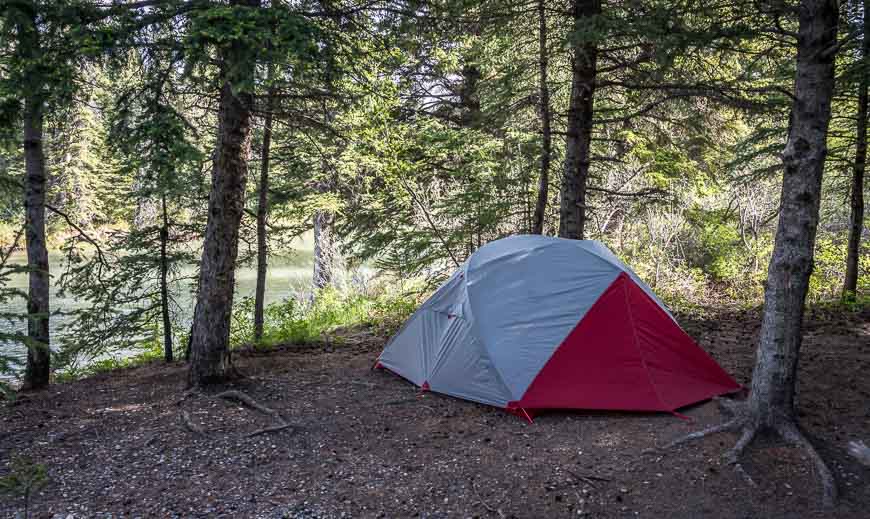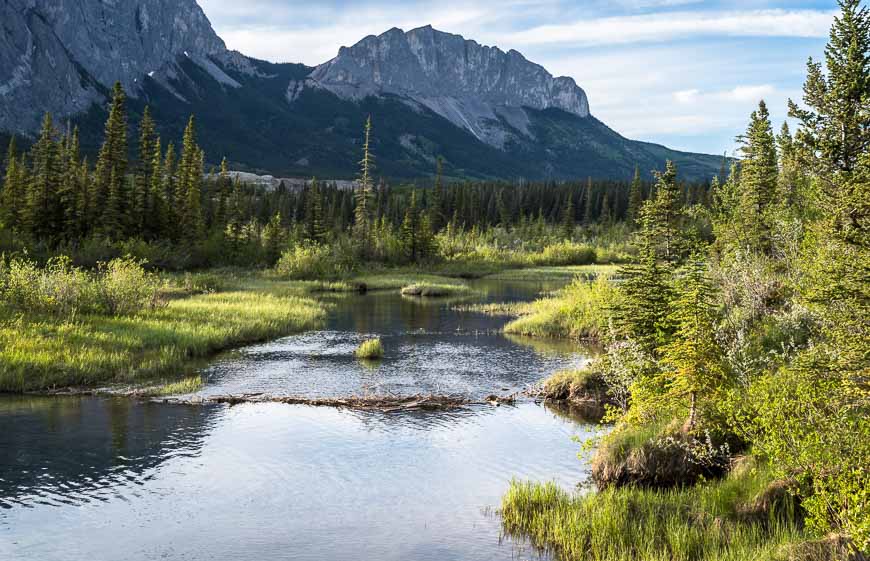 The best campsites in Alberta – Jasper National Park version
I have less experience with campsites in Jasper National Park – because most of my hikes have been longer multi-day hikes. I loved hiking the Skyline Trail, but I didn't love any of the campsites. On the Brazeau Loop hike, there were a couple of campsites that were good, the Four Points Campground and one at Brazeau Lake, but it's a two-day hike in.
The Four Point Campground is spacious and you feel like you have privacy. There are firepits, bear lockers and great views of the Brazeau River just a minute's walk away. From the parking lot, it's a 13.9 km hike via Nigel Pass though there isn't more than around 400 metres of elevation gain. Book that campsite here. 
On the Tonquin Valley Trail, there are a couple of lovely campsites – but again they are a couple of day's hike in. The Amethyst Lakes campground and Surprise Point campground would be my two favourites – but both would be poor choices in the height of the summer when bugs are bad.
I will be camping at Maligne Pass this summer – so I'll see if it makes this list.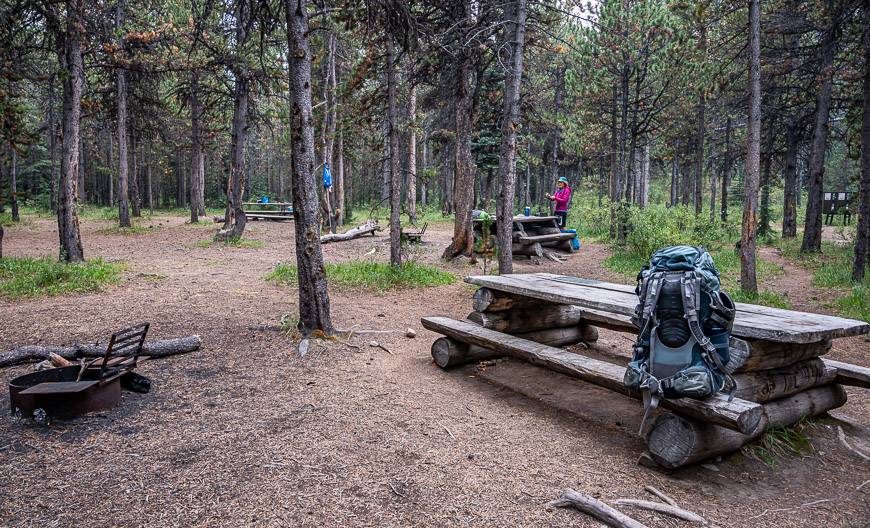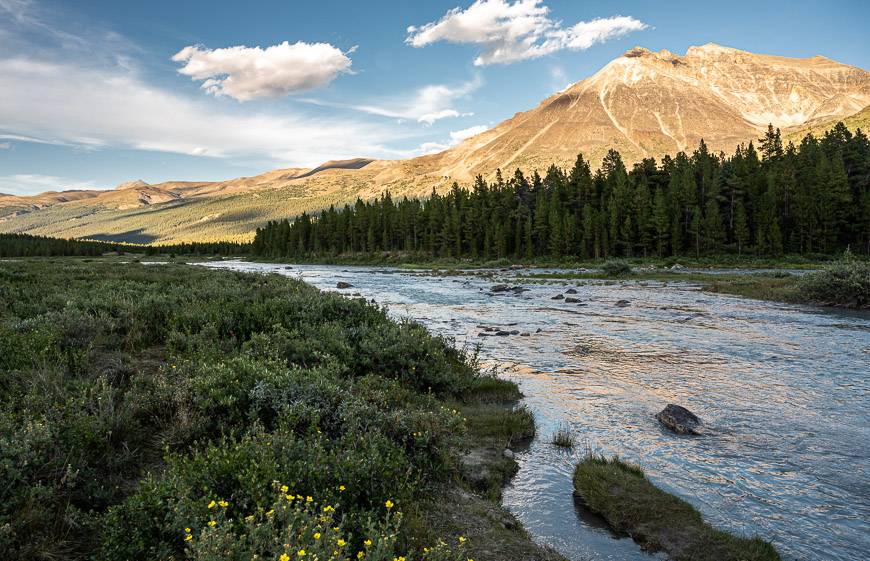 Best campsites that are close to the Alberta border
There are a few campsites that I had to mention – because they're standouts and they aren't far from the Alberta border.
Takakkaw Falls walk-in campsite in Yoho National Park
The Takakkaw Falls walk in campsite is a marvelous one. It's a first come, first served campsite that is open from June 16th until October 10th. There are carts available at the Takakkaw Falls parking lot so you can even schlep in comfortable camp chairs and a cooler.
There is quite a selection of campsites – and though none are bad, some are better than others. I loved the one we snagged with views of Takakkaw Falls and a fire pit. From this campsite there is easy access to Laughing Falls, Twin Falls, the Iceline and Whaleback Ridge. It's also a good one to use of you're doing the Burgess Shale hike as it starts at 7AM. 
Facilities are basic – toilets, bear lockers, a washing up sink and picnic tables.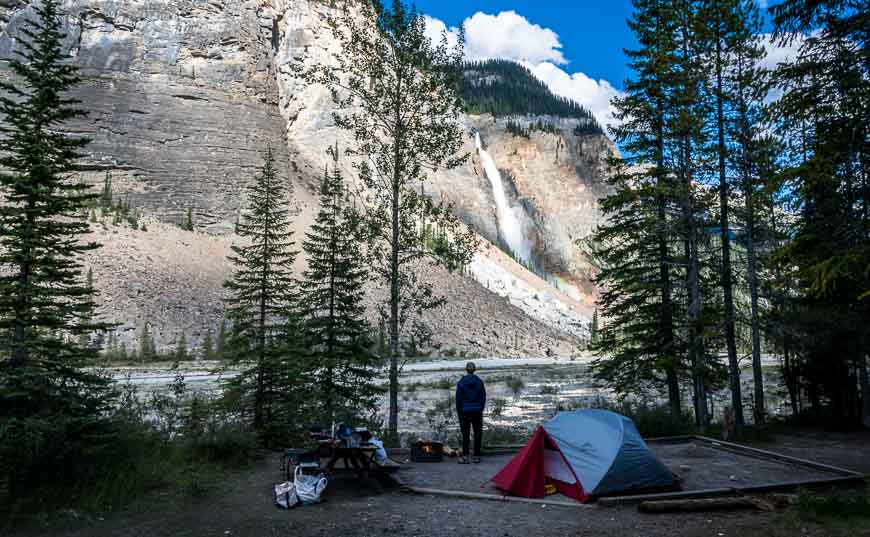 Laughing Falls Campsite, Yoho National Park
The Laughing Falls campsite is an easy 4.4 km one way from the parking lot with only 125 metres of elevation gain. The campsite itself is quite lovely with its location beside the river, and just a short distance away from Laughing Falls. It's a great place to camp too if you are planning other hikes in the area.
You'll find tent pads, dry toilets, picnic tables and bear proof storage. You can book it here. 
Map needed: Gem Trek Lake Louise & Yoho
Yoho Lake Campsite, Yoho National Park
The Yoho Lake campsite is accessed from the Takakkaw Falls parking lot via a 4.2 km hike with 304 metres of elevation gain. The campground is in open woods beside Yoho Lake. There's a decent amount of privacy and nice views from the cooking area, plus you can enjoy a red chair moment. Camping is on the forest floor and campfires are not allowed. This campsite provides excellent accessibility to the Iceline Trail or the Emerald Triangle hike.
Plan to camp here later in summer when the bugs have died down. Book it here.
Map needed: Gem Trek Lake Louise & Yoho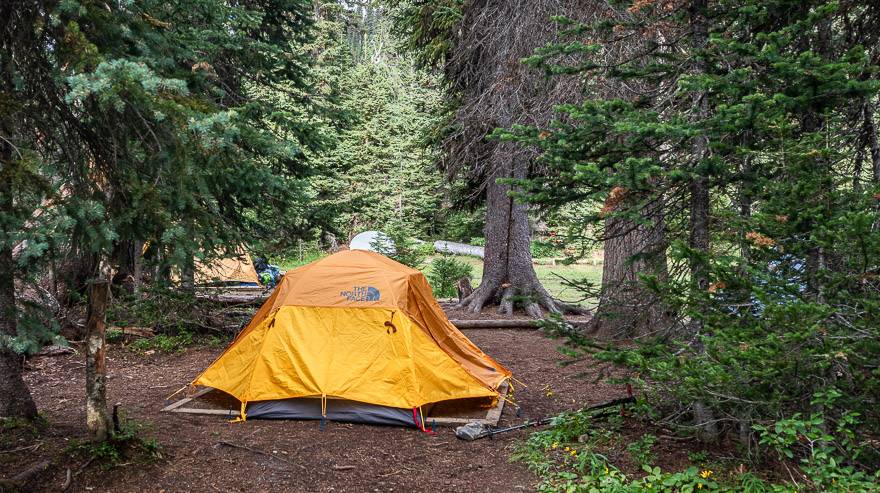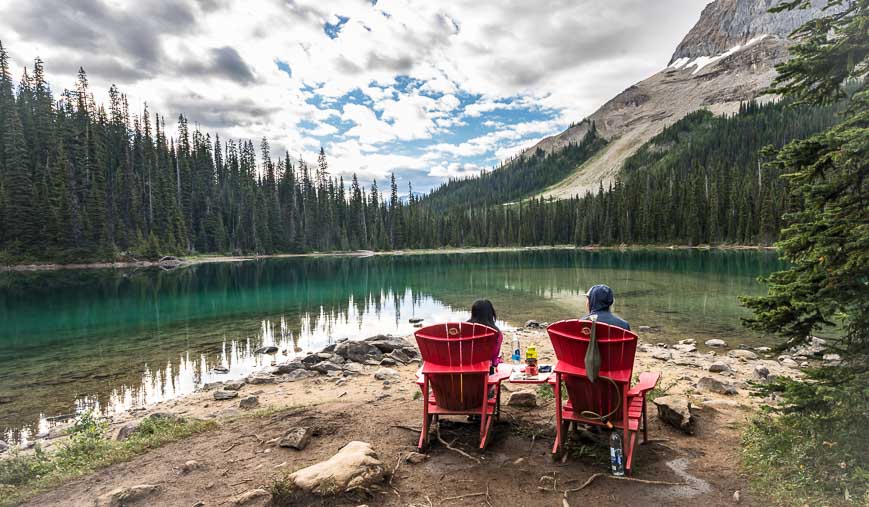 In conclusion
I will continue to add to the best campsites in Alberta list as I discover them. If there are some you are aware of, please leave a comment, keeping in mind that they can't be more than a day's hike in from the parking lot.
Things to bring to the best campsites in Alberta
The older I get the more I am into comfort on a camping trip. So, if the hike in is not too difficult I take this lightweight camping chair. It's a treat to be off the ground.
If there is ever a gear failure, cue a ripped tent or down sleeping bag, I have found the Gear Aid repair tape to come in handy. 
To make the most of your camping experience, check out some of these camp games.
Even in the height of summer I take my down sweater by Patagonia. It stuffs well into a sack to make a pillow to, though there are lots of real camp pillows out there – which might make all the difference between a bad sleep and a great sleep.
The tent we use – and I like a lot, is the MSR Hubba Hubba 3 -person tent as we often have a dog with us. It's quick to put up and durable.
Click on the photo to bookmark to your Pinterest boards.