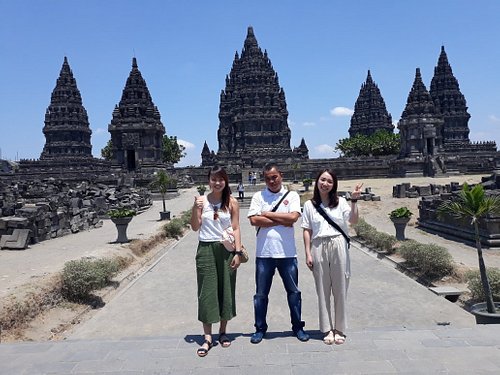 People are interested to know about the entrance fee to Borobudur Temple because of its beauty and romance, which is perfect to be enjoyed with someone you love. Besides Borobudur Temple, various tourist sites in Yogyakarta (also known as Jogja or Jogjakarta) also offer romantic tours which are most recommended to be visited with your partner. In this article, you will find recommended places for "romantic tourism" in Jogja.
4 Recommended Romantic Tourist Attractions in Jogja
Abhayagiri Restaurant
The first recommended romantic tourist spot in Jogja is Abhayagiri Restaurant. This restaurant is located near Prambanan Temple and provides candle light dinner Jogja.
This restaurant serves a variety of delicious food with premium service and a romantic atmosphere in the middle of alang-alang (field of cogon grass).
It's highly recommended to come to this place in the afternoon because you will get the opportunity to enjoy the beautiful golden hour while enjoying the food there.
At night the atmosphere turns romantic because of the calm atmosphere accompanied by dim lights and candles while having dinner with your partner.
Puncak Becici (Becici Peak)
The second recommended romantic tourist spot in Jogja is Puncak Becici. This tourist location is located in Gunung Mutuk Village, Dlingo sub-district, Bantul, Yogyakarta.
Becici peak is a favorite location for tourists to enjoy the beauty of sunset because of the position of the cliff that just out to the west. Here you can enjoy the beauty of the romantic city lights of Jogja which can be seen clearly at night.
Bukit Bintang
The third recommended romantic tourist spot in Jogja is Bukit Bintang. Located in Gunung Kidul, this place is very easy to find because of its location on the side of the road.
This tourist location is a couple's favorite place to spend the night because they can see the twinkling lights coming from the city of Jogja.
Around Bukit Bintang, there are also various places to eat that serve various types of snacks such as grilled corn, coffee, meatballs, chicken noodles, and so on. It will make your romantic day even better without getting hungry!
Ratu Boko
The last recommended romantic tourist spot in Jogja is Ratu Boko. At this location, you can enjoy a very beautiful view from the top of the hill and see the sunset with your partner.
This tourist location is located not far from Prambanan Temple in Bokoharjo, Prambanan sub-district, Sleman, Yogyakarta. You can easily find Ratu Boko Temple by Google Maps.
Spending romantic time with your partner is indeed a necessity for a long lasting relationship. Some of the recommendations above are perfectly romantic choices for you and your partner.