Are you getting ready to set sail on your cruise ship vacation? Wondering what the cruise embarkation day process is like? What should you do before and after you embark on your cruise? Find out why embarkation day can actually be a fun day of your cruise. A printable checklist is included below!
What is embarkation day on a cruise? Embarkation day is one of the most important days of your cruise. This is the first day that you will officially be on board the ship and start your cruise vacation. YAY!
Like any travel planning, there are a few things that you need to know and should do before, during, and after you embark. We also will share tips on how to make the most of your embarkation day, once you're on that ship.
We love embarkation day. Not so much the headache of waiting in any lines or going through security at the cruise terminal. But the day always feels so full of excitement and promise the moment we add our cruise luggage tags to our luggage.
We love being on the ship and starting our cruise vacation. So the moment we are called to board and step onto the gangway, we are ready to get our cruise ship vacation started.
Disclosure: This post may contain affiliate links. If you decide to make a purchase from one of those links, we may get a commission at no extra cost to you. We appreciate your support.
Embarkation Day
What to expect on cruise embarkation day?
One of the things you can expect on cruise embarkation day is long lines. Embarkation day is one of the busiest days at the cruise port. You will have to wait in line to get through security and to check in or verify your online check-in.
Even if you have priority boarding because you're staying in a suite, expect to stand in line to get to security first. Once you've gone through security, you'll be escorted to a waiting room for priority boarding or suite guests.
Make sure to allow yourself extra time. We recommend getting to the port at least two hours before your scheduled cruise embarkation time.
What is the cruise embarkation process? What happens during embarkation?
Essentially the cruise embarkation process entails:
Handoff your luggage to a porter
Go through security
Check-in or verify your online check-in
Get your cruise card & boarding number or pass
Wait in the cruise terminal for your boarding number to be called
Board the ship
The cruise embarkation process to get on a cruise ship can vary depending on the cruise line that you are sailing with and the port that you are departing from.
Some cruise lines will have a more streamlined process where you can drop off your luggage with a porter at the entrance to the cruise terminal and then proceed to check-in. Other cruise lines may require that you carry your own luggage through the entire process (we haven't experienced this yet but have read about it).
Once you enter the cruise terminal, you will need to go through security. All guests and their luggage will be screened before being allowed to enter the cruise terminal.
After you pass through security, you will proceed to the check-in desk. You will need to present your cruise documents and identification or passport at this time.
Once you are finished with check-in, you will be given your cruise ship boarding pass and-or number. You will need to keep this with you as it is your proof that you are allowed to board the ship when they call your number.
If you have completed online check-in before arriving at the port, then the process will be slightly quicker. It all depends on the cruise line. On our Celebrity Equinox cruise, we completed all check-in online before the embarkation day. They simply scanned our documents after security and let us into the waiting room.
Embarkation day can go smoothly or it can be a little hectic. Lots of factors play into embarkation day and some of them will not be in your control. But what is with a little planning, patience, and these tips, you can make the most of your embarkation day.
Here are 35 tips for what to do before, during, and after you embark on your cruise.
What should you do before embarkation?
Your cruise vacation is booked. Now we are counting down the days to cruise boarding day. And as you get closer, there are some tips and things that you should do to be ready for embarkation day.
We have a full guide on how to prepare for your cruise vacation for first timers cruisers (or anyone that wants to make smooth out their cruise plans) that you can also refer to.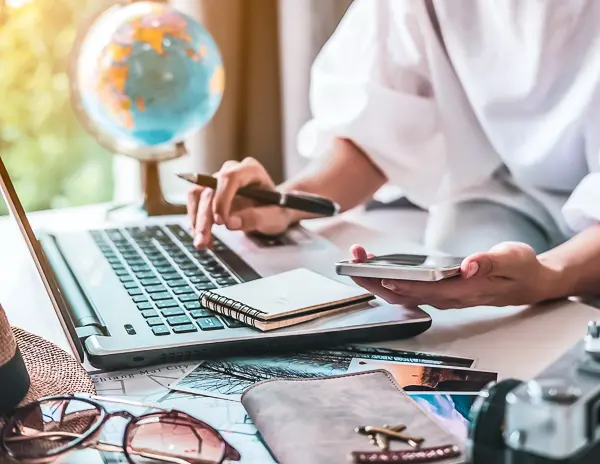 1. Check Your Passport & Official Identification
Always check your passport or identification and make sure it is not about to expire. Check the expiration date and make sure that it will be valid for at least six months after your return from your cruise.
If you need to renew your passport, do so as soon as possible. These days with the pandemic and staff shortages, it can take several weeks to a few months to process. Paying for expedited service will not necessarily speed up the process, but it can definitely help.
You should make copies or scan important documents such as your passport and other identification. Keep a copy somewhere safe.
2. Download the Cruise Line App
If you haven't already, download the cruise line's phone app.
Some people wait till the morning to download it, but we make sure it's on our phone after booking our cruise.
From the app, you can…
check-in every now and then to see a countdown to how many days till your next cruise
check-in online
add any promotional offers for your cruise like special beverage packages, wifi…etc.
book dinner reservations at specialty restaurants
view your onboard account balance once you're on the ship
check the daily schedule of events
receive important updates or messages from the cruise lines
and more.
3. Check-in Online
Most cruises allow you to check in online a few weeks prior to boarding day. You can do so from their app or desktop from your computer.
Norwegian Cruise Line allows us to start checking in 21 days prior to the cruise.
The cruise line will send you an email to start the check-in process. We suggest finding out when is the first day you can start to check-in and set up an alert on your phone calendar. You want to do the online check-in as soon as it's available.
Check in online to save time on embarkation day. We recommend checking in as soon as it becomes available. This way, you can breeze through the process on boarding day and avoid any potential delays or hiccups.
Sometimes, you will have to upload a photo of yourself. Make sure you take a portrait of yourself against a white or light-colored background.
4. Fill Out Any Required Travel Forms
Some countries are requiring certain travel forms to be submitted prior to your cruise. This will be outlined for you in your reservations and cruise lines will email you regarding these forms.
For example, Bermuda is currently requiring a travel authorization form to be filled out and submitted up to 30 days prior to embarking on your cruise. On top of that, Bermuda requires a negative covid test and covid vaccine cards to be submitted with this travel authorization form 2 days prior to cruise day for approval.
The form can be submitted in advance for up to 30 days. They will email you 4 days prior to your cruise reminding you of the covid results and vaccination cards to upload. Approval from Bermuda IS needed to embark on your cruise.
The best thing to do is fill out the travel forms as soon as it's allowed. Stay on top of any additional items required.
5. Take a Covid Test
Depending on what country you're cruising from, a negative PCR or antigen test will more than likely be required 2 to 3 days prior to boarding.
You must double-check with your cruise line and see what they are requiring for your sailing. It's probably clearly stated or linked to in your reservations.
Keep a copy of your negative covid results on your phone and printed it with your documents.
6. Plan to Arrive in Your Port City Early
We recommend arriving at the port city your cruise will be shipping from the day before.
These days with all the travel delays and changes that are occurring, you don't want to take the risk of missing your cruise. So if your flight does get delayed, there is a buffer of time to work with.
Arriving the day before also gives you time to rest and relax before starting your cruise vacation. This can help reduce any anxiety or stress you may have about embarking on a cruise during these times.
Sometimes we arrive a few days early to explore the port city. This gives us time to adjust to any time changes and explore the port city.
Due to a tight schedule, we once took a redeye that landed on the early morning of embarkation day. Thankfully, it went well. We were aware of the risk, but this was prior to the pandemic.
If this is your homeport city, you can skip this tip along with 6 and maybe 7. But do arrive early at the cruise port on the morning of embarkation day.
7. Book Flights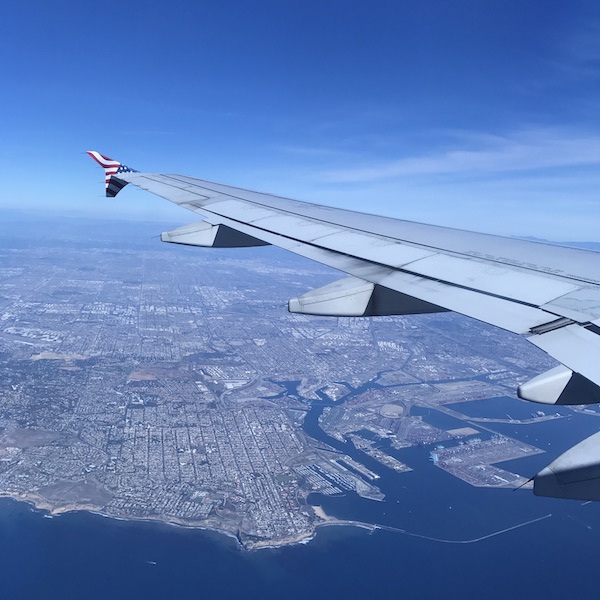 Book your round-trip flights in advance. Google Flights is a great place to start your research and you can even track specific flights and dates.
While you can book your own flights directly if the airline (especially if you're using points), you can also choose to book your flights with your cruise line. There are benefits to booking with the cruise line like the cruise line's guarantee to assist in getting you to the ship if there are flight cancellations or delays.
If you plan to leave the same day of disembarkation, make sure you book a flight that leaves from noon on. Any earlier, you may miss your flight.
8. Book a Hotel
Book a hotel room with breakfast close to your cruise terminal. Especially, if you're only staying there just one night.
Check if your hotel has a shuttle that will take guests to the cruise port the morning of. This can be a plus.
If you're driving in from a nearby city and staying the night before at a hotel, check if the hotel has park & cruise packages. It will include your one night at the hotel plus parking for your car while you're on your cruise destination.
9. Make Sure to Have All Your Documents Printed and Ready
It's amazing that in the digital age we live in with mobile phones and QR codes you'd think we could save some paper and not have to print out documents. Wrong. Print out all travel documents and have them with you on embarkation day ready to go.
Cruise Documents
Boarding Passes
Luggage Tags
Travel authorization forms (if required)
Negative covid results (if required)
Travel Insurance
Flight Itineraries
Hotels
Shore Excursions
Anything else related to your cruise vacation
Check with your cruise line on what documents they require. Some will also allow you to have electronic versions of these documents on your phone, but it's better to be safe and have printed documents, too.
On top of having everything printed, we also type all important information (like confirmation #s and times) on our day-to-day itinerary. Which you can sign up for and receive for free.
10. Have Some Cash Ready
Before embarkation day, make sure to get some cash in smaller bills for tips.
We are ones that normally do not carry cash, we like to pay for every single thing with our credit cards to collect travel points. So this becomes a stressful task for us prior to boarding and one of the last-minute things we do.
We have never had a problem getting cash at the ATM on the cruise ship casino, but we don't recommend it. The ATM fees are much higher.
11. Pack for Your Cruise
One of the best parts about cruising is not having to lug luggage around from city to city. What luggage you bring on the ship, stays on the ship during the duration of your cruise.
That said, it doesn't mean you should overpack. Pack enough for the duration of your cruise. What you'll need for your days relaxing on the cruise ship, for dinner, and for the ports.
What cruise essentials should you pack? Check our cruise packing list for those necessities you should not forget, and also what not to bring on a cruise.
12. Get Your Carry-On Bag Ready
Make sure you have your passport, cruise documents, boarding pass, and cash. A change of clothes, if you plan to be poolside after you embark. Sometimes the luggage takes hours to arrive in your cabin.
If you're taking daily medicine, don't forget to pack that in your carry-on!
Read more: Travel Essentials List: 25 MUST-HAVE Items for Your Carry-On Backpack
13. Book a Car, Shuttle, or Bus Transfer to the Cruise Port
You can do this in advance.
Arriving on the morning of? You can schedule a bus transfer with the cruise line about 2-3 weeks before. Most ships will stop accepting new reservations a week before the cruise. So make sure to call weeks ahead.

Usually, a representative from the cruise line will be at the luggage claim. You will check in with them and they will see you on the bus.

And, they are the first to be aware of a delayed flight.
Have the hotel you're staying in set up a taxi for you the morning of.
Cruise vs All-Inclusive Resort
What's the difference? We break down the key differences and similarities between cruise vacations and all-inclusive resort vacations. So you can plan the perfect getaway that fits your needs.
What to do on embarkation day?
It's the morning of the first day on your cruise. How exciting!
Personally, we don't sleep much the night before because we are so looking forward to this day. We're like kids on Christmas Eve. What about you?
Cruise embarkation starts around mid-morning or mid-day. It all depends if the cruise ship arrived on time that morning and how quickly they can get everyone off the ship. Sometimes there may be other hiccups but it's not always the case.
You'll want to get there as early as your check-in time allows.
14. Wake Up Early
You'll want to start your day early, have breakfast and get ready for the day. You don't want to be rushing around and forgetting anything.
Check what time check-in opens for your cruise line. For example, Disney Cruise Line Embarkation opens at 11:00 am.
You want to be one of the first ones on the ship, so you can enjoy the ship before it's fully packed.
15. Eat Breakfast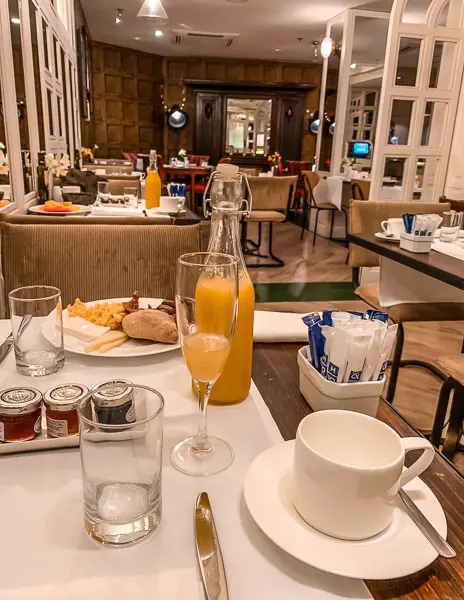 This is when a hotel breakfast comes in really handy. If you don't have a hotel or are staying with friends/family, make sure to eat something before heading to the port.
You'll want to have some energy for the day because it's going to be a long one.
Preferably, we like to have a coffee and a light breakfast to hold us over through the morning till we embark. We enjoy having lunch on the ship as soon as we get on.
You may prefer to have a hearty breakfast to get you through most of the day. Or maybe, you're just really hungry.
Either way, don't skip breakfast. Have some coffee and something to eat. Don't be a hangry passenger on the security line.
16. Check the Weather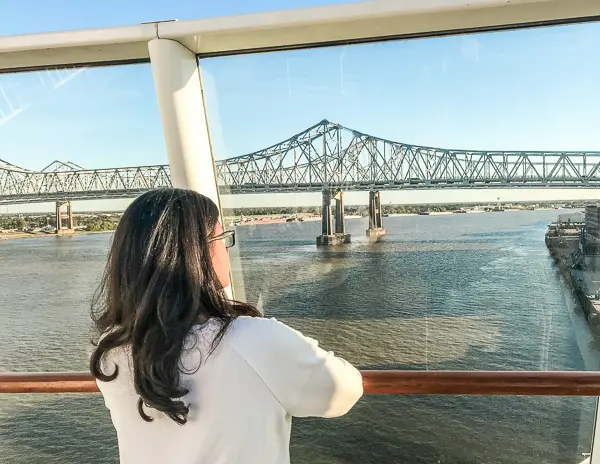 Embarkation day is also a good day to check the weather for your cruise itinerary. This way you can dress appropriately for the day ahead.
Sometimes on embarkation day from where you are leaving it is chilly. However, if you're on a Caribbean cruise, once you hit that Caribbean sea, the weather will be much warmer.
17. Check Your Luggage and Carry-On Bag
This is the last call to check that you have everything in your luggage and carry-on bag. Do not leave anything behind at your hotel.
Cruise Essentials to Pack
Are you packing for a cruise? Make sure you don't forget these cruise essentials! This printable cruise packing list will help make sure you have everything you need for your trip. Plus, we've included some helpful cruise tips and hacks. Don't forget to add it to your vacation packing list.
18. Add Your Cruise Luggage Tags to Your Suitcases
Luggage tags are either mailed to you prior to cruising by some cruise lines. If you're staying in a suite, you more than likely will have the luggage stages mailed to you in advance.
Other cruise lines will have you print them out. When this happens you can either print them or insert them in these cruise luggage tags that you can purchase for your specific cruise line.
OR, you can also staple the luggage tags to your suitcase handle. You can ask the front desk of your hotel to borrow their staple or bring a small handy one with you.
19. Meet Your Driver or Shuttle
It's time to go to the cruise port. If you did not book a taxi, Uber, Lyft, or shuttle to go to the cruise port, the time is now.
Ask the front desk to call a cab for you
Or request a ride on the Uber or Lyft app from your phone
The excitement really starts to kick in when you get that first peek of the cruise ship.
20. Hand Your Luggage Off to a Porter at the Cruise Terminal
When you arrive at the cruise terminal where your cruise ship is embarking from, find a porter and hand them your luggage.
Don't forget to tip! You want your luggage to arrive on the correct cruise ship and to your cabin, right?
How much should you tip the porter? Typically, $5 a bag.
However, we've experienced expedited service by tipping $10 a bag in the past, where our suitcases arrived almost right after we boarded. Just don't count on it. If you plan to tip more than $5 a bag, it's because you feel like being generous.
21. Get in the Security Line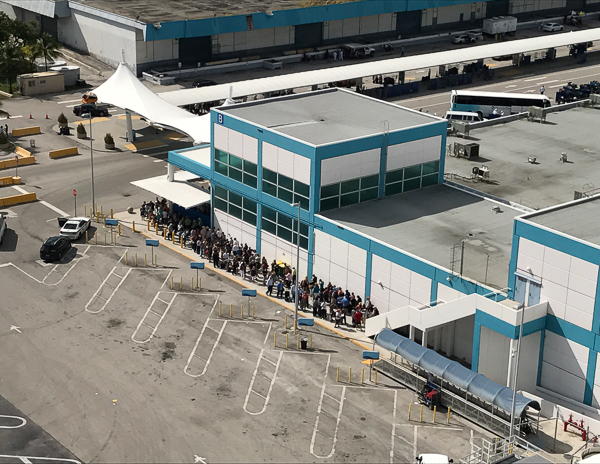 This will probably be the hardest part of embarkation day. The dreaded security line. And, we don't mean to scare you.
Get on it as soon as you can. Be patient. Follow all instructions. Be kind to the staff trying to handle all the chaos.
You will get through it. Everyone has to get through security first.
22. Check-in at the Cruise Terminal
If you followed this article, then you have already checked in online in advance. You still have to make a line, which should go quicker than the security line.
Depending on the cruise line it can be as easy as scanning your paperwork with a mobile device, handing your a cruise card, and letting you into the waiting room.
Or it can be as difficult as going through the entire check-in process again with an agent.
If you have any priority boarding due to the cruise's loyalty program or because you booked a suite, look for those signs to get in on the right line.
23. Wait for Your Boarding Group or Number to Be Called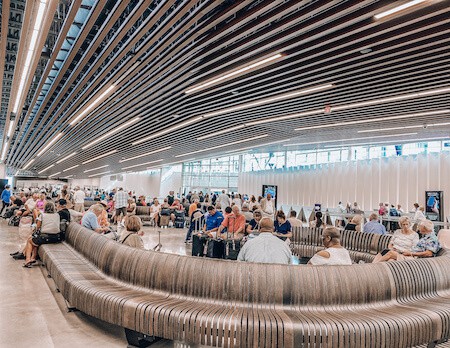 A boarding group or number will be handed to you after your check-in.
As soon as the cruise ship unloads the passengers from the prior week, they will start calling the first group or number to start boarding the cruise ship. Pay attention to when your group is called.
What to do on the ship after you embark?
It's so exciting when the cruise staff welcomes you on the cruise ship. Sometimes with a welcome drink and sometimes not. Either way, just getting on that ship feels like the beginning of a wonderful vacation.
24. Familiarize Yourself with the Cruise Ship Layout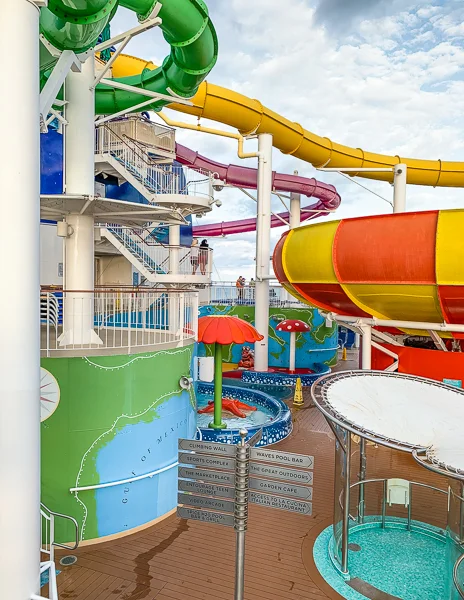 Once you're on board, it's time to explore.
From the moment you get on the ship, you're going to start getting acquainted with the cruise ship. It's important to take a cruise ship tour. You can do this as soon as you embark or wait a little while.
The earlier you take a tour of the ship, the better. It's the best time to see the ship half-empty.
Passengers will continue to check in and board throughout the morning and afternoon, crowding certain areas of the ship.
You can also wait to do this after lunch.
25. Check if Your Cabin is Ready
Cabins are usually ready by a certain time in the afternoon. They will let you know this when you check-in.
We still pass by to see, just in case. Most of the time, they are ready, but not always.
Some cruise lines have a cabin-ready policy as soon as you get on. This is great because you can drop off your carry-on bags and get a copy of your daily newsletter.
If you see your cabin steward, make sure to introduce yourself and make a great first impression.
26. Have Lunch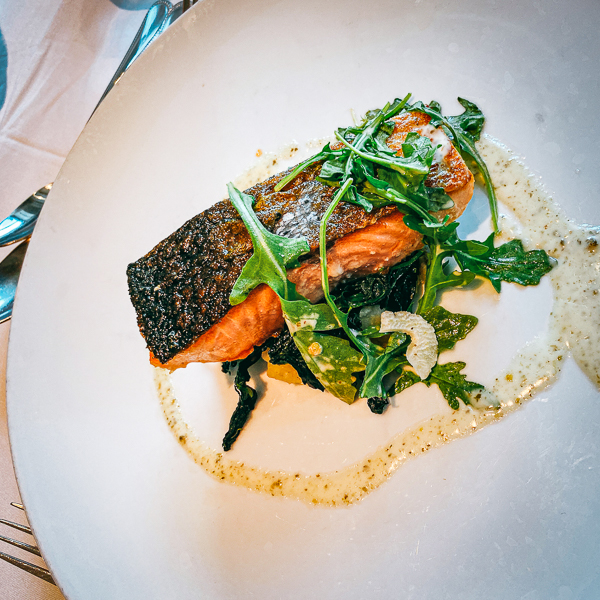 One of the first things to do when you embark is to have lunch. The buffet will be open for everyone, so you can stop by to get a bite to eat.
There are probably other free options open and available. One or two of the main dining room may be open for a sit-down lunch.
Your daily newsletter will list all the lunch options open and available at lunchtime. If there is an additional charge to anything, it will be noted. Regardless, there are plenty of options included with your cruise fare.
27. Get a Drink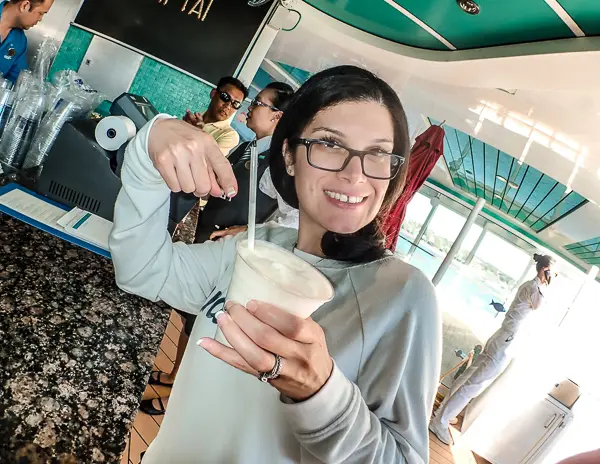 At any time from the moment you embark, stop by the bar and get yourself a drink that screams, "I am on vacation!"
Especially if you have a beverage package, take advantage immediately. Note that while in port, you may be charged just the tax for the amount of the drink.
28. Check out the Spa & Book Appointments
On the first day, everything is open… except the exclusive suite area. You don't need an appointment to check out the spa or a pass to enter the thermal spa (if one is available).
This is the time to see what the spa offers and if they have any 1st-day promotion offers. If you're looking to book any appointments during your sea days, do so right away.
Spa appointments, especially for popular treatments and services, fill up fast!
29. Sign Your Kids up for Kid's Club
Parents, if you plan to use the Kid's Clubs on the cruise ship. You want to see the Kid's Clubs area, get acquainted with the staff, and sign them up for it on embarkation day.
30. Attend the Muster Drill
There is no exception… you must attend a muster drill.
Since the pandemic, this has changed throughout the industry. Some cruise lines will have you watch a video in your room and then check in with your muster station. Others will have you physically go to your muster station with or without your life jackets.
But regardless of how it's done, you must participate in the muster drill.
31. Go to Guest Services or Speak to Concierge (if needed)
If you want to make or change any dinner reservation, add a soda or beverage package or Wi-Fi, you can take the time to stop by guest services or your concierge.
Note, you should be able to do a lot of this from the cruise line's app, from your cabin TV, or by calling from your cabin. Sometimes, we need to speak to someone in person to get our ducks in a row.
32. Go to the Pool Deck and Relax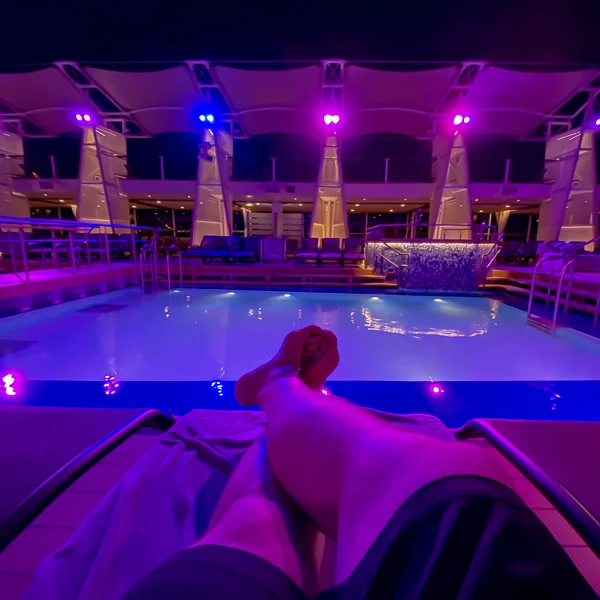 You could have skipped some of these things and gone to the pool deck from the moment you stepped on the ship. And that's okay, it's your vacation! As long as you don't miss the muster drill.
If you did all the touring, had lunch, and booked your reservations, now it's time to find a great spot by the pool or the deck with a drink and relax.
33. Don't Miss Sail Away
This is one of the cruisers' favorite times of embarkation day.
Sail away is when the ship starts to move out of the port city and you can watch it all happen. It's a great photo opportunity, especially if you're departing from a city with a beautiful skyline. If the sun is setting at the time, you'll get some great pictures.
34. Plan a Nice Dinner
One of the things we like to do on the first day of a cruise is to have a nice dinner. Whether that's in the main dining room or at their specialty restaurants.
It's the first day of the cruise, so it's just nice to have a few cocktails and enjoy a nice dinner. We usually pick one of the later dining times so we can watch sail away.
Plus, since it's the first day, you're not expected to dress up for any of the restaurants.
35. Attend the Welcome Aboard Show or Party
Most cruise lines will have some sort of welcome party or show on embarkation day. This is a great way to meet your fellow cruisers and get psyched for the cruise vacation.
Check out your cruise line's FAQs regarding their check-in and embarkation:
Embarkation day can be a little overwhelming. There are so many things to do and see, and it can be tempting to try to pack everything into one day. However, it's important to remember that embarkation day is just the beginning of your vacation.
There's no need to rush from cruise activity to activity. Instead, take some time to relax and enjoy your surroundings. Enjoy a leisurely lunch, explore the ship, and watch the world go by.
The most important thing is to start your vacation off on the right foot. That way you can just enjoy your time and relax because the vacation has just begun! Don't forget to print your cruise embarkation tips checklist below.
Do you enjoy cruise embarkation day? What are your embarkation day tips?
Any questions? Just let me know in the comments!
Don't forget to share the love on Pinterest:
Instructions
1. Print this list and start crossing things off as you're done with them.
2. Have fun on your cruise!