What are the things to do on a cruise? A cruise ship vacation is a destination in itself. You can spend the entirety of your vacation just enjoying all that a cruise ship has to offer from free cruise activities to paid ones. How much you decide to do is up to you.
Many people cruise for the ports of call itineraries and how easy cruising makes travel to multiple destinations.
Other cruisers are all about the cruise ship and the journey, preferring to enjoy and take advantage of all the things to do on a cruise.
Then there are others (like us) that simply love the balance between what the cruise ship has to offer and exploring new destinations.
Regardless of your reason for cruising, there are things to do on a cruise for everyone. From free activities included in your cruise fare to things that may cost you extra, we'll outline the best things for you to do while on your cruise vacation.
Whether you're looking to relax by the pool or spend your days at the spa, we've got you covered. Here are 30 fun things to do on a cruise, broken down into categories of free cruise activities and paid ones with a small fee and cover charge.
With any cruise that you're planning to book, always research and read about the cruise ship to see what's available on the ship. Every cruise ship is different and may feature different cruise activities.
Cruise Tip: Every night, your cabin steward will deliver your cruise ship dailies with all the activities on the cruise ship for the next day. Read through it carefully, and mark what you're interested in with a pen or highlighter.
Disclosure: This post may contain affiliate links. If you decide to make a purchase from one of those links, we may get a commission at no extra cost to you. We appreciate your support.
Can you get bored on a cruise ship?
With all of these things to do on a cruise, we think it's pretty hard to get bored on a cruise ship! It is up to you how you want to spend your days and nights while onboard.
We will say that on some cruise lines, you may get slightly bored in the evenings depending on the demographic and how many night activities are available.
What do you do when you go on a cruise?

The number of things to do on a cruise is endless. It all comes down to what you enjoy doing and how you want to spend your time while on vacation. But you can relax by the pool, spend your days at the spa, go on shore excursions at the port, eat and drink all day… the list goes on.
Do you have to spend money on a cruise?
No, you don't have to spend extra money while on a cruise if you don't want to. Cruises are mostly all-inclusive. However, there are some special things on a cruise that come at an additional cost. From shore excursions and spa treatments to drinking and dining and other cruise ship activities.
Free Things To Do On A Cruise
1. Spend Time by the Pool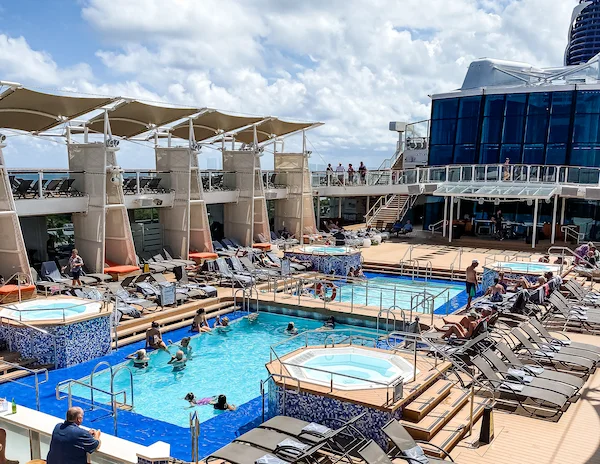 Spending time by the pool with a delicious fruity drink with an umbrella is one of the top things to do on a cruise. Especially, on Caribbean cruises.
Some cruise ships have multiple pools, while others may have just one or two main pools for the entire cruise ship.
You'll find lounge chairs set up around the pool deck and other areas of the ship where you can relax in the sun or enjoy some time reading a book.
Sometimes finding a pool chair can be a struggle. You can either get up early to snag an ideal spot or find a quiet corner on a deck that most ignore.
If you want to avoid the crowds, try using the pools on decks that are higher up on the ship. These areas are often less crowded since most people prefer to be closer to the action on the main pool deck.
2. Don't Miss the Waterslides
You are never too old to old to enjoy the waterslides. Not all cruise ships have water slides, but if there is one, give them a try. It was on a cruise ship not long ago that one of us went down their first water slide and since then has been obsessed.
The best part about the waterslides on a cruise ship is that there are almost always no lines. You can go down as many times as you want.
3. See a Show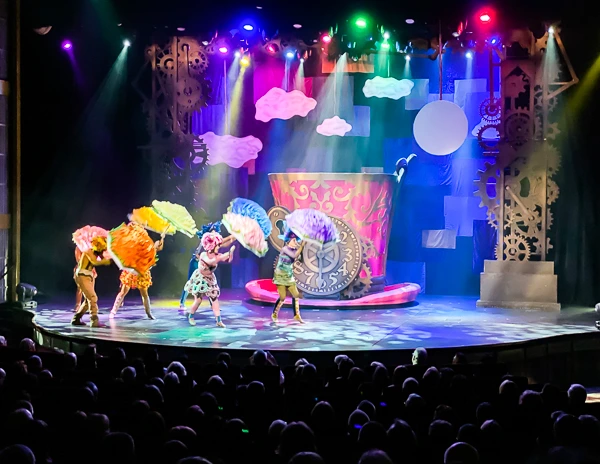 One of the things that most people enjoy on a cruise is the broadway-style shows.
Cruise ships will typically have a main show in the theater that changes each night. This is why it's important to read your cruise ship activities schedule every night before going to bed so you can decide what you'll be doing the next day.
4. Movie Nights Under the Stars
If you are looking for things to do on a cruise at night, then you should check out the outdoor movie screenings.
Carnival Cruise Line and Princess Cruises do this well by showing popular movies on a giant screen by the pool. They'll hand out popcorn and blankets, so you can cozy up under the stars and watch movies.
Inside movie theaters are also available on some cruise ships. These are a great option if the weather isn't ideal for an outdoor movie screening.
5. Royal Caribbean's Flow Rider is Free
The Flow Rider is one of the best things to do on a Royal Caribbean cruise that is a free cruise activity. Flow Rider is a simulated surfing machine that uses high-powered jets of water to create waves.
You can boogie board or surf on the Flow Rider. If you'd never done it before, this is your chance!
6. Eat Ice Cream Daily
Every cruise ship has either soft-serve ice cream or hand-scoop ice cream available in the buffet for free. You should indulge in a cone every single day of your cruise.
You only live once!
7. Go to Karaoke and Maybe Sing a Song for Everyone
Karaoke is one of those things that some people love and others hate. If you enjoy belting out a tune in front of strangers, go for it!
If not, grab a drink and enjoy watching others either make fools of themselves or blow your mind from how beautiful their voice is.
This is one of those cruise activities that's free and can be quite entertaining.
8. Check out Dueling Pianos
This is one of our favorite things to do on a Norwegian cruise line mega-ship. The Norwegian Getaway has a great dueling piano bar that is always packed with people having a great time.
The pianists are amazing and always get the crowd going. It is one of the best things to do on a cruise night.
6. Borrow a Book from the Library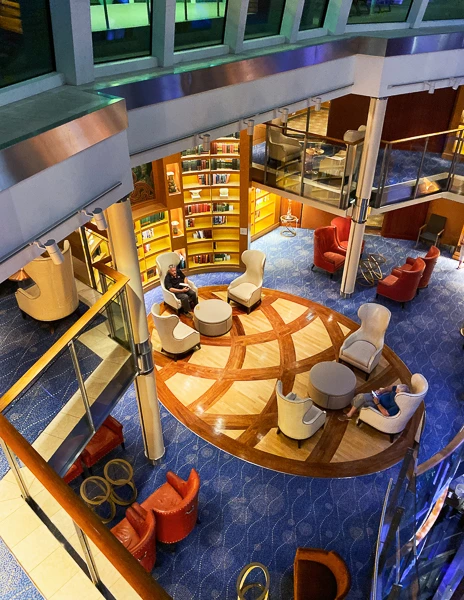 Believe it or not, cruises have libraries and you are welcome to check out books from them. There is no need to pack actual books on a cruise if you don't want to. You can always visit the library to see what they have.
Of course, the library may be limited on what's available.
Once you have your book, you can read by the pool, in a lounge chair on the deck, or even in your stateroom.
7. Go to the Gym
Not everyone wants to work out on a vacation, but for some having free access to the cruise gym is important. It can be the best way for them to start their cruise days.
8. Participate in Daily Trivia
Somewhere on the cruise ship, usually in the atrium or one of the lounges, there will be daily trivia. This is a great way to meet people and learn some new things.
You can even win prizes for participating in trivia on a cruise.
9. Participate in Themed Dance Parties
Many cruise ships will have themed dance parties throughout the cruise. These can be a lot of fun, especially if you participate.
The Norwegian Cruise Line is known for its cruise ship parties. They have a White Hot Party, a Glow Party, 70's and 80's nights. They are all fun and you're welcome to dress up and join in on the fun.
Research and check the cruise line you're cruising with to see if there are any special nights and parties.
Why a Cruise Ship Vacation?
Are you still debating if a cruise vacation is for you? See our 25 reasons why cruising is one of the best vacations.
10. Sit by the Martini Bar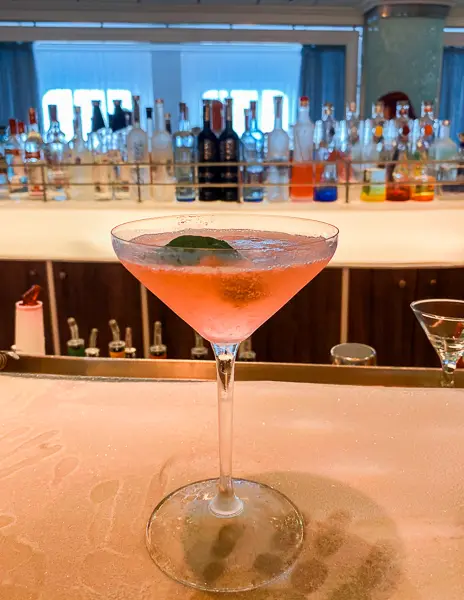 One of my favorite things to do on a cruise, specifically on a Celebrity cruise, is to sit and order a drink at the Martini Bar. This bar is one of the most popular on the ship because of its great atmosphere and drinks.
You can tell the bartenders are always in a good mood and they make some of the best martinis. If you're there at the right time, you can watch them really show off their bartending skills.
Sitting near the bar people-watching is free, and so is the martini on Celebrity since their cruise fares include free drinks.
What is your favorite cruise ship bar?
11. Join a Bar Crawl
Speaking of bars, one of the most fun things to do on a cruise ship is a Bar Crawl, especially if you have a free beverage package. You can set this up as one of the cruise activities for adults to do with the group you're traveling with. Or you can join one that may be planned with your cruise roll call on Cruise Critic.
There are many bars on the ship and it's a fun way to get to try all of them.
This is sort of a gray area because you may or not have to pay for the drinks. It all depends on the cruise fare you booked. Celebrity Cruises includes drinks (up to $9), NCL Beverage Package is almost always part of their Free at Sea Promo, and other cruise lines sometimes have similar promotions.
So, if you get to take advantage of free drinks, definitely think about doing a bar crawl.
12. Soak in a Hot Tub
Cruise ships have amazing hot tubs. These are great places to relax, especially at night. During the day they may be full and busy, so at night, it's a great time to sneak in and soak in a hot tub.
You can find hot tubs on the main decks of the ship and they are usually open late. So, if you're looking for things to do on a cruise at night, change into your swimsuit and get into a hot tub.
13. Stop by the Buffet for Late Night Snacks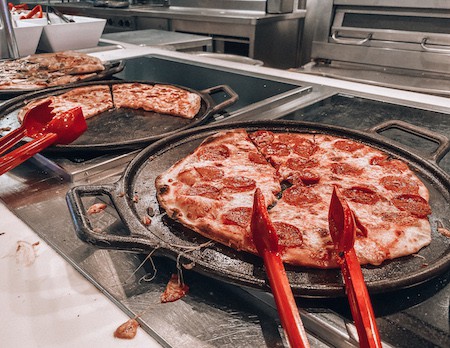 Most cruise ships have a small selection of late-night snacks and food at the buffet or somewhere nearby. It's a great spot to hit after hitting up a Broadway show or dancing.
We always like to stop by there to have that one slice of pizza before bed. We are on vacation after all.
14. Do the Rope Course
Some cruise ships have rope courses that are usually free to use. They are a lot of fun and a great way to get some exercise while on vacation. Plus, there are some great views from up on the rope course.
Carnival, Disney, MSC, NCL, and Royal Caribbean all have cruise ships with rope courses.
15. Play Mini Golf
Mini golf is another one of those cruise activities that can be found on a lot of cruise ships and is included in the price of the cruise. This can be a fun activity to do as a family, as a couple, or with a group of friends.
16. Play Ping Pong
Ping pong tables are usually found on cruise ships. It's one of those cruise activities you need to play at least once during the duration of your cruise.
17. See a Comedy Show
There hasn't been a cruise that we haven't been on that had a comedy show. Usually, they'll have one big night in the main theater and then another night in one of the smaller lounges and bars.
They are free to attend to and a great way to spend an evening after dinner.
Just be warned, the comedians usually pick on people in the audience, so don't be surprised if you get called out.
18. Zip-Lining
Yes, some cruise ships have zip-lining. It's one of the things to do on a Royal Caribbean cruise, most notably on Harmony of the Seas and its sister ships.
Shockingly, it is a free activity on their cruise ships. Be adventurous and book it.
19. Don't Miss a Sunrise or Sunset
You must be thinking that you can see the sunrise or sunset for free on land any day of the week. Sure, but from a cruise ship in the middle of the ocean, it is pretty special.
Sunrises and sunsets at sea are some of the most beautiful moments from your day on a cruise. Make sure not to miss it. Find a good spot to watch it with a cocktail in hand.
Cruise Essentials to Pack
Before you set sail, be sure to pack these essentials that will help make your cruise even more enjoyable. These items include everything from sun protection essentials to must-have medications. So don't forget to add them to your cruise packing list.
Cruise Activities with an Extra Cost
These are things to do on a cruise that will cost you a little extra money, but they can be worth it.
Should you spend money on these cruise activities? That is a personal choice and what you're looking to get from your cruise vacation.
You don't have to spend anything on a cruise vacation to keep busy and have a fabulous vacation.
20. Get a Massage or Treatment at the Spa
Booking any treatment at the spa is such a special treat. It's a great way to relax and recharge your batteries. And it can be a fun way to spend time on a cruise sea day.
If this is something that you normally do not treat yourself at home, you may want to consider some self-care. Maybe a manicure and pedicure combo? A massage? A body scrub?
21. Purchase a Thermal Spa Pass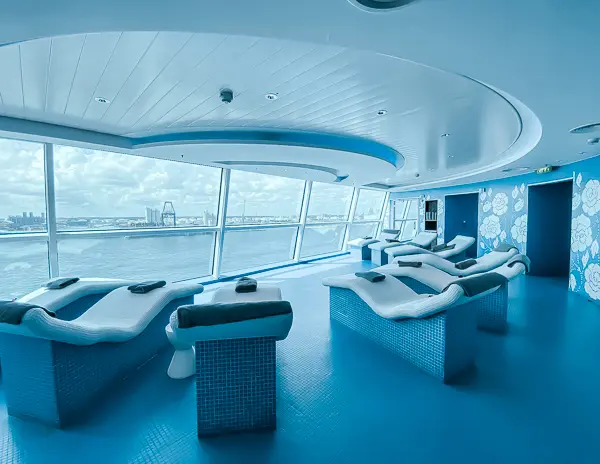 What is a thermal spa on a cruise ship? It's an extra special spa area that has a lot of heat treatments like saunas, a steam room, and maybe a thalassotherapy pool.
You can purchase a pass to the thermal spa for your time on the cruise and have unlimited access. Many cruisers just love to escape the crowds and spend some time in the thermal spa. It's a relaxing environment for them.
Sometimes, cruises have day passes available to the thermal spa, but this is rare.
If you're curious about a thermal pass, but not completely convinced, on embarkation day the thermal spas are usually open for everyone to tour. You can take a look, see what's included with the thermal pass, and sign-up then if you're interested.
Note, that not all cruise ships have thermal spas.
22. Book a Specialty Restaurant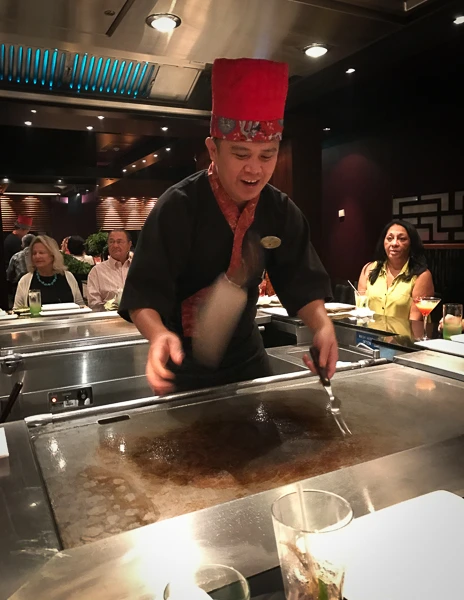 The specialty restaurants are an additional cost, but worth to try it if you're a foodie or looking for a more upscale dining experience. Sometimes the special restaurants are themed restaurants with a certain type of preparation or show.
For example, Japanese Teppanyaki is a popular specialty restaurant on cruise ships that cost a small cover charge.
On Celebrity Cruise, some of their cruise ships have Le Petit Chef, which is an animated show that is projected on your plate while you dine.
The bottom line, if you want to try something different, specialty restaurants are a great option. You'll find that the food is usually quite delicious and a fun way to spend an evening.
When you start preparing for your cruise, make sure to make reservations for the specialty restaurants in advance.
23. Play in the Casino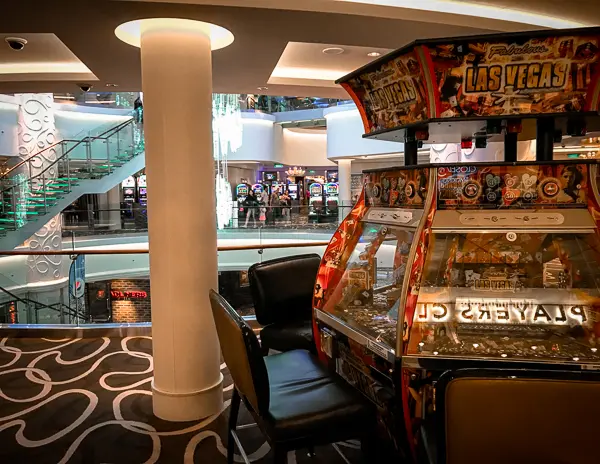 Gambling on a cruise ship is a pretty popular fun thing to do on a cruise. The majority of the big cruise ships have casinos. While entering a casino is free, playing is not.
How much you decide to gamble is up to you. We like to set a small budget for the nights we do decide to spend some time playing. Try your luck, you never know.
24. Attend a Wine Tasting or a Culinary Class
Wine tastings and culinary classes are usually things to do on a cruise that cost extra. It's usually a smaller fee per person and not as much as what you would pay if you went on a tour on land.
This can be fun as you'll learn some new things and meet people that are also participating.
What Not to Pack for a Cruise
There are some items from home that are not allowed on a cruise ship that will send your luggage directly to the naughty room. Then there are some items that you just don't need to bring with you. Check out these 21 cruise items you should not bring on a cruise. Keep them out of your cruise packing list.
25. Bartending & Mixology Classes
Take a bartending and mixology class with some of the best bartenders on the cruise ship. You'll learn how to make one or two of the popular cocktails on the cruise and have a lot of fun doing it.
Most classes are hands-on so that you can make the drinks yourself. And, of course, you get to drink them too.
These classes are usually an additional fee and fill up fast. So sign up as soon as it's available.
26. Bingo
Bingo is one of those fun cruise activities that everyone seems to love. You have to pay a certain amount per card, but it's not that expensive. And if you win, you could end up winning a nice lump sum.
The Bingo cards go on sale a few days into the cruise. So if you're interested, make sure to get them early as they do sell out.
Then the game takes place inside a theater usually on one of the last sea days.
27. Go-Karts
Norwegian Cruise Line's newest ships Norwegian Bliss and the Norwegian Joy are both cruise ships with go-karts onboard.
You can race your friends or family around the track and have a lot of fun. Just be aware that there is an additional small fee to pay. You have to register and make reservations.
28. Go, Bowling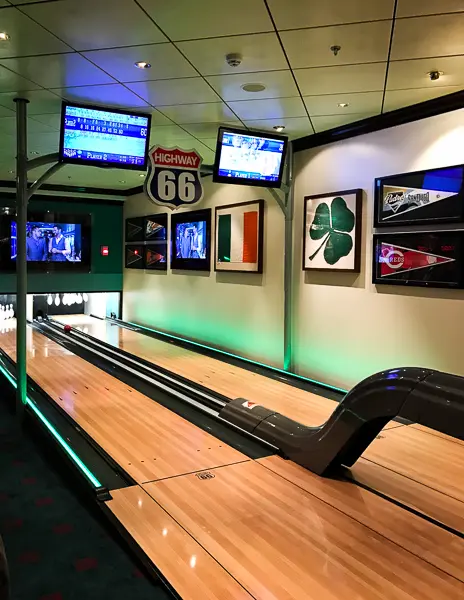 Bowling is another fun activity that most cruise ships have onboard. There are usually a few bowling lanes tucked away in a pub or another corner of the ship.
It's a small fee to play per game.
29. Take an Art Class
One of the popular cruise activities is taking an art class. Some of these classes even pair the art class with cocktails.
Learn how to paint a new piece of artwork that you can take home with you as part of one of your many memories from your cruise vacation. These classes are usually an additional fee but a lot of fun.
Some cruisers really look forward to this and book it as soon as they can. The classes fill up fast.
30. Arcade Games
If you're looking for some things to do on a cruise with the kids, then head to the arcade. They'll have a blast playing all the different games.
It is extra to play. But it will keep your little ones busy for a short time.
What is your favorite thing to do on a cruise?
There are so many cruise activities to choose from – it can be hard to do it all in one cruise vacation. You will have a fun time on your cruise vacation even if you choose to just relax most of the time.
Hopefully, this list has given you some ideas of new things to try the next time you take a cruise.
What will you do first? What activities would you like to do in a cruise ship?
Don't forget to share the love on Pinterest: