Planning a trip and looking for the best Glamping Pennsylvania getaway? You've come to the right place because I've compiled this incredible list of Glamping in PA that is guaranteed to help you find the perfect stay!
Pennsylvania has long since attracted many visitors and tourists with its gorgeous combination of city life, lush outdoors, and quaint towns. You'll likely find your happy place in the Appalachian Mountains if you love to veer off the beaten path. The significant subranges of these are Allegheny and the Poconos. These, along with the beautiful lakes, trails, rivers, and more, provide so much scope for nature-enthusiasts to enjoy themselves.
So if glamping in Poconos appeals to you, then you're in for the perfect nature retreat at some of the best spots in the state. For those new campers, it can be a little intimidating spending the night outdoors. This is when yurt camping PA becomes the perfect alternative. This way, you can enjoy all the rustic charm of camping but with the added bonus of home's luxuries.
Mountaineers, outdoor enthusiasts, and adventure-seekers, get ready to embark on an epic glamping retreat!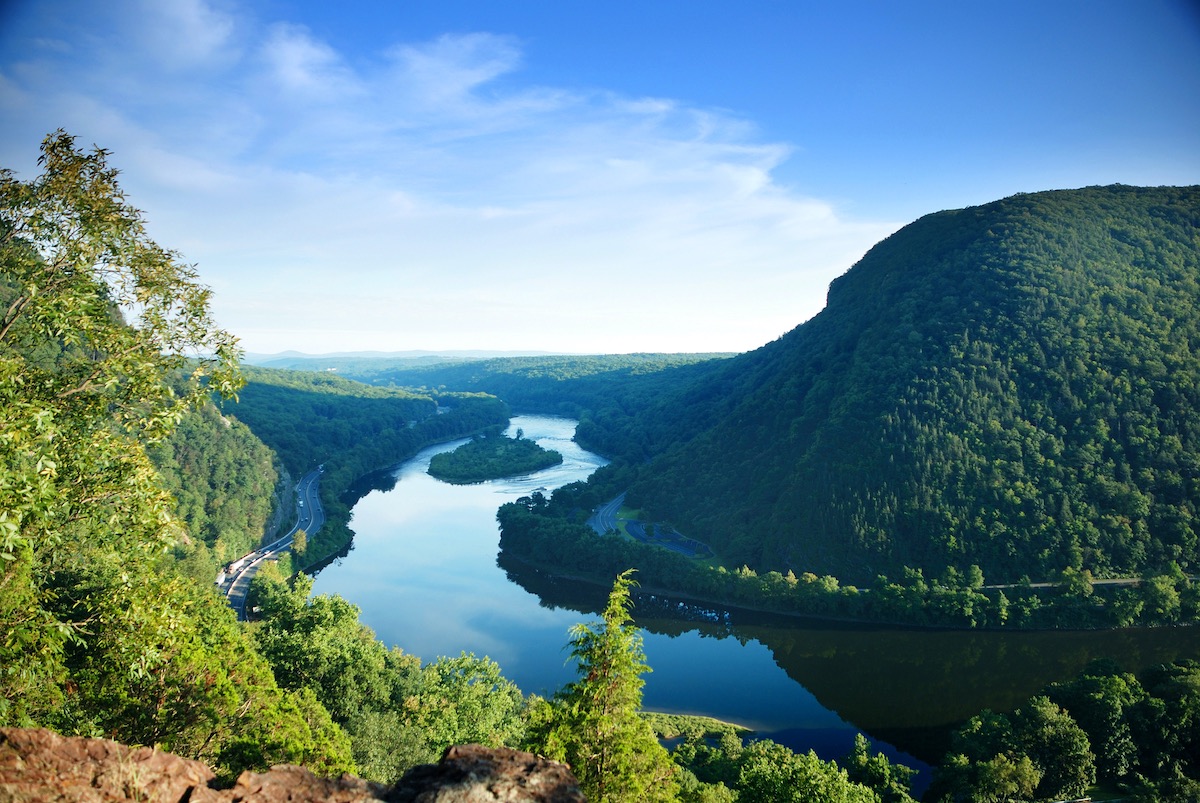 ---
Quick Breakdown of The Best Destinations for Glamping in PA
These are some of the best glamping spots in Pennsylvania. Here you can make your cozy home away from home in the woods and have the great outdoors as a backyard.
These treehouses, tents, and yurts in PA are spread all over the state and will suit every taste and budget perfectly. So please grab a cup of coffee, and let's dive right into this exciting list.
There are tons of camping opportunities in the entire state with options such as yurts, treehouses, and luxurious tents. Below are a few favorites, but keep scrolling down to view even more options!
Best Unique Pennsylvania Glamping Site – Retro 1973 Airstream
Best Secluded & Romantic Glamping Site – Secluded Magical Treehouse
Pennsylvania's Best Glamping Site – Luxury Farm Stay
Best Low-cost Pennsylvania Glamping Site – Yurt At The Farm
Best Family-Friendly Pennsylvania Glamping Site – Treehouse Glamping with a Slide!
Coolest Glamping in Pennsylvania – Getaway Beaver Creek
---
1) Affordable Luxury Farm Stay
Location: Ohiopyle
Price: $134+ USD per night
https://www.vrbo.com/498403
This safari-style tent is guaranteed to be a visit you'll never forget. Located right next to a 100-acre forest, you'll find this charming glamping hut built on a wooden platform complete with a queen bed, luxury bedding, and twinkly lights to complete the ambiance. 
There's a well-equipped outdoor kitchen to prepare meals and store your drinks, but a guest favorite has got to be the milky way sky-gazing opportunities every night!
Backed with a perfect 5-star rating from over 80 happy guests, this is a must experience for Glamping PA enthusiasts!
View Photos, Read Reviews & Check Availability

---
2) Off-Grid YURT with Wood-Fired & Hot Tub — Best Yurt Rental in Pennsylvania
Location: Mehoopany
Price: $134+ USD per night
https://www.airbnb.com/rooms/20784150
This is a truly unique experience in some pristine PA wilderness. If soaking in the hot tub, surrounded by the forest sounds, is your idea of idyllic, then this dreamy spot won't disappoint. This yurt, filled with rustic charm, is the perfect place to unwind and disconnect from city life. However, if you feel the need to plug in, there are solar chargers for your convenience.
You'll be secluded, yet only a short drive away from town and its bustle. After a day of exploring and beautiful hiking, you can come home to a serene space. In the evenings, fire up some steaks on the grill while enjoying a cold beer and the tranquillity of nature.
View Photos, Read Reviews & Check Availability
Guest Review: "This yurt is located in a beautiful spot!! It is very peaceful and private and is a great place for a getaway. The yurt is stocked with needed basics/supplies, lots of thoughtful touches, and a very comfy bed. I had an excellent experience in every way possible and really hope to come back."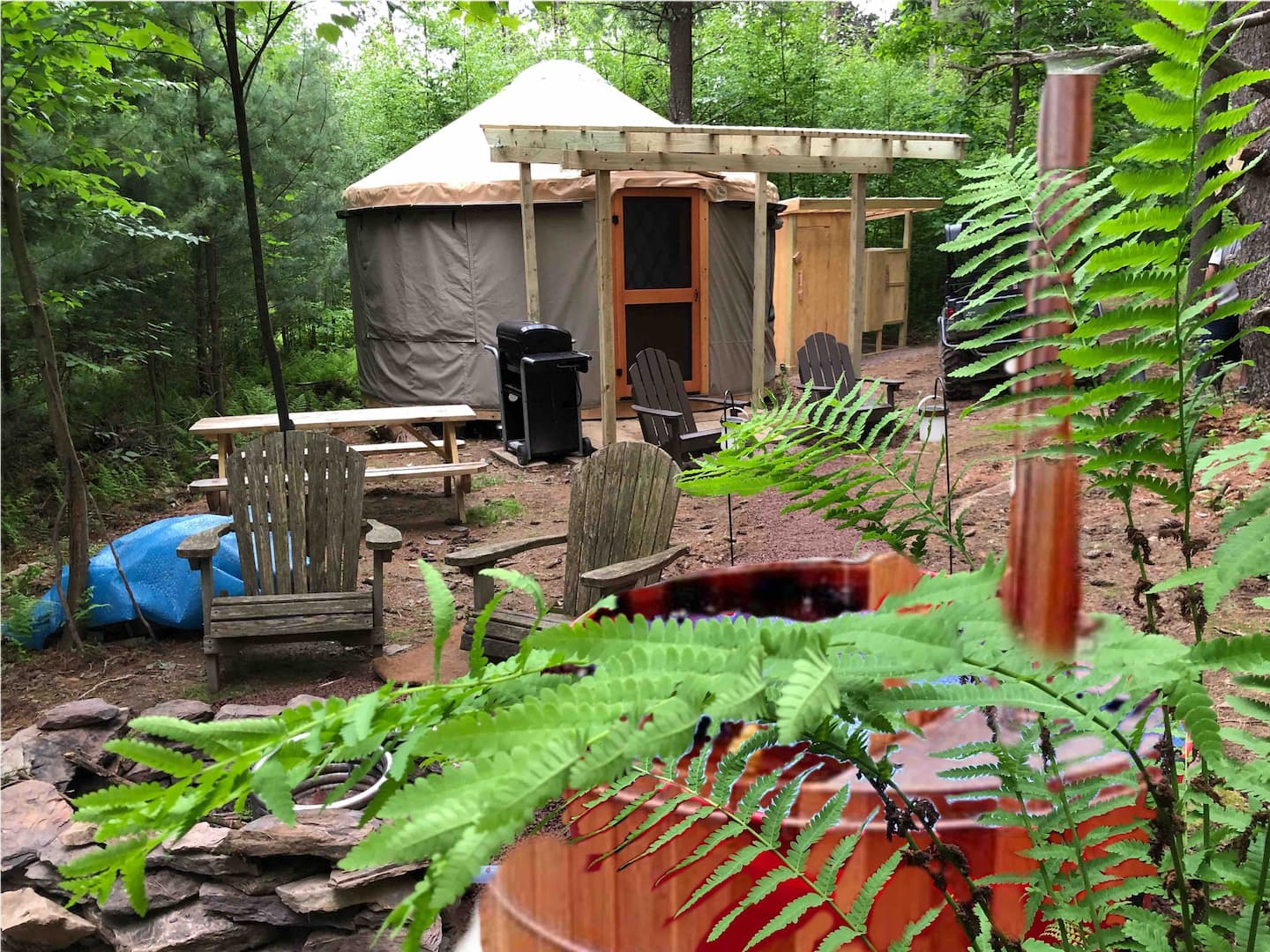 ---
3) Getaway Beaver Creek
Location: Lisbon, Ohio
Price: $109+ per night
Sleeps: 2 or 4 people
https://getaway.house/pittsburgh-cleveland/
Getaway is fast becoming one of the most premium glamping experiences in the United States, having sprung up in gorgeous settings around the country. These premium, cozy, and cute tiny-home-style cabins offer everything you need for a comfortable stay while escaping the city. Full-size beds, AC and heating, hot showers, cooking equipment, deck seating, firepits… the list of features is vast for a glamping stay!
At the Getaway Beaver Creek location, there are 36 cabins (one and two beds) spread across the spacious site, situated in historic Lisbon. It's a perfect location to get away and recharge with plenty of walking trails to discover, enveloped by towering pines. Trust us when we say you'll switch off from modern life very quickly here!
Just over an hour from Pittsburgh, this Getaway escape makes for a fantastic weekend break or more extended stay amongst blissful nature!
View Photos, Read Reviews & Check Availability
---
4) Tentrr Signature Site – Mountain Hideaway
Location: Fairfield
Price: $149+ USD per night
https://www.tentrr.com/explore/Pennsylvania/Mountain-Hideaway/
This little hideaway screams tranquility and much-needed R&R. Enjoy beautiful rock formations, wildlife, natural springs, and vast expanses of forest. Sway in the hammock while you listen to chirping birds and rustling trees and sip your morning coffee out on the deck chairs.
This pet-friendly spot allows you to bring the furry family members along too. Here they can enjoy endless amounts of space to play and run freely. This spot is wonderfully secluded while only being 25 minutes from Gettysburg's shops, restaurants, and bars.
Guest Review: "This was a lovely getaway experience. Jennie was an excellent hostess and she was very thoughtful in how the campsite was set up with all the necessities one might need for their time away, including towels and linens. It was nicely secluded and a great experience of nature. I highly recommend it! Thanks again"
View Photos, Read Reviews & Check Availability
---
5) Glamping at Airydale (near Raystown Lake!)
Location: Mill Creek 
Price: $129+ USD per night
https://www.airbnb.com/rooms/32545422
Slip into ultimate R&R mode at this cozy little tent in a gorgeous wooded area with vast stretches of farmland and beautiful mountains for a backyard. Spend slow mornings sipping coffee and doing some yoga on the deck amongst the trees.
The gorgeous outdoor area and deck provide an abundance of space to enjoy the outdoors. Set out for a day of exploration on one of the many surrounding hiking trails. And once you're happily spent, enjoy rejuvenating under the outside showers surrounded by nature.
View Photos, Read Reviews & Check Availability
Guest Review: "This glamping oasis is a rare find in central PA. Everything you need and more. Close to great local hikes, great towns but far enough away for peace and quiet. Loved the setup at the campsite. The outdoor shower was a favorite."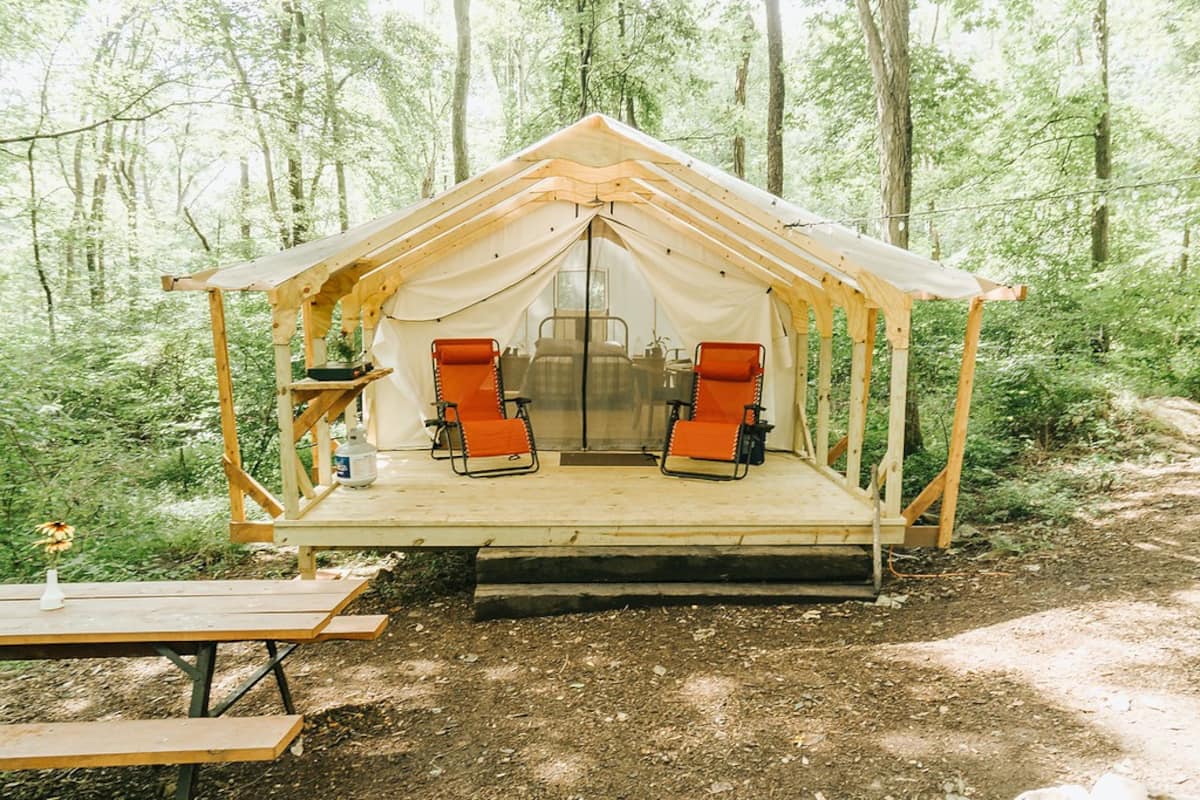 ---
6) Treehouse Glamping, Family Vacation — Best Treehouse Glamping in PA for Families
Location: Mill Creek
Price: $149+ USD per night
https://www.airbnb.com/rooms/37684232
This little funhouse sits nestled amongst the trees and is one of the best camping cabins in PA. Embark on the ultimate outdoor experience with the whole family at this perfect little glamping oasis. Here you'll get the great outdoors for the avid camper and just enough amenities for the non-campers.
This 6-sleeper treehouse in the woods even comes adorned with fun cot-style bunk beds and a deck with a tube slide for the kids (or the kids at heart). Spend afternoons enjoying delicious eats at the picnic table and later, share evening campfire stories at the fire pit under the stars.
If this sounds like your type of glamping trip, be sure to check out this amazing guide for more treehouse rentals Pennsylvania offerings, as you may be surprised at how many cool options are available!
View Photos, Read Reviews & Check Availability
Guest Review: "Matt's glampsite exceeded our expectations! Our site had everything we needed to have an enjoyable weekend. We cannot wait to return in the future to unwind and spend time outdoors."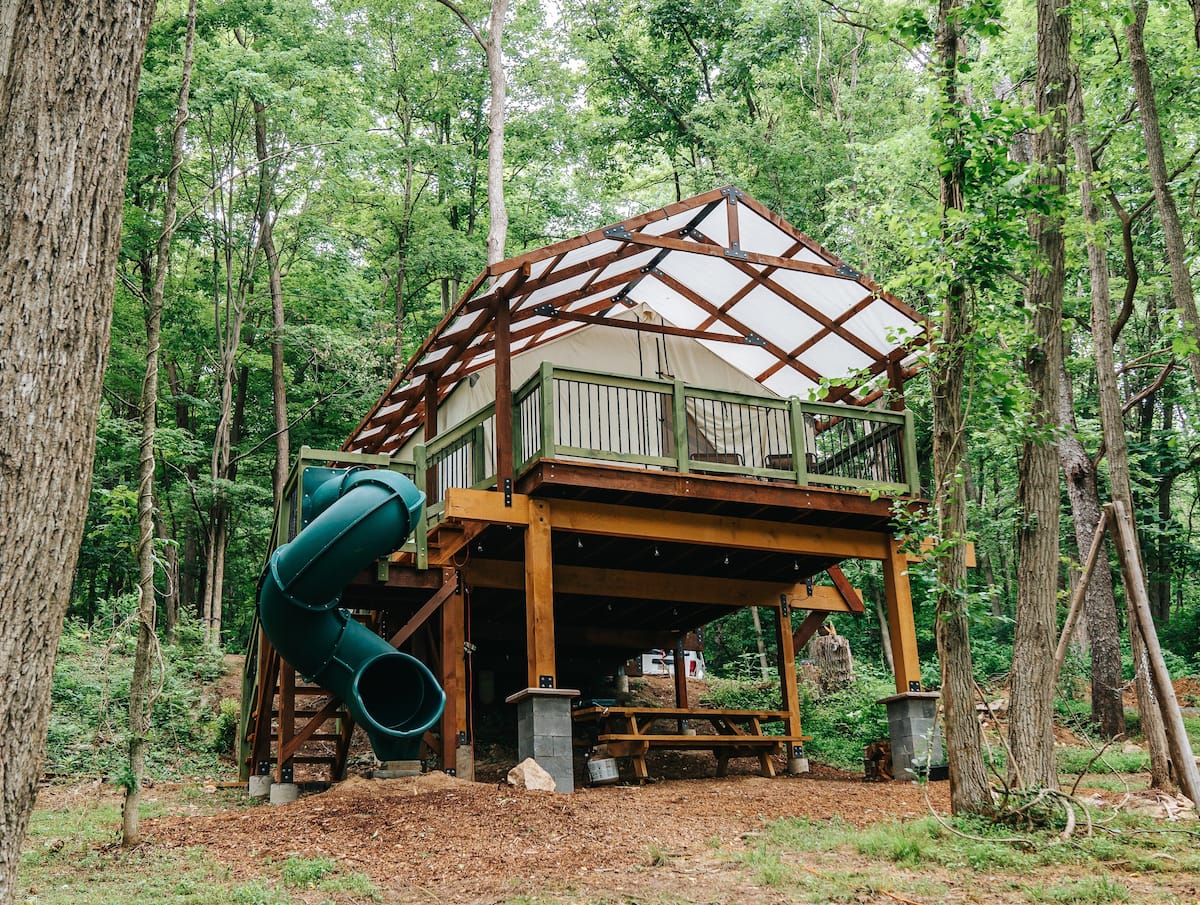 ---
7) Safari Style Luxury Tents — Best Luxury Glamping in PA
Location: Dover
Price: $240+ USD per night
https://www.airbnb.com/rooms/44953137
This one is all in the name – if it's luxury glamping you're looking for, then this is the perfect fit for you. When it comes to this rustic-chic tent in the woods, you won't have to compromise on comfort or style in the slightest.
This secluded retreat is the perfect spot for two couples or a family looking to escape into some tranquil nature. The fire pit, grill, and dining table are perfect for bringing your inner chef out. Or pop to nearby East Berlin and York for good food, cider, breweries, and shops.
View Photos, Read Reviews & Check Availability
Guest Review: "Highly recommended for a calm, rejuvenating, and lovely getaway! Mila and her husband were amazing hosts, very communicative, and helpful. The tents were gorgeous and there are vast cornfields and trails to explore around the tents. Play a few rounds of bags and enjoy the stars."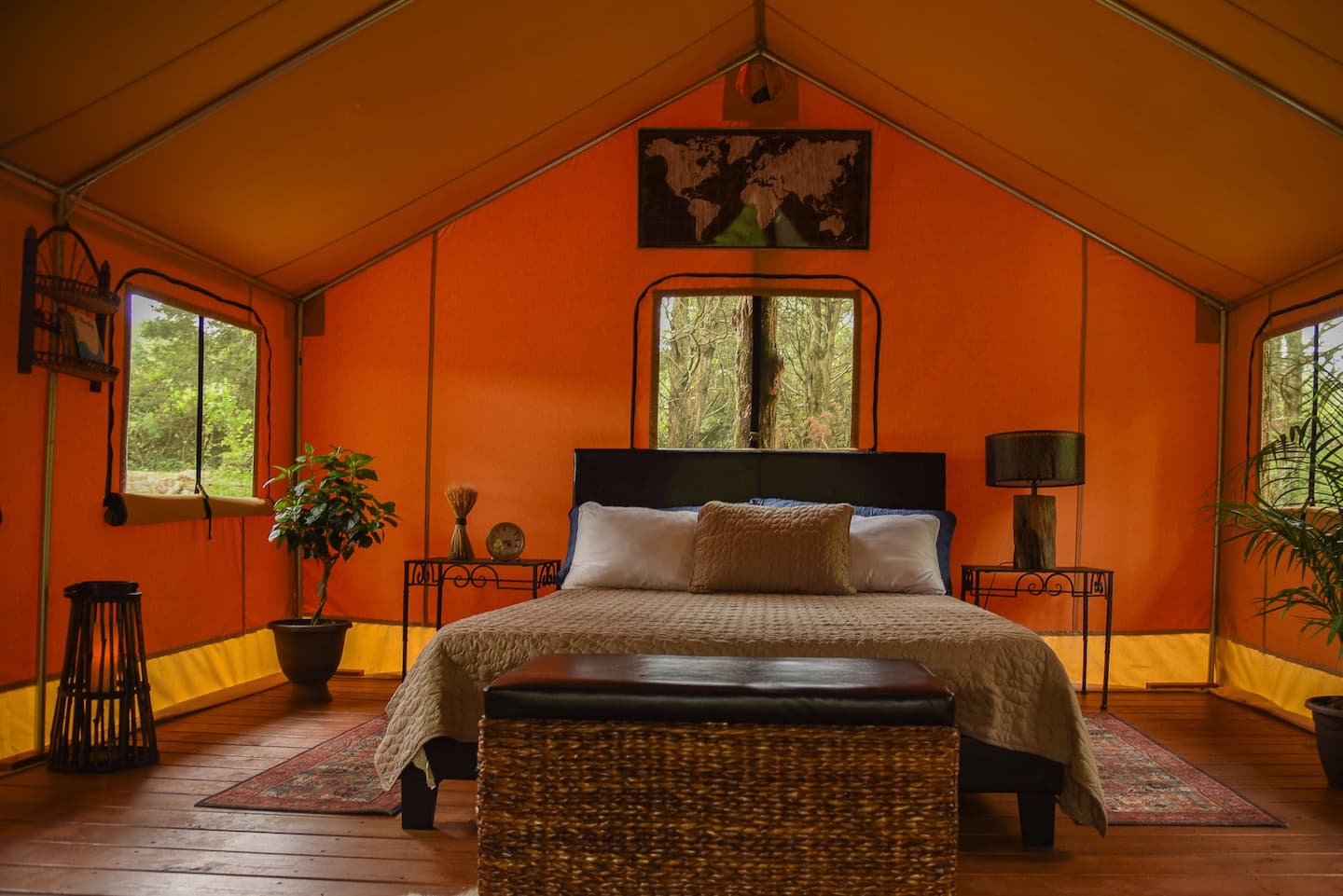 ---
8) Magical Treehouse: Secluded — Mountain View — Off-Grid
Location: Mehoopany
Price: $199+ USD per night
https://www.airbnb.com/rooms/43941108
If you're looking for a place to relax and reconnect with the simple things in life, this stunning treehouse is ideal and offers every amenity you could need. Boasting an idyllic setting amongst Maple trees and breathtaking views, you can't go too wrong with making this your next vacation spot in PA.
Enjoy enchanting sunset sways in the hammocks that overlook the land. And later, spend the evening out on the deck; both promise to be magical. Fairy lights, endless mountain views, and a glass of wine in hand – it doesn't get more dreamy sounding than this.
View Photos, Read Reviews & Check Availability
Guest Review: "Awesome spot to get away for the weekend! My boyfriend loves the city and even he didn't want to leave this treehouse! The views, fire pit, wood-burning stove, hammocks were everything and more. The amount of thought that went into this treehouse is outstanding! Went to two beautiful state parks and enjoyed coming back to this unique stay. Thank you, guys."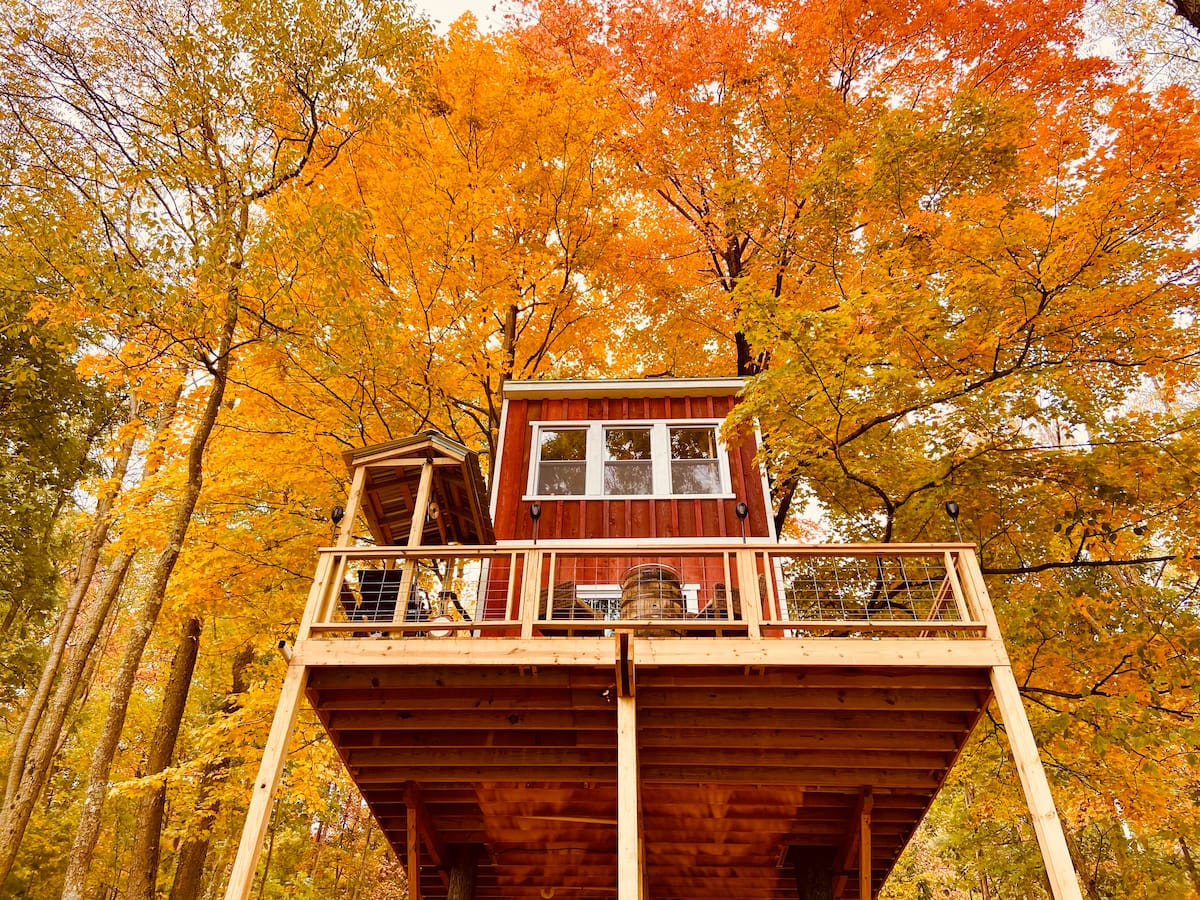 ---
9) Quaint and Quiet Glamping Tent
Location: Granville Summit
Price: $90+ USD per night
https://www.airbnb.com/rooms/44517168
This light-filled space promises to be more than a place to stay but rather a whole adventure experience. You'll be surrounded by greenery, a pond, and even some delightful farm animals. So if petting mini donkeys and baby goats are on your bucket list, then this is the spot for you. 
Enjoy horseback riding on this lovely farmstead and other outdoor activities like hiking, hanging out by the fire pit, or even doing a hayride. And after a day of busy fun, curl up with a book on the couch or tuck in for the perfect night's sleep in your comfy bed.
View Photos, Read Reviews & Check Availability
Guest Review: "Terrific glamping experience. Ashley was a wonderful host and the place was exactly as pictured with thoughtful touches. Would recommend it for anyone wanting a few nights of peace and pleasure in the woods!"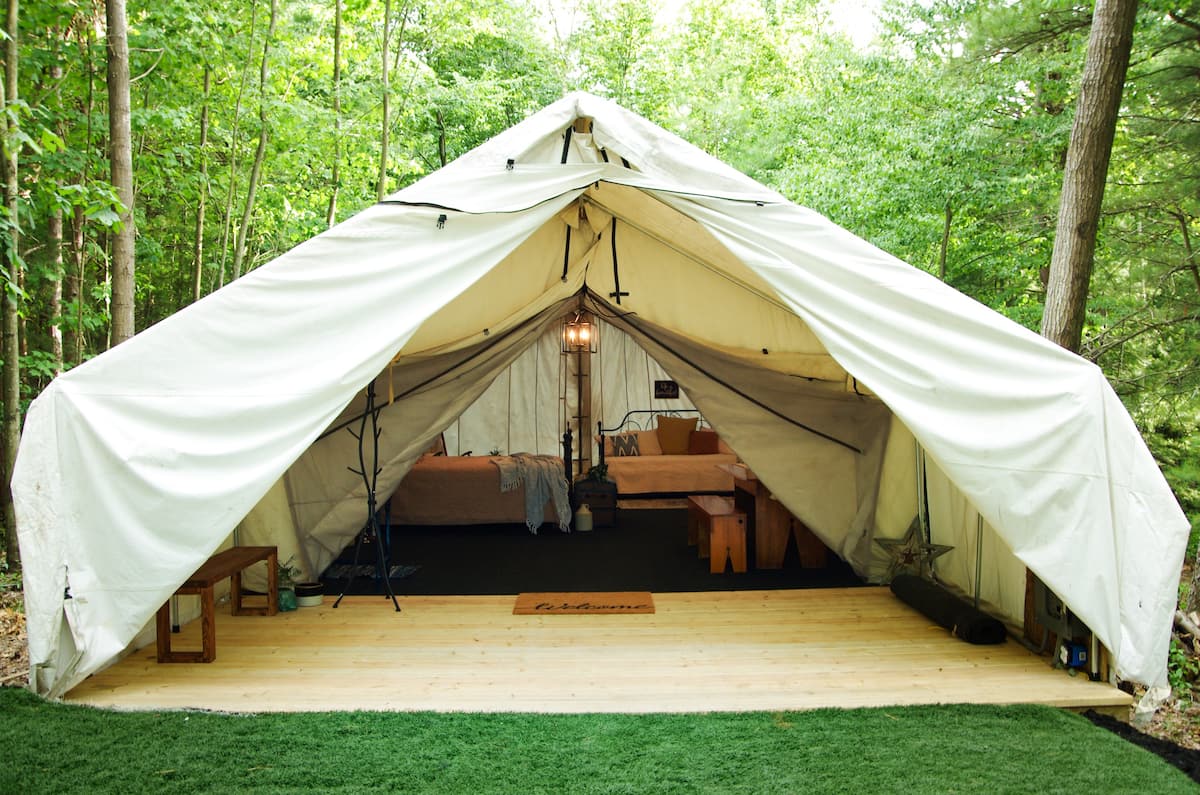 ---
10) Creekside Getaway in the Trees
Location: Tunkhannock
Price: $100+ USD per night
https://www.airbnb.com/rooms/43105321
While you have a cozy bed to rest your head at night, you may opt to sleep out on the large deck under the stars instead for that authentic camping experience. Spend the day at the creek bed for activities such as swimming, fishing, grilling, and tubing.
You can grab your favorite drink and lounge the day away out on the deck chairs. And once you've seen enough sun, head into the nearby country town, Tunkhannock, for some great shopping, food, outdoor activities, and entertainment.
View Photos, Read Reviews & Check Availability
Guest Review: "Lee's treehouse is a phenomenal little getaway. It's romantic and cozy. Lee provides you with great advice on places to see and things to do while you're in town."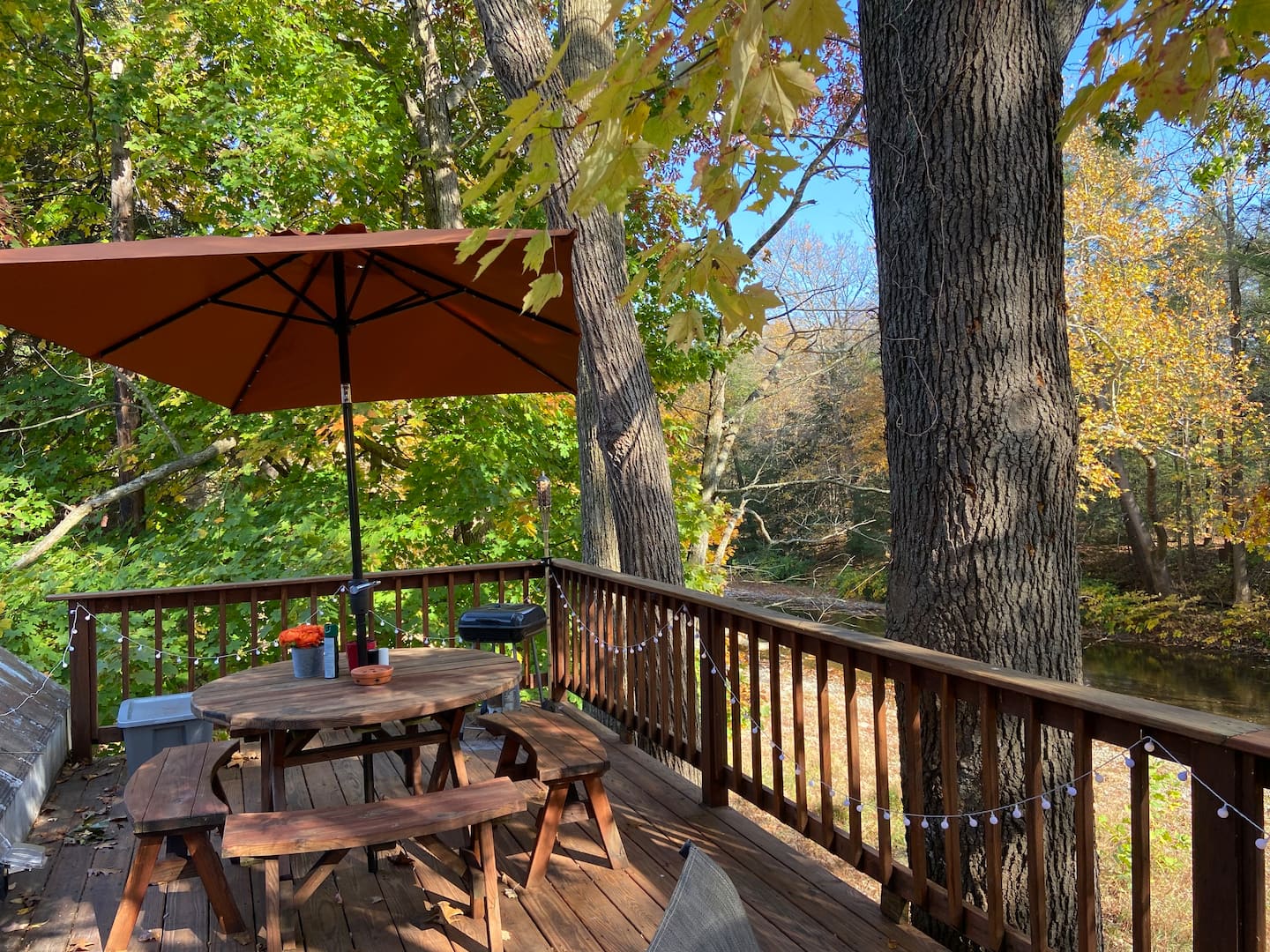 ---
11) Tucked Away Tipi
Location: Karthaus
Price: $95+ USD per night
https://www.airbnb.com/rooms/26303526
This is the perfect little stay from home for anyone looking to embrace the great outdoors without compromising the comforts of home. This unique glamper sleeps five, so it's ideal for a family or friends' getaway.
Whip up your favorite simple cocktail and enjoy it by the fire pit or in the relaxing hammock. Before tucking in, unwind by taking a serene shower in the quaint outhouse while being surrounded by nothing but peaceful pine forest.
View Photos, Read Reviews & Check Availability
Guest Review: "I took this trip looking to disconnect from everything and just enjoy being quiet and isolated. This place is absolutely fantastic. Extremely private and peaceful. The details of ensuring an easy stay have been accounted for. Highly recommended and looking forward to a return trip."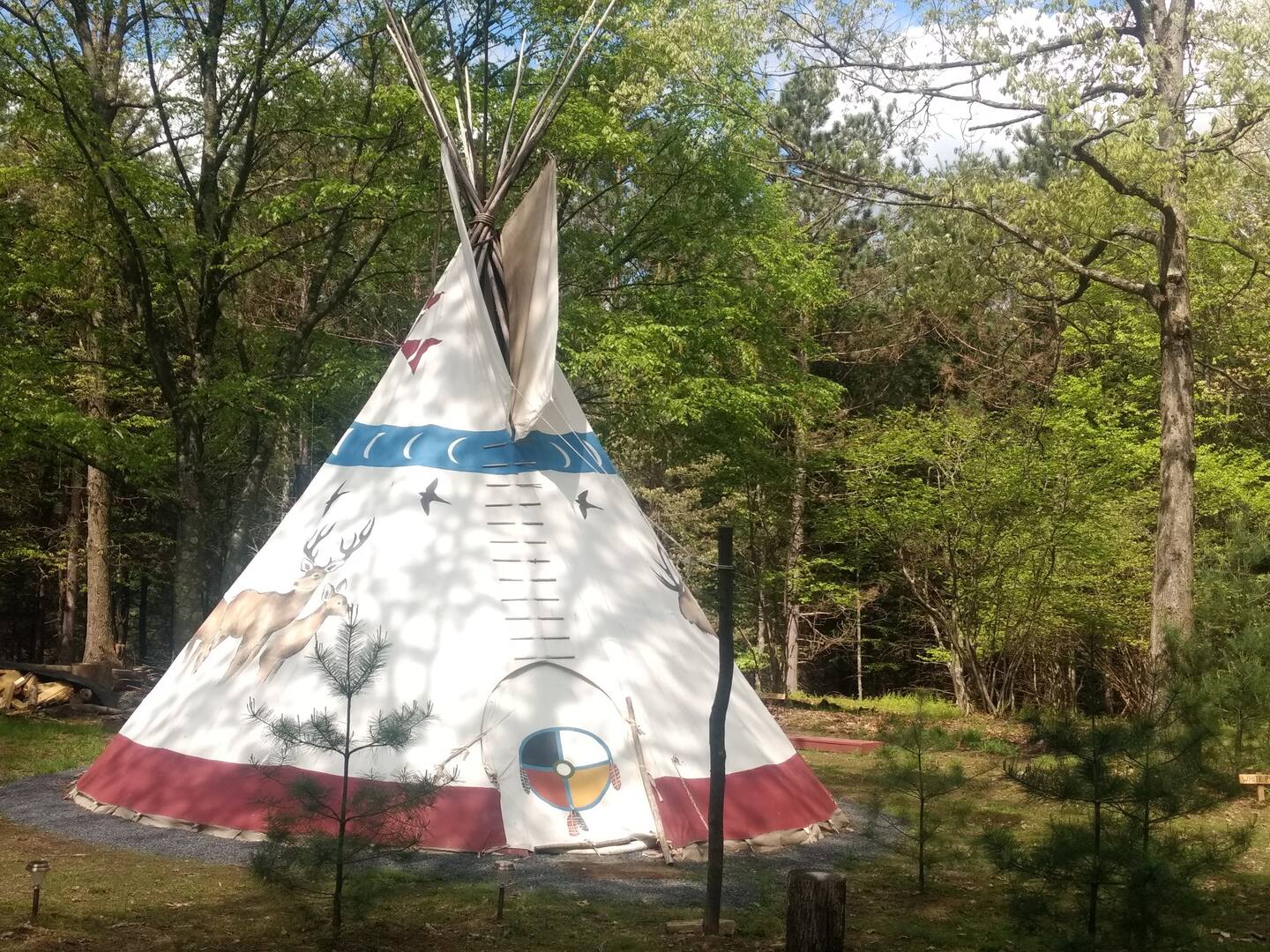 ---
12) Yurt at the farm – Affordable Glamping in Pennsylvania
Location: South Sterling
Price: $105+ USD per night
https://www.airbnb.com/rooms/35192501
This is some of the best camping in the Poconos area. Wake up nature's sounds and sip a freshly brewed cup of coffee in the garden while you look out over the lush pastures. If you're not out taking on the day with activities, you can spend afternoons swaying in the hammock amongst the trees.
Enjoy exploring the cuisines in town, or whip up some delicious meals at home on the propane grill or on the campfire. When evening comes, gaze at the stars from the skylight dome or grab an interesting read off the bookshelf and curl up on the couch for the perfect night in.
View Photos, Read Reviews & Check Availability
Guest Review: "This place is truly a gem! The yurt was cozy, extremely beautiful, and exceeded our expectations. The hosts were also super responsive and ready to help. We will definitely be back!"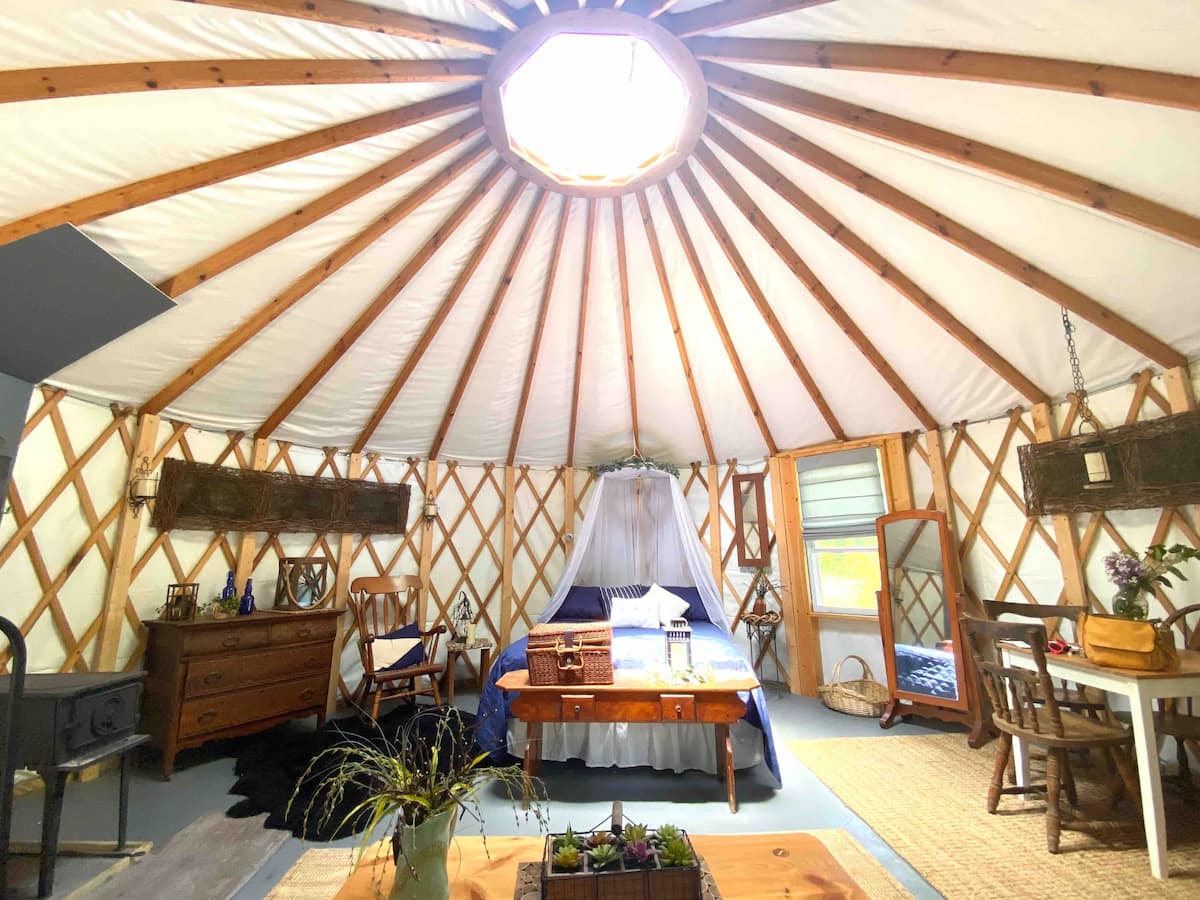 ---
13) Copperhead Retreat – Kodiak – Glamping
Location: Kennerdell
Price: $75+ USD per night
https://www.airbnb.com/rooms/35516627
This spot allows for the perfect outdoor immersion experience while still enjoying good sleep and basic amenities. In the morning, look forward to delicious coffee and a continental breakfast before heading out for a day of fun.
This is the perfect spot to rest between biking the Allegheny River Trail, driving to Lake Erie for the day, or hiking in the Allegheny National Forest. You will certainly be spoilt for choice when it comes to outdoor activities.
View Photos, Read Reviews & Check Availability
Guest Review: "Cathy's campsite has everything you need to enjoy a relaxing weekend outside. The bathrooms are gorgeous and clean, the bed is so comfy, and the breakfast is a wonderful touch. We joked that the shower and bed in the tent were better than ours at home!"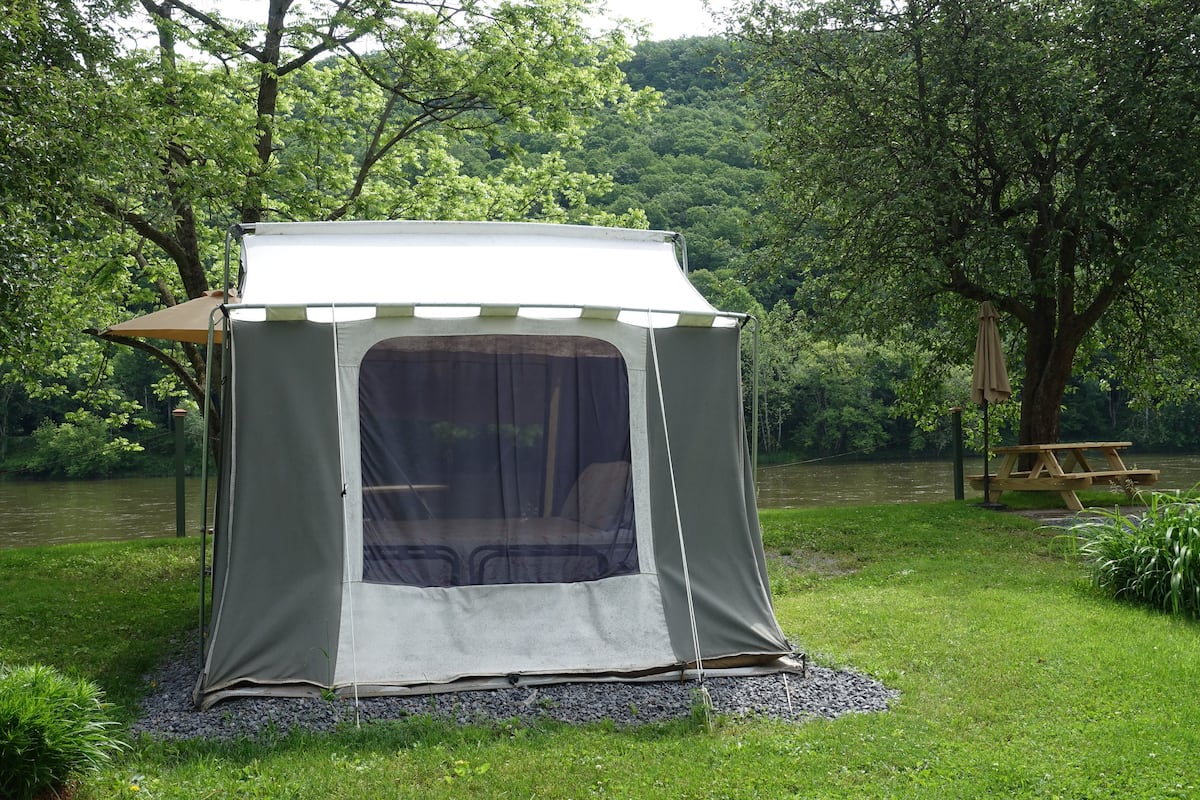 ---
14) Cozy Coachmen Camper with Amenities
Location: Waterford
Price: $90+ USD per night
https://www.airbnb.com/rooms/19040213
With this quaint glamping home, you can enjoy amazing amenities, including a hot tub where you can soak your stresses away with a glass of wine in hand. When it's warm, spend the day splashing in the pool or reading the day away while getting deliciously sun-kissed.
If you're not catching up on your favorite Netflix shows on the flat-screen, you can cuddle up in the double hammock or fry up the grill with a couple of beers and slip right into that holiday spirit.
View Photos, Read Reviews & Check Availability
Guest Review: "The camper is super clean and everything worked great. Steve and Elaine are so friendly and welcoming. If you're looking for a fun camping experience with all kinds of extra amenities, you will not be disappointed!"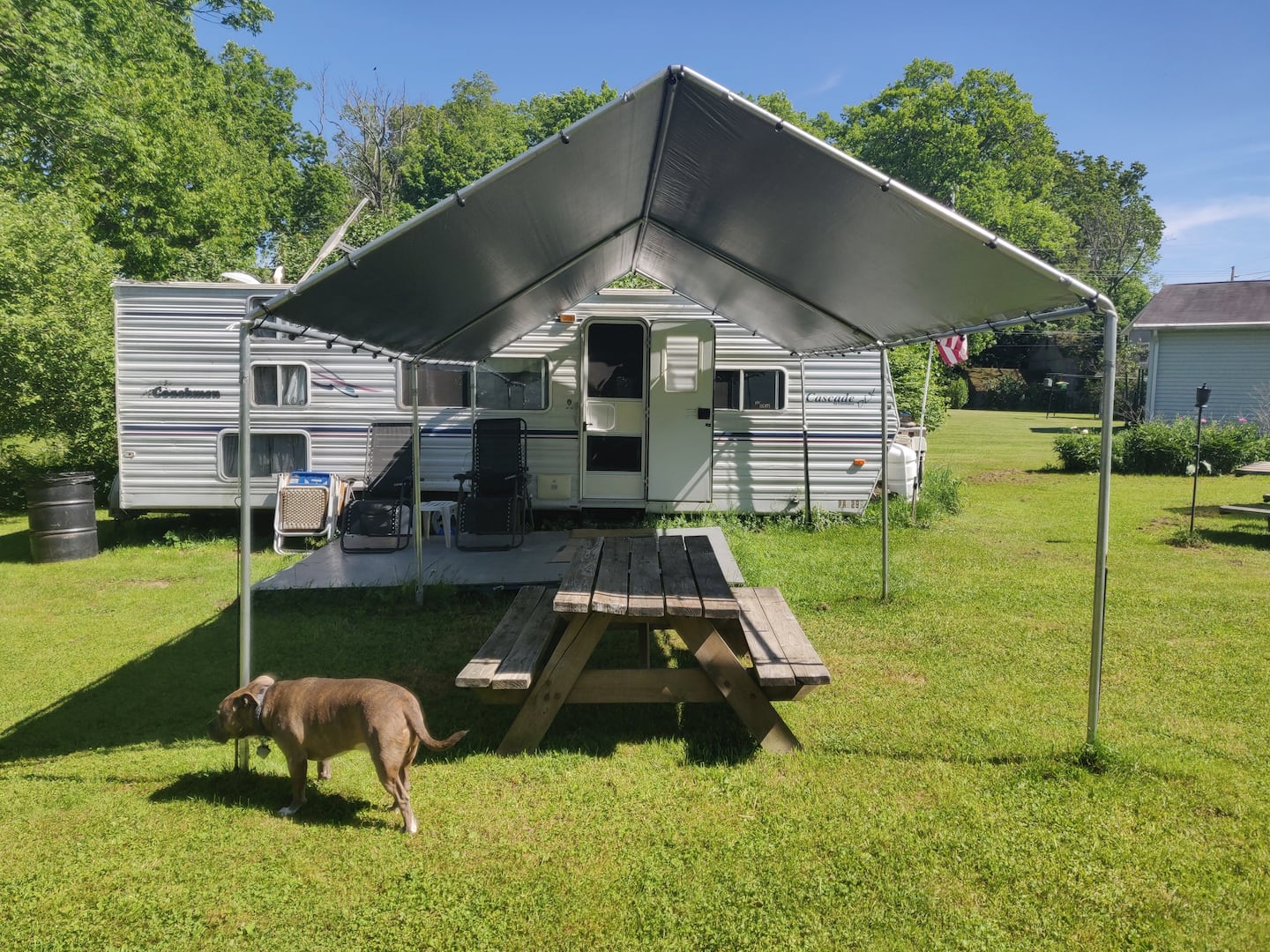 ---
15) Retro glamping in the city: 1973 AirStream stay!
Location: Philadelphia
Price: $67+ USD per night
https://www.airbnb.com/rooms/15676251
This is a great choice for couples and solo adventurers coming to the historic, art-rich Philadelphia. Most of the original finishings of this rustic-chic camper still remain for a special authentic touch.
Enjoy lazy afternoon dozes in the double hammock under the trees. Or have a glass of wine and a soak in the bathtub of this kitted-out camper. This retro home is the perfect spot to make those happy holiday memories.
View Photos, Read Reviews & Check Availability
Guest Review: "We had such a wonderful and relaxing time at Kristyn's place. The amenities were perfect. We would go out during the day and relax in the yard, by the fire, in the evening. I would recommend staying here! When we come back to the area, we will definitely stay here again."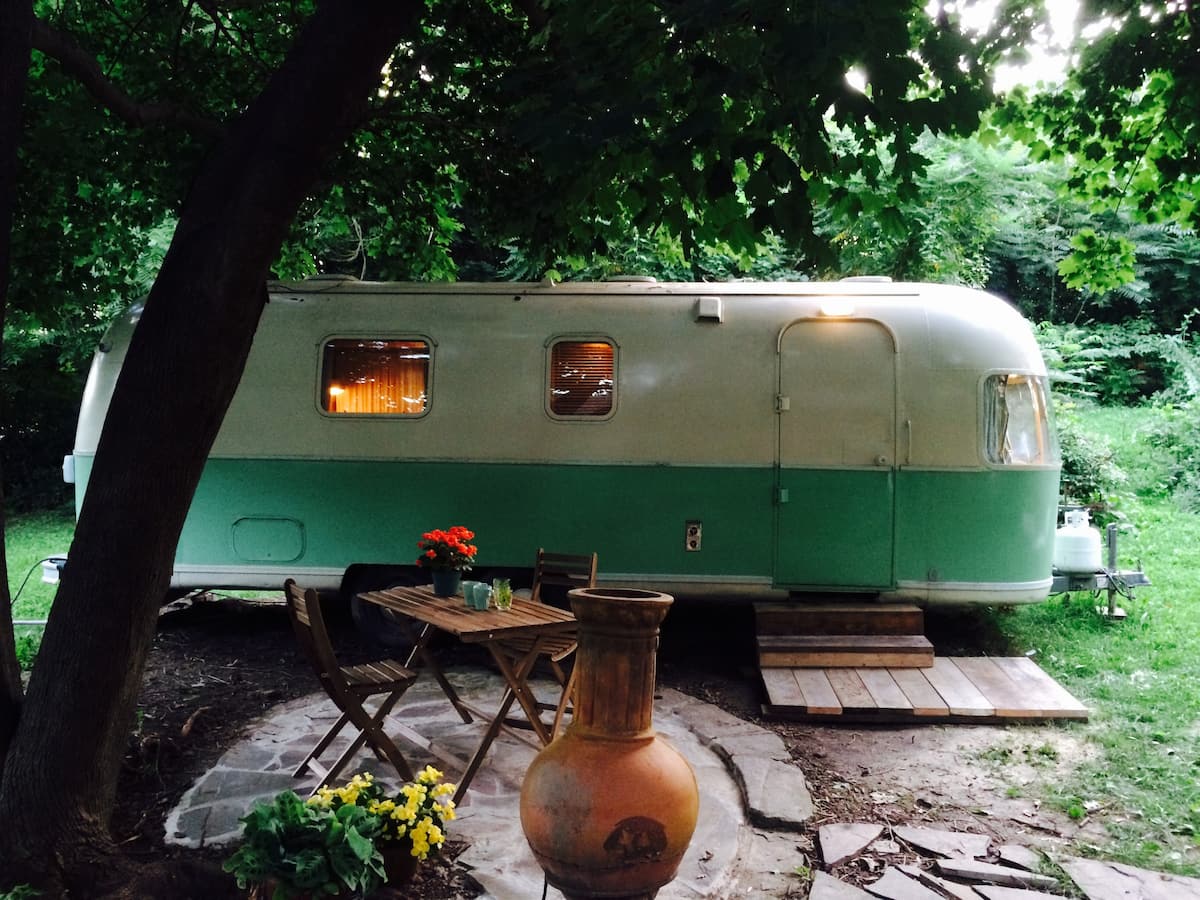 ---
16) Unique Scandinavian Cabin Treehouse at Solvang Inn
Location: Huntingdon
Price: $239+ USD per night
https://www.airbnb.com/rooms/25100089
This unique stay was built as a replica of Norwegian farms. Every detail is custom made and full of Scandinavian style. This home includes entertaining touches, like a sauna and a Japanese toilet. There are also lovely skylights above the beds from where you can enjoy starry nights.
This magical 80-acre treehouse is surrounded by so much natural beauty just waiting to be discovered. Bring along your pups to enjoy this memorable getaway with you. There are plenty of nearby trails to explore as well as a lake close by where you can rent kayaks and pontoons for a day of fun. In the evenings, retreat to your cozy little hideaway in the trees and enjoy the ultimate evening of relaxation.
View Photos, Read Reviews & Check Availability
Guest Review: "This cabin exceeded our expectations. Not only was it cozy and comfortable, but Stephanie had also baked goods, wine, and the fridge had breakfast items. Everything was really perfect and the grounds were beautiful. Can't wait to come back in the fall to enjoy the beauty of the foliage and a nice fire in the woodstove."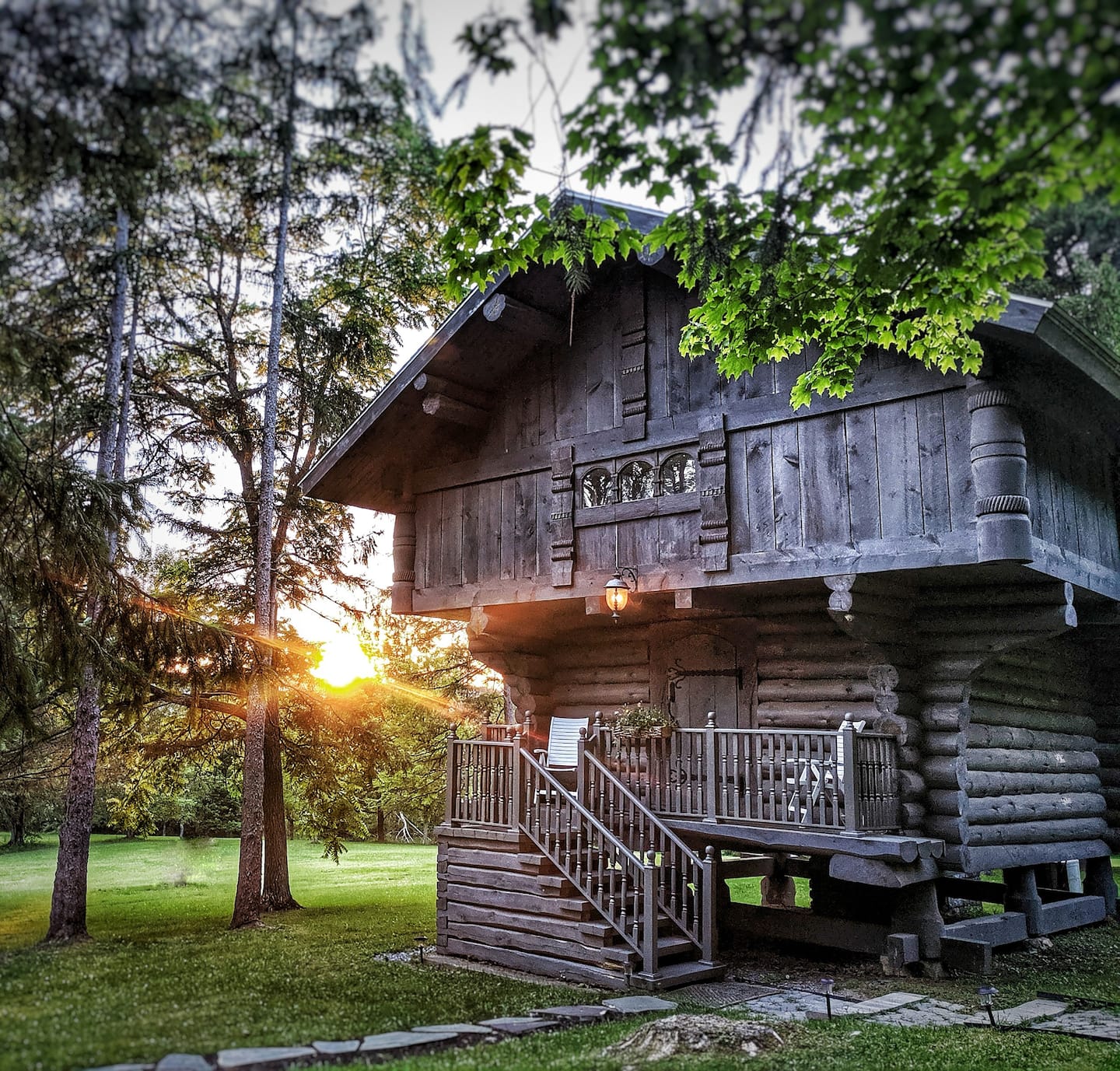 ---
Am I Missing Any Other PA Vacation Spots?
Have you been glamping in Pennsylvania recently and stayed in any memorable accommodations I didn't mention? If so, be sure to let me know by reaching out to me on social media, and I'd love to add them to my list.
---
Other Recommended Reading
I've included links to other great resources to help you plan your dream vacation in this bustling state. Check out the links to some of the blogs, guides, festivals, and Airbnbs below.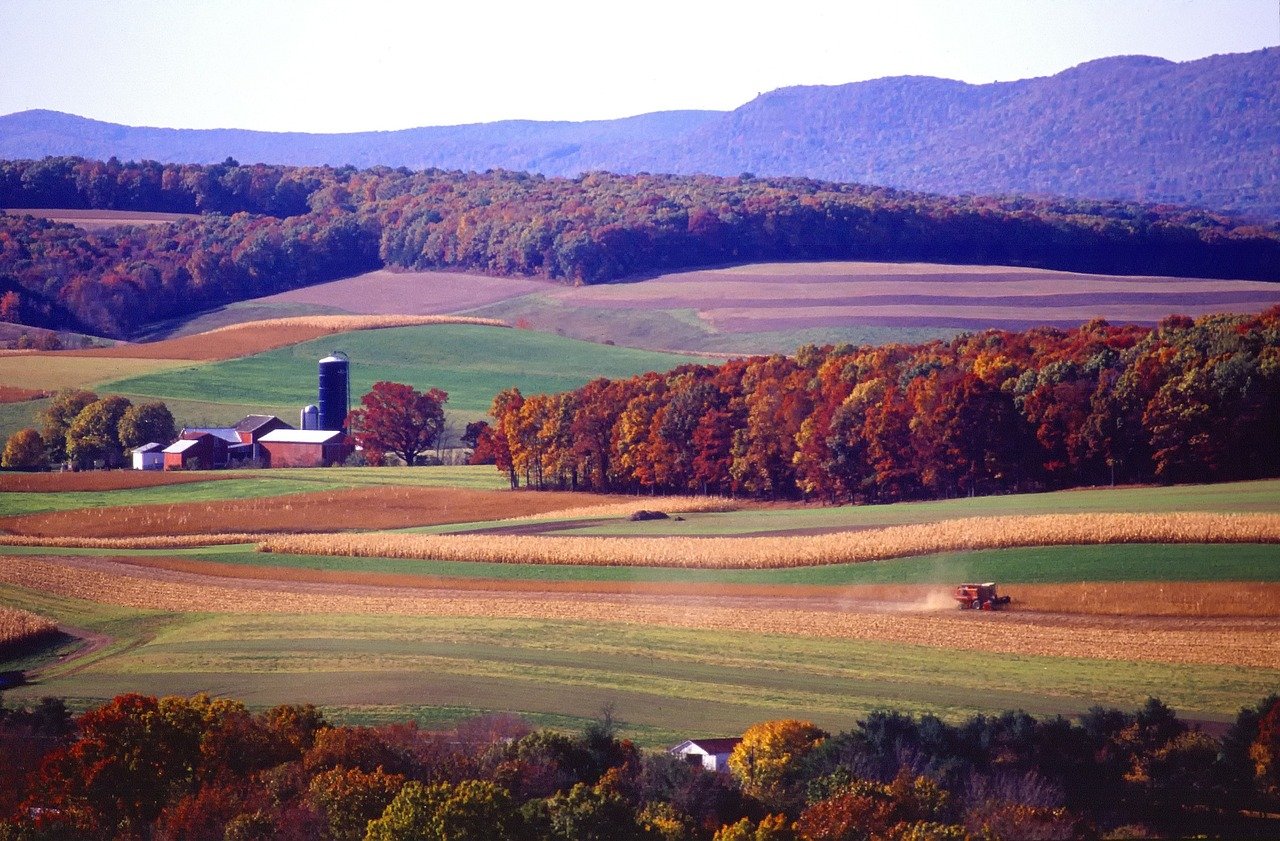 ---
Final Thoughts on Glamping in PA
Hopefully, you have found the perfect home away from home in this list to suit your tastes and budget perfectly. There's so much to see and experience in this beautiful state. And what better way to do so than in one of the many fantastic glamping accommodations available. Here you can immerse yourself in nature with your treehouse home, rustic camper, or your yurt in the forest.
Spend time hiking, swimming, fishing, and even water rafting on some of the country's biggest rivers. Between rolling mountains, breathtakingly beautiful waterfalls, and thriving woodlands, you'll find no shortage of gems to soak up in Pennsylvania. A getaway spent in the great outdoors may be exactly what you need to press the refresh and recharge button.
And why not also catch a Pennsylvania music festival while you're in the area to round up your experience of this vibrant and dynamic state.
---
THANKS FOR READING ABOUT MY TOP PICKS FOR GLAMPING IN PA!
SHARE THIS PENNSYLVANIA GLAMPING GUIDE WITH YOUR TRAVEL CREW!