This post was written by Emily Becker, who is a Mexico-based freelance writer for BMTM.
Towering cliffs, secret coves, medium-grain sand, and crashing waves characterize the coast of the southern Mexican state of Oaxaca. The beaches here, on the Pacific side of Mexico, are a far cry from the white sand and turquoise waters of the Riviera Maya, on the Caribbean side, which receives many more tourists than Oaxaca. I prefer Oaxaca's beaches for a few reasons: there are fewer crowds, a more laid-back environment, and prime surfing.
Stay tuned for a tour of my favorite beaches in Oaxaca, where you won't find huge resorts and you'll get a taste of what real Mexican beach towns are all about:
Puerto Escondido
Puerto Escondido is the most touristy city on this list, but for good reason. It has quite a few beaches to choose from, each with its own unique character. Some are more frequented by locals, while others are hot spots for foreigners.
These are my favorite beaches in Puerto Escondido:
Playa Carrizalillo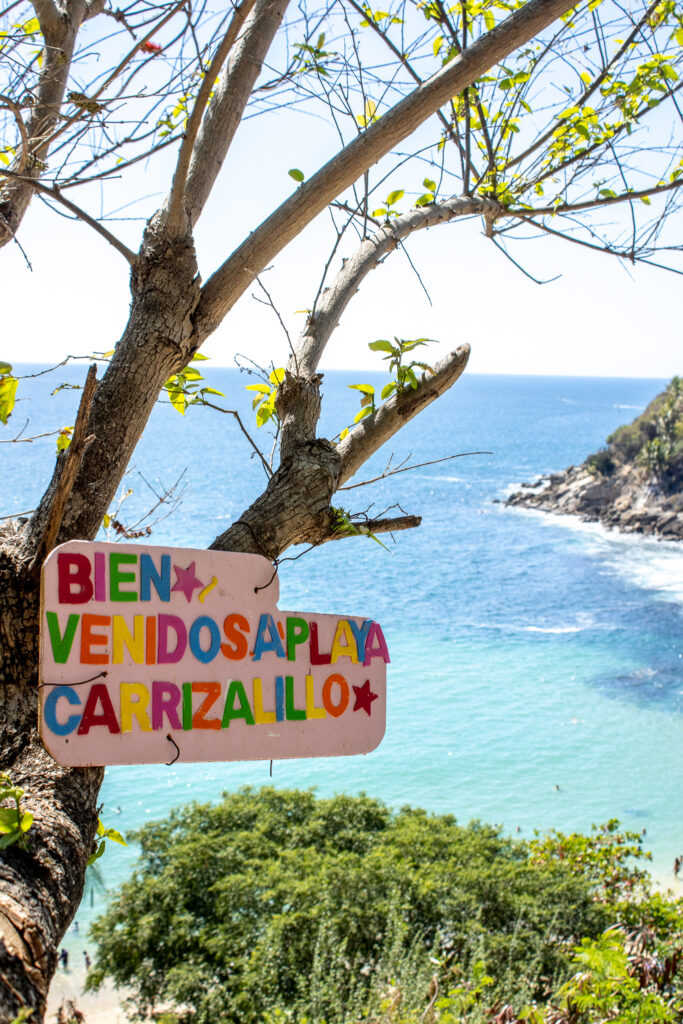 I'm partial to Playa Carrizalillo because it's the first beach I visited in Puerto Escondido. The beach is capped on either side by huge rocky cliffs, creating an idyllic cove where the water is calm enough to swim in, but you'll also see surfers riding waves further out.
To get there, you have to go down quite a few steps. Then you can hang out at one of the shacks on the beach and sip a drink from a beach chair, grab some snorkeling equipment to check out the colorful fish, or take a surfing lesson.
Carrizalillo gets pretty crowded with both locals and tourists on the weekends and even on weekday afternoons, so the best time to go is in the morning during the week.
Playa Bacocho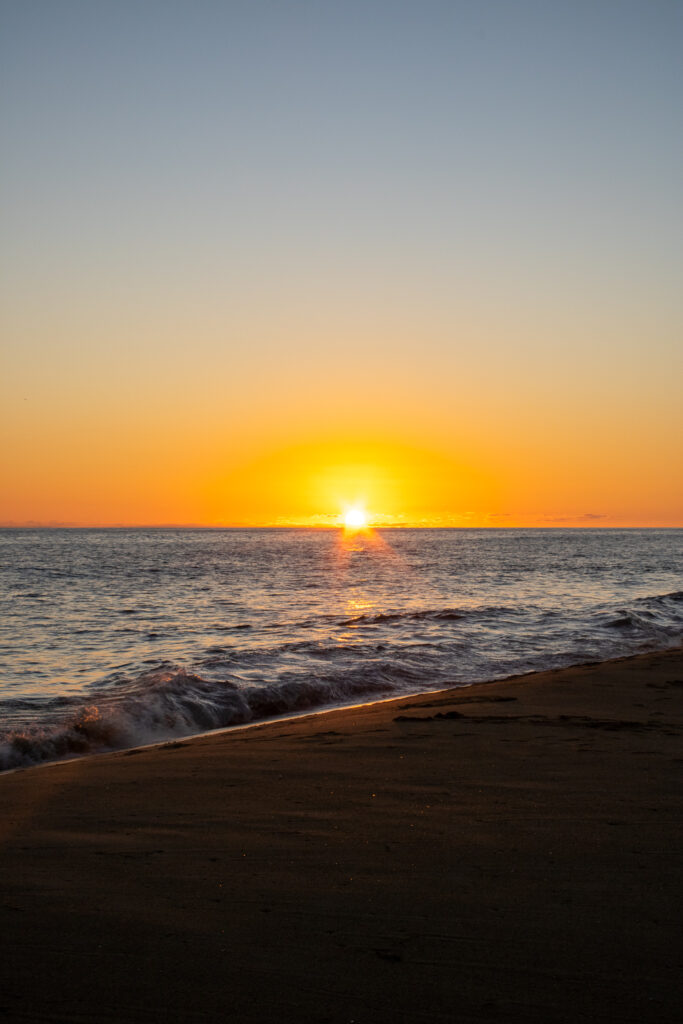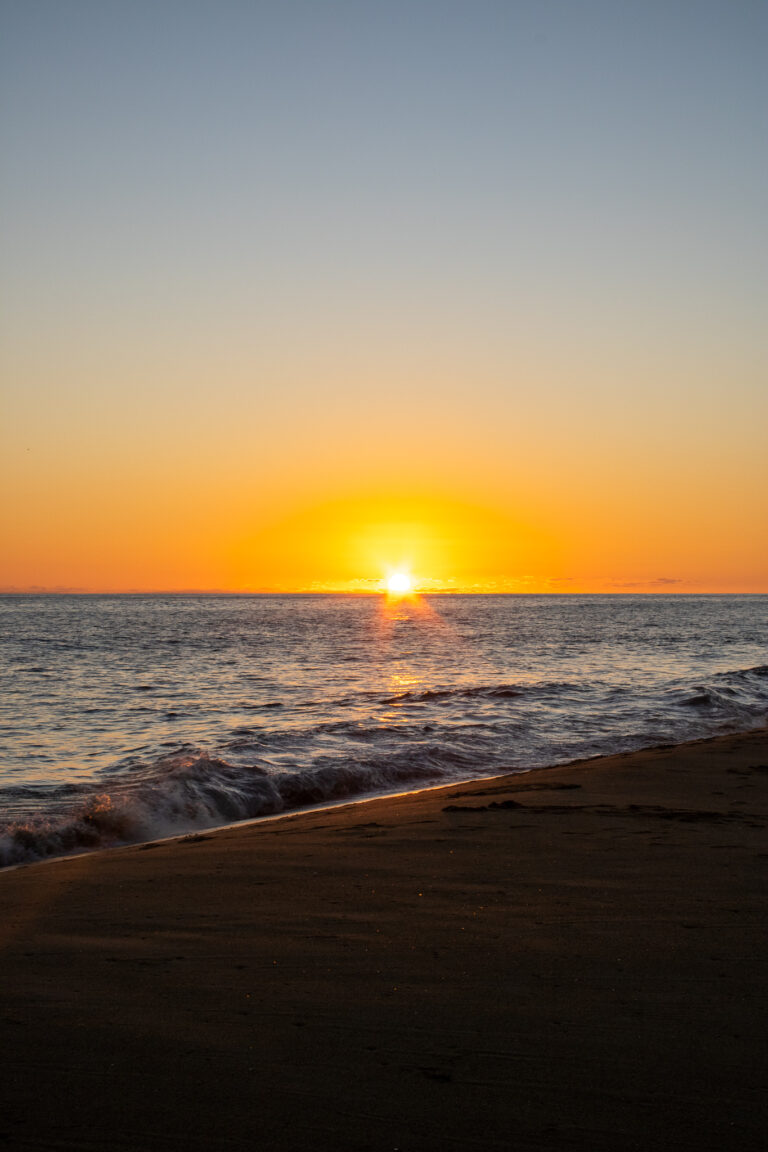 Playa Bacocho offers a huge expanse of sandy shore, with volleyball nets and one of the best sunset views in town. This is also where conservationists set up shop to help sea turtles hatch in a safe environment before journeying to the ocean. To see the turtles, plan to arrive around 5pm. You can even participate in their release if you choose to, although I'm not sure how ethical this is for the animals.
The waves here were a little rough for a swim, but I also haven't visited in the morning, so perhaps it would be safer then.
In any case, Playa Bacocho is a great place to bring a picnic to watch the sunset. If you're a beach volleyball lover, you can also join in a match here. I showed up one afternoon with a friend and we ended up having a blast jumping into a volleyball match with people who had been playing all day.
Playa Manzanillo & Puerto Angelito
These two rocky beaches are along the same cove, separated by a slab of concrete with a tiny lighthouse on it. You can easily park and walk down the stairs, choosing which beach to go at the bottom.
These two small beaches couldn't be more different from one another, though, when it comes to their overall vibe and clientele. Playa Manzanillo is home to hugely popular La Isla Beach Club, which attracts a lot of foreigners and has live music almost every afternoon, with international DJs and a steady flow of people coming in and out to dance.
Puerto Angelito, on the other hand, has a much more family-oriented feel. I was one of the only foreigners on the beach when I went, and there were a lot more people swimming and snorkeling here. To be honest, I preferred the atmosphere at Puerto Angelito much more. But check them both out and see which one suits you.
Playa Zicatela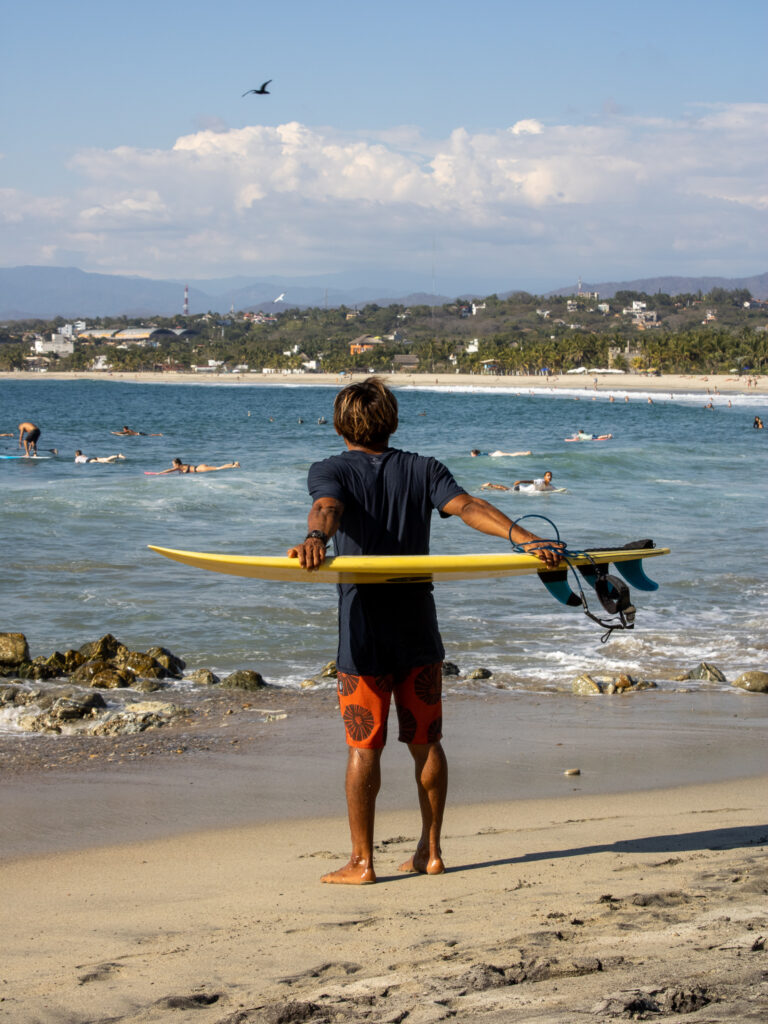 When driving to Playa Zicatela, you'll see a big statue of a surfer before you turn in from the highway. If that wasn't clear enough, this is Puerto Escondido's mecca of surfing. The waves here are perfect for surfers of any level, and it's best spot to learn as a beginner. I took a lesson with the Pacific Surf Academy and had an absolute blast, even when I was wiping out.
Even if you're not into surfing, don't miss out on a visit to Playa Zicatela anyway. The neighborhood lining the shore is known as "La Punta," and you'll find a high concentration of chic restaurants, cool hostels, and vibrant nightlife here.
Mazunte
Known as a hippie haven, Mazunte is just as mystical as it is beautiful. The cliffs around the beaches are full of prickly cacti and dry brush, a woodsy terrain that adds to the whimsy of the place. In town, you'll find charming cafés, cosmopolitan restaurants, and shops selling artisanal goods.
Mazunte is a spiritual hub for yogis and all things New Age healing, beyond being a renowned surfing destination. Don't be surprised if you rarely find anyone wearing shoes here — something about Mazunte's barefoot scene is infectious, I have to admit.
There are just two main beaches in Mazunte, with two others that are a short hike from town:
Playa Mermejita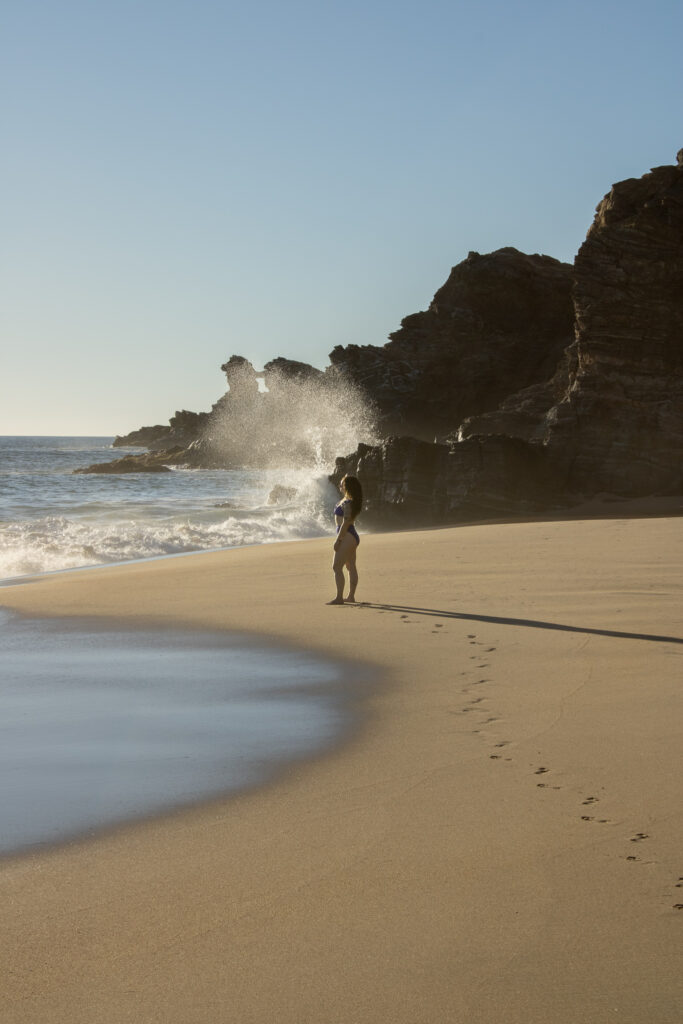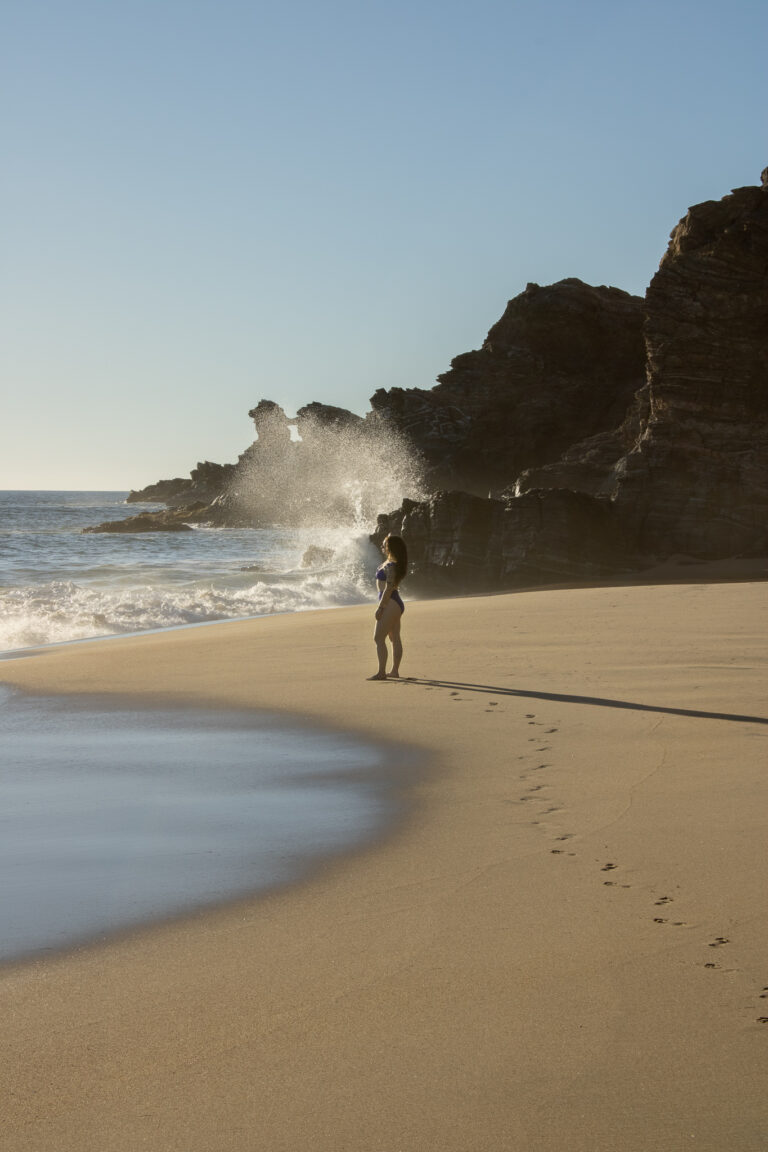 I absolutely adore this somewhat secret beach. I would have spent several days here had I known how magical it was. Playa Mermejita is just east of Mazunte and has a rugged feel. It extends about a kilometer from one rocky cliff to the other, and you won't find many hotels or restaurants on the shore.
It was easy to find a deserted spot on the beach for some solace, which allowed me to recharge and truly appreciate the beauty of the crashing waves and salt spray. Playa Mermejita is also a stellar spot to watch the sunset. You might also be able to see whales in the distance, which just seals this place's magic for me.
To get to Mermejita, you can hike from town or drive or take a taxi to the sandy parking lot near the hotel Casa Ofelia.
Playa Cometa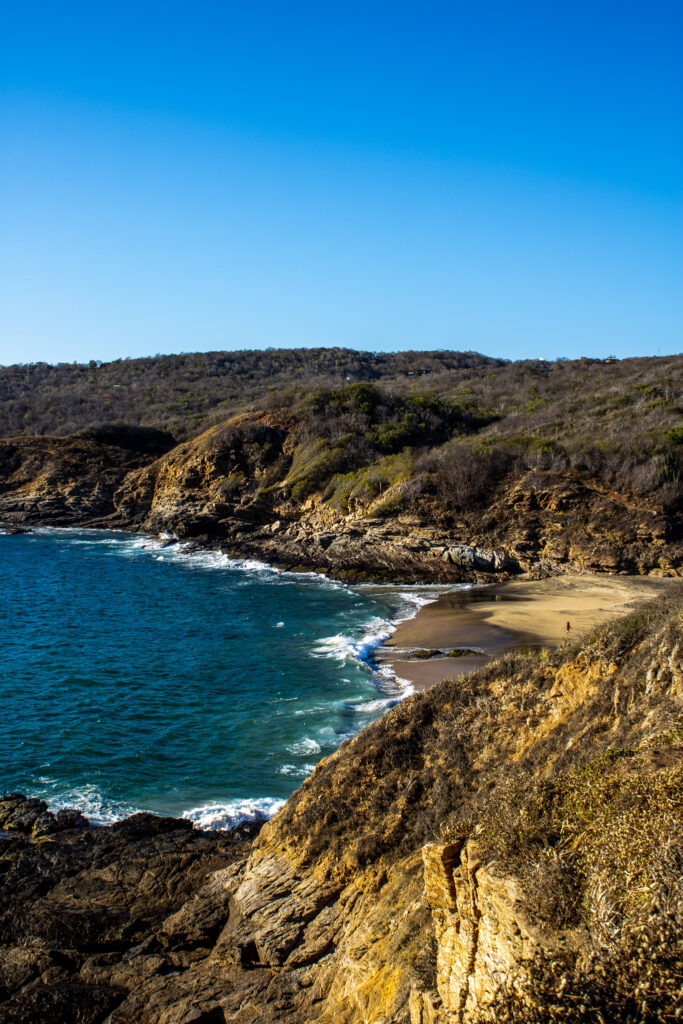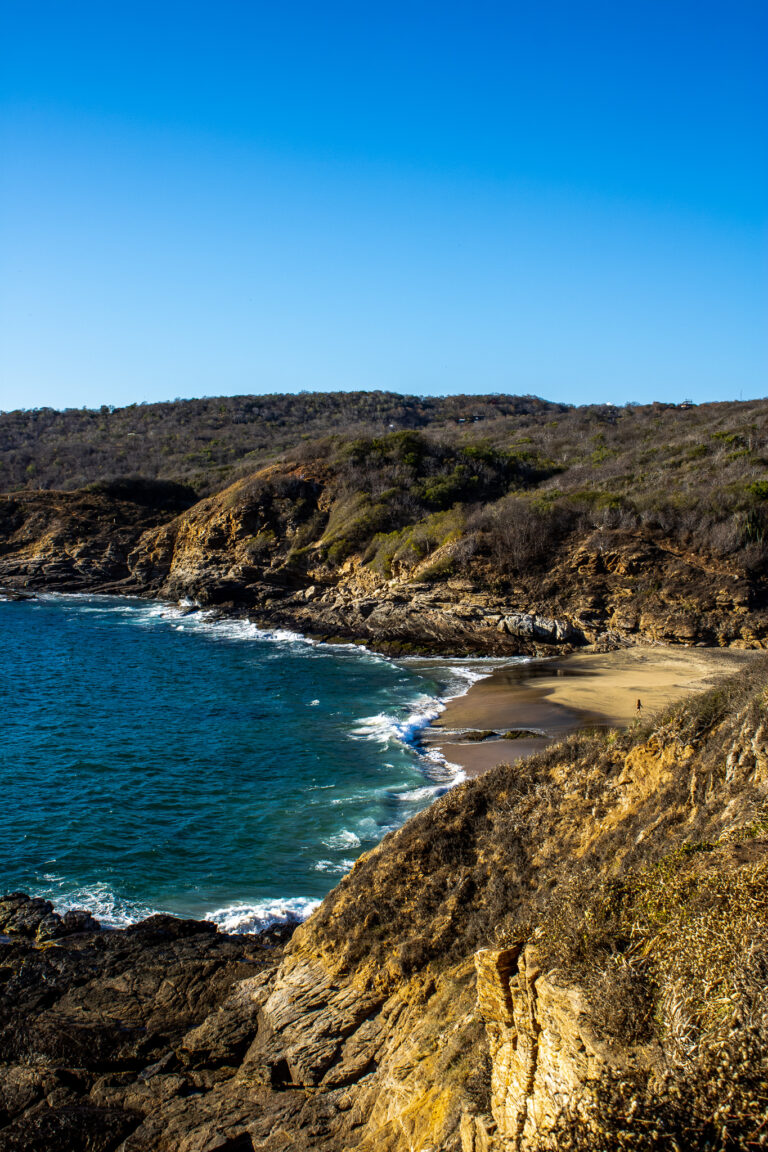 I found Playa Cometa by happy accident when I went for a solo hike, hoping to arrive at the popular sunset spot Punta Cometa. Playa Cometa is a small patch of sand with zero infrastructure around it, making it an ideal spot to connect with nature without any distractions.
I wouldn't advise trying to swim here, though, as the waves are pretty treacherous. It's even prohibited to camp at Playa Cometa because of how unpredictable the tides can be, so I recommend going in the morning or afternoon just for a few hours to hang out and escape the crowds of the other beaches.
Playa Rinconcito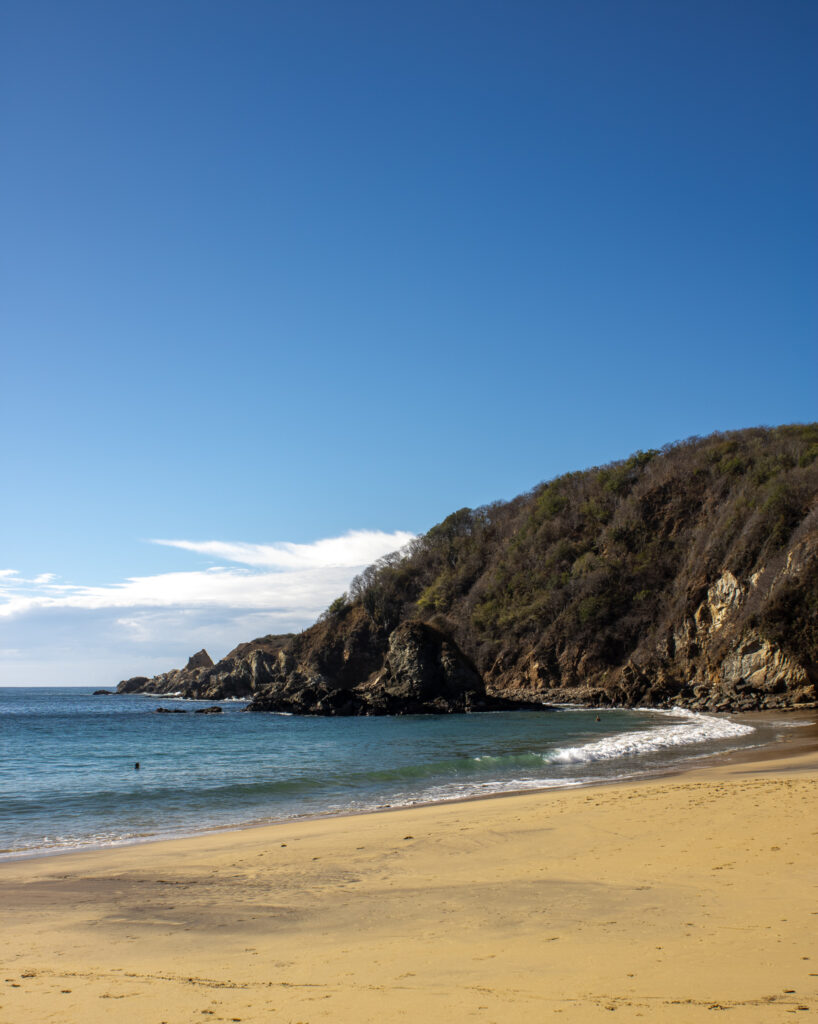 This is the smaller of the two main beaches in Mazunte, but I prefer it because of the scenery. It reminds me of Playa Carrizalillo in Puerto Escondido, but you don't have to descend any stairs to get to this one. It has the same cove feel that I love, plus it's right off a small commercial street with lots of cafés and restaurants nearby.
This is a great place to go for a swim and relax under an umbrella, which you can rent for 100 pesos ($5 USD) for the whole day.
Playa Principal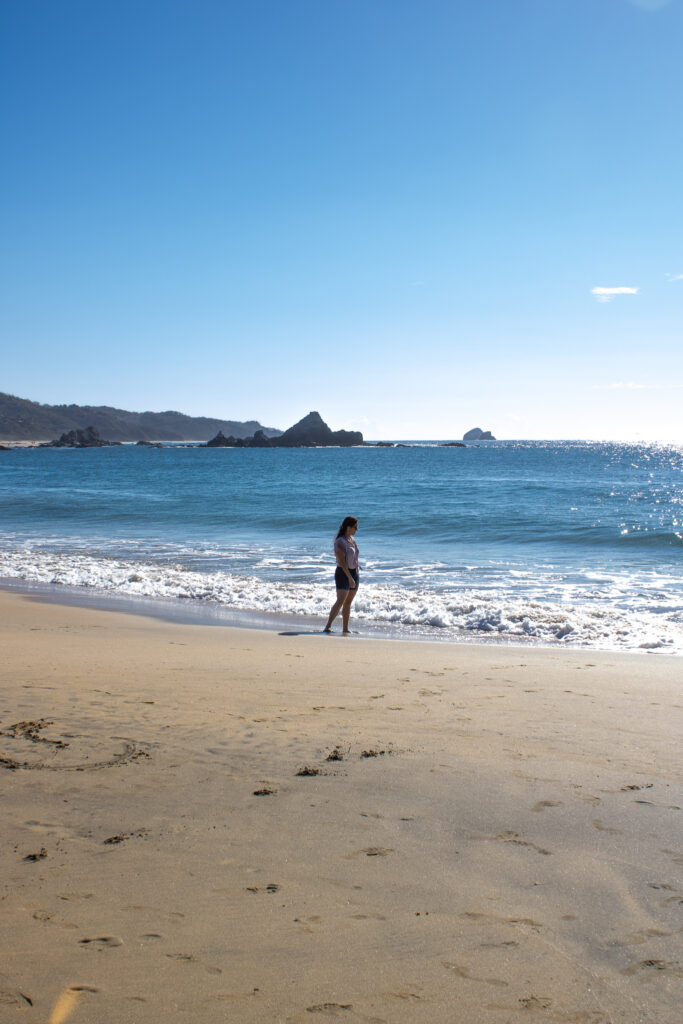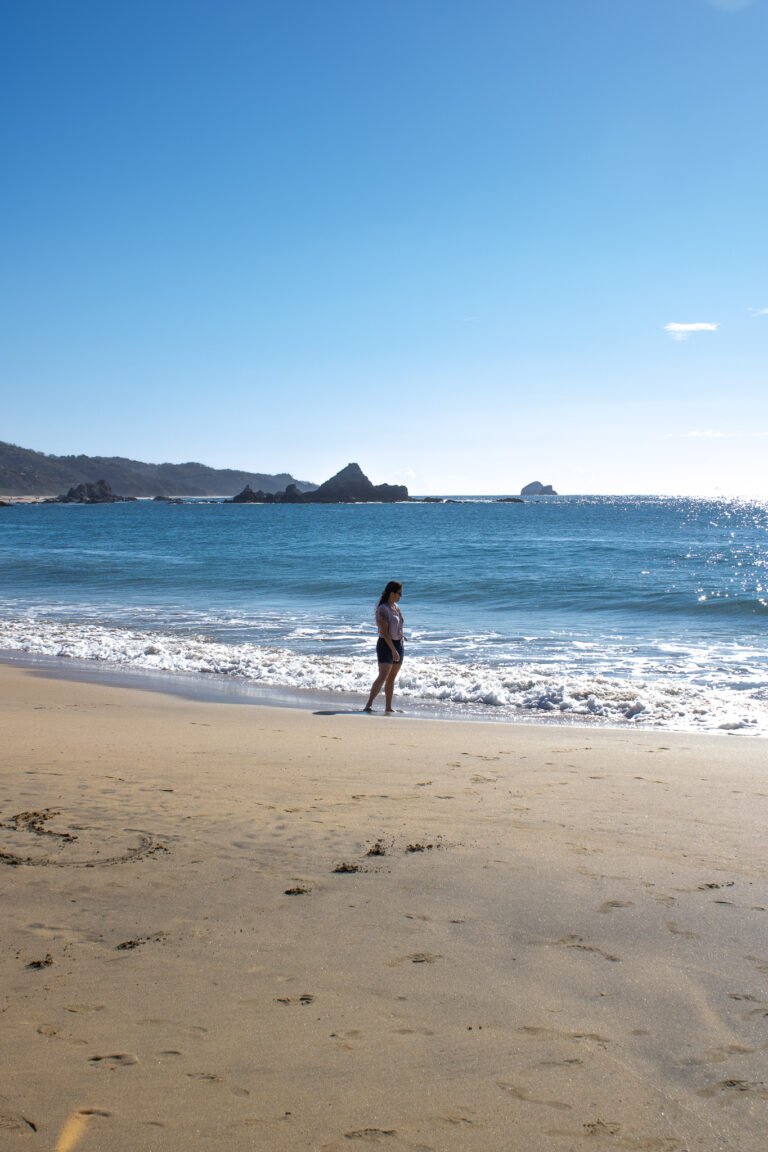 The main beach in Mazunte, Playa Principal, is the largest and best place to surf. Especially from May to September, the waves are ideal for surfing, whether you're a beginner or otherwise. You can rent a board right on the beach, and if you want a lesson, just ask around and you'll find a teacher. Unlike Puerto Escondido, there aren't any big surf schools here. I predict that this will change soon, though.
Playa Principal is also the prime spot in town to chow down on some freshly caught seafood. The ceviche at El Pescador (right on the beach) was the best I had in Oaxaca, hands down.
San Agustinillo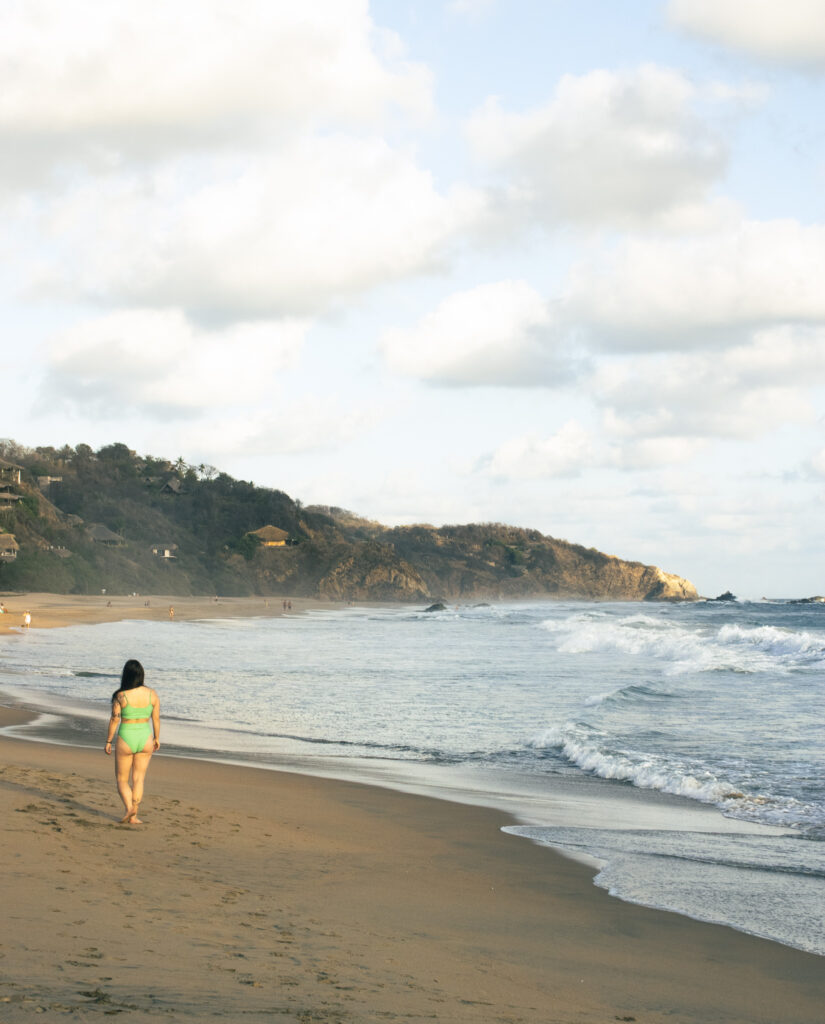 This tiny beach town made a great base for exploring other beaches, as it's situated between Mazunte and Zipolite. The long stretch of beach is dotted with quaint restaurants and bars offering spectacular ocean views. There's only one main street in town that goes along the shore — which was a nightmare to drive along, because it's barely wide enough for two lanes of traffic.
Overall, San Agustinillo is sleepy in the best way. The vibe here is more family-oriented than Puerto Escondido, Mazunte, or Zipolite. After people watch the sunset over the easternmost bluff, the town becomes quiet, which I found endearing.
Zipolite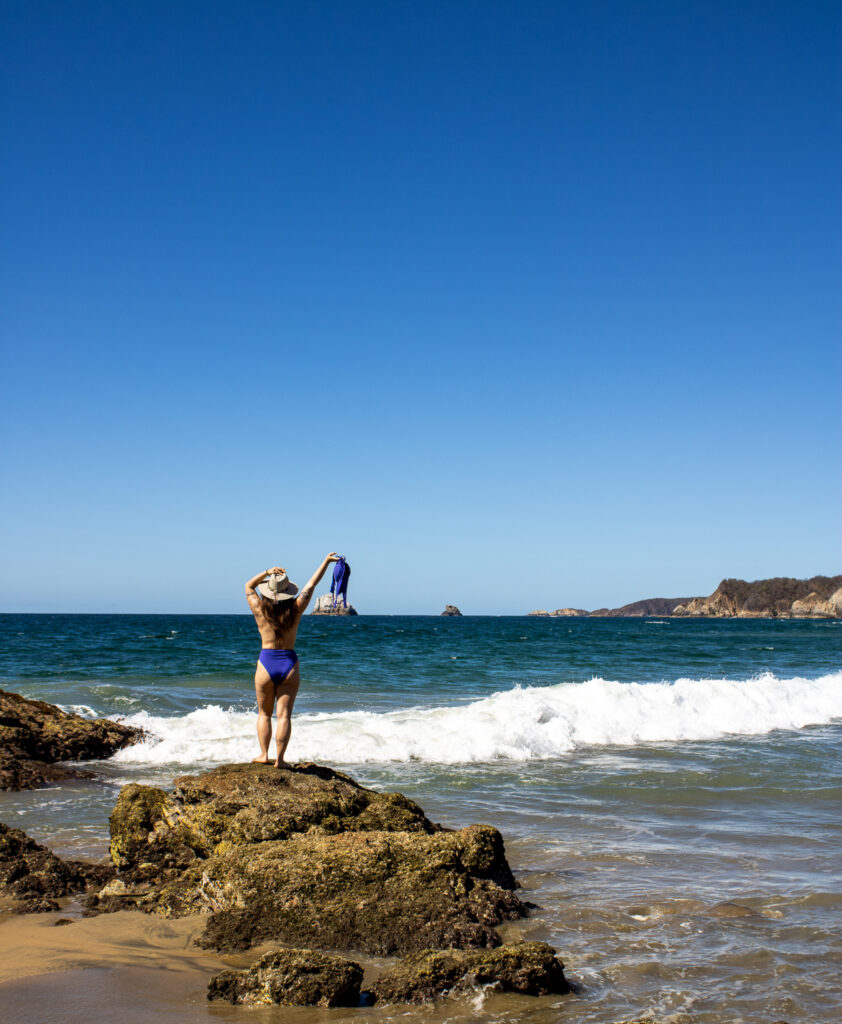 Zipolite is quite small and just has one long stretch of beach in town — Mexico's only legally nude beach, which is as good a reason as any to visit if you want to get into the carefree spirit of this unique spot.
The beach at Zipolite is known for its strong winds and thrashing waves. You can definitely still swim here, but I didn't see very many people in the water. Surfing is also a possibility, but is better suited for intermediate to advanced surfers.
Along with the evident nudist scene, you'll feel like you were transported back into the '70s here. From the psychedelic murals to the tie-dyed fashion and old school VW Beetles lining the streets, it's the best kind of trippy time warp.
Find out what to do in Zipolite here.
Puerto Ángel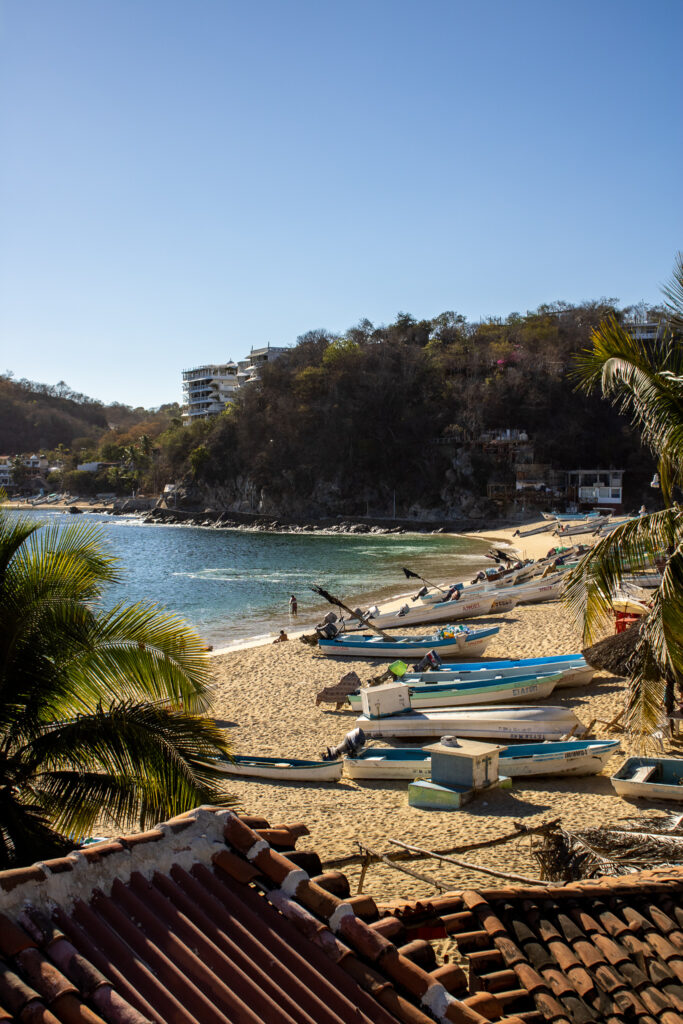 Puerto Ángel, a charming fishing village, had the easternmost beach that I visited. Here you'll find the shores lined with fishing boats and very few tourists. I enjoyed stopping here for the morning, having breakfast on the beach and going for a quick swim in the calm water. The locals were friendly, and it was great to hang out somewhere with a totally nontouristy vibe.
How to Get to Oaxaca's Beaches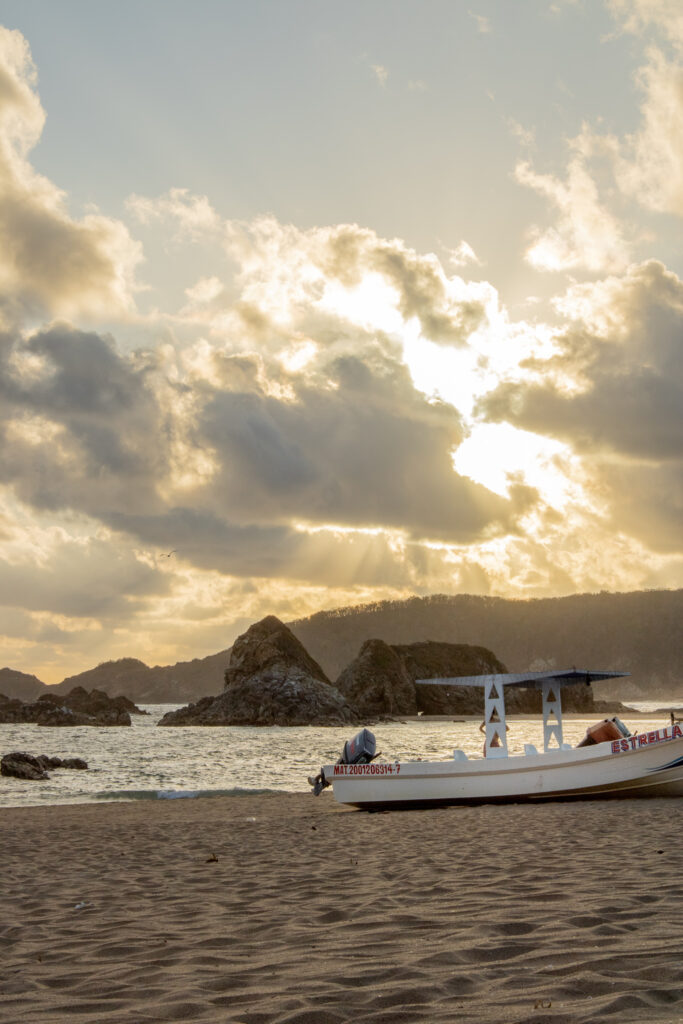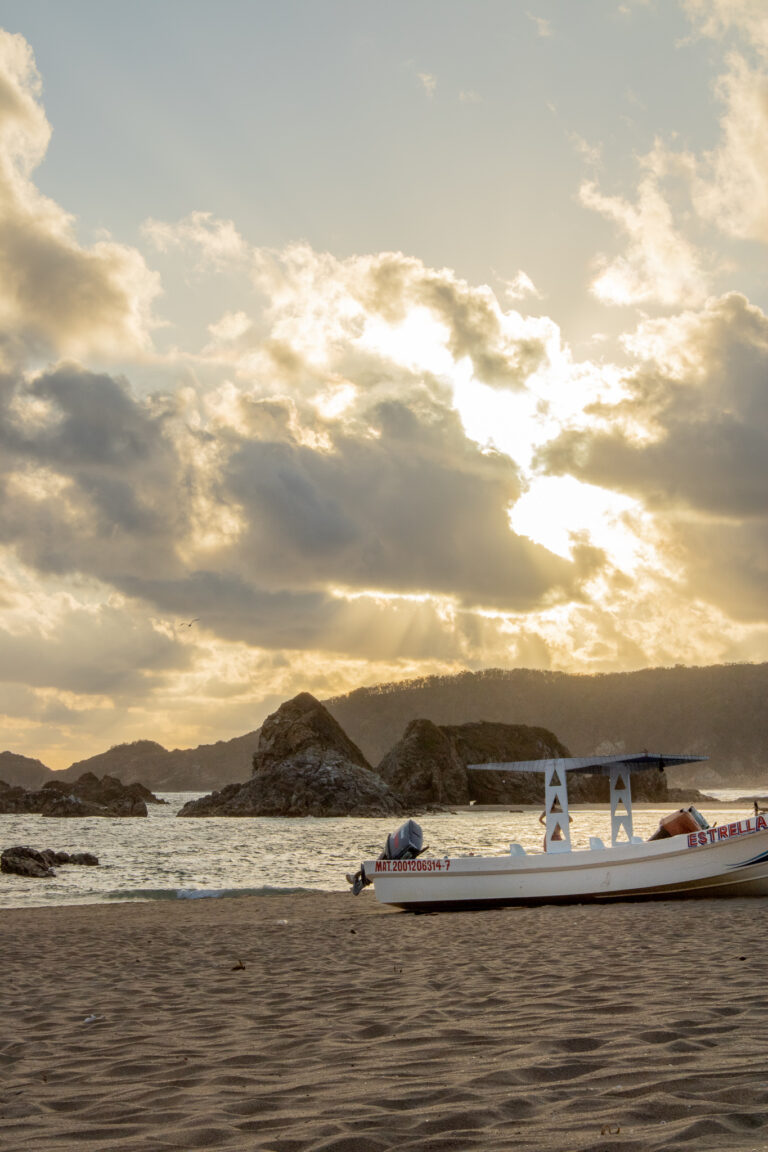 Getting to Oaxaca's coast is as easy as flying into either Puerto Escondido or Huatulco. You'll have to make a connection in either Mexico City or Cancún, most likely. Once you get there, I recommend renting a car and hopping from place to place. Another great option is making your base San Agustinillo, which is quiet and central, and renting a scooter there to check out the other beaches (although Puerto Escondido might be too far for a scooter ride).
Another option is to fly to Oaxaca City, spend a few days there, and drive down to the coast, which takes 6-7 hours. The winding roads through the mountains are not for the faint of heart (or stomach, for that matter), so I only recommend this if you feel totally confident driving in Mexico, as it can be unpredictable. I was slowed down by a truck transporting lumber, and the hairpin turns made it difficult to pass it safely, which I later found out is a common complaint of my fellow road-trippers.
Map of Oaxaca's Beaches
Pin me for later: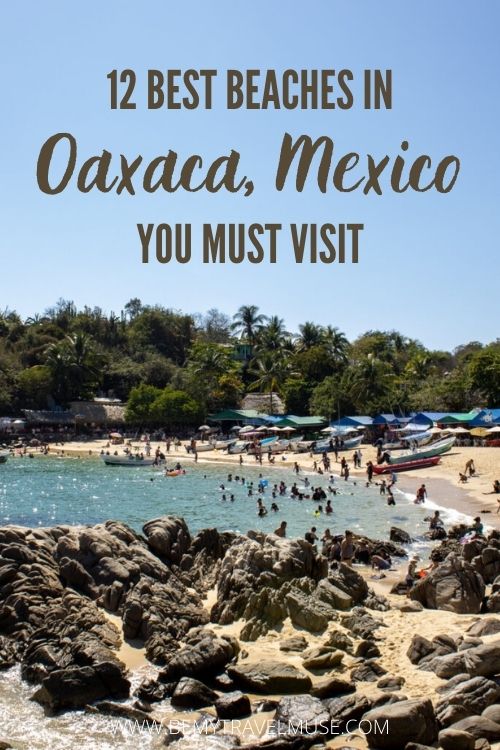 As you can see, each of the beaches in Oaxaca has its own character. From the surf-and-party scene of Puerto Escondido to the sleepy shores of Puerto Ángel, you're sure to find the perfect one for you. If you want more beach inspo, check out our list of the best secret beaches in Mexico.
If you've been to Oaxaca's coast, which beach is your favorite?
Click to read more posts about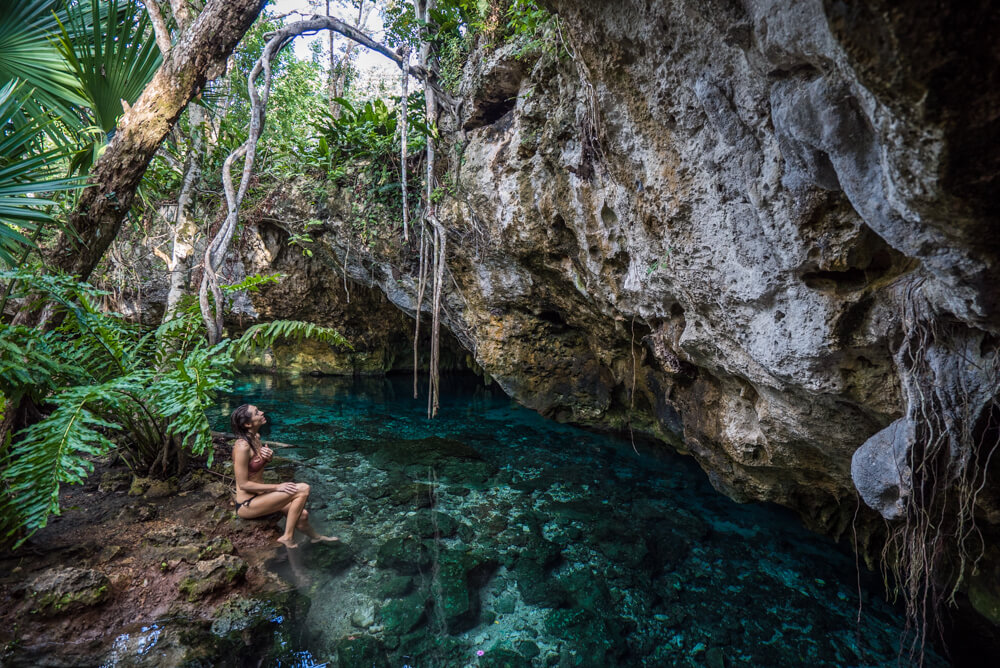 Mexico