Is Bermuda one of your next travel destinations? Are you cruising to Bermuda? Here are the 10 topmost things to do in Bermuda to get you started on planning your Bermuda itinerary. We also discuss all the transportation options in Bermuda.
Bermuda is one of those islands that you never thought you'd visit, yet you do, and then fall in love instantly. Why?
One, the water is absolutely incredible everywhere you go. Two, the Bermudians are one of the nicest people you'll come in contact with. Three, it's one of the cleanest islands, and the locals take great pride in keeping it that way. Four, it's extremely safe.
Bermuda is an island located in the Atlantic Ocean and is a self-governing British Overseas Territory.
To get to Bermuda, you can fly direct from most major US cities on the East Coast or take a cruise. We took a cruise from the Norwegian Joy sailing from New York City to Bermuda.
While we spent only two and half days enjoying this beautiful island, we can't wait to return to continue exploring it.
The time you get visiting Bermuda on a cruise is not enough. Actually, a week in Bermuda wouldn't be enough to see everything that the island has to offer. We had a whole map pinned of things to do in Bermuda, and while we accomplished a great deal for the short amount of time, we realized we would need a month.
With overnights in Bermuda on a cruise, you get to really plan without that time constraint of having to rush back to the ship by end of the day. Except for that last day in Bermuda.
Disclosure: This post may contain affiliate links. If you decide to make a purchase from one of those links, we may get a commission at no extra cost to you. We appreciate your support.
You do have to start your planning somewhere. This is why we've compiled a list of our top 10 things to do in Bermuda. Whether you're a history buff, a nature lover, or just looking for some relaxation on the beach, Bermuda has it all.
If this is your first time visiting Bermuda, this list should help you pinpoint some of the things to do in Bermuda that should not be missed. For those that have been to Bermuda, perhaps it will you tick off some other places in Bermuda off your list.
In this article, we will also cover transportation in Bermuda, so you can get an idea of what to expect.
Need reasons to book a cruise to Bermuda? Check out our 10 Reasons Why You Should Book a Cruise to Bermuda, next.
Things to Do in Bermuda
Quick Tips for Your Time in Bermuda
If it's your first time there, invest in an island tour. It will be worth getting to know the island and its history from a local.
Bring water shoes with good rubber soles on them that will help you to explore any of the rocky areas at the beaches.
We suggest bringing a collapsible cooler, making a stop at a local store on the way to the beach, and buying bottled waters, sodas, and snacks. It can get really expensive buying cups of sodas at the local beach restaurant.
That said, the food in Bermuda is amazing. Plan to have nice lunches or dinner out.
When you're riding around Bermuda, you'll notice that everyone is honking at each other. That's the locals saying hello to each other.
Be aware… Bermudians drive on the left side of the road.
1. Horseshoe Bay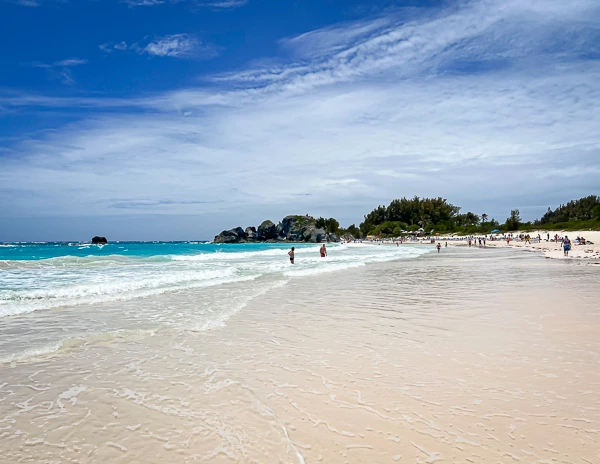 Horseshoe Bay Beach is one of the most beautiful sand beaches in Bermuda. Also, one of the most popular. Everyone we talked to about Bermuda kept asking us, "have you been to Horsehoe Bay?" It was as if we committed a crime when they found out that we hadn't.
After spending our second morning in Bermuda, Jetskiing around the bays of the islands, we took a taxi to Horseshoe Bay. Just arriving there and seeing it from the passenger window, we understood why everyone had such urgency to get to Horseshoe Bay.
The water is that beautiful, crystal-clear turquoise blue that you only see in postcards of the Caribbean. Of course, that could be said of the rest of the island in Bermuda.
The vistas of Horsehoe Bay are incredible. The bay is shaped like, you guessed it, a horseshoe. There are dramatic cliffs that make for a stunning backdrop to the bright blue water.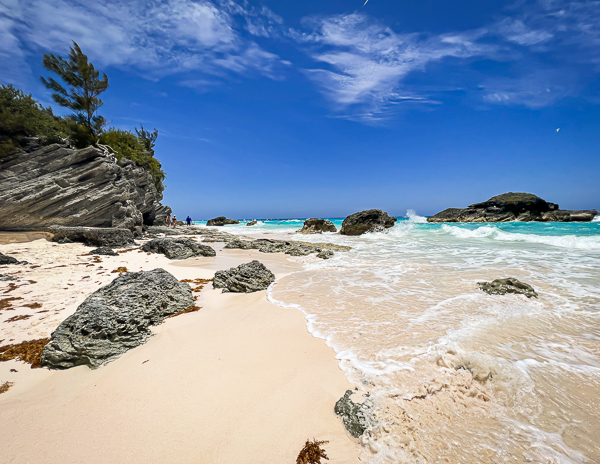 The sand is supposed to be pink sand, it's unique being a mix of coral which gives it a beautiful pink hue in the right light — but you really have to look down and see all the pink specks.
Even though Horseshoe Bay is one of the more popular things to do in Bermuda, there is plenty of space for everyone. The beach is quite large, and there are also many nooks and crannies to find some privacy if you want it.
You should know, there is little shade at this beach.
When you get to Horseshoe Bay, if you walk right, you'll find Horseshoe Bay Cove area that is perfect for families with little ones. The pools of water are calm and inviting, but the area is also filled with families.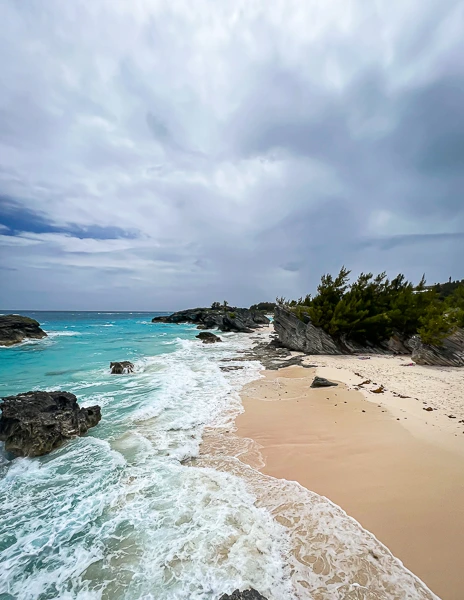 We suggest you walk left, enjoy the beautiful vistas of Horsehoe Bay, and continue walking past the rocks and cliffs. You'll find coves and areas that are much more secluded. We found a quiet cove, Water Rocks Beach, dropped our towels on the sand, and enjoyed our time in the middle of this beautiful beach.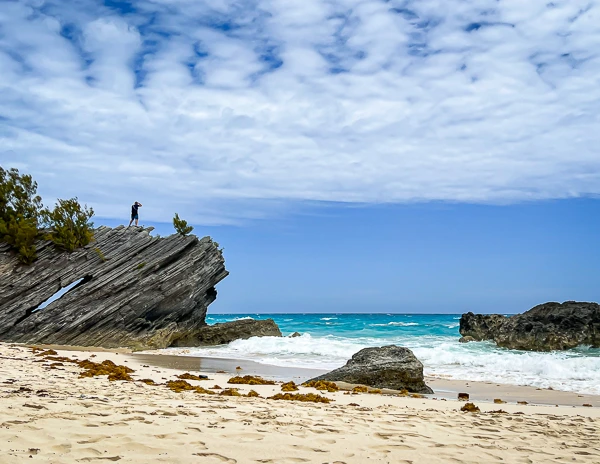 At low tide, you can continue walking and exploring on foot to get all the way to Jacob's Cove. You could spend the entire day in Horseshoe Bay exploring its coves and rocky areas.
Beach chair rentals and facilities are available in Horseshoe Bay.
How to get to Horseshoe Bay from the dockyard and cruise port?
There are shuttles that will take you from the dockyard to Horseshoe Bay for $7 per person. You can also take a taxi or a bus to Horseshoe Bay.
2. Tour the Crystal Cave & Fantasy Caves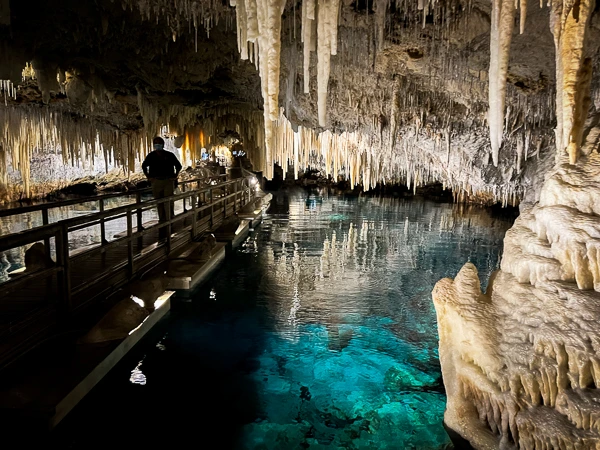 Crystal Caves and Fantasy Cave is one of the things to do in Bermuda that is a must, especially for first-timers in Bermuda. The caves are located in Hamilton Parish and are one of Bermuda's top tourist attractions.
It was on the top of our list when visiting Bermuda. It was our first destination after picking up our electric car the morning we docked in Bermuda.
You can choose to tour Crystal Cave or Fantasy Cave or both. It is cheaper to get a combo ticket than to do them separately. The best time to visit the caves is in the morning, so you can avoid large group tours. Each of the tours is about 25-30 minutes. Booking in advance is not necessary.
The caves were discovered by two young boys in 1907 and have been a popular tourist attraction ever since.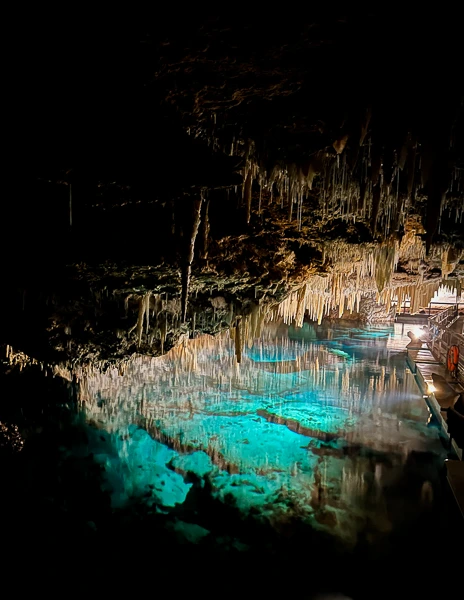 The caves are made up of calcite crystals that have been formed over millions of years. As you walk through the caves, you'll be mesmerized by the stalactites and stalagmites that have been formed by the dripping of water over time. Which makes for the crystal-clear waters inside the caves.
It's quite incredible to see it in person. Photos don't do the caves justice.
If you're hungry, Café Olé right outside Crystal Caves serves some delicious food. Hubby ordered a breakfast sandwich, which was prepared with fresh-cut bread slices. He couldn't stop talking about how good it was.
3. Visit the Historic Town of St. George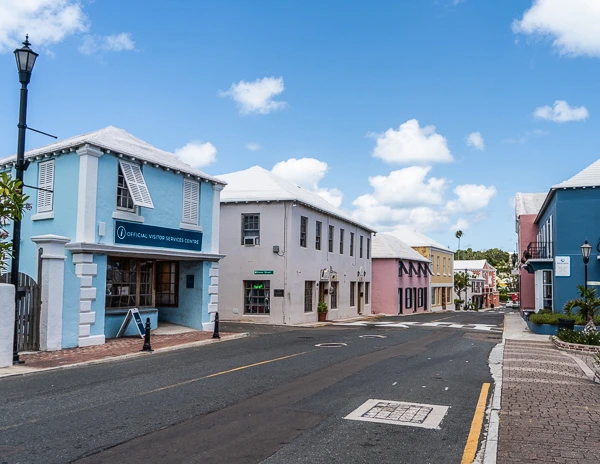 The historic town of St. George in Bermuda is the oldest town in Bermuda and is a UNESCO World Heritage site. The streets are lined with colonial buildings that have been well-preserved.
You can take the ferry or a bus to St. George. The fastest and cheapest way to get to St. George would be the ferry. From St. George, you can visit a number of things to do in the area.
We stopped here to charge our electric vehicle and to have lunch after visiting the caves. But we walked around taking in the sites. It was a quiet afternoon, and we were told by a couple of locals that it's usually that quiet.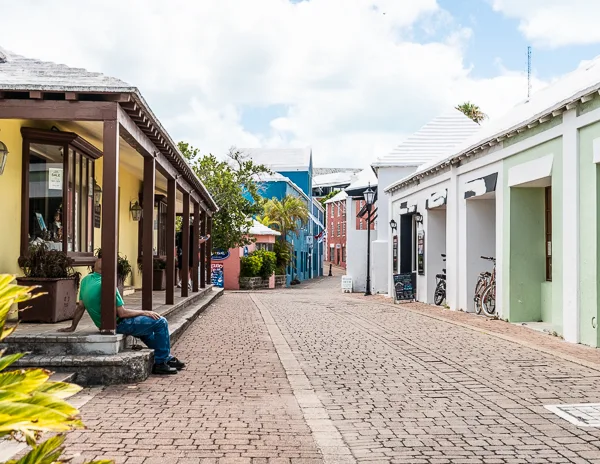 There are plenty of things to do in St. George, including visiting: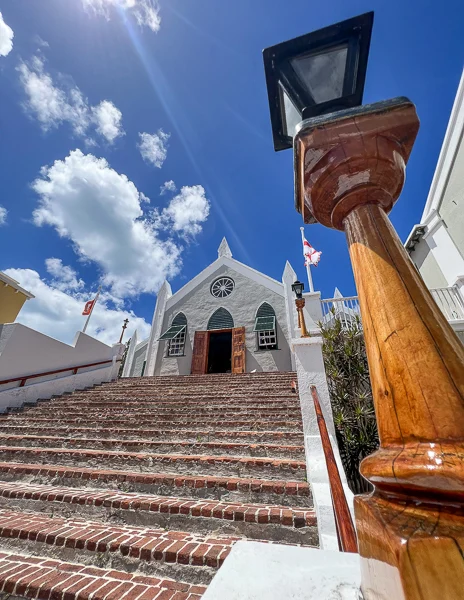 There is the oldest Anglican church in Bermuda, St . Peter's Church, which dates back to 1612. We fell in love with the simple beauty of this church.
In St. George, you will also find ruins of an unfinished gothic-style church that is a popular photo spot. The church was never completed.
4. Enjoy a Rum Swizzle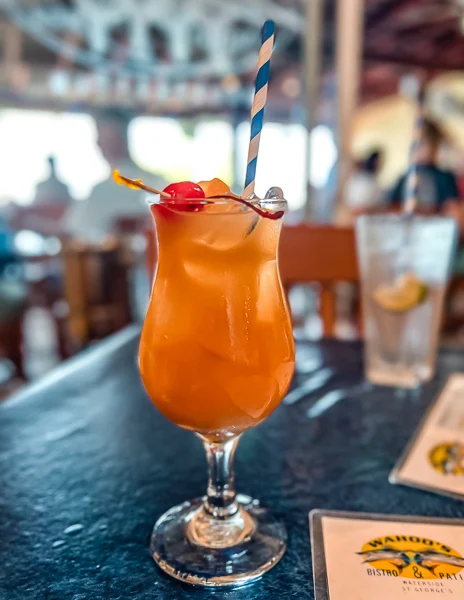 The Rum Swizzle is the national drink of Bermuda and is made with two kinds of rum, orange juice, pineapple juice, grenadine syrup, and Angostura bitters.
The most popular spot to have the Rum Swizzle is at the Swizzle Inn. You can enjoy Rum Swizzle's all over Bermuda and decide for yourself where the best spot is.
I tried the Rum Swizzle at a couple of places and can say that they were all delicious.
– Don't miss: 10 Best Beach Drinks That Never Fail –
Wahoo's Bistro & Patio
Tasty Itinerary Eats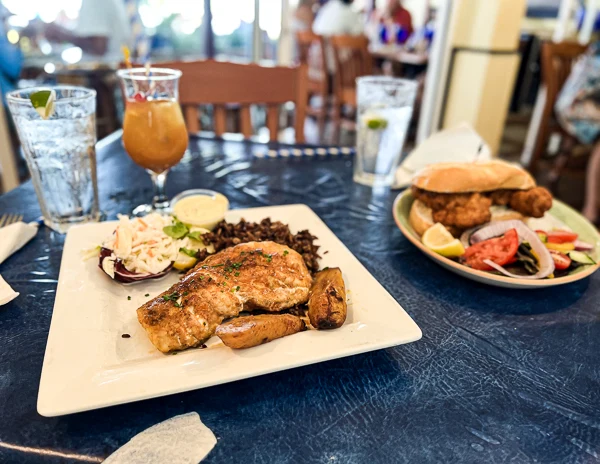 We had the most amazing lunch at Wahoo's Bistro in St. George.
The rockfish plate with rice peas, coleslaw, and fried plantains was outstanding. As well as the fried pork sandwich.
The fish was freshly caught and the flavors from everything on our plates dazzled our tastebuds.
Great spot for lunch and dinner.
36 Water St, St.George's GE 05, Bermuda | Google Map It) | Website
5. Snorkel at Tabacco Bay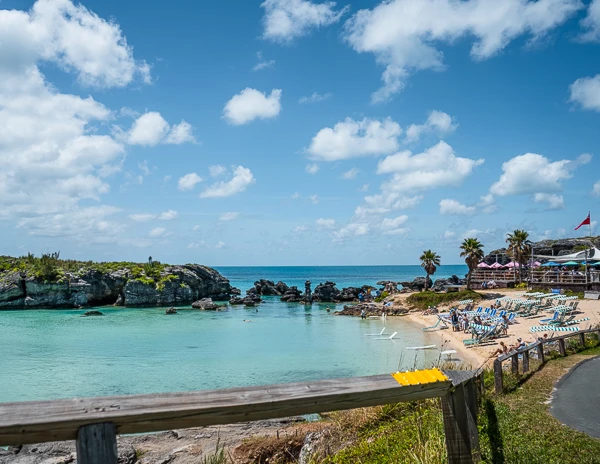 Tabacco Bay is a small beach located in St. George's Parish and it has some great snorkeling. We went there with our own gear, which allowed us to spend over an hour in the water.
The water here is crystal clear and calm. You'll be able to see all sorts of big colorful fish. If you don't have your own gear, no worries, you can rent it at the beach.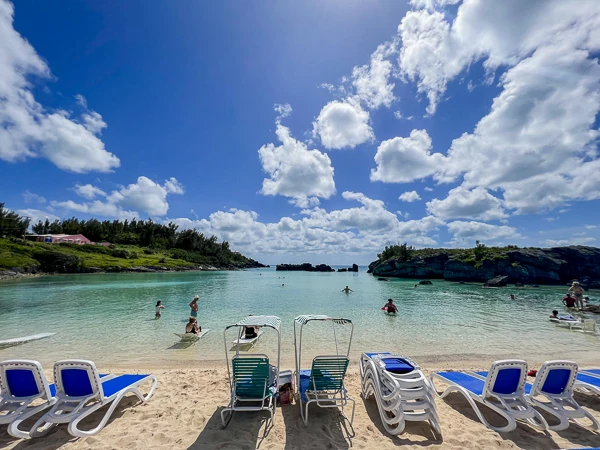 The water here is not rough, but there are some rocks, so be careful when you are swimming and snorkeling around them.
There is limited parking, but it is free.
The beach chairs at Tabacco Bay are not free, they will run you about $25 per chair, but negotiable. We were able to get them to drop it to $10 per chair as we arrived there in the afternoon. But you can easily drop your towel somewhere to enjoy this beach for free.
Another snorkeling spot in Bermuda? Church Bay Park is one of the top places to snorkel in Bermuda, according to a number of locals. We did not make it. Hopefully, you can. It's not too far from Horseshoe Bay.
Beach Packing List
Get beach-ready with this packing list! Whether you're heading on a day trip to the beach or taking a beach vacation, this beach packing list comes in handy each and every time. Don't miss packing any of these items. Printable included!
6. Visit the City of Hamilton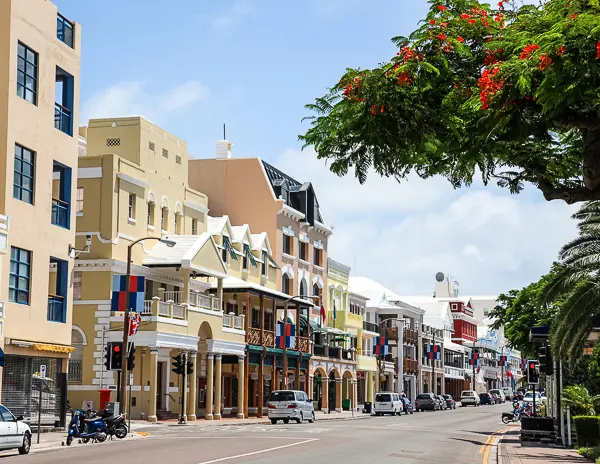 The capital city of Hamilton is one of the top places to visit while in Bermuda. Hamilton is a small city, but it is the center of business and finance.
There are plenty of things to see and do, including:
Front Street is the place to be in Hamilton. You'll find plenty of shops and restaurants on this main street that runs parallel to the beautiful harbor view. During the summer, on Wednesday nights, you can join the Harbor Night celebrations that take place on Front Street.
The Bermuda National Gallery is also located on Front Street and it's one of the top things to do in Hamilton.
You can easily spend a morning or afternoon visiting Hamilton, as well as a whole day. Depending on what it is you want to see and do.
7. Jetskiing Tour
One of the adventurous things to do in Bermuda is jetskiing around the beautiful bays of this island. You'll be able to see things that you can't see from the shore.
We booked a jetskiing tour with BDA Watersports and it was one of the highlights of our trip. The day was a bit windy and made the water a bit choppy, but we still had a fantastic tour.
You'll get to zip around and see the island from a different perspective. We even went to see one of the ship wreckage in Bermuda.
We recommend each person have their own jet ski unless you're with a child. If you're riding with someone else, as soon as you get wet, the person in the back start slipping and sliding. It cuts into the fun because you're holding on for dear life.
Even then it was still a blast. But we got off our jet ski agreeing that next time we'll get our own.
That being said, it is a fun activity you can book one of the mornings that only takes a couple of hours. Then you can move on to something else.
8. Warwick Long Bay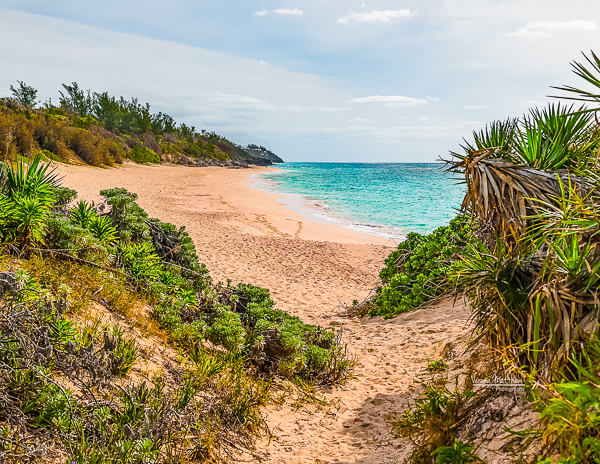 If you're looking for another pink beach in Bermuda, head south to Warwick Long Bay. This long and narrow stretch of sand stretches over a mile with crystal clear water. It's located on the south shore of Bermuda and it's one of the most popular beaches on the island.
The sand here is soft and the water is crystal clear. You can find plenty of things to do here, including swimming, sunbathing, body surfing, and walking along the beach.
Warwick Long Bay is also a great place to watch the sunset.
Just like Horseshoe Bay, there is little to no shade on this beach, so make sure you bring your sunscreen and plenty of water.
9. National Museum of Bermuda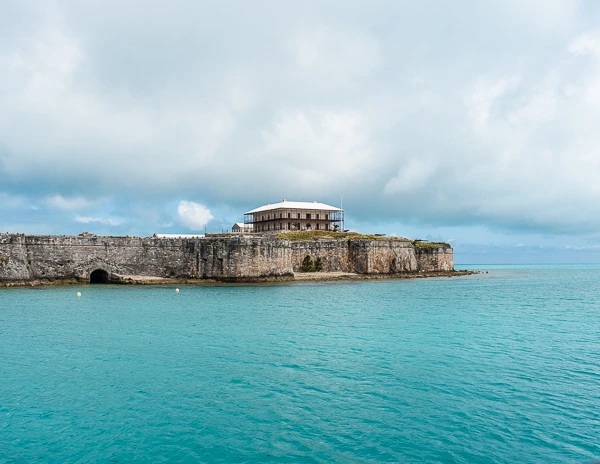 The National Museum of Bermuda is one of the top things to do in Bermuda cruise port, the Royal Naval Dockyard. Especially if you want to learn about the history and culture of this island.
The museum is located at the Royal Naval Dockyard. It is the perfect spot to visit if you want to stay close to the cruise ship. With only half a day left in Bermuda on our last day, we chose to visit the National Museum of Bermuda.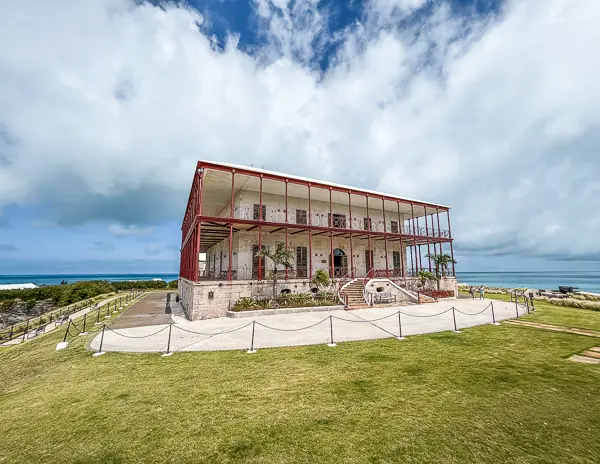 The museum is located in the Commissioner's house and it's spread out over three floors. You can easily spend a couple of hours here. The museum has a mix of permanent and temporary exhibitions.
Here you'll find the history of Bermuda, with exhibits on the shipwrecks, the slave trade, and the fortifications. You'll also learn all about the culture of Bermuda, the environment, and the natural history of Bermuda.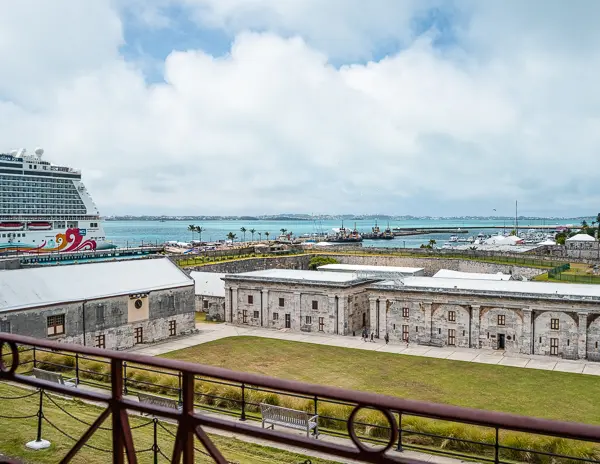 The views from the fort are also incredible. You can see all the way to the dockyard and beyond. If you want to take some amazing pictures with your cruise ship, this is a great place to do so.
10. Try an Authentic Local Fish Sandwich
One of Bermuda's local specialties is its fish sandwiches and you can find them all over the island. They are usually made with the local catch of the day. It's one of those things to do in Bermuda that your tastebuds will always remember.
Rockfish, wahoo, or cod are the most common fish used in these sandwiches. The fish is usually fried and served on a bun with tarter, coleslaw, and tomato between two slices of thick raisin bread.
That's right, raisin bread. You can also get it with whole wheat bread.
You can find these sandwiches all over the island, but some of the best places we noted on our list are Art Mel's Spicey Diced, Grannie's, Woody's, and Mama Angie's.
These sandwiches are usually around $15. They make for a great lunch, and they are big enough to share…. all depending on your appetite.
Where do like to get your fish sandwich in Bermuda?
Other spots you may want to add to your Bermuda itinerary:
The Blue Hole
Gibb's Hill Lighthouse
Bike the Railway Trail
Clearwater Beach
Turtle Bay
Elbow Beach
Tom Moore's Jungle
Jacob's Cove
Transportation in Bermuda
Did you know that Bermuda doesn't allow tourists to rent cars? The good news is that there are other options for getting around Bermuda. It is not difficult at all. But, be ready to walk as sometimes you'll have to use your feet to get to the exact destination.
The public transportation in Bermuda is excellent and very affordable. You can purchase a day pass for the bus or ferry system which allows you unlimited rides for that day.
Shuttles are available at Royal Naval Dockyard to take you to and from some of the most popular stops.
The closest to renting a car is an electric vehicle. They mostly have a two-passenger capacity.
Scooters are also available for rentals but are not recommended due to the number of accidents.
Taxi drivers are available.
You can hire a driver for the day or for tours.
Electric Car Rental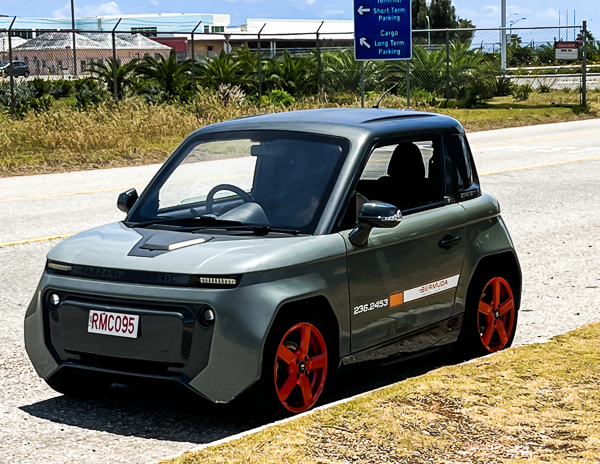 The most popular electric car rentals in Bermuda are the Twizy and the Tazzari. They are both two passenger vehicles. The Twizzy is a tandem two-seater, while the Tazzari has two seats side-by-side.
On our first full day in Bermuda, we rented a Tazzari which we booked weeks in advance via Bermuda Car Rental. They have a location at the Royal Naval Dockyard within walking distance of the cruise terminal, amongst others. There are also other car rental agencies in Bermuda.
It cost us $217 for the day (that included insurance), but it is a 24-hour rental. It is quite pricey for just a day, but you can do what works for your budget and plans.
If you have been keeping up with our adventures, then you know that sometimes we love to rent a car at ports and go exploring on our own. We definitely wanted to maximize our time in Bermuda.
You will drive on the left side of the road in Bermuda. As a passenger, this took quite a bit to get used to, and don't think I ever did. Hubby is a great driver and took to it immediately, loving the Tazzari.
The charge on the Tazarri last as long as it takes to get around the island – according to the car rental rep. But they highly suggested we stop mid-way to charge, which we did in St. George.
The biggest downside of the Tazzari is the power steering. There isn't any! So keep that in mind, you'll definitely be using some muscle to turn the wheel.
If we could do it all over again, we wish we had hired a private driver at least for one day to give us a tour of their beautiful island.
On the plus side, driving your own car allows you to make impromptu spots on your day out exploring the island.
Shuttles
Shuttles are available for cruisers to easily get to and from destinations like Horseshoe Bay for $7 per person.
This is a great way to get to where you want to go without the hassle of buses or any other transportation. Leave the cruise port, find the shuttles outside your terminal, and soon you'll be in Horseshoe Bay.
We took a shuttle from Horseshoe Bay on the way back from the beach. It was easy and fast.
Buses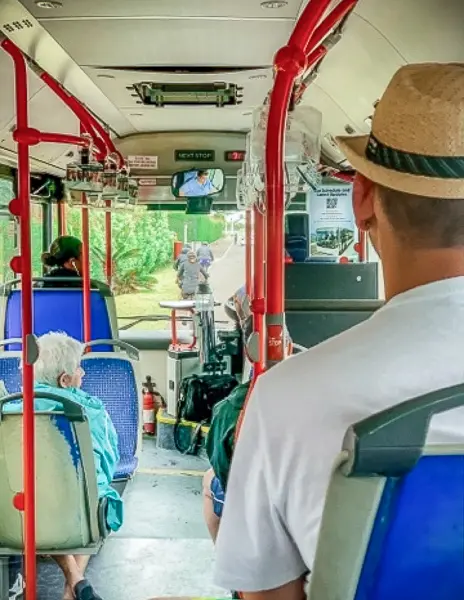 The bus system in Bermuda is excellent. It's safe, reliable, and affordable.
The bus fare starts at $3.50 per person, per trip (exact change only) or you can buy a day pass that costs only $19 for one day. You can purchase your pass at the Visitors Service Center at Royal Naval Dockyard or St. George or from the Central Terminal in Hamilton.
More info: Bermuda Bus Schedule
Ferries
Bermuda also has its own public ferries that you can take advantage of to go to Hamilton or St. George. From Hamilton, you can take other ferries to other parts of the island.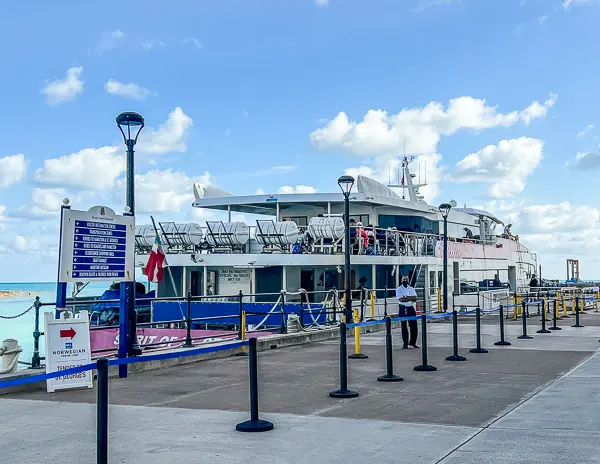 If you're cruising to Bermuda, one of the best parts about cruising with NCL is that they have their own ferry for their passengers. This ferry leaves Royal Naval Dockyard and takes you to St. George daily from the time we dock. They do 1-3 round trips, per day.
No cash is accepted. You have to purchase your tickets or passes at the Visitor Visitors Service Center at Royal Naval Dockyard or St. George or from the Central Terminal in Hamilton.
More info: Bermuda Ferry Schedule
Taxi Drivers
Taxis are not an affordable option but are sometimes necessary. They are usually lined up outside the cruise port.
Tip 1: Always ask how much it will cost to get from Point A to Point B.
Tip 2: Make sure the meter is running and they start it when you get into the vehicle.
At most beaches, you can hail a taxi right outside the entrance. If you're at any other attractions, stores, restaurants, etc. you can ask them to call a taxi for you and they will be happy to do so.
Private Drivers & Tours
There are private drivers and tours you can hire per day or by the hour in Bermuda.
Bermuda is a beautiful island with plenty to offer to everyone who visits. It's one of those destinations that will make you want to come back for more. We highly recommend adding this destination to your travel bucket list – you won't be disappointed!
We hope this list of things to do in Bermuda helps you plan your next trip there.
Have you ever been to Bermuda? What was your favorite thing to do there? Share with us in the comments below!