Looking to tantalize your taste buds with some truly amazing Italian cuisine? Florence is one of the cities you should have on your list. This historic city is home to some of the most mouth-watering dishes. Here are 10 of the best Florence foods to add to your foodie bucket list.
Italian cuisine is one of the most popular and loved in the world. When you visit Italy, you discover Italian food varies from region to region and even city to city. It is all dependent on the local ingredients, what's grown, what the city is known for, and what's available.
When you visit Florence, there are a number of Florence foods you should add to your foodie bucket list. Some of these foods derive from the Tuscan region as well, possibly with their own spin on it… "alla Fiorentina".
Many of the Florence foods you'll find are made with simple, yet high-quality ingredients. Keeping with some of the ancestor traditions when ingredients were harder to come by.
For example, when you first have the bread in Florence, you'll realize that there is no salt in the bread. It's simply plain. This is because, back in the day, salt was a very precious and expensive commodity.
It also has to do with a bit of history going back to the middle ages when the Pisa blocked the salt from being delivered to Tuscany from their port. So, the Tuscan bakers only used what they needed, which was none at all! It was better than giving in to Pisa's demands at the time.
Nowadays, you'll find that some bakeries add a little pinch of salt to their bread. But, if you want the "traditional" Fiorentina bread, it will be without salt.
Disclosure: This post may contain affiliate links. If you decide to make a purchase from one of those links, we may get a commission at no extra cost to you. We appreciate your support.
Now, there are plenty of things to do in Florence, but one thing you should not miss is eating your way through this beautiful city. Eating is one of the many reasons to visit Italy. And, a food tour is one of the best ways to get introduced to some of these foods, their history, and the local culture.
Food Tour Ideas:
You can also visit the Mercato Centrale and local supermarkets to see what locals are eating and buying.
When we visit Florence, we spend a lot of our time eating and sipping Chianti wine. We are here to advise you to do the same!
Sip and savor your way through this Tuscan city with these Florence foods.
Florence Foods
1. Ribollita
Ribollita is a traditional Tuscan soup made of vegetables, beans, and bread. There are many variations of this soup as it is a peasant soup. One that was created during hard times when people had to make do with whatever they had on hand.
The name Ribollita means "reboiled" because this soup was traditionally made by reheating the leftovers from the day before, which included bread. So sometimes you can expect the soup to be thick. It can be pretty filling too.
Nowadays, you'll find that most restaurants make it from scratch, but some still use the old method of reheating leftovers.
This is one of the simple yet delicious Florence foods you have to try. When served, it may not look like much, but once you have your first comforting and delicious spoonful, you'll appreciate it.
It's also perfect for a chilly day in Florence.
2. Bistecca alla Fiorentina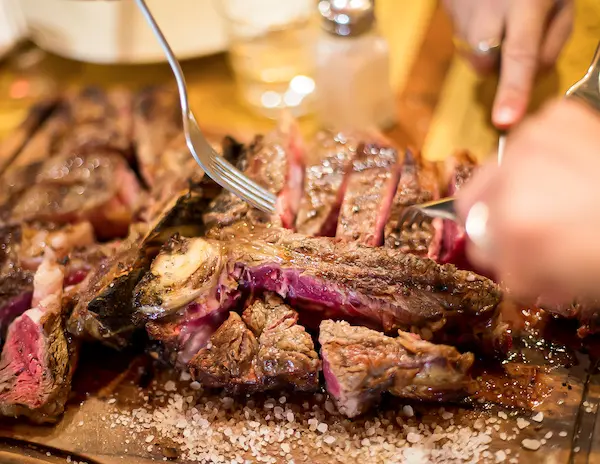 Are you a meat-eater? So, then you can't leave without having Florentine steak.
What makes the Bistecca alla Fiorentina authentic to Tuscany is where the meat comes from. Chianina is an Italian breed of white cattle that are raised in a few regions of Italy, mostly Tuscany. If you set out to explore and take day trips from Florence out to Tuscany, you will probably come across herds of the Chianina cattle.
During a food tour in Florence, we learned that there is a traditional way to experience Fiorentina steak. At the restaurant, the server will present to you the raw piece of T-bone cut steak for approval. Once approved, they will go back and grill it over a wood-fire grill.
The result is a beautifully cooked piece of meat that is juicy on the inside and slightly charred on the outside with a smoky flavor.
Pair it with a glass or two of Chianti wine, and you're in for one fantastic meal!
There are many restaurants in Florence and Tuscany that serve Bistecca alla Fiorentina. For the full traditional experience, check out Ristorante del Fagioli (a Michelin guide restaurant). It's one of our favorite places to eat in Florence.
3. Gelato
Italy is famous for gelato and Florence is no exception. Gelato is said to have been created in Florence by Bernardo Buontalenti during the Medici court.
Now, you can find gelato all over Italy, but why not have gelato where it all began?
Gelato is different from regular ice cream as it has a higher proportion of milk and a lower ratio of cream and eggs.
What makes gelato unique is the creaminess. Thanks to the higher quality milk and cream used, the gelato is extra creamy and smooth.
Gelato in Florence is some of the best we've had. The gelato here is made with fresh ingredients and you can really taste the difference.
One of our favorite ways to enjoy gelato is by taking a leisurely stroll through Florence with a cup or cone in hand while admiring the beauty of the city of Florence.
Tip: If you see a gelateria with piles of gelato that looks like beautiful chaos of ice cream, that's not a true artisan gelato spot. You want to go to gelaterias that prepare their gelatos in-house with local high-quality ingredients. Also, if the pistachio is neon green, it's not real gelato.
If you want to try some of the best gelatos in Florence, check out Perché no!, Vivoli, or Gelateria de Neri.
4. Trippa & Lampredotto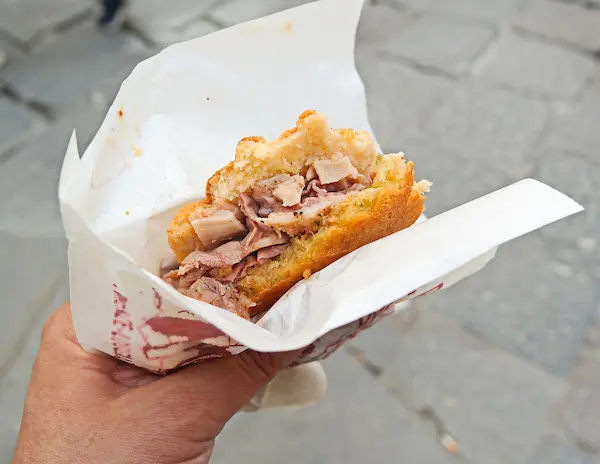 If you are feeling adventurous and want to try something truly unique, then head to a food truck and order trippa alla fiorentina and lampredotto panino
Trippa and lampredotto are both Florence foods that come from the Tuscan region of Italy. Trippa is made of a cow's stomach while lampredotto is made of a cow's intestines. Lampredotto is made from the fourth stomach. Both types of meat are slow-cooked in a tomato broth until they are melt-in-your-mouth tender. They are both considered peasant dishes.
Typically, the meat is then placed on a soft roll and topped with salsa verde (a green sauce made of parsley, garlic, and olive oil).
Not going to lie, we are not a fan of tripe or stomach. However, this is a local favorite that you'll find many Florentines eating. If you are feeling adventurous, then give it a try!
You can find these food trucks on almost every street corner in Florence. Just look for the awnings with the words "Panino al Lampredotto" or "Trippa alla Fiorentina." It's typical street food in Florence.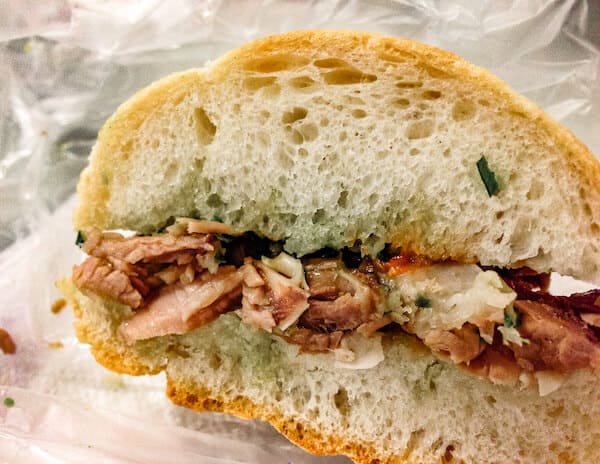 Da Nerbone, in the Mercato Centrale, is one of the most popular and oldest spots to get an authentic trippa alla Fiorentina or lampredotto. If you're not up for either, you can try a bollito, which is boiled beef that is prepared similarly as a panino with salsa verde.
5. Crostini Neri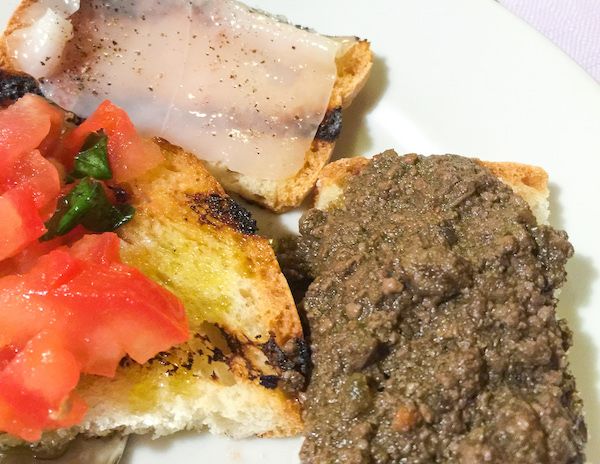 Crostini Neri is a typical Tuscan food that you will find on the menus of restaurants in Florence. Toasted Tuscan bread is topped first with butter and then with a black liver pate.
The liver pate is made from chicken livers, butter, red onion, carrots capers, and anchovy paste (recipes will vary a little). It is then slow-cooked until it is smooth and creamy. Then slathered over a crusty piece of bread.
Believe us, we are not a fan of the liver in general, but we will eat Crostini Neri. It is usually served as an appetizer but we've also seen it offered as a main course.
Crostini Neri is the perfect aperitivo to have with a glass of Chianti.
6. Peposo alla Fiorentina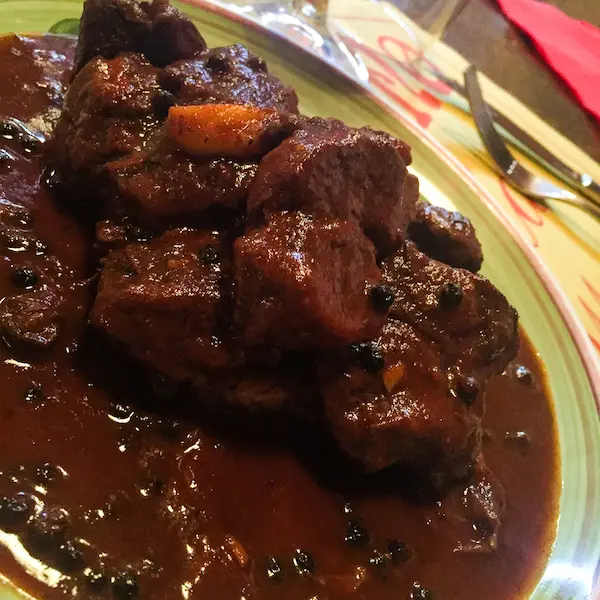 Peposo alla Fiorentina is a hearty Tuscan beef stew that is slow-cooked with garlic, peppercorns, and red wine. It is then typically served over thick crusty bread.
This dish was created by the working men in Florence during the construction of Brunelleschi's Duomo. They would cook the stew in pots near the fires producing terracotta tiles and left it unattended while they worked for most of the day. This created a flavorful and tender stew.
Peposo alla Fiorentina is a delicious and hearty fall or winter dish. Don't get me wrong, we'd have this any day of the year.
7. Fagioli all'olio
Fagioli all'olio are simply Tuscan beans in olive oil. These beans are slow-cooked with garlic, olive oil, and herbs until they are creamy and tender.
This is a dish that is often served as a starter or a side with your main course. Sometimes a thick slice of crusty bread will accompany it so you can mop up all that delicious olive oil. You will see this on menus throughout Florence.
While it seems so simple, it's quite amazing and not your regular side of beans. The beans from Florence and the surrounding Tuscan region are some of the best in Italy.
Tuscan beans are also used in a variety of dishes, ranging from soups and stews to salads and pasta dishes. So when you're in Florence, be sure to try the local beans. You won't be disappointed.
Day Trip From Florence to Lucca, Italy
Take the train or rent a car from Florence to Lucca. Explore the old Medieval city walls and underground tunnels. Eat the best focaccia. Enjoy the relaxing atmosphere Lucca offers away from all the tourists in Florence. If you love Florence, you will Love Lucca.
8. Cinghiale (Wild Boar)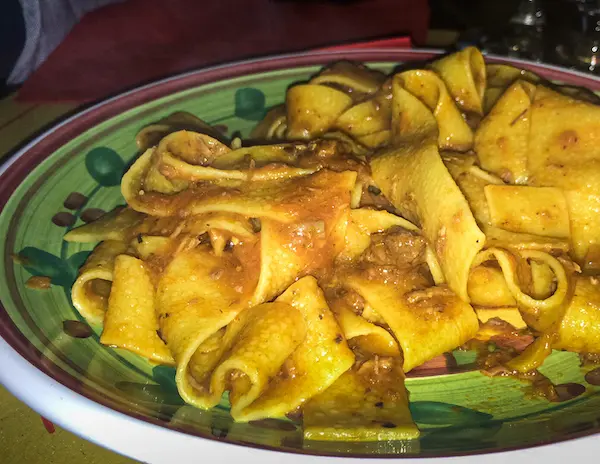 The Tuscan region is known for its game, and you will find dishes made with wild boar on menus throughout Florence. The boar is slow-roasted with rosemary and sage until it is tender and falls off the bone. It's absolutely scrumptious!
It is then typically served over creamy polenta or pappardelle pasta. Restaurants typically serve dishes with wild boar from October to January.
9. Schiacciata alla Fiorentina
Schiacciata alla Fiorentina is a soft and flat cake that is traditionally baked during the Carnival season. It tastes slightly of orange and vanilla. The cake is dusted with powdered sugar. Usually, it is served as is, but sometimes you'll find it filled with creams or custards.
The cake's history stretches back to the 18th-19th century when it was called "Schiacciata delle Murate" because it used to be made by nuns at their convent and then became famous as a final meal for prisoners about to be executed.
Schiacciata alla Fiorentina can be served with an espresso or vin santo, and can also be eaten as a dessert.
Nowadays, you can find this delicious treat in bakeries throughout Florence.
10. Any Dish with Truffles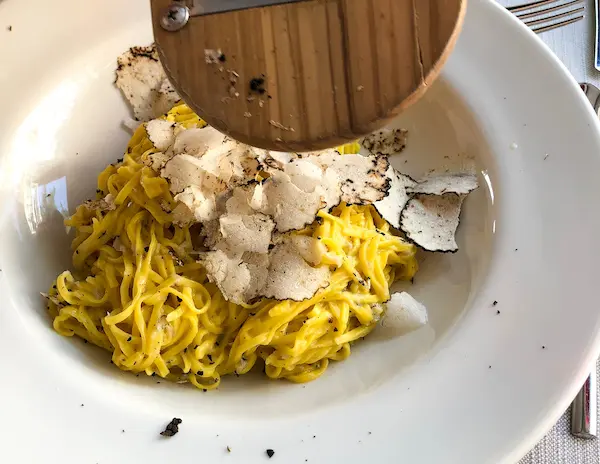 Tuscany is known for its truffles and you will find dishes with truffles on menus throughout the city of Florence. Truffles are typically used in dishes that highlight their flavors, such as pasta with truffle oil or shaved truffles on top.
There are a variety of truffles that can be found in Tuscany, each with its own unique flavor. The most common type of truffle found in Florence is the black summer truffle.
Truffles are a type of fungus that grows underground near the roots of trees, and they have a distinct aroma and flavor. They are quite a delicacy and expensive.
Hunting for truffles is a tradition in Tuscany, and you can even go on a truffle hunt with a trained dog.
In recent years, it seems that truffles have become more popular and you can find them in a variety of products, dishes and not just Italian cuisine. But, you have to be careful because not all truffle products are of the same quality. Some products are even counterfeits and not made with real truffles.
When in Florence or in Italy, be sure to order a dish with truffles and taste the difference for yourself. Like a plate Tagliatelle Funghi Porcini e Tartufo. And sure, not everyone loves the taste of truffles, but you won't know until you try it.
Tour Ideas:
Full-Day Small-Group Truffle Hunting in Tuscany with Lunch [book tour]
Hunt for Truffles in the Tuscany Hills of Florence [book here]
Things to do in Florence, Italy
Looking for the best things to do in Florence, Italy? We've got your back. Visit attractions like The Duomo and Ponte Vecchio. From eating gelato at every opportunity. Read all the things you should not miss when traveling to the beautiful city of Florence.
So there you have it, our top Florence foods to add to your foodie bucket list. We hope you enjoy trying out all these amazing dishes! We are definitely hungry now. What about you?
Don't forget to pair all your meals with Chianti wine!
What's your favorite Italian food? Let us know in the comments below.
Don't forget to share the love on Pinterest: