Looking for things to do in Monrovia, California?
At the foothills of the San Gabriel Mountains in California is the lovely city of Monrovia. It's Old Town in South Myrtle lovingly nicknamed Mayberry Street for its idyllic and picturesque street with the dropback of the San Gabriel Mountains. It's been featured in many shows and films.
Monrovia is a neighboring town of Pasadena, Arcadia, Santa Anita, all about a ten-minute drive away in the San Gabriell Valley. So we have spent quite a bit of time enjoying what the city has to offer. We also had family who lived here for a few years that fell in love with locals and the tight-knit community. We always tagged along on their adventures.
While there aren't many big flashy things to do in Monrovia, the city knows how to celebrate the holidays and keep its community engaged with its family-friendly festivities.
Old Town Monrovia is where you'll find the most fun things to do in Monrovia. It is known for its events starting with its weekly Friday Night Family Market to its wine crawls, horse carriage rides, July 4th fireworks, Holiday Parades, and breakfast with Santa during the holidays… just to name a few.
The Friday Night Family Street Fair is always a hit, full of locals and visitors enjoying their night out getting a bite to eat or simply stocking up at the outdoor market.
Monrovia also has some fantastic restaurants and cafes, which make it a great city to meet for brunch, lunch, or dinner.
Whenever we are in town, we stop by Merengues for cafe con leche and a Cuban pastry. Brunch at Nano's Cafe, the Monrovian, or its latest addition, Cafe de Olla. Or, we'll have a delicious Mediterranean dinner and cocktails at The Diplomat.
If you drive west of Myrtle on Grand Canyon Avenue to escape the city. You'll find beautiful residential areas surrounded by evergreens. Every so often you will come across packs of deers huddling together in someone's yard.
Monrovia is a great city to live in Los Angeles County.
A couple of facts about Monrovia:
Monrovia is the 4th oldest general-law city in Los Angeles County, after Pasadena.
Monrovia is part of Route 66, so why not make a stop?
Things to do in Monrovia, CA
1. Explore Historic Old Town Monrovia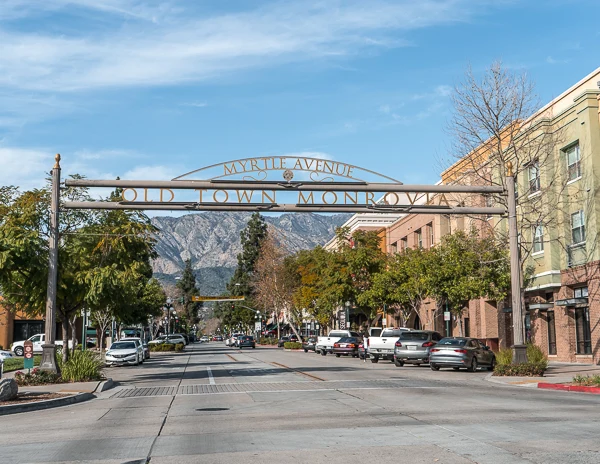 The beating heart of Monrovia is their charming downtown area of Old Town that encompasses 10 blocks. But its main street of Myrtle Avenue is what draws in visitors as it is affectionally called Mayberry USA.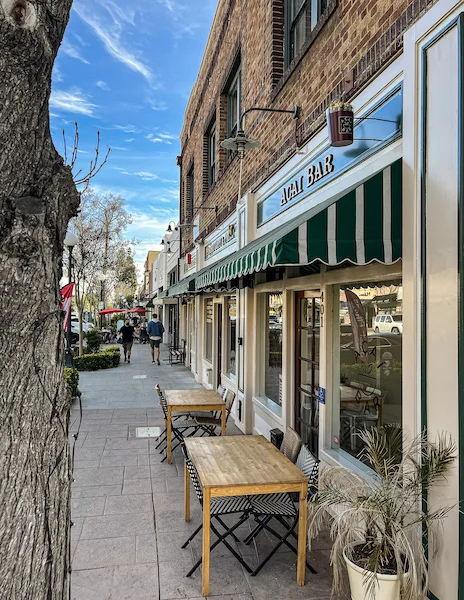 As soon as you enter Old Town from the south, a metal archway spanning across Myrtle Avenue will welcome you into its historic district. You'll be dazzled by the view of the mountains in the distance, the delightful lampposts, and trees along the sidewalks.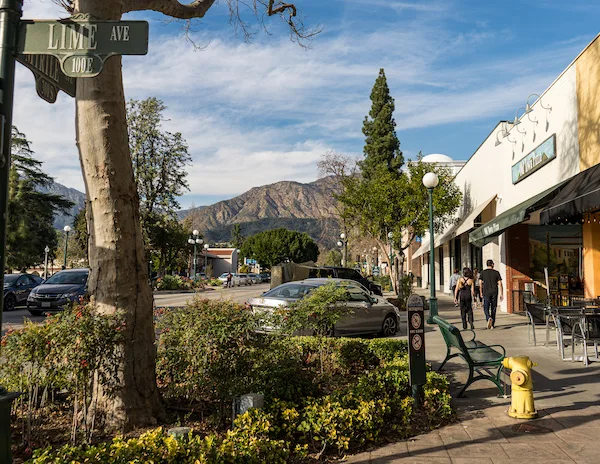 You'll want to find parking and do some exploration as Old Town Monrovia. It is filled with restaurants, cafes, boutiques, and other small businesses. It's the perfect destination to take a stroll or spend the afternoon with family and friends. There are some great restaurants and bars that also make it a great destination for date night.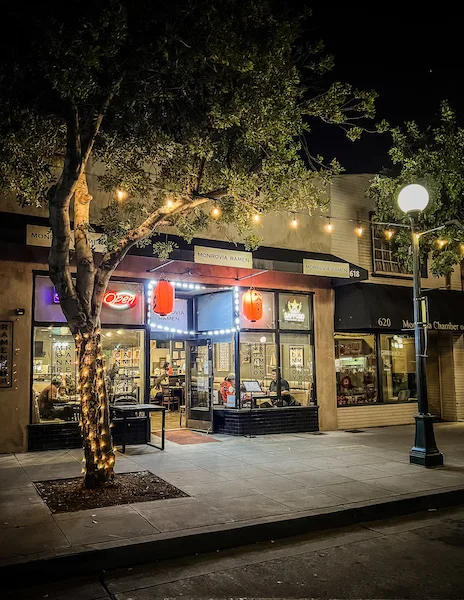 There are several historic structures in Old Town Monrovia that have been restored throughout the years to preserve the character of the city. Including the Box Jewelers Clock that has been around since the 1920s.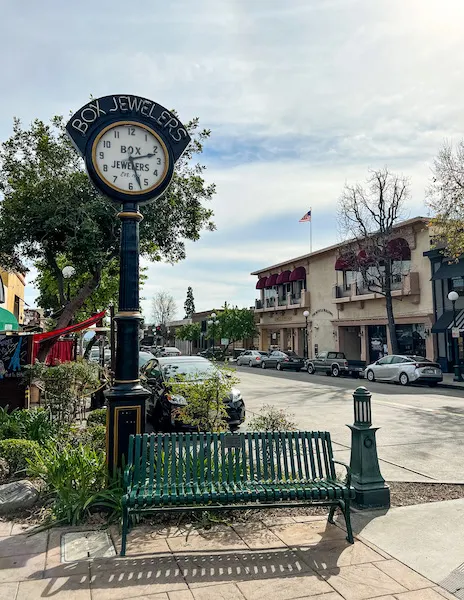 Old Town Monrovia is especially pretty during the Spring when their pink-flowered crepe myrtle trees are in bloom.
Parking in Monrovia is FREE, which is a huge plus for visitors and businesses. If you can't find street parking, you can find parking lots and garages down the side streets.
2. Attend the Monrovia Friday Night Family Street Fair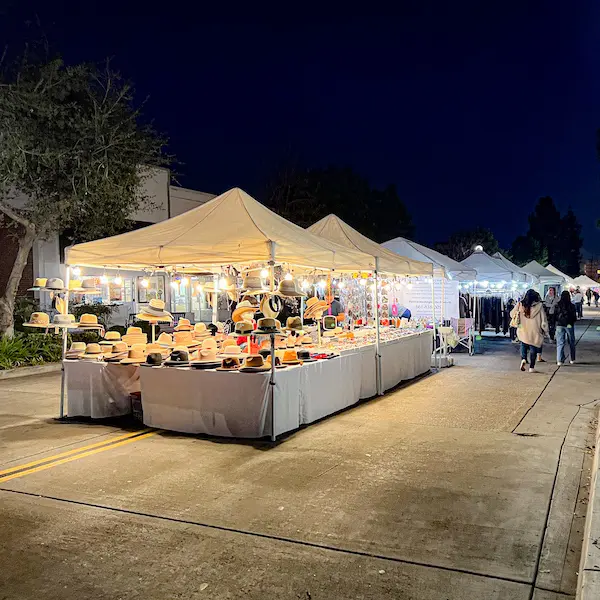 One of the best things to do in Monrovia is the Friday Night Family Street Fair. Three blocks are closed off for this street fair every Friday night of the year and it's a fun event for families to attend.
What's great about it is that you can plan to go on any Friday night and it's not a once-a-year event. Everyone will have a great time. It is something fun and safe to do in Monrovia.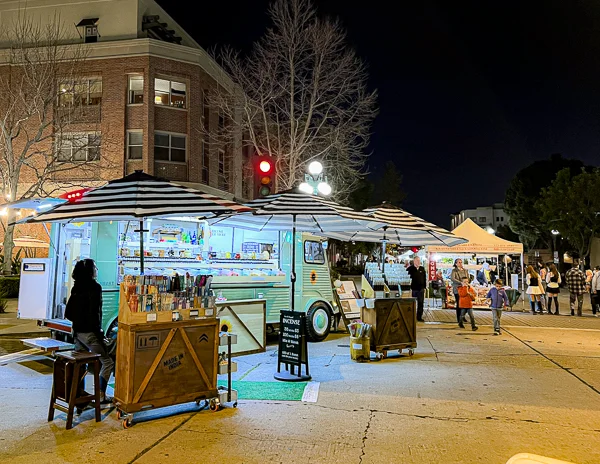 The street fair consists of everything from food trucks, foodie stands, craft tables, jewelry, clothing boutiques, produce, bounce houses, petting zoo, and other unique tables selling homemade products.
You'll find Live Music playing at different corners throughout. A family favorite in Monrovia, The Kattywompus String Band plays live every night at 8 pm at 517 S. Myrtle Ave.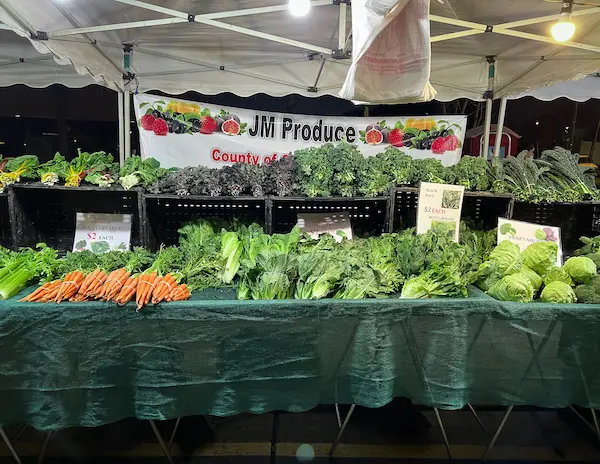 We mostly go to Monrovia Friday Night Fair to eat and check out the foodie scene. We always stop by our favorite tamale stand Me Gusta Tamales for chile & cheese and chicken tamales.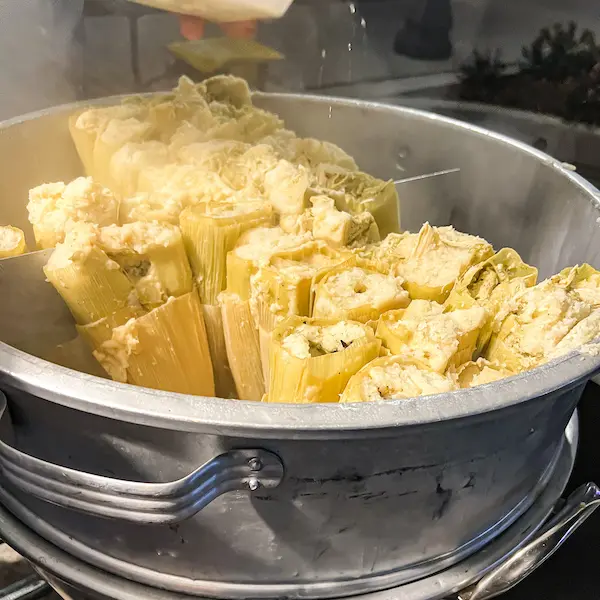 Most recently, we discovered Délices du Chef, a French foodie stand with amazing madeleines, baguettes, and other French delights.
Every Friday night starting at 5pm to 10 pm
3. Make it a Night at LOOK Dine-In Cinemas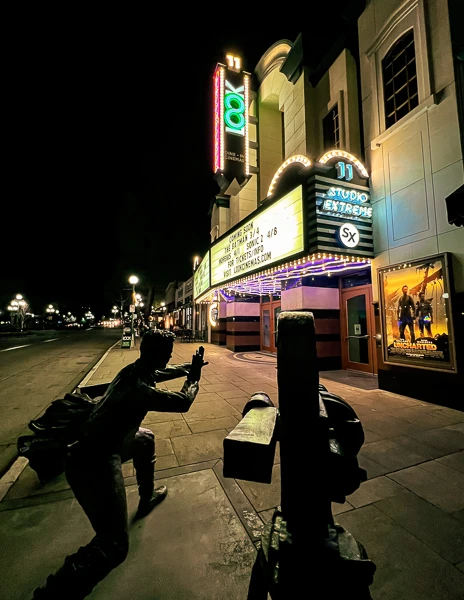 The movie theater in Monrovia has been renovated in the past couple of years, most recently by Studio Movie Grill, and then it was taken over by Look Dine-in Cinemas. While it was closed during the pandemic, it has reopened.
Look Dine-In is a movie theater chain that displays new featured movies, as well as a full menu of food and drinks. You order your food and drinks from your seats and servers bring them to you.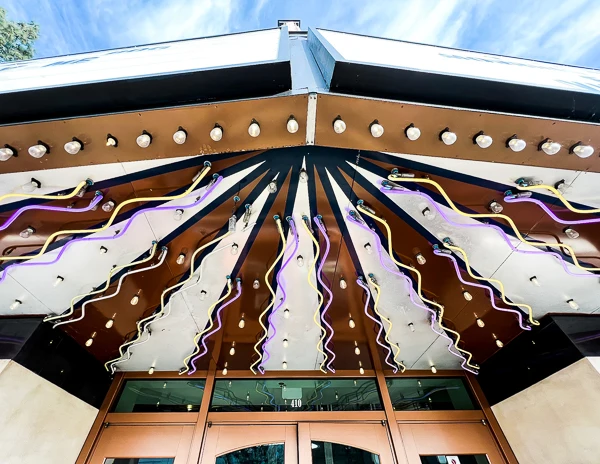 While the exterior of the theater has a cool retro look, the inside is modern, clean, and comfortable. There is a full bar and seating available for pre-movie drinks.
This is one of the fun things to do in Monrovia any day of the week.
LOOK Dine-in Monrovia | 410 S Myrtle Ave, Monrovia (Google Map It)
Top Things to do in Los Angeles, CA
What are the best things to do in Los Angeles? Come take a stroll down Hollywood Boulevard amid the stars. The Griffith Observatory offers breathtaking views of Los Angeles. At Grand Central Market, you can eat your heart out. The Original Farmer's Market is a must-see. View the top attractions in LA to help you plan a great trip.
4. Monrovia Historical Museum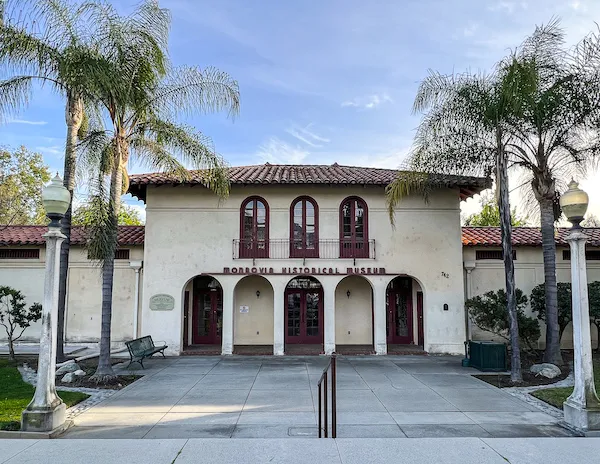 One of the free things to do in Monrovia is visiting the Monrovia Historical Museum. It is a little museum is full of fun history and artifacts of the city's history.
The museum has rotating exhibits that focus on different aspects of Monrovia's history. One wing has special exhibits about the founding fathers, while another holds fossils and Native American treasures. There is also a WWII display.
Fun fact: The Monrovia Historical Museum is located in what used to be the community swimming pool, the Monrovia Plunge.
If you have never been to Monrovia or you didn't know about the Monrovia Historical, you may want to stop by to check it out.
Cost: FREE
Thursday and Sunday 1 pm to 4 pm
Monrovia Historical Museum | 742 E Lemon Ave, Monrovia (Google Map It)
5. See the Iconic Aztec Hotel & Eat at the Mayan Bar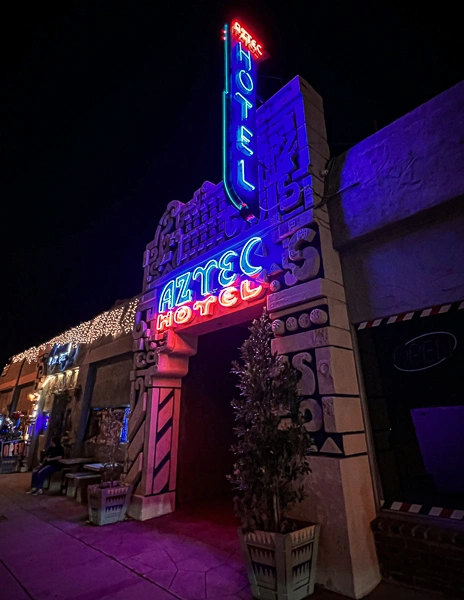 Right on Historic Route 66 of Monrovia resides another historical landmark of Los Angeles, the Aztec Hotel. This 44 room hotel was built in 1925.
The hotel itself has quite a history of crime, legal issues, and paranormal activity. Which makes it an exciting haunt to stop by and see.
You can't book a room here, the hotel is not operational. It is said to be in renovations for years. However, the Mayan Bar & Grill is open. They do serve drinks and have a full menu. If they have the option of patio dining, take it. As it gives you a peek at the hotel's outdoor garden area.
There are small private tours of Aztec hotels that pop up every now and then. Bizarre LA has had the pleasure to guide a couple of tours in recent months, so I'd say follow Bizarre LA on IG or their website for future tours.
Aztec Hotel | 311 W Foothill Blvd, Monrovia (Google Map It)
6. Go Brewery Hopping in Monrovia
Did you know there are quite of few breweries in Monrovia, California? Only recently did it come to our attention of the brewery scene in Monrovia. All serving flights of their in-house brews with food options available. Their outdoor settings make it one of the most enjoyable things to do in Monrovia on a beautiful day.
While we have yet to visit them all, these are the family-owned micro-breweries in Monrovia to check out:
• Overtown Brewery | 227 W Maple Ave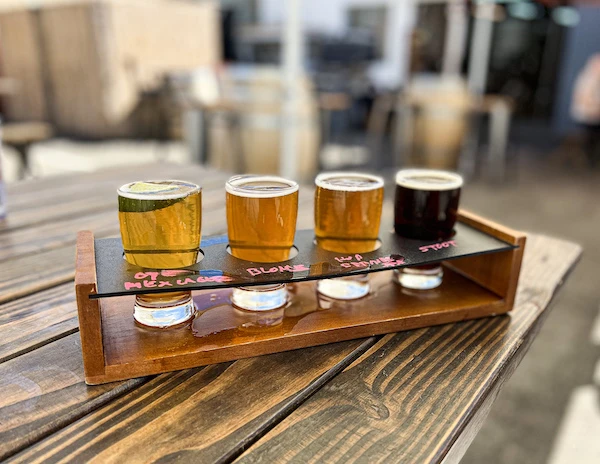 Serving unique ales and lagers like their Orange Face IPA is a twist on a creamsicle and a Rose Mallow Hibiscus IPA. They also have a Cafe de Olla Stout. Unfortunately, they were out of these when we went, but I truly enjoyed the flight prepared for me – the Mexican lager being my favorite.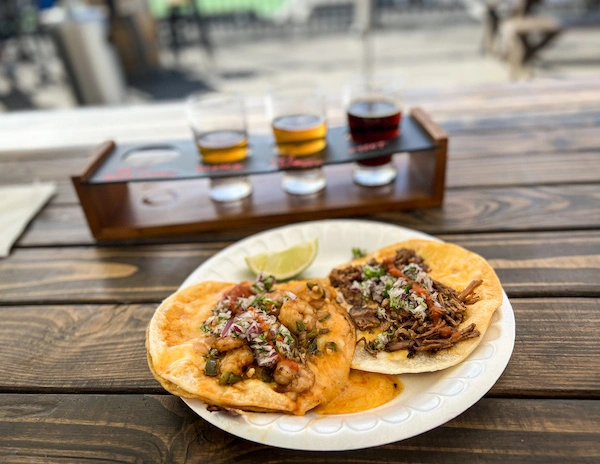 They have a back patio beer garden with picnic tables and barrels with high tops where you can enjoy your beer on a beautiful day. They have food trucks that rotate on the regular and you can find which food truck is scheduled to be there on their website.
We thoroughly enjoyed our tacos from Papa Chunks Birria.
• Wingwalker Brewery | 235 W Maple Ave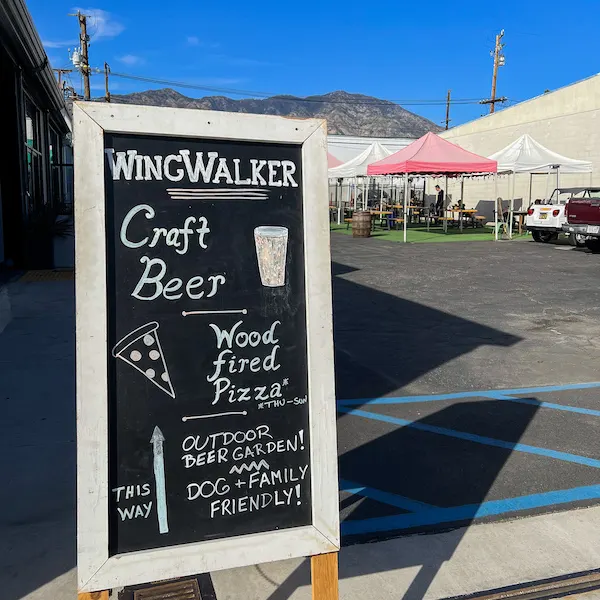 Next door to Overtown, you can walk on over to Wingwalker Brewery. They have a relaxing patio area with picnic tables and a wood-fired pizza oven. The perfect spot for pizza and one of their craft beers. Their pizza crust is a sourdough made with their Wingwalker brew. And, it's actually pretty tasty and cheesy.
• Pacific Plate Brewing Company | 2015 S Myrtle Ave
Pacific Plate is developing unique Latin flavors like Horchata Stout, Guava IPA, and Mango IPA. They have a taproom and an outdoor area.
• Hop Secret Brewing | 162 W Pomona Ave
Intimate brewery with IPAs and Stouts. It's located right by Station Square Park and the Monrovia Gold Line.
7. Picnic by Library Park in Monrovia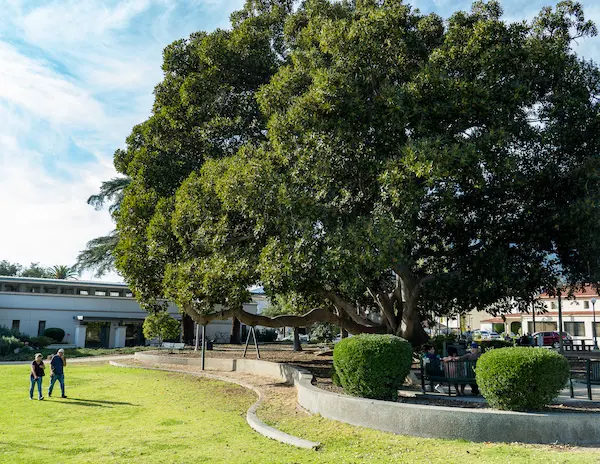 On a gorgeous day, a picnic by Library Park may be exactly what you need. Pack a lunch or pick up something from one of the many food options in Old Town Monrovia. Find a picnic table, a bench, or bring a blanket to spread over the open grassy area.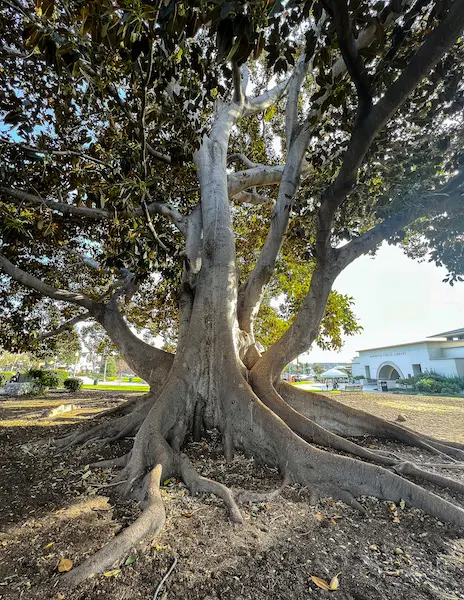 This is a small town park that is located and surrounds the beloved Monrovia Public Library. You'll find grassy areas, a beautiful water fountain, and a gorgeously enormous Moreton Bay Fig tree that is over 100 years old and one of the old oldest ones in California. You can easily park under this majestic tree for some shade on a sunny day.
Behind the library, there is also a playground for children to play.
Sometimes events do take place at Library Park in conjunction with Monrovia Library and the community.
Library Park | 321 S Myrtle Ave, Monrovia (Google Map It)
Best Things to do in Pasadena, CA
Stop by the neighboring city of Pasadena. See everything there is to do in Pasadena, California, from a local's perspective! Don't forget to include this great city in your Southern California itinerary. Visit Pasadena City Hall, the Rose Bowl Flea Market, The Huntington Library, and many other attractions.
8. Monrovia Canyon Park
This is such a bummer as Monrovia Canyon Park is unfortunately closed until further notice. It feels incomplete not to add it as it is one of the most integral and beautiful parks with hiking and biking trails in the area. Definitely keep Monrovia Canyon Park in mind for once it reopens.
Monrovia Canyon Park is a park that encompasses 80 acres with trails. The park offers amazing opportunities for hiking, biking, and wildlife watching – you may spot deers and bears. There is also a 30-ft waterfall.
A Nature Center is also located at the top of the parking lot.
Monrovia Canyon Park | 1200 N Canyon Blvd, Monrovia (Google Map It)
9. Stop by Sweet Ethans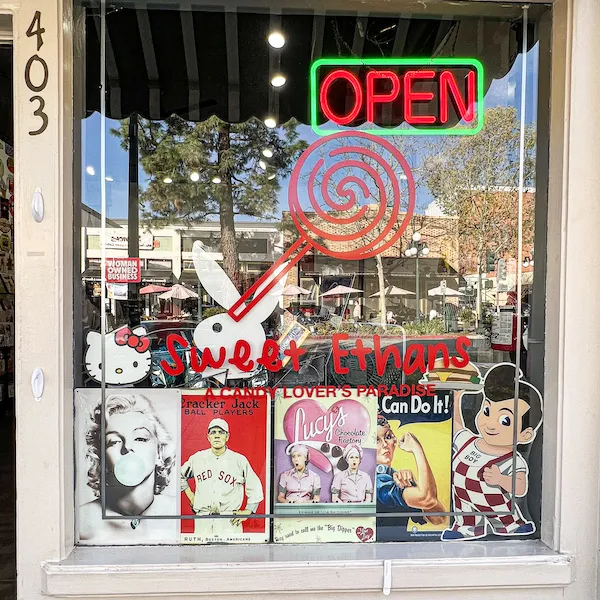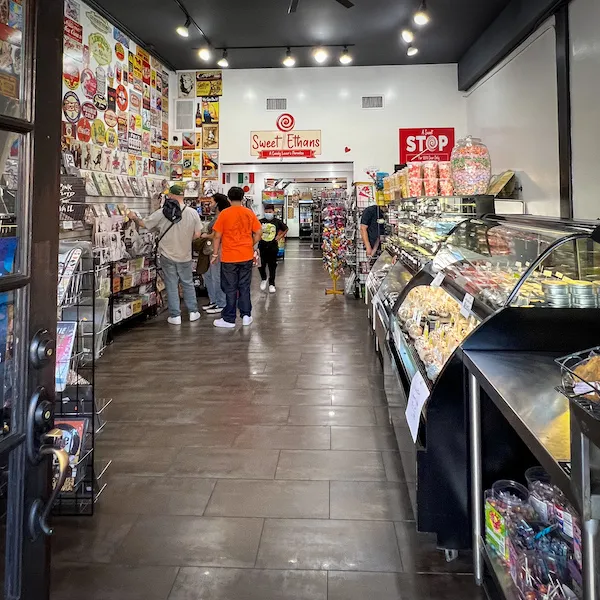 There is a new candy shop on Myrtle Avenue called Sweet Ethans and it is absolutely worth the stop. The store is filled with popular candy from the past, but also international candy, drinks, and other specialty items that you can't easily find at a regular store.
It's a fun little shop for every age to enjoy. You'll definitely want to pick up a few things to take home. We sure did!
Sweet Ethans | 401 S Myrtle Ave, Monrovia (Google Map It)
10. Take a Detour to Kiwanis Park at Grand Avenue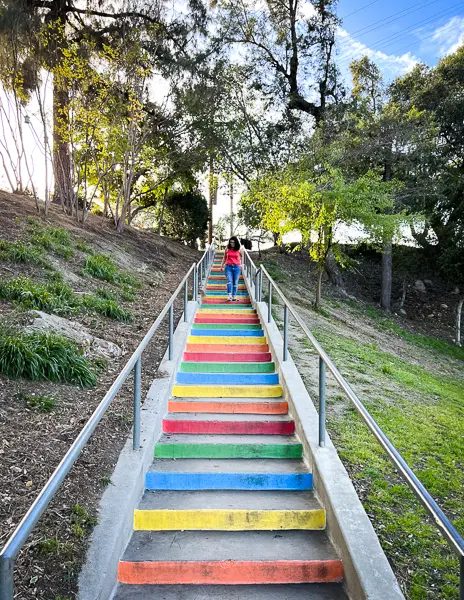 Located in a beautiful residential area, Kiwanis Park is a hidden gem in Monrovia. Not only does it have a cool step of rainbow stairs that you take from Grand Avenue down into the park, once you're down there, the park feels completely secluded from the outside world.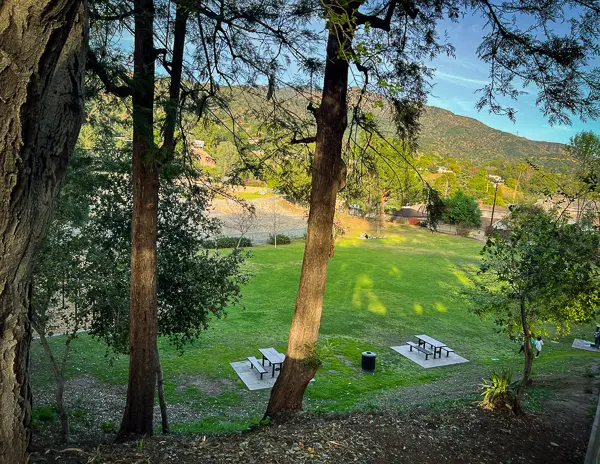 It's clean and safe. There is more than enough grass area for a picnic and to run around with soccer. There are picnic tables and a playground for kids.
Open from sunrise to 8pm
Dogs are allowed but must be leashed
We hope that this list of things to do in Monrovia will inspire a future trip to this city with a small-town feel. Most of the things we mentioned are within walking distance of each other. If there is one thing you should at least check out is Monrovia Friday Night Festivals.
Old Town Monrovia is easily one of my favorite spots in Los Angeles County.
Have you been to Monrovia? What are your favorite things to do?